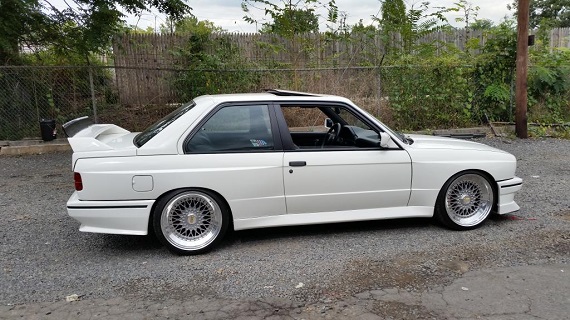 Let me go on record as stating that I personally have no problems with replica cars. Especially when you consider the price of exclusive originals or cars that are non-existent, tributes and replicas offer people the opportunity to see cars they would otherwise never get to experience. Several of the Auto Union Grand Prix cars, for example, have been built as exacting replicas of the originals that no longer exist; see them in the flesh, and they'll make your spine tingle just as much as if Nuvolari or Rosemeyer had piloted them originally. But then there's a secondary tier of making replica cars that are either just expensive or hard to come by; Sport Quattros, S2s, AMG and Ruf models as well as the exclusive RS have always been popular, and an increasing trend over the past few years has been replica M3s. Of course, when the real deal is only a few thousand dollars, making a replica isn't economically viable. But prop the price up to near six figures, and suddenly the pain and expensive of creating a replica becomes not only popular, but perhaps even lucrative: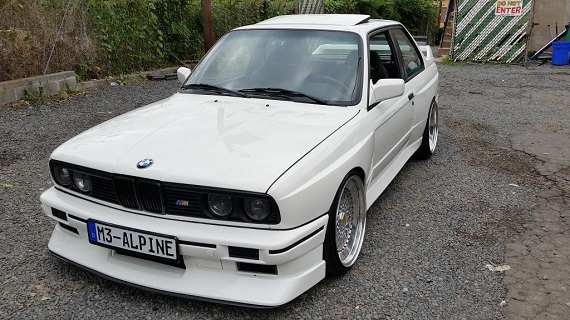 Year: 1986
Model: 325 "M3"
Engine: 3.0 liter inline-6
Transmission: 5-speed manual
Mileage: 148,967 mi
Price: Reserve Auction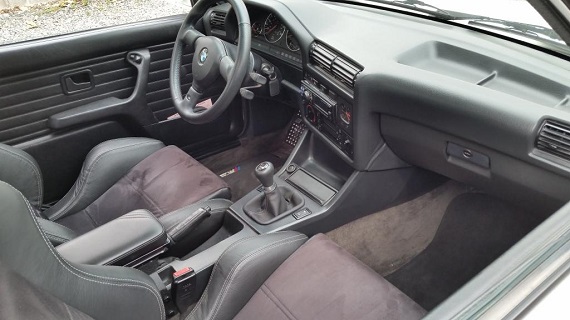 CHECK MY 100% POSITIVE FEEDBACK! BID WITH CONFIDENCE! SELLING ON EBAY SINCE THE YEAR 2000!

This is RARE opportunity to buy the car that looks 100% like the legendary E30 M3 with very powerfull e36 M3 s50 6 cylinder engine swap, coilovers, custom interior and much much more. Real E30 M3s in similar condition are going for over $40k, the only difference between this car and real M3 is the VIN number.

I have clean Title in my hands!

NOT A SINGLE SCRATCH, DING, RUST OR ANY DAMAGE!

87k miles on refreshed s50 engine, 148k miles on chassis! ! This is an amazing e30 in unbelievable condition!

The idea behind this car was to built e30 M3 clone that would look absolutely amazing, would go fast, handle great and still be reliable and affordable to maintain. With real E30 M3s becoming super expensive and collectible, one can still drive this car and enjoy it without worrying 😉 the way it was meant to be driven – Fun and Fast!

custom built on 1986 325 chassis using all original e30 m3 metal OEM body parts (F/G quarters) as well as rare Euro Evo parts, shaved engine bay with uber clean S50 engine swap (by AMS Autowerks), 17×8.5 & 17×10 OZ Fittipaldi Modular 500 racing wheels with new tires (215/40/17 front and 245/35/17 rear), 2.93 LSD, totally custom (expensive interior), completely new brakes, Euro 320 booster, SS brake lines, New Coilovers! All new brake lines under the car, Euro smoked Hella style headlights with HID Xenon, custom music system. Full Paint job that looks amazing !

This car needs NOTHING Mechanically! Everything Works ! No Surprises !

Car will be sold with 17″ OZ Fittipaldi Modular 500 racing wheels with new tires.

Ultra rare custom 18″ BBS RS Racing wheels 8.5×18″ front & 9.5×18″ rear are available for $3k extra (brand new tires 215/35/18 Front & 235/35/18 Rear)

Everything works ! Ice COLD A/C !

I would not hesitate to drive this car across the country ! It's super reliable and Lots of Fun!

car will be sold with 17″ OZ Fittipaldi Modular 500 racing wheels with new tires

Car is just amazing ! It would cost at least $35k & lots of time and patience to replicate – IF you could find all the parts! I spent good coin to get the car where it's at right now. Yes, you can find real e30 m3 in this price range but it won't be no where near my car in quality or have rare parts, new paint, custom interior, wheels etc my car has. I'm not in a hurry to sell it. Many people in BMW Community have seen this car at different car shows and I received nothing but compliments!

You will not regret owning / driving this beauty! Please keep in mind that you are not buying 2015 Honda Civic with warranty, this car is over 25 years old and although, most of the components were updated / upgraded, it is still a vintage BMW!

I highly suggest PPI (pre purchase inspection) to avoid any misunderstandings between the seller and the buyer! The car car is available for inspection in Maplewood, NJ 07040

Please Check My other Ebay auctions for more unique Euro Old School cars and merchandise !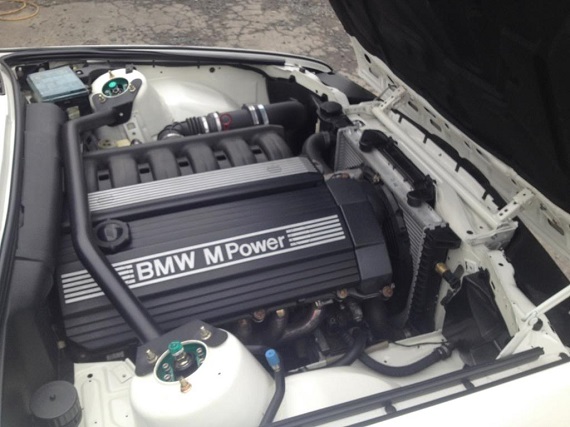 If you're going to do it right, utilizing OEM parts is a great start – but it's not cheap. Still, anyone having dealt with fiberglass reproductions will likely tell you that if you can swing the expense it's worth it. This car looks well constructed overall; the outward appearance is that of a customized M3 that would be hard to tell from the real deal. The O.Z. modular wheels that come with the car aren't a great fit, but they're worth a pretty penny and you could easily swap them for something of your choosing. The choice of the S50 makes plenty of sense – it provides plenty of power reliably and costs less to run than the S14. Even if the effect is different, driving this car should still be seriously enjoyable. Inside the seats and interior look awesome and well done. The overall effect is great, and importantly though it's customized a real M3 didn't die to create it. What's amazing, though, is the price this car is commanding. Despite being titled as a 325, this car is already close to $20,000 – cheaper than the modifications could cost you, but getting close to the price of some restoration candidate real M3s. Which would I rather have? I think with values heading the way they are, I'd sport for the real deal over $20,000 even if it needed some work; but if it could be had in the teens, this is a great looking option to get the M3 experience without the bills and without fear of adding miles to the clock.
-Carter