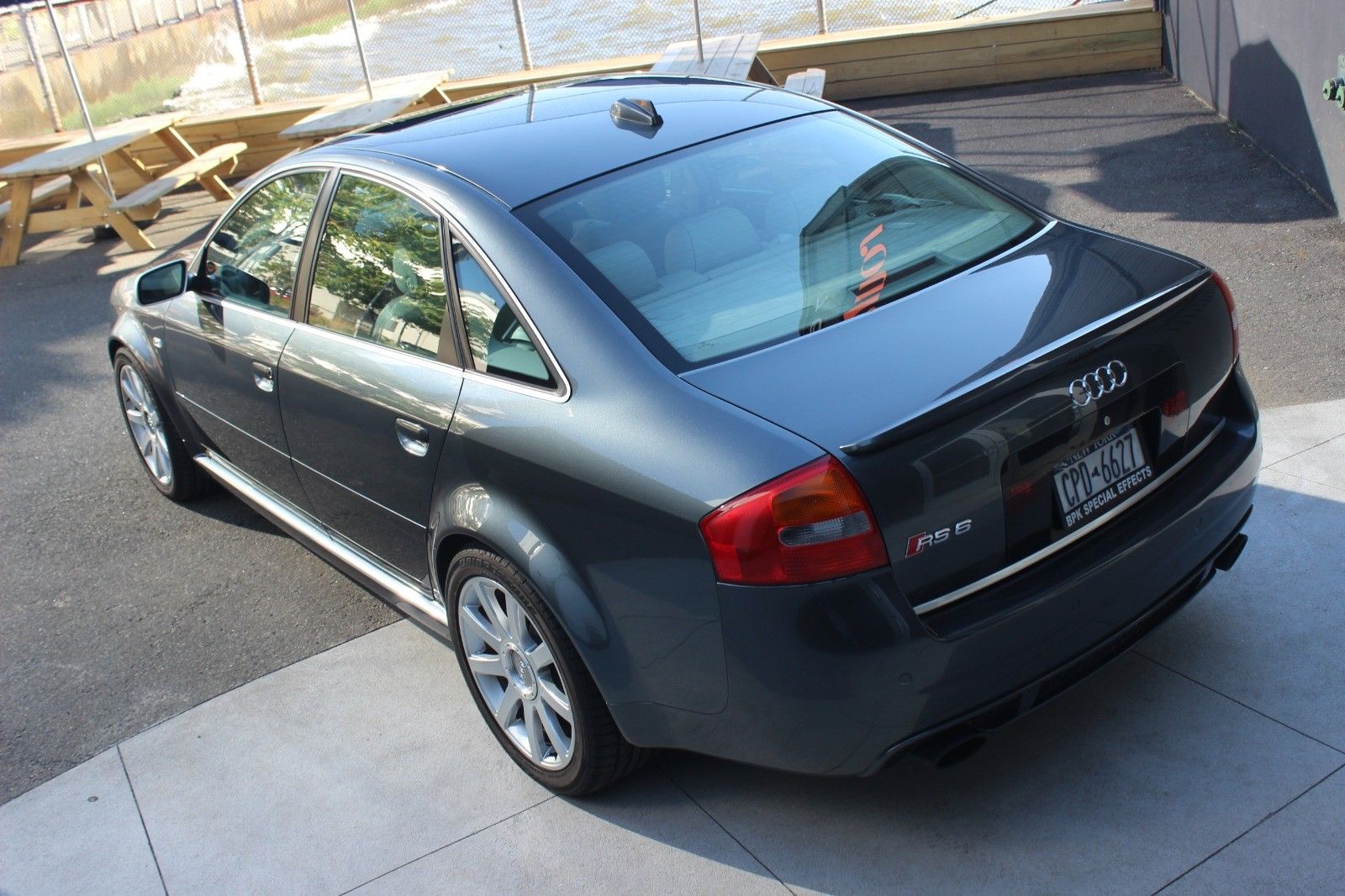 It's pretty amazing to think that only 20 years separate the 1984 GTI I looked at the other day and today's 2003 Audi RS6. The development of car design, technology and performance over that time took a greater leap forward during that period than any other, I believe. Sure, new cars are incredible and do more every day. But when the RS6 launched, that GTI felt, looked and drove positively like an old car. When you factor in that roughly the same amount of time that separates those two models has passed since the introduction of Audi's C5 platform to today, it draws into sharper focus that it's been more of a progression of steps recently rather than a great leap.
The pinnacle of the C5 was, of course, the twin-turbocharged all-wheel drive version you see here built by Audi's skunkworks, quattro GmbH. With assistance from Cosworth Engineering, the resulting BCY motor cranked out a peak 444 horsepower at 5,700 rpms and an impressive 415 lb.ft of torque between 1,950 rpms and 5,600 revs. The body, brakes, wheels and suspension were all upgraded by quattro GmbH too, with plenty of technology incorporated to transfer the power to the ground and keep the RS6 planted. Though it was saddled with an automatic transmission only and tipped the scales at a massive 4,050 lbs, the tenacious all-wheel drive, computer programming and massive power resulted in a 4.4 second 0-60 sprint, besting both the contemporary M5 and E55 AMG. The RS6 had 14.4" front brakes, dynamic ride control, and meaty 255-section Pirelli P-Zeros to control that speed. Lowered ride height, flared sills and fenders and giant gaping intakes and exhaust along with signature honeycomb grills set the stage for how these cars have looked since.
The first RS model imported to the U.S., Audi expected to sell 860 at nearly $80,000 a pop. But they didn't. They sold more, such was the demand, with an estimated 1,200 making the journey to North America. But as with basically all complicated, fast older German cars, they're not worth what they were new, making them very tempting in the used marketplace. You just have to find a good one…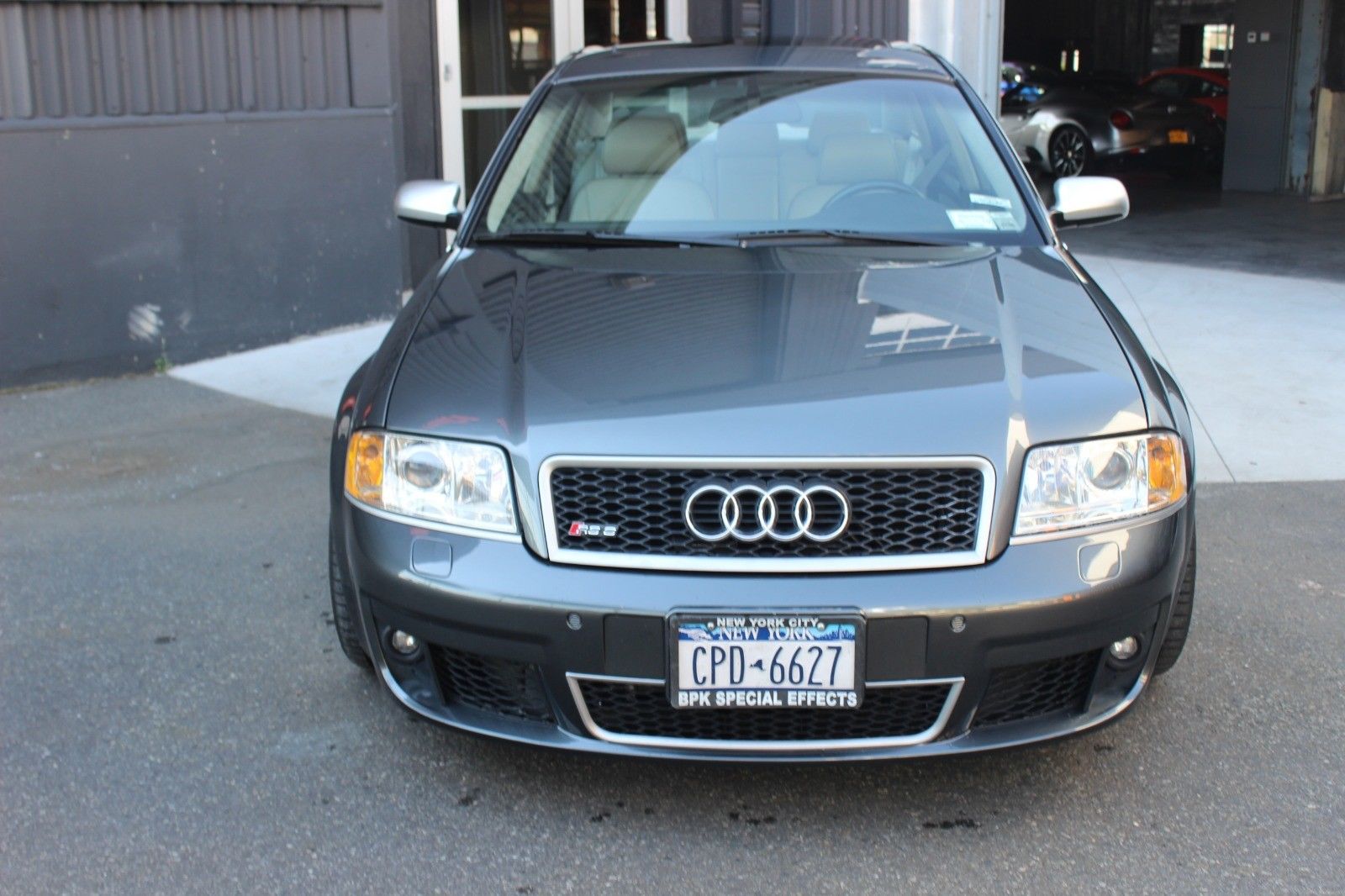 Year: 2003
Model: RS6
VIN: WUAPV54B23N904726
Engine: 4.2 liter twin-turbocharged V8
Transmission: 5-speed automatic
Mileage: 65,000 mi
Price: No Reserve Auction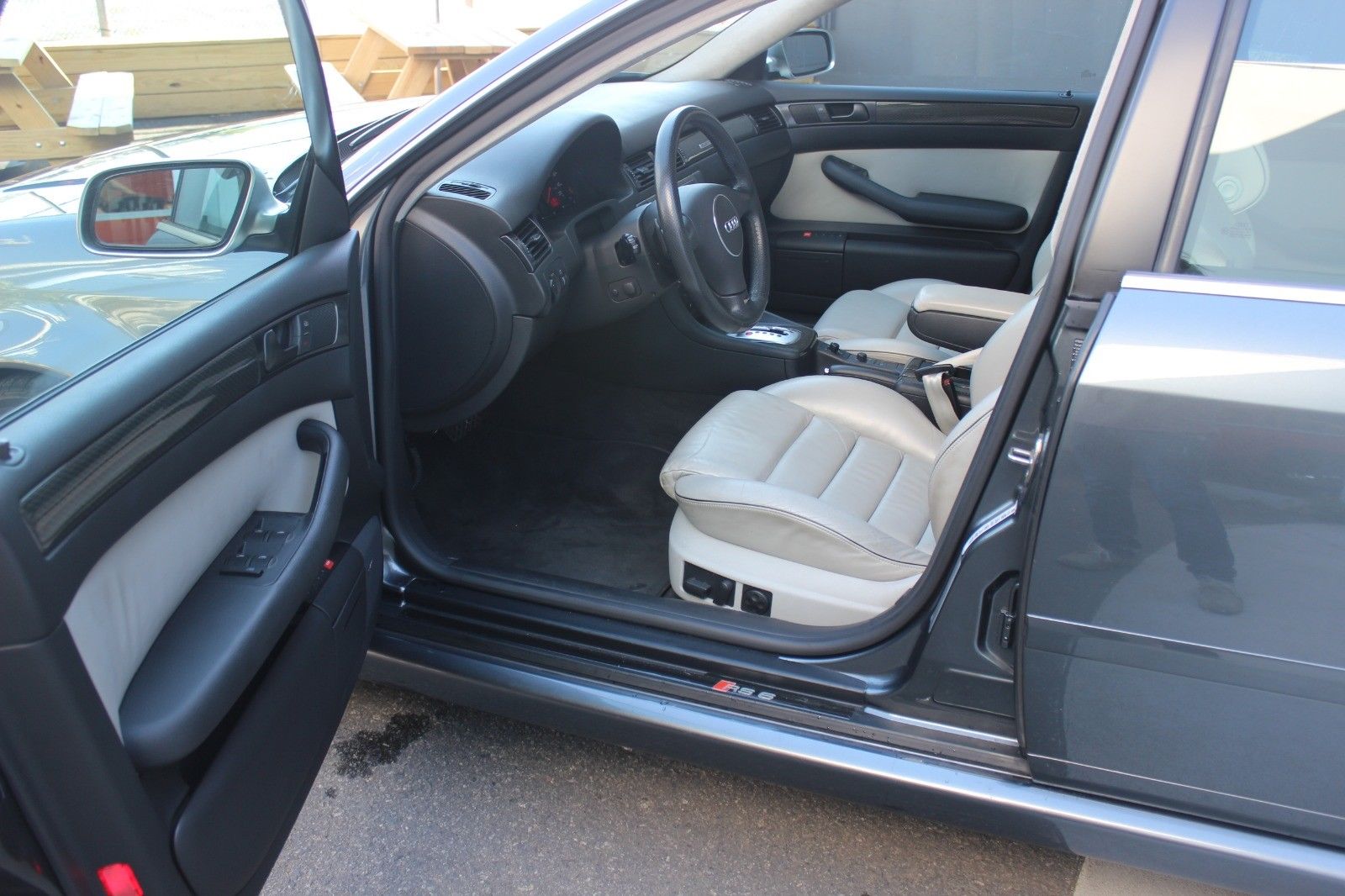 This 2003 Audi RS6 is a one owner car, it has been kept stock aside from an integrated radar detector & laser jammer and is equipped with a twin-turbocharged 4.2-liter V8. Power is sent to all four wheels through a 5-speed Tiptronic transaxle and Quattro all-wheel drive system with a Torsen torque-sensing center differential. Maintenance records from new are included in the sale and show recent service including replacement of the MAF and oil cooler in March 2018. Has extras set of winter wheels and tires, clean AutoCheck report, and clear New York title.

Factory 18″ 9-spoke wheels are currently mounted and wear brand new Bridgestone Potenza S-04 Pole Position tires (not shown in pics). A set of 18″ AT Italia wheels with Michelin winter tires are also included in the sale. The front and rear leather seats incorporate embossed RS6 logos in the backrests. Factory carbon fiber trim is found on the door panels, center console, and dashboard. Equipment includes a Bose stereo system, heated front and rear seats, power steering column, electric moonroof, automatic climate control, cruise control, alcantara headliner and more. A Valentine 1 radar detector is integrated into the rearview mirror.

The twin-turbo 4.2-liter V8 produces 450 horsepower at 5,700 rpm with 415 lb-ft of torque at 1,950 rpm. Full dealer maintenance records are included, a list of notable maintenance is provided below:

December 2009 @ 36,066 miles – all four DRC shocks replaced under warranty
August 2010 @ 37,434 miles – timing belt service completed, MMI head unit replaced
October 2017 @ 64,587 miles – torque converter replaced by Audi of Fairfield
March 2018 @ 65,055 miles – MAF, oil cooler, and seals replaced

These cars are super rare, even rarer in this condition. I have all keys, books and dealer records. Please do not bid unless you are serious, the car is for sale locally so I reserve the right to end the auction early. I can help with shipping to anywhere in the world. Please call, txt or email for more info…….Thx, Marc – 551 998 5516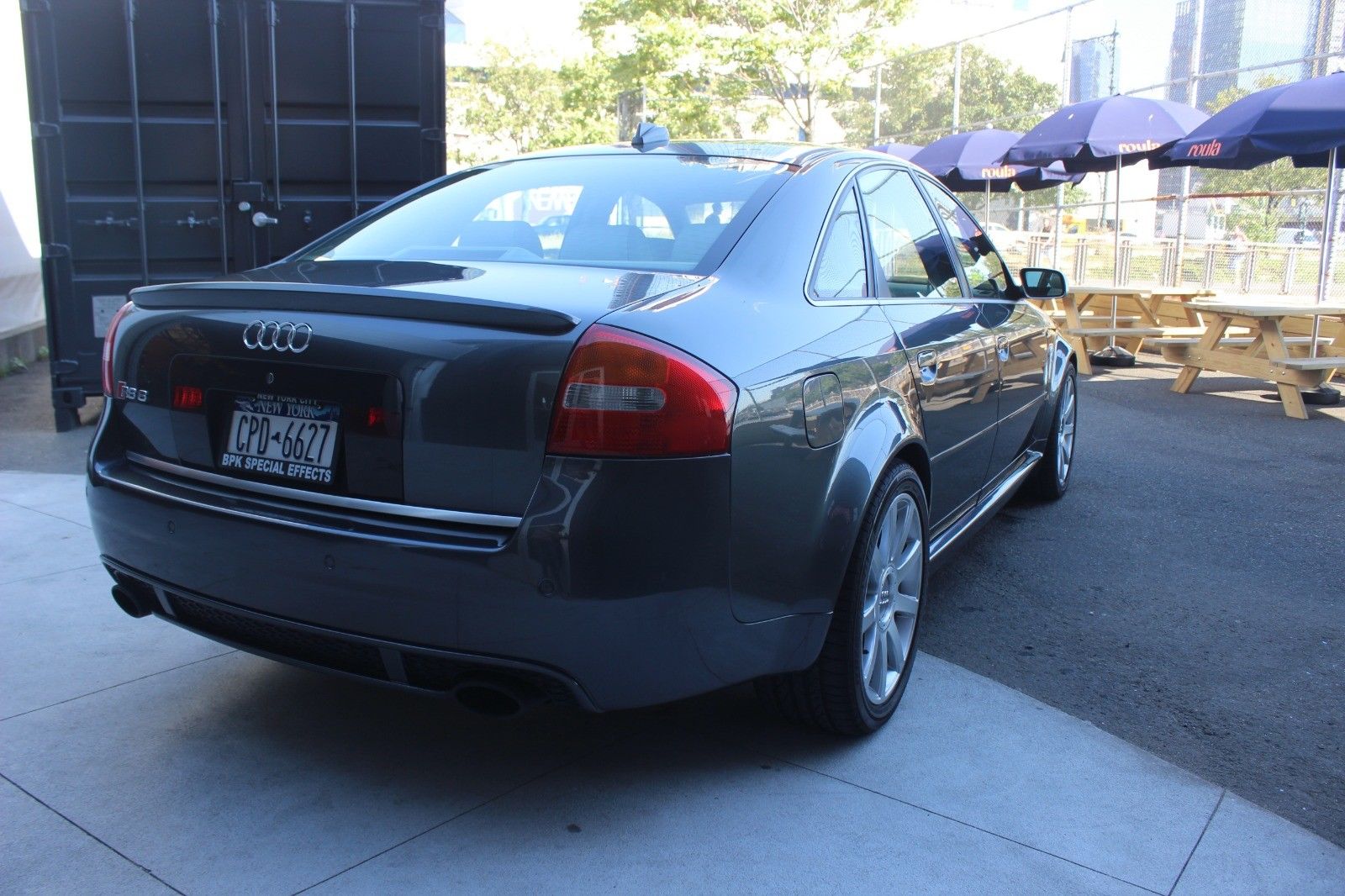 Finding a 'good one' can be surprisingly hard. These cars are complicated, and repairs can be excessively expensive – so, needless to say, there are quite a few in bad states out there. The 5-speed automatic is a weak point, as are some of the plastics in the engine bay. 15 years of heating up and cooling down that monster motor has probably left more than a few weak, and most RS6s have been…ahem…exercised. This Daytona Gray Pearl Effect example has had a lot of the expensive services covered, including the timing belt service and torque converter, along with replacement of the suspension. With lower miles and in original configuration, it looks like one of the better examples out there to consider. As a result, bidding has been active and the reserve is met. While you can get an RS6 for far less than $20,000, that certainly doesn't mean you should. This one looks like a winner.
Thanks to Zac from Classic Car Club Manhattan for the link!
-Carter