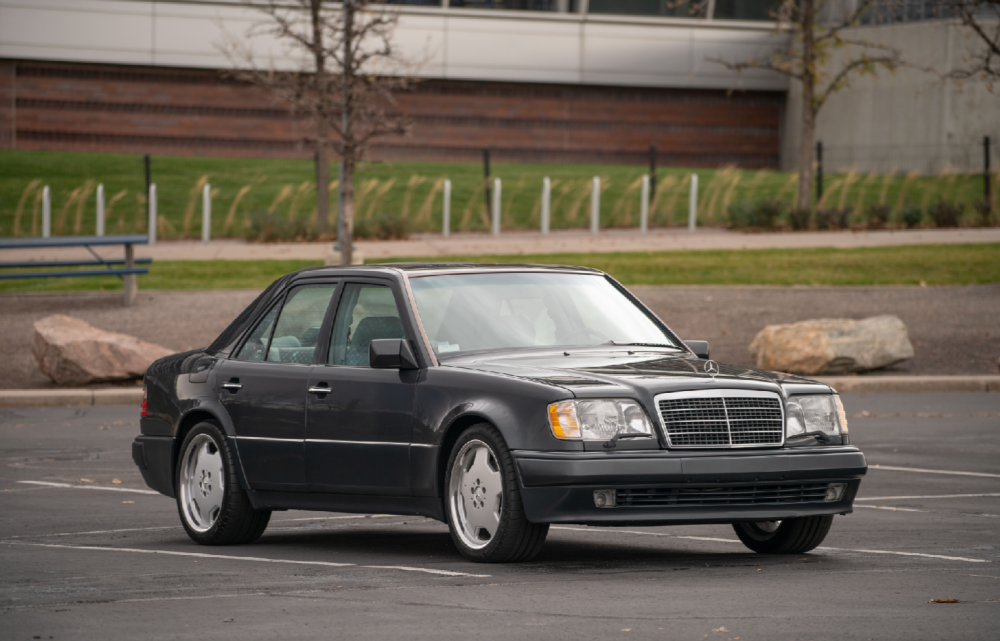 You'll be hard pressed to find a more perfect representation of late-1980s and early-1990s Mercedes-Benz than the W124 500E/E500. Mercedes did everything in their power to make the best sports sedan possible and then simply said "Here you go" to the keen Mercedes buyers who yearned for something as special as the W124.036. No crazy marketing, no limited edition plaque in the center console, no neon colors, just an understated brute of a machine the .036 was and still is. In 1994, the United States market saw the "E" jump to the front of the line to become the E500 and the front fascia become refreshed with new headlights and a new grille. Don't get me wrong, I don't think any less of the pre-facelift 500Es, but the 1994 (and handful of 1995s not in North America) looks nearly perfect in my eyes. Not too small, not too large, just the right size. The interior was much of the same story with an array of buttons and switches laid out in just a way that isn't overwhelming or cluttered. Under the hood was the mighty M119 that made just the right amount of power for this car for its everyday uses. Add all this up and you have classic the day the rolled out of Sindelfingen. (Side note, I love this photo with them in Zuffenhausen next to 964s.)
When you sit down and do the car math on the E500, it adds up to something that no other Mercedes can boast with its low production, Porsche DNA, hand-built status and more than respectable performance numbers. Naturally, this has kept these cars cared for and now as we are into the 25th birthday for some .036s, their prices remain very healthy. This 1994 E500 comes to us from Denver, Colorado with just over 60,000 on the odometer and my favorite wheels of all time, AMG Monoblocks. Yes, I'm biased because I have a set of these wheels, but you aren't going to find many people that disagree with me when I say that Monoblocks look right at home on E500s. The extra chunky spokes compliment the entire body of the E500 that not many wheels can pulled off.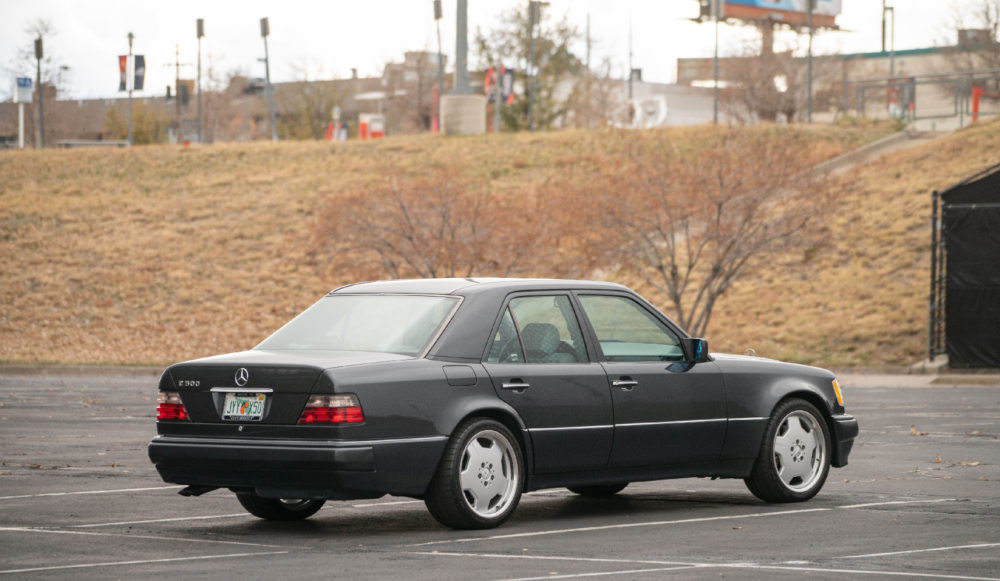 Year: 1994
Model: E500
VIN: WDBEA36E7RC147479
Engine: 5.0 liter V8
Transmission: 4-speed automatic
Mileage: 60,262 mi
Price: $52,500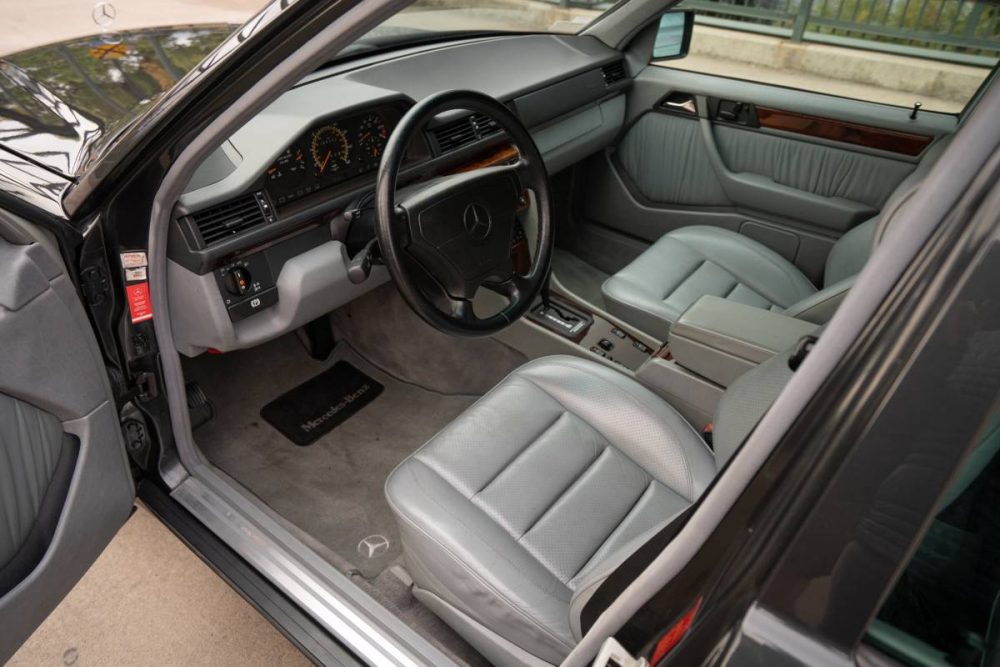 For Sale here is a 1994 Mercedes Benz E500

-60,000 Original Miles
-Well Serviced and recently so at StarTech Mercedes Benz
-Rare Mono-Block Wheels With Michelin Pilot Super-Sport Tires
-Collector Owned
-Extremely Clean and Very Rare

$52,500

Please email me for more information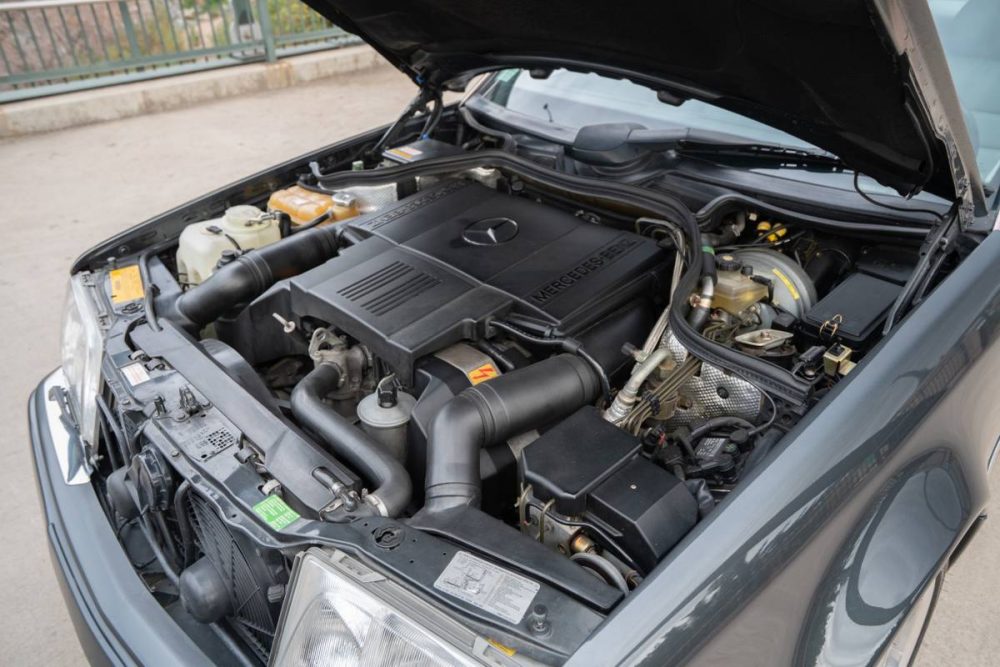 This one looks like a real winner from what I can see. The general rule with these cars is that if they come from an unknown source with no history, plan on at least $10,000 in "catching up" that will get you to a good baseline. When talking about higher mile cars, that number can double. Lots of people think "Well, it is just a W124 with some wide fenders and the SL engine in it" and hope they can cheap out on owning one. That simply isn't the case given all the .036 specific parts and the amount of labor that is needed when it comes to maintaining these cars. Lots of times parts are even no longer available from Mercedes that presents a whole other set of problems. The seller of this car seems to have all the ducks in a row and has it to a level of no surprises when it comes to buying this car. Even better, this car looks extremely clean both inside and out. Looking under the hood, the foam intake tubes that usually are in pieces by now on most cars look to be in great shape here. Prospective buyers should obviously need to get in touch with the seller to discuss all the fine details on this one, but there is nothing I am seeing here that makes me think that this example isn't one of the best examples out there for sale right now. The seller included a link to an entensive photo gallery of the car.
The price of $52,500 is pretty reflective of what the 500E/E500 market is right now for a quality, turn-key late model like this one. There is no cheap way to own one of these and if you do somehow get in one cheap, prepare for that five-figure repair bill that I mentioned. If you want a no-excuses car with lower miles like this, the seller is at market level for pricing. These face-lifted cars do bring a slight premium over the 1992 and 1993 models plus the Monoblocks aren't hurting either. The .036 is a special car for a special kind of owner, and this is certainly a special example to see.
– Andrew