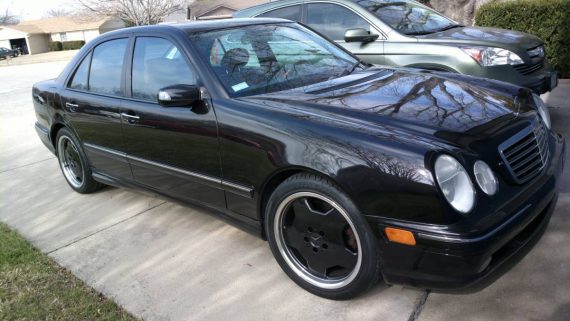 I love the W210 Mercedes-Benz E55 AMG ­— so much so that I bought two of them. I still have one and gave the other one to my father because he, too, loved it so much. He drives his everyday in all the elements, while mine stays tucked away in the garage under a cover and doesn't come out unless the pollen level is under a certain limit and no one on my street is cutting grass. You can probably guess what kind of condition both cars are in by now but that's indicative of the chassis. AMG or not, you were going to get out of the W210 what you put into it.
The W210 E55 is a special car. It's the last AMG built before they started going crazy with Airmatic suspension, SBC brakes, superchargers – the list goes on. The W210 a simple equation: big engine, big brakes and big wide tires. Yes, you still got all the special edition stuff like different bumpers and side skirts, exclusive seats, steering wheel, gauge cluster and some wood that the non-AMG cars were left without. In addition to these special goodies, you got a chance at some options that you probably didn't even know existed on the W210. That's what kind of E55 we have for sale today in Dallas. So let's check out this ultra-loaded example out.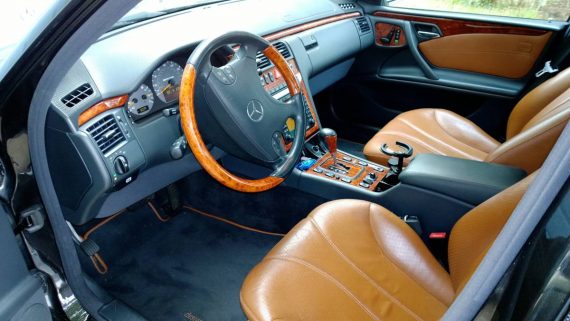 Year: 2001
Model: E55 AMG
Engine: 5.4 liter V8
Transmission: 5-speed automatic
Mileage: 138,000 mi
Price: $11,480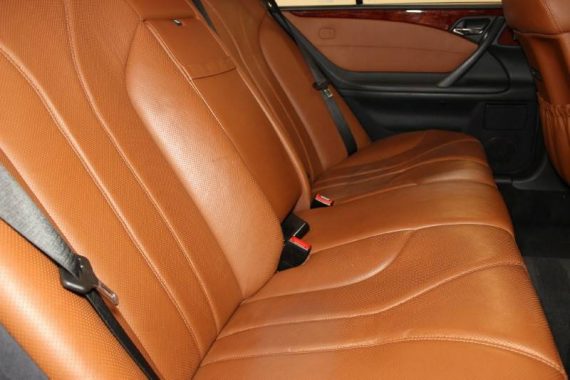 For Sale is a 2001 Mercedes-Benz DESIGNO E55 V8 AMG

The 2001 model year E55 was a rare version of the W210 E55 AMG, of which only 659 units were produced in 2001 and even less Designo models. Designo models have upgraded leather and wood trim. Dark chocolate on the outside and milk chocolate on the inside.
It has a 5.5-liter V8 that produces 355 hp and 391 ft-lb of torque.

Just hit 138k miles and completed inspection at dealership. Running as strong as when I got it 4 years ago. Always serviced at Park Place dealer

18inch monoblock AMG staggered wheels that I had painted to match the body, with new Michelin Pilot A/S tires on the rear. Everything else is factory stock. New starter installed. ICE cold A/C as I had the entire system overhauled including new compressor, drier and freon recharged.

Fully loaded with every option that year had including xenon headlights, dual climate control with A/C for back seats, rain-sensing wiper, memory driver and passenger seats, power windows, power locks, heated AND ventilated seats (which are amazing with the heat in Texas), 6 disc CD changer, front AND rear parking sensors, automatic rear sunshade and headrest control, navigation and AUX input, plus integrated phone and BOSE Premium sound system

Super Clean inside and out with the exception of some rust on corner of doors, which is the way that I bought it. Only see if you look real close

Its been a WONDERFUL fast, classy and comfortable car and I hate to let it go, but I feel its time to let someone else get to enjoy it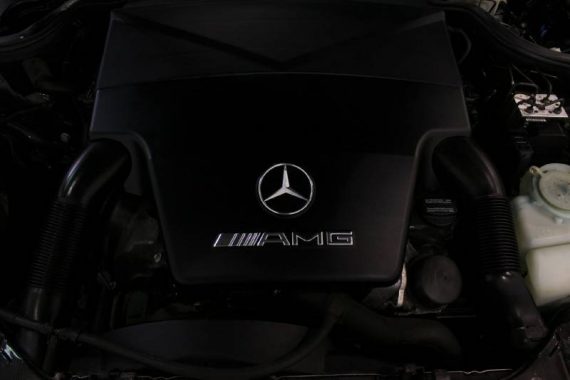 I'm going to go out of a limb here and say that this E55 has every option available. The Comand system is fairly common as an option, but the parktronic and ventilated seats are extremely rare. Very rarely do I come across a W210 E55 with these options. Let's not forget about the Designo interior either. This colored leather is very rare and the wood steering wheel is only available with this color Designo package. You could get the Designo with white inserts that was far more common but the steering wheel wasn't offered in wood.
In addition to these rare options, the seller mentions that this car has a full service history from the Mercedes dealer which on these cars is huge. It is also mentioned that the car has a full air conditioning service as well which in Texas is worth it's weight in gold. The 18-inch AMG Monoblocks have their centers color matched black to give the car a kind of 'Hammer' look to them which I think is unique.
The price of $11,980 is right on target for a car like this. You can easily go shopping around the internet and find a W210 E55 for $7,500 but I can assure you that the car won't be on the level of this example. It won't have the options and it won't be as well maintained as this car. With the W210, you get what you pay for and you'll be getting everything with this one.
– Andrew