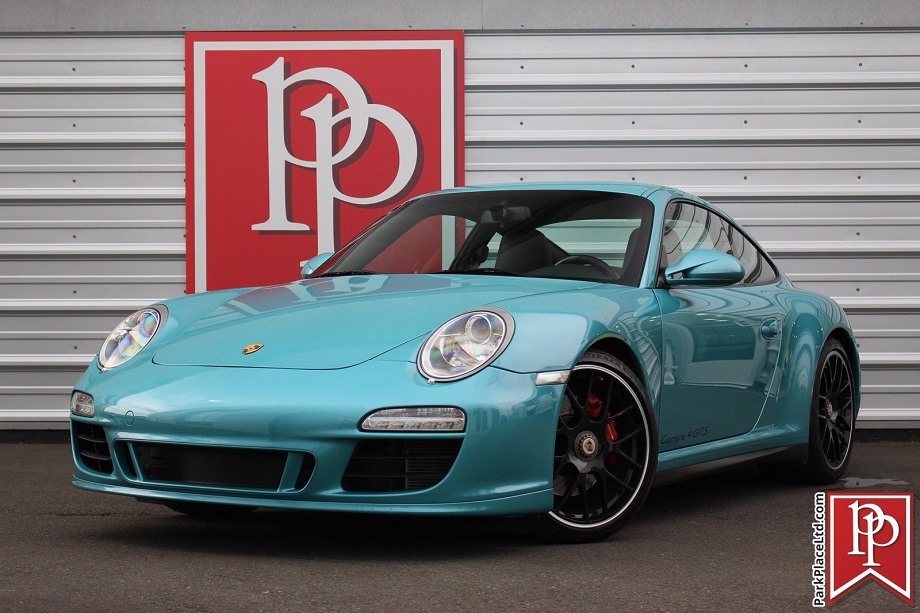 Rare color or undesirable color? It is a question that presents itself pretty much any time I come across a Porsche in one of the many less common colors Porsche has produced. Of course, in some cases a color may be undesirable during its period of production and then become more desirable years later as preferences shift. Yellows and greens kind of come in and out of favor in this way, likewise the many variants of brown from the late-70s and early-80s suffer under a reversal in popularity.
In the case of the car here, an Ipanema Blue Metallic 2012 Porsche 911 Carrera 4 GTS, located in Washington, we may have one of those situations. Available in the final years of 997 production, we see very few 911s painted in this color. Anecdotally it isn't difficult to find stories of buyers getting nice discounts to take them off of a dealer's hands after sitting on the lot for too long. Though a standard color offering its rarity does seem related to its desirability, or lack thereof. We haven't moved far from its original production date so I'm not sure enough time will have passed for preferences to have changed. However, Ipanema Blue isn't too far removed from a variety of lighter blues Porsche produced in the '80s and those cars don't seem to elicit much derision. So is it a color that might become more desirable or one that, like quite a few colors over the years, will fade away to be forgotten?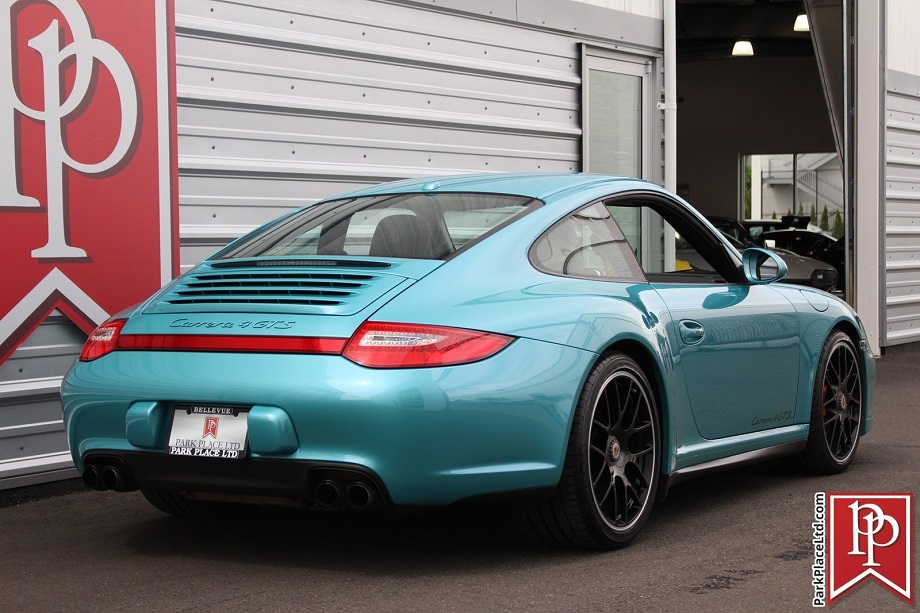 Year: 2012
Model: 911 Carrera 4 GTS
Engine: 3.8 liter flat-6
Transmission: 6-speed manual
Mileage: 28,775 mi
Price: $79,950 Buy It Now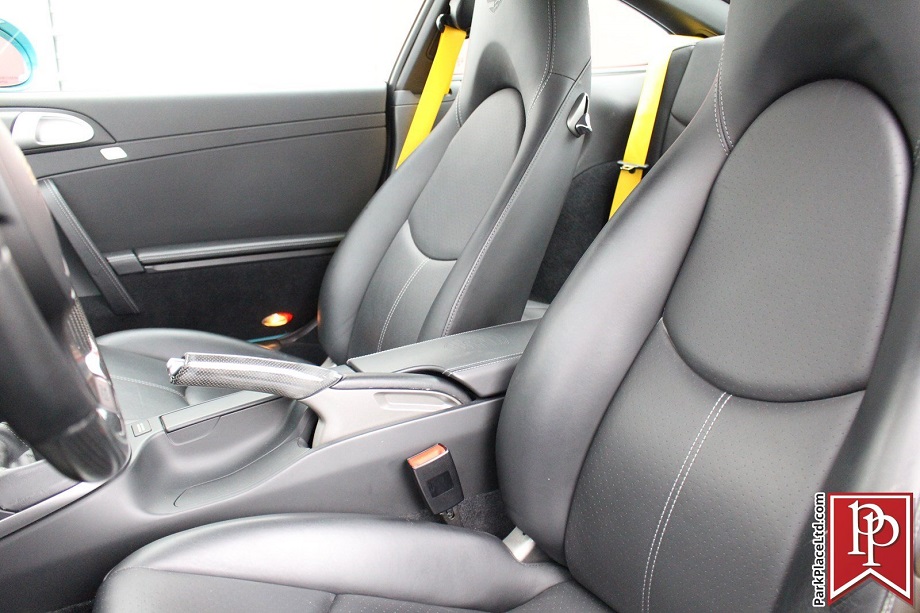 "So sleek and so lovely. When she passes, each one she passes goes 'aAHHh!'" This sensational One-Owner 2012 Porsche Carrera 4 GTS Coupe, finished in seductive Ipanema Blue Metallic with Black Leather Interior, may be the only one built by the team in Stuttgart in this particular configuration.

With only 28,775 Miles from New and the enthusiast's mandatory 6-Speed Manual Transmission, this fabulous (997) 911 C4 GTS is a very rare high-performance variant that was specifically ordered and crafted for a most discerning Porsche aficionado. (We were unable to find another manual trans Carrera 4 GTS coupe in the entire country, and we've NEVER seen another Porsche in this sensational Ipanema Blue Metallic color).

The original MSRP was $124,900 with $17,200 in factory options, consisting of;
PASM Sports Suspension (-20mm Ride Height),
Heated Seats,
Heated Steering Wheel,
Carbon Fiber Interior Package, Carbon Fiber Steering Wheel, Carbon Fiber Door Entry Guards,
12-Way Comfort Seats,
Sport Chrono Package Plus,
Extended Navigation,
Bose Premium Audio,
Sport Chrono in Yellow, Instrument Dials in Speed Yellow, Seat Belts in Speed Yellow,
Crested Storage Bin,
Porsche Crested Headrests,
Model Designation Rear in Body Color.

1-Owner Car, & one of the last of the (997) series 911's.

If you've been waiting for that 'special' car to come to market, then do yourself a favor and check out this 911, it won't disappoint.

The Carrera 4 GTS is the top end version of the Carrera models, combining the Carrera GTS technology with all-wheel drive, and is essentially a high specification non-turbo option. To ensure differentiation from the mainstream cars, the GTS uses the wide-body that appears on the four-wheel drive Carrera 4 model, giving it a 44mm wider body and an increased track for better traction and grip. Although subtle, the GTS differs from the regular 911 through a number of small details. Most obvious is the amount of black detailing, regardless of the main body color, the GTS also wears a black Sport Design bodykit with side skirts plus front and rear aprons.
Under the hood, the Porsche 911 Carrera 4 GTS' powerplant has its origins in the 3.8-litre, six-cylinder Carrera S engine, but a re-engineering increased output by 23hp, taking it to 408hp. The massaged system not only improves peak power output, but flexibility and power development as well. Combine this output, a six-speed manual gearbox and the intelligent all-wheel drive Porsche Traction Management (PTM), and the Carrera 4 GTS is the perfect all-around performance coupe. The most impressive feature of the Carrera 4 GTS is the PTM all-wheel drive system. The PTM all-wheel drive system accentuates Porsche's typical driving pleasure with even more driving stability, traction and agile handling.

In addition to the type name on the doors and rear lid, the distinguishing characteristic of all models with all-wheel drive is the additional reflective stripe between the taillights. Additional visual features include the Sport-Design front apron with black painted spoiler lip and special side skirts, also in black. Driver and passenger are accommodated on sports seats. Typical of the GTS, the emphatically sporty black Alcantara covering on center panels, steering wheel rim, gearshift and handbrake lever, door handles and door storage box lid and extension are offered as standard. The sports exhaust system fitted as standard ensures a distinctly sporty sound. It invests the new Porsche 911 Carrera 4 GTS with an unmistakable acoustic signature and the rear view of its tailpipe with its unique black surface design lends it a unique character.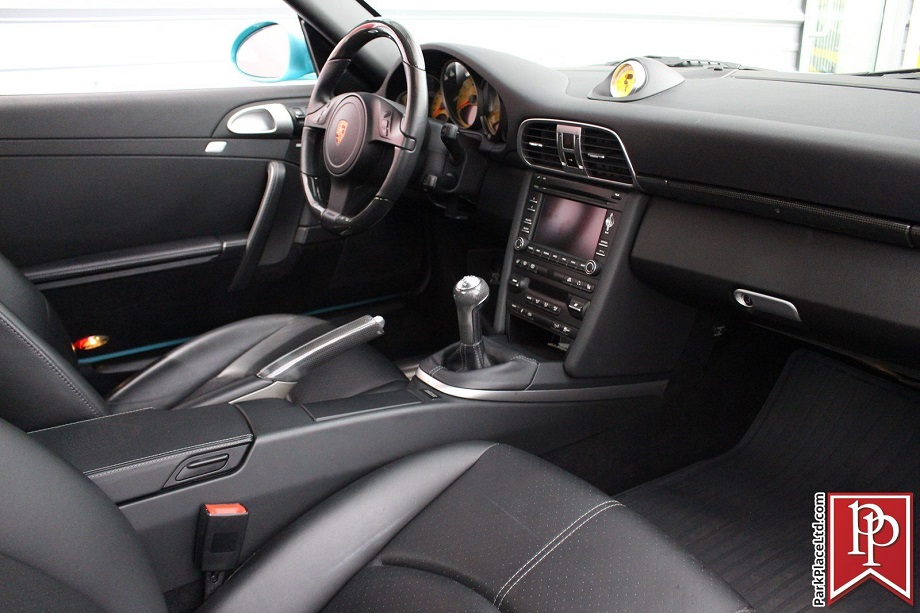 Ipanema Blue has somewhat of a greenish tint to it, which really is apparent in the sun, and I suspect it is that tint that turns most buyers off. Some of Porsche's most iconic colors have been blue, but most are very much blue with little shift in tint toward other colors. Many also are non-metallic (Riviera, Gulf, Mexico, Oslo) and perhaps that plays a role, but there are plenty of desirable metallic blues as well. Time will tell how buyers feel about Ipanema, but at the moment I'm not sure it's a color for which you should expect to pay much of a premium. It is rare – this seller thinks this one might be the only C4 GTS with a manual transmission in this color – so if you do like the color you probably will need to act, but I think it's a color you buy because YOU like it and not because of potential value down the road.
The aspect of this 911 that really does command a premium is that it is a manual transmission GTS. Later 997s in general can be hard to find with a manual as buyers began to prefer PDK, so a Carrera S or GTS always is a nice find in such a configuration. It is that quality of this 911 that I think is most worth consideration. It also looks to be in very good condition. It isn't very old so that should be expected, but it's still nice to see.
Does all of this add up to an $80K price tag? I'll raise the same issue I raised with the last GTS I featured: while certainly possessing a host of upgrades compared with a Carrera S, the Carrera S isn't that far off but the price difference is substantial. The GTS has its fans, especially when equipped with a manual transmission, so that doesn't mean this isn't the going rate, but you really do have to want those upgrades to make the price gap make sense. Or to consider one over a 997TT. If it makes sense to you, then this certainly is a unique example. The price isn't insane for a manual GTS so it might not be around too long, especially for a buyer who does like Ipanema Blue.
-Rob