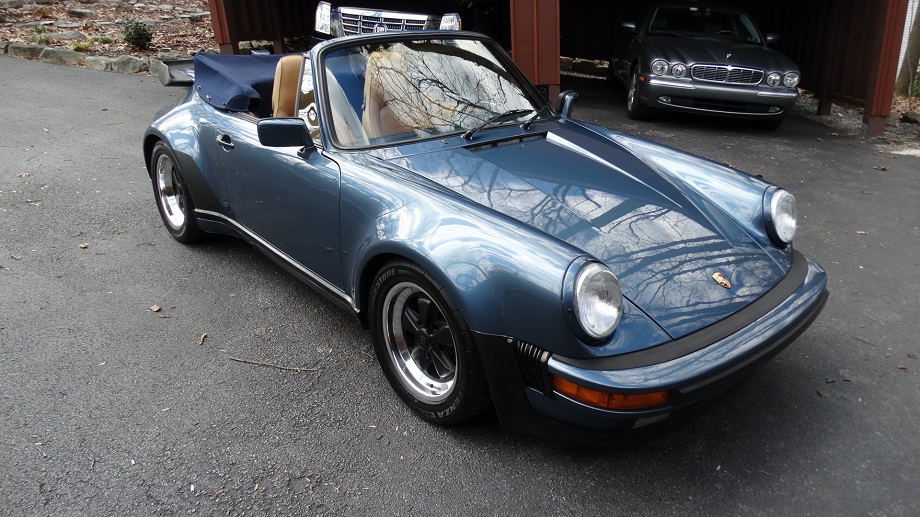 Turbo-look Carreras are becoming a regular occurrence around here. That's good! These are some of our favorite of the classic 911s for their combination of 930 appearance, suspension, and braking, but in a little more refined and less high strung a package. They're also pretty rare. We like rare.
We especially like rare 911s when they are looking their best and have spent a decent bit of time being driven by the owners who derive so much joy from them. Here all of these facets come together in this Venetian Blue Metallic 1987 Porsche 911 Carrera Cabriolet with Champagne interior. As I've noted with previous M491 Carrera posts, the later '87-'89 model years represent a special subset of these cars given that they came with the G50 5-speed transmission and that there are fewer of them since the 930 was now back and available for the US market. For some wide-body top-down cruising, this 911 should provide just the thing you're seeking.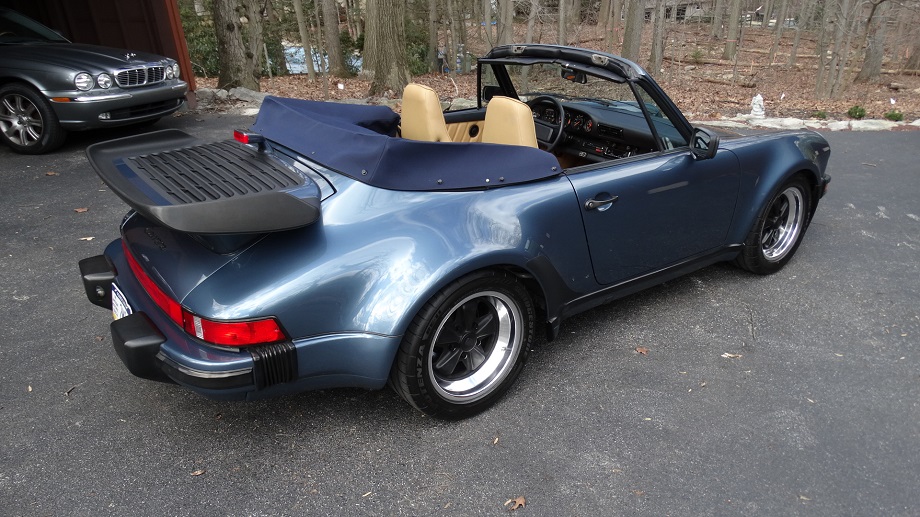 Year: 1987
Model: 911 Carrera Cabriolet
Engine: 3.2 liter flat-6
Transmission: 5-speed manual
Mileage: 99,382 mi
Price: $69,000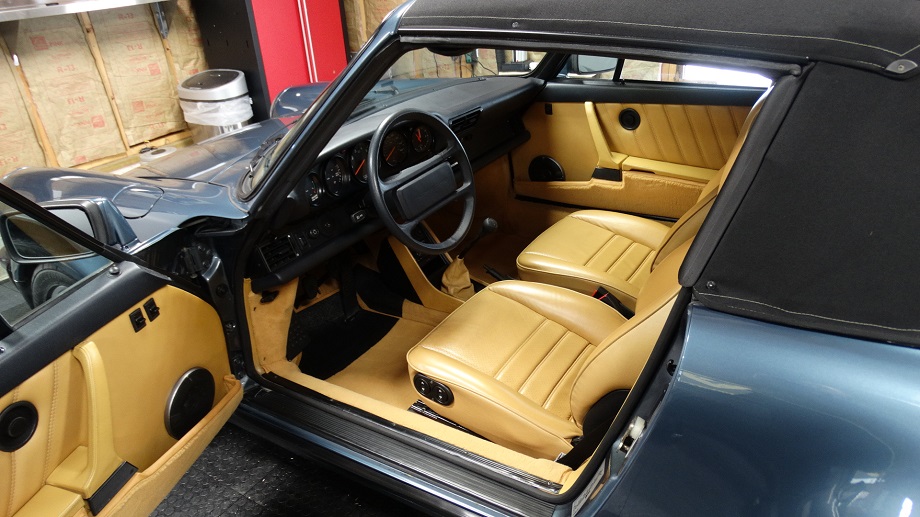 1987 Porsche 911 M491 Cabriolet (Very Rare Find; 1 of 303)

3.2 Carrera; G50 transmission

Venetian Blue over Champagne

VIN WP0EB0911HS170749

Factory option codes:

018 – Sports Steering Wheel with Elevated Hub

158 – Blaupunkt Reno Radio

341 – Central Locking

439 – Electric Cabriolet Top

454 – Automatic Speed Control

491 – Turbo Look, includes:
Factory wide body
Front & rear spoilers
Turbo brakes
Turbo suspension
533 – Alarm System

Original engine and trans with 99,382 miles (as of 3/7/18)

Fully functioning Electric Cabriolet Top with Clear Rear Window

Original service book, warranty book, tools, jack, COA, window sticker

Porsche spare tire air compressor

Convertible top boot

Blaupunkt Toronto BT head unit installed by PO (I have the original head unit)

Fabspeed high flow cat and max flow muffler (12/2017; I have the original cat and muffler)

All body vin tags, drivetrain tags and stickers in place

Owned by long-term PCA Member (Riesentöter Region)

Stored in climate controlled and insulated garage

Compression & Leak Down Results

Cylinder 1: 160 6%

Cylinder 2: 160 6%

Cylinder 3: 163 3%

Cylinder 4: 162 4%

Cylinder 5: 160 5%

Cylinder 6: 160 5%

Tires: Bridgestone Potenza RE-11s

Front: 225/50R16 date code 0417

Rear: 245/45R16 date code 0416

Recent Engine Out Service by Performance Auto in Malvern, PA at 98,669 miles
Inspected head studs and re-torque head
New clutch, clutch fork, shaft bearings, pilot bearing, flywheel ring gear, release bearing, lever shaft & lever shaft seal
New slave cylinder & slave cylinder line
New input shaft seal
New rear main crankshaft seal
New intake manifold gaskets
New oil lines
New fuel lines
New breather hoses
New cooling fan pulley
Valve adjustment
New valve cover gaskets
New spark plugs and ignition wires
Fuel injectors cleaned
Mobil 1 20W-50 oil & new oil filter
Mobil 1 gear oil
New shifter bushings & pivot cup
A/C conversion from R12 to R134A with new o-rings & fittings
New A/C receiver drier
New O2 sensor
Sent ECU out to be re-built
New luggage compartment struts
New engine compartment struts and deck lid latch
Replace K&N air box with stock air box and new air filter
Rebuilt starter
New Interstate battery
New OEM match champagne carpets from Lakewell
New Lloyd floor mats
New frunk carpet set from Auto Atlanta (have the original perlon)
Front seats reupholstered by PO
Very high quality repaint by PO
No chips, dings or scratches
All electrics and mechanicals operate properly with exception of the cruise control

Photo Album:

https://photos.app.goo.gl/rbg79lheXoX0XT8b2

Cold Start Video (42 degrees outside):


Cold Start (Single digit temperatures outside):


Drive Off Video (Single digit temperatures outside):


Walk Around Video:


Power Top Operating:
https://www.youtube.com/watch?v=eCdlcYGSwSA

Ownership History:

1st Owner – Richardson, Texas

(Service records from new until 1991)

2nd Owner – Flower Mound, Texas – 1/29/1992, 33,675 miles

(Two service records from 1997)

3rd Owner – Dallas, Texas – 5/10/2001 approximately 88,000 miles

(Two service records from 2004 & 2005)

4th Owner – Charlotte, North Carolina – 11/4/2005, 93,484 miles (No service records)

10/5/2011 – "Very Minor rear end damage reported"; I was told by the consignor that the 911 was scratched on the rear decklid while parked, requiring the rear decklid to be repainted.

5th and current owner – Valley Forge, PA – 6/13/2017, 98,618 miles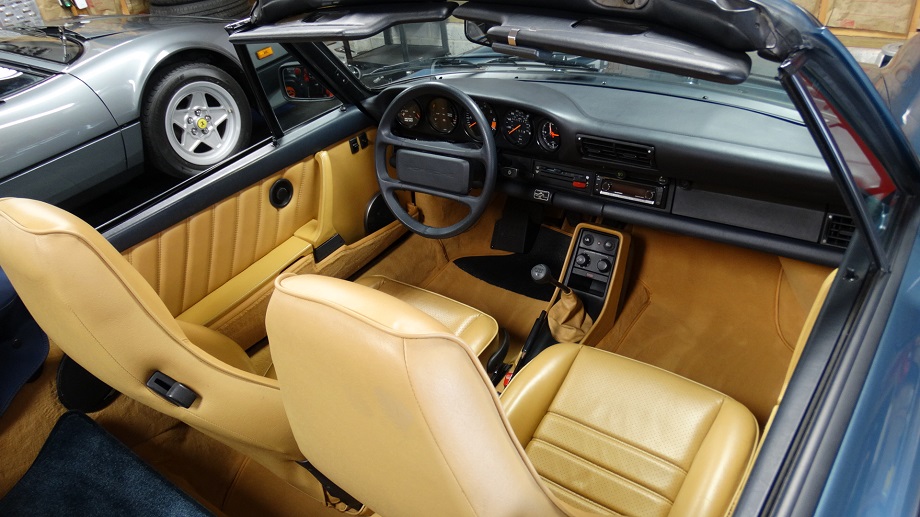 I believe this is the second 911 of Jeff's I've posted. The last one (a Ferrari Fly Yellow 993) wasn't one of our Feature Listings, nonetheless I was struck at that time by how well presented and priced the car was. I see no difference here. We're provided with a wide array of pictures showing nearly every aspect of the car with both close up and long range shots. We see a number of service records and are provided the ownership history. We're told recent leak down numbers; option codes; various details of its current condition and servicing. It looks like the original items removed from the car like the radio and exhaust come with the sale. If you're shopping from a distance, there's not a whole lot else that you could ask to see. And, of course, it all looks really good. The paint looks in fine shape and the interior is crisp and clean. The engine bay looks outstanding. If you're in the market for one of these rare G50 Carreras with the M491 package I think you'd have to like what you see here.
I noted during my last post on an M491 Carrera that we've seen a few of them pop up recently. Of those, this is easily the lowest priced. It also has a few more miles than the others, but with just under 100K miles we're not exactly talking about a high-mileage 911. Even with more of them coming up for sale they're still quite rare among 911s and of our recent listings this is the only Cabriolet. Hopefully it can find itself a new home.
-Rob