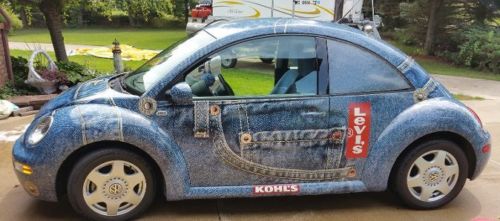 I've talked in previous posts about how in the early 1990s, the standard Jetta was pretty hard to get excited about because of the other neat products at your local VW dealership. But the Jetta was done a service by the birth of its new sibling – the New Beetle. Looking a bit like a Golf with mumps, the New Beetle was gimmicky and a clever marketing exercise, but as an enthusiast it was about as far from desirable as you could get. Adding to that was that a majority of early examples were tied to the "2.Slow" and had an automatic transmission – now you were stuck in a slow fish bowl.
To make it more appealing, nearly since its inception VW has had special editions of the Beetle pretty much every year. 2018's are the 'Convertible Coast', which has a "surfboard-look appearance dashboard" and the 'Dune', which comes with a free VHS copy of the eponymous movie I think. 2017 included the 'Classic' model which had a special interior. But for special interiors, we need to talk about 2016's 'Denim' edition. It was a throwback to the 1970s, when Volkswagen launched multiple 'Jeans' editions of the original Beetle, replete with "denim-style" fabric. But these two weren't the only times that a Volkswagen attempted to capture America's favorite pantalones: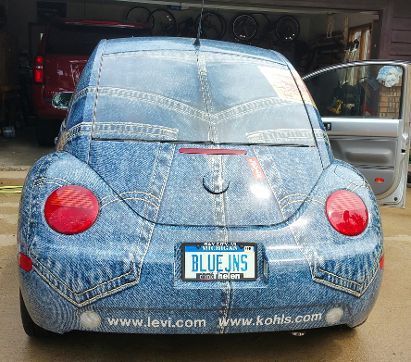 Year: 2001
Model: Beetle
Engine: 2.0 liter inline-4
Transmission: 4-speed automatic
Mileage: 13,658 mi
Price: No Reserve Auction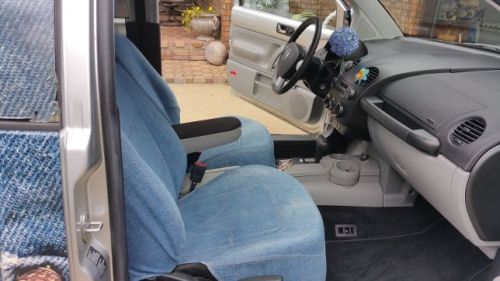 2001 VW Volkswagon Beetle Sweepstakes Car, Very Rare, 1 of 10 made in 2001 by Levi`s and Kohl`s Department Store. 13,658 original miles, been in storage in a heated garage with no winter driving, Exterior/Interior looks like blue jeans , interior seats covered with Levi material, 4 cyl, 2.0 L engine, automatic trans, PS, PB, Cruise control, PW, PDL, P Mirrors, heated seats, AC, power moon roof, lift front seats, 4 wheel disk brakes, ABS brakes, telescopic steering, keyless entry, 16″ wheels, AM/FM stereo w/ 6 CD player changer, premium sound, great on gas, up to 33 mpg, Non smoker owned, This is a real head turner, Attracts attention when driving, original everything, there has been no changes to the car, other than a new battery. The only difference between this and a new one is the price. No Reserve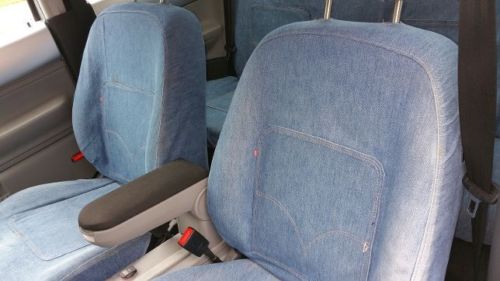 Although I had not heard of it prior to seeing this listing, I find it somehow unsurprising that Kohl's undertook this giveaway. From what I can tell, this wasn't a factory Volkswagen job; it looks like a Reflex Silver Metallic 2.0 automatic that's had a Levi's wrap applied and some ill-fitting jeans-inspired seat covers. It does look like a relatively loaded Beetle, if you were looking for one, and mileage is certainly as low as one gets. Herein lies the problem.
Because it was a sweepstakes car rather than an official special, I highly doubt anyone will be looking for it as a collectable. At some point the wrap will likely fail and the seat covers will look even more ill-fitting, and at that point you have a pretty standard New Beetle. The starting price on the no reserve auction isn't terribly outrageous; but then, $8,200 is a lot to pay for a 2001 Beetle, especially since you can get much nicer Beetle Turbo Ss for less than half that price.
-Carter