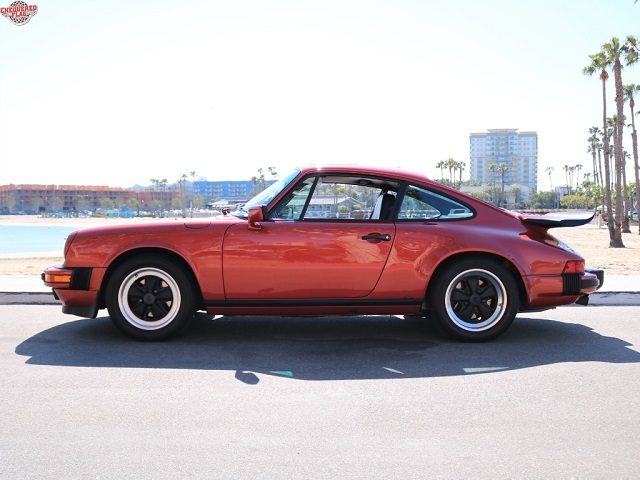 This is a Porsche color I have never seen before. I like when that happens. Of course it's made even better when the color is one that I like the look of as well. The color in question is Kiln Red Metallic and here we see it on a 1984 Porsche 911 Carrera Coupe with only 26,998 miles on the clock. I really only have these pictures to go by, but Kiln Red appears not quite burnt orange and not really a brick red either (though that is the way ziegelrot translates). By name I'd guess it comes from the fiery inside of a kiln and we can sort of see that blend of orange, red, and yellow at work here. It's a captivating color and even though these pictures mostly show it under direct sunlight I imagine it will show dramatic changes in the shade or even on a cloudy day. Positioned under one of those flaring red/pink sunsets it'd probably look amazing.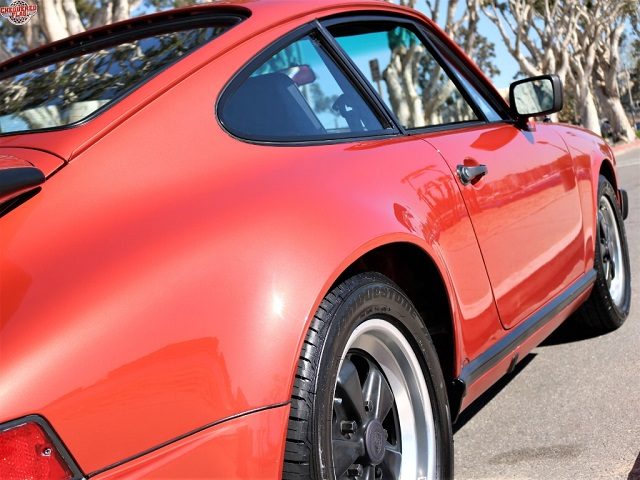 Year: 1984
Model: 911 Carrera
Engine: 3.2 liter flat-6
Transmission: 5-speed manual
Mileage: 26,998 mi
Price: $76,500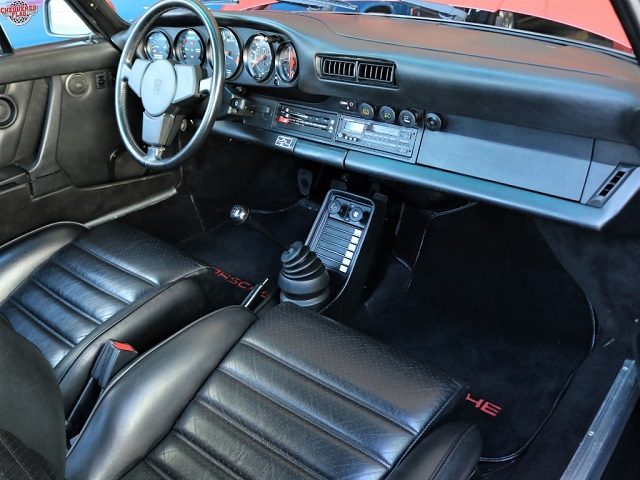 Chequered Flag International is pleased to offer this 1984 Porsche 911 Carrera Coupe in Kiln Red with Black interior. Sold new 10/84 by Continental Porsche in Portland Oregon to its only owner. Garaged its whole like and unused for the alt 10/15 years. We got it and went through it thoroughly. We took the engine out, fitted new clutch and pressure plate. Fitted new engine bay insulation pad, detail all round, pulled gas tank went through all lines. Completely went through the braking system. Full fluid flush rebuilt all calipers, etc. Major service and injector service, etc. All belts and fluids. New tires. This is as fresh and dialed in mechanically as possible. Perfect body with incredibly and vastly original paint. All stickers in place including the option code sticker under the hood. The interior is original and spectacular. Factory sport seats which look new. Un-cracked dash, perfect roof liner, door panels and carpets. There are few 911's of this vintage in the super original condition. The color is very rare. This is one for the collection! Comes with it original books including service book with option code sticker with eight service stamps, tools, jack, air pump, extra keys, etc. Inspections encouraged. All sales AS-IS. Sales tax and license fees due if delivered in California.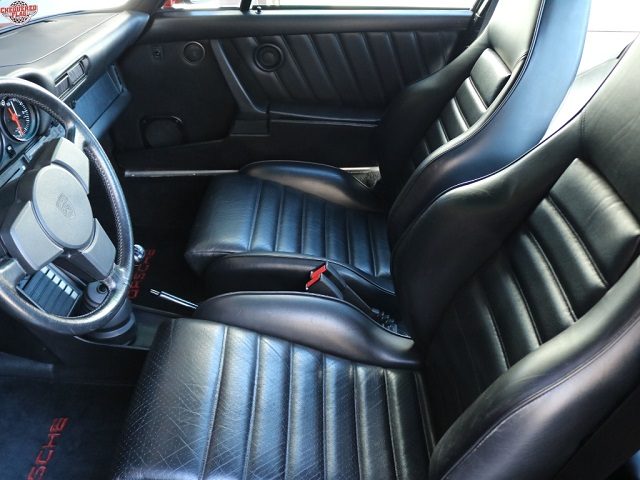 Quite honestly this is one of the better 3.2 Carreras I've come across. The condition looks great inside and out, the color is unqiue, and the mileage is very low. With sport seats, 16″ wheels, and front and rear spoilers it's optioned just about how I'd like as well. The total package is extremely attractive. As tends to happen, that means it's priced high. Very high: $76,500.
There are a lot of Carreras, and the earlier 911SC, on the market in good condition for well under that price. They aren't in nearly as good condition and most wouldn't come in such a rare color, but they're out there, which makes this a tougher sell. A later G50-equipped Carrera might have a chance, but I'm not sure about an '84. We also don't hear about much in the way of documentation. The paint is said to be "vastly original" and I would interpret that to mean no more than minor touchups. That's got to be verified though. The basic point being: at this price documentation may be just as important as how it looks right now. Still this is a fantastic 911 and one that surely warrants a high price. Does the current market support such a price? I'll be very interested to see.
-Rob