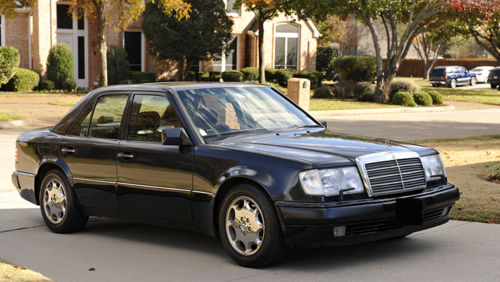 The Mercedes-Benz 500E is a car which needs no introduction to the fans of GCFSB. We feature the model on a regular basis; as one of the most popular super-sedans produced by Mercedes, we're always glad to see a very mint condition, low mileage model and hopeful for a steal when we see less pristine examples. The possibility always exists that one will sneak in at a cut-rate – a model that has higher miles and a small list of needs, for example, that will allow for a more reasonable purchase price. But as we pine and search for values on the 500E/E500 market, ironically we seem to ignore the model which replaced it in spirit; the E55 AMG. Part of that comes down to both the real and perceived gap in quality between the W124 and the W210 chassis; however, what is undeniable is what that equates to in the real world. Find a not-perfect, higher mile 500E today and you'll be looking at around $10,000 or more while a mint condition, low mile E55 AMG is available for around the same amount. Which is the better proposition?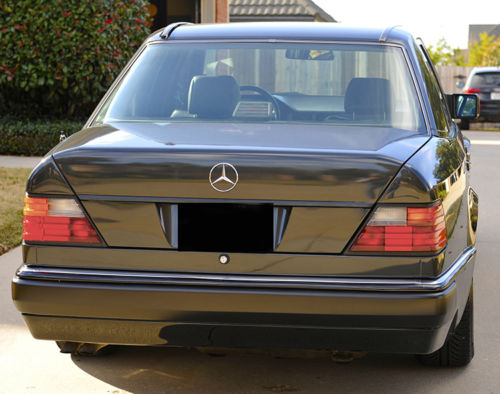 Year: 1992
Model: 500E
Engine: 5.0 liter V8
Transmission: 4-speed automatic
Mileage: 167,600 mi
Price: No Reserve Auction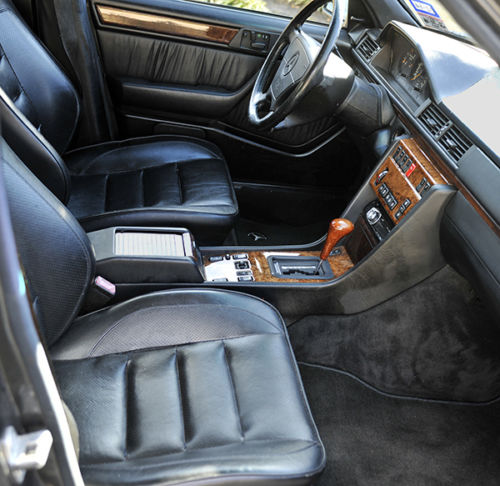 This is an excellent example of fine restoration. Excellent paint. Over $40,000 invested since 2011. Receipts and spreadsheet for work done since purchased in 2011. Driven 35,000 miles since restoration. Starting price at $7,999 well below market value. The selling price will be what the market determines on this listing.

From 1990 to 1994 (model years 1991–1994), Mercedes-Benz sold a high-performance version of the W124, the Mercedes-Benz 500 E (W124.036). The 500 E was created in close cooperation with Porsche; each 500 E was hand-built by Porsche, being transported back and forth between the Mercedes plant and Porsche's Rossle-Bau plant in Zuffenhausen, Germany during assembly — taking a full 18 days to complete each model. Design began in 1989 and into 1991.[2] Called '500 E' through model year 1993, for model year 1994 it was face-lifted along with the rest of the range and renamed to 'E 500'.

Specifications and General Information

The 500 E had a naturally aspirated 5.0L V8 engine derived from the 500 SL (R129) roadster. Sports car braking performance also came from SL components: front SL 500 300 mm disks with 4-piston calipers came installed on the 1992 and early 1993 cars. The later 1993, and all 1994 cars came with the upgraded 320 mm set taken from the 600 SL. Rear brakes on all years were 278 mm brakes from the 500 SL. In the USA, the 500 E came fully equipped, with the only options available to the buyer being a dealer-installed CD changer and an integrated cellular telephone. The 500 E was only with four seats in left hand drive, with the four leather seats supplied by Recaro (the fronts heated).

Called the "Wolf in Sheep's Clothing" by the press,[3][4] performance tests of the day yielded impressive results: 0–100 km/h (0–62 mph) times of 5.5 to 6.0 seconds and acceleration through the quarter-mile (0.4 km) in 14.1 seconds at 163 km/h (101 mph). The top speed was redline limited at 6,000 rpm to 260 km/h (~160 mph). It was rated at 16.8 L/100 km (14 mpg) in the city and 13.8 L/100 km (17 mpg) on the highway.

With its aggressive stance: 1.5 inches wider track, 0.9 inch lower profile, flared fenders, side skirts, front air-dam and wide tires, the 500 E is easily distinguished from its lesser brethren. Because of its look, limited numbers, hand-built construction, and unique pedigree, the 500 E is already considered a "classic", even within Mercedes-Benz.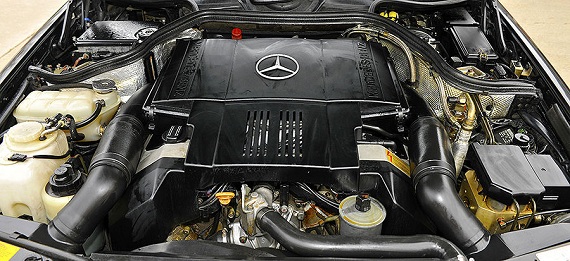 While I very much appreciate that the seller has a binder that details the work and $40,000 "investment" since 2011, it would be more helpful to understand the motivation and work covered rather than some generalities about the car. I think more enthusiasts would prefer to know the recent history than what a magazine said about the car originally. One could argue the "investment" was quite a bad one, since you can get a very nice 500E for much less than $40,000 with less miles. Was it preventative maintenance, or was this car a total wreck? It's certainly no spring chicken, with 167,000 miles on the clock – so even with the substantial amount spent on the car the price is likely to stay low. The color combination isn't bad by any means, but the picture of the rear appears to show some orange-peeled paint and the chromed wheels are horrible in my opinion – I'd probably sport for something like these http://ebay.com/b/Cars-Trucks/6001?Make=Audi%7CBMW%7CMercedes%252DBenz%7CVolvo%7CVolkswagen%7CPorsche&Model%2520Year=2010%7C2009%7C2008%7C2007%7C2006%7C2005%7C2004%7C2003%7C2002%7C2001%7C2000%7C1999%7C1998%7C1997%7C1996%7C1995%7C1994%7C1993%7C1992%7C1991%7C1990%7C1989%7C1988%7C1987%7C1986%7C1985%7C1984%7C1983%7C1982%7C1981%7C1980%7C1979%7C1978%7C1977%7C1976%7C1975%7C1974%7C1973%7C1972%7C1971%7C1970%7C1969%7C1968%7C1967&Vehicle%2520Mileage=Less%2520than%2520100%252C000%2520miles&rt=nc&_dmd=1&_fsrp=0&_sacat=6001&_sop=16&_stpos=97330&mkcid=1&mkrid=711-53200-19255-0&siteid=0&campid=5336332035&toolid=20008&mkevt=1&MBDACmisc=1s5m2fH E55 AMG alloys to replace them: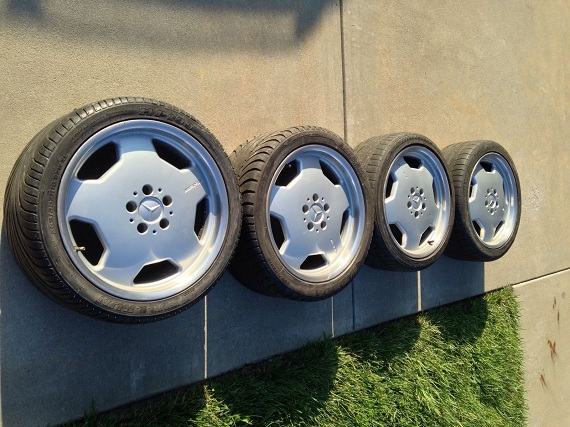 Outside of that, if you can stand the higher miles this is likely a reasonably priced example with bidding a bit under $10,000 with a few days to go. What else does that buy you?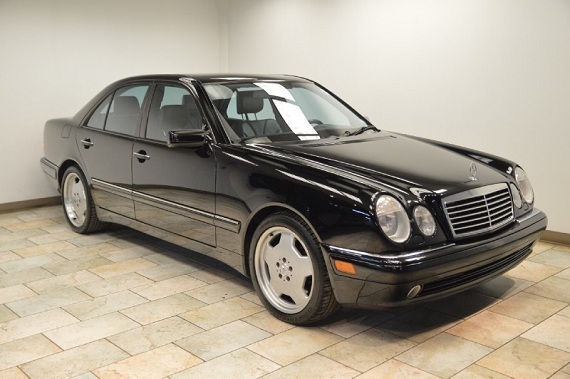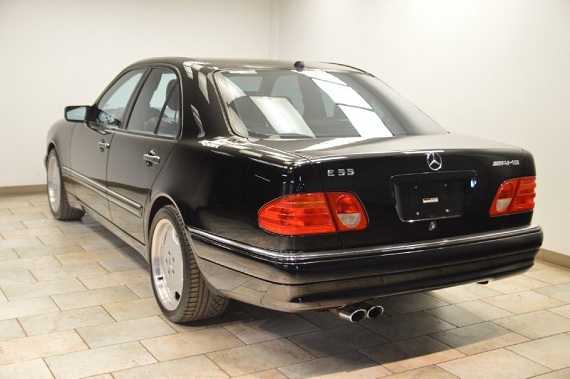 Year: 1999
Model: E55 AMG
Engine: 5.5 liter V8
Transmission: 5-speed automatic
Mileage: 61,381 mi
Price: $11,750 Buy It Now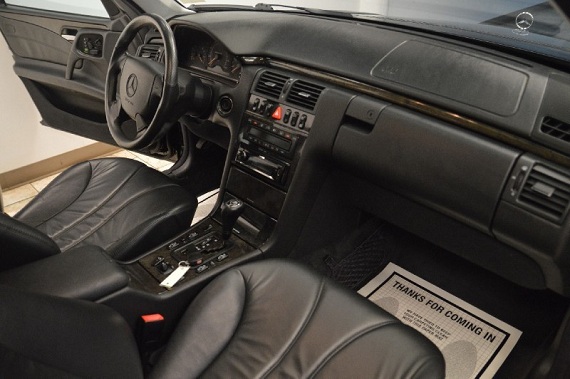 DON'T MISS THIS BEAUTY RARE COLOR !!!!

There is still plenty of tread left on the tires.

This vehicle is fully-loaded.

With just 61,381 miles, this car is barely broken in.

Very low mileage vehicle.

100% CARFAX guaranteed!

Very clean interior!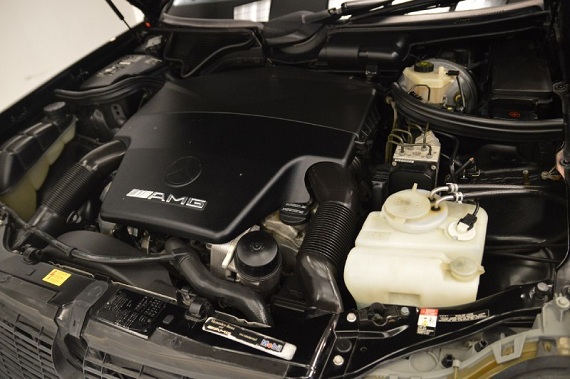 How about an E55 AMG in the same all-black color combination, mint condition with over 100,000 miles less than the 500E? Considering the performance between the two is fairly equal, it's pretty amazing that the value on these W210s has remained so low. Granted, there are reasons for that – the W210 isn't quite as attractive and doesn't have a stellar reputation for quality. However, find a good example and the people that own them claim that they're reliable, fast and long lived – as well as a great drive. They've even developed a bit of a sub-set of fans, just like the 500E – people that consider them a cult classic. This is certainly one of the better ones I've seen recently and is a great reminder that we don't highlight nearly enough of them on this page.
Which is the winner? Well, as much as I love the 500E, there are just a few too many questions and a few too many miles compared to the E55. I'd probably choose the AMG in this case, though in general I prefer the 500E/E500 to the newer cars. Which would you choose?
-Carter