Edit 11/17/2017: After three years with a over $230,000 asking price with the same seller, ask on this neat Andial-modified Carrera S has finally dropped to $149,993. Of note is that in over three years, the picture, description and mileage have never changed. A neat car, but buyers should do some heavy investigation before the deposit. Is this car a sign that the air-cooling market has also struck the 993, or is this just an aberration?
The 993 is, without a doubt, one of the more desirable 911s in the range of cars that span several generations. Enthusiasts agree, having quickly pushed prices up on these models over prior generations like the Carrera 3.2 and 964. In fact, it doesn't ever seem like prices on these cars came down much – as soon as the 996 arrived, faithful flocked towards the older models, snapping them up. Especially sought are the Carrera 4S and Turbo models – but there are some really rare gems hidden that pop up from time to time. Obviously, the ultra-rare Turbo S, Carrera RS and GT2 models are a great example – quite rare indeed. I've also previously written up an even more rare Andial Twin-Plug Twin-Turbo, one of the reported 19 assembled by the noted factory approved race tuner. Today's car, like that car, mixes some of the styles of the rare cars that we didn't get or didn't see many of. The base is the already semi-rare Carrera 2S; like the 4S, the body shell was shared with the Turbo, but unlike the all-wheel drive variant, the Turbo's upgraded brakes didn't carry over. To solve that, the owner of this car turned to Andial – with a host of exterior upgrades to make it look like a Turbo S and a host of RS-spec 3.8 upgrades to make it go well, this is one tidy package – and exceedingly rare: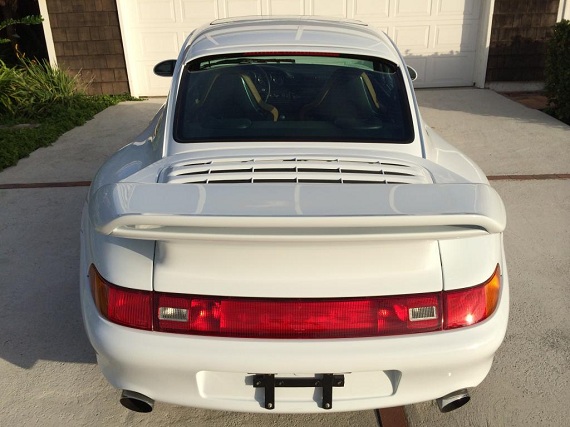 Year: 1998
Model: 911 Carrera 2S
Engine: 3.8 liter flat-6
Transmission: 6-speed manual
Mileage: 32,151 mi
Price: $149,993 Buy It Now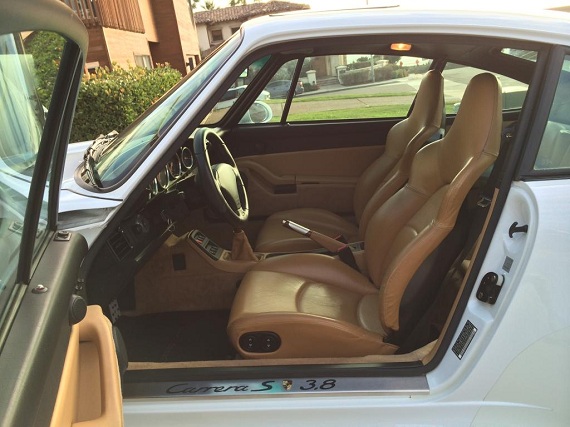 1998 PORSCHE 993
ANDIAL 3.8 C2S
just 32,151 MILES

FINEST AVAILABLE!!!

1998 PORSCHE 993 C2S
Glacier White / Cashmere
32,151 miles

Featuring:
*ANDIAL 3.8 Liter Engine
*ANDIAL Gearbox
*ANDIAL M030 Suspension
*ANDIAL Installed Quafe Limited Slip Differential
*Genuine PORSCHE 993 RS Shifter
*Genuine PORSCHE 993 Turbo S Aero Kit II
*Genuine PORSCHE 993 Turbo S Rear Quarter Panel "Formed Metal" Brake Ducts
*Genuine PORSCHE 993 Euro Turn Signal Units (front & rear)
*Genuine PORSCHE 993 Turbo "Euro" Bumpers (no unsightly US black plastic Bumperettes)
*Genuine PORSCHE 993 Turbo S Yellow Caliper / Floating Rotor Braking System
*Genuine PORSCHE 993 Turbo 18″ "Hollow Spoke" Twist Wheels
*Genuine PORSCHE 993 "Hardback" Sport Seats
*Genuine PORSCHE 993 Stainless Thresholds with Custom "Carrera S 3.8" Script
*TechArt Front Brake Duct/Fog Light Units (ANDIAL preferred these to the 993 Turbo S versions)

ANDIAL was purchased during the first quarter of 2013 by PMNA (Porsche Motorsports North America), and served as Porsche's
North American "racing arm." Link:

http://www.autoblog.com/2013/02/16/porsche-acquires-andial-will-integrate-with-in-house-motorsport/

The ANDIAL 3.8 Motor, Gearbox and M030 Suspension were all built using Genuine Porsche Racing Parts.

ANDIAL 3.8 Motor is flawless, with silky smooth low idle; and massive torque from low revs to redline.

ANDIAL Suspension is equally perfect, with an ideal low ROW (Rest Of World), M030 stance; and was/is tuned for comfortable street use.

INTACT & INCLUDED:

"Switchblade" Keys (2), Books & Service Records.

Original ANDIAL Build Invoices & 35mm delivery pictures.

Original Tools, Jack, Spare & Air Compressor.

WILL ASSIST INTERNATIONAL BUYERS.

Message &/or call with any questions (858) 454 – 9898 (9am-9pm PST).
PAYMENT TERMS:
ALL SALES FINAL.
FOR SALE/SOLD "AS IS" "WHERE IS."
THERE IS NO WARRANTY NOR GUARANTEE STATED OR IMPLIED.
NON-REFUNDABLE $2,000 DEPOSIT VIA PAYPAL DUE WITHIN 24 HOURS OF "BUY IT NOW" &/OR AUCTION END.
BALANCE VIA BANK WIRE DUE WITHIN 3 CALENDAR DAYS. NO EXCEPTIONS.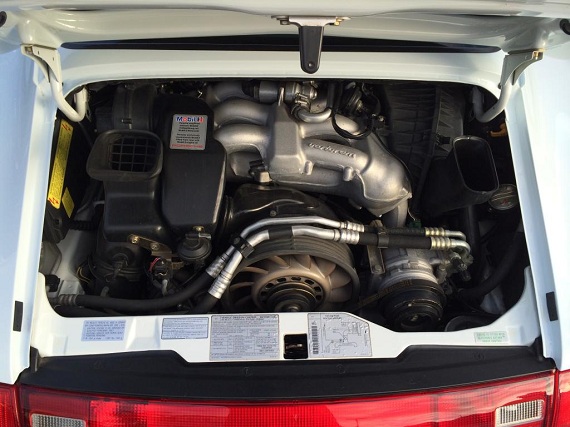 All in all, the build on this car is incredibly impressive as the Andial cars often are. Rare are the non-Turbo versions modified by Andial, but let's not forget that Andial was the firm that Porsche turned to when they needed to assemble the 964 Cup cars in the United States. Andial was a defacto Porsche subsidiary that worked hand in hand with their motorsports division before it was really well established in Porsche Motorsports North America – so much so, that Porsche eventually bought them outright recently. The build sheet is undoubtedly impressive and comprises the highest quality OEM pieces. What they effectively built was a Turbo S look RS for the street; retaining some of the best characteristics of both models while also maintaining the comfort of the regular Carrera. The combination of effective and proven modifications into a very desirable, last year air-cooled 993 is intoxicating; coupled with a great color and very low miles, this is a stunning package overall. Does that make it worth $228,000 or more? Well, that's certainly hard to say – but the twin-turbo car I last wrote up was $60K less asking price and arguably equally well executed with similar miles, and even then it lingered for some time on the market even in more desirable turbocharged form. I can't imagine that this car will be a quick sale at this price, if it will even trade hands at all. The market is growing, but this car – perhaps a one-off – seems to be quite far ahead of the market right now and would really require a special buyer looking for just this type of car.
-Carter