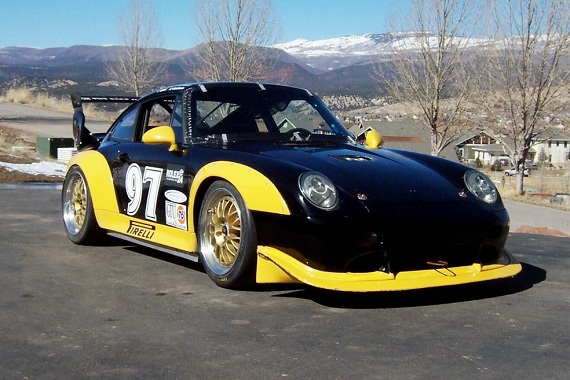 In the mid to late 1990s, you had to be a pretty die-hard fan of endurance racing to still be watching. Long gone were the Group C battles and while racing was on the verge of another revolution with the "stock" GT1 cars from Porsche and Mercedes-Benz, it would be another few years until the zenith of that as well. Quietly in the background, if you were paying attention, another chapter in endurance racing was coming to a close with the very last air-cooled Porsche factory cars being produced. They went out with a bang, too – with the monster 993 3.8 RSR and GT2 Evo turbocharged models being some of the fastest non-silhouette 911s ever produced. They didn't make many of them for sure and they're quite rare to see, but today one of the last is for sale, and reported to be the only black one ever produced: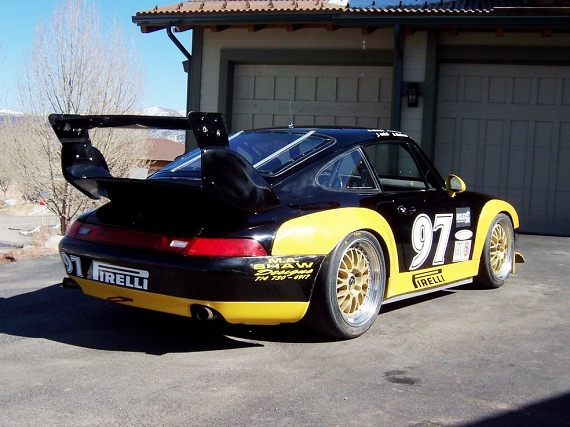 Year: 1997
Model: 993 RSR 3.8
Engine: 3.8 liter flat-6
Transmission: 5-speed manual
Mileage: N/A mi
Price: $ 265,000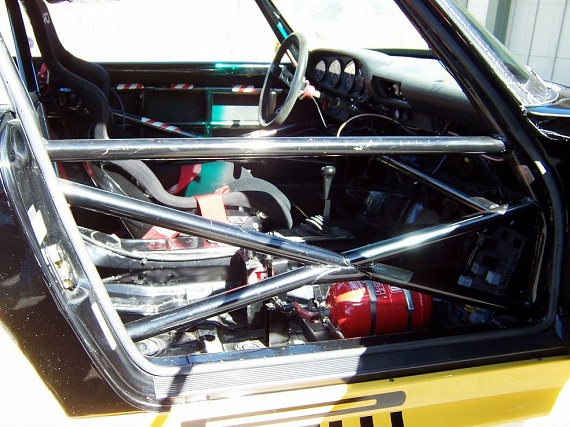 This is one of a few 1997 Porsche RSR 3.8 race cars that were shipped to the U.S. in 1996. This car was delivered to Atlanta in December of 1996. This car is number 13 and is the only black RSR made. Since it is the only black car ordered Porsche made this car last. This car was also ordered as a narrow body. We have all of the papers from the time we ordered the car. The car raced at the Daytona 24 Hr. in 1997,98,99 and 2000. Raced in the Sebring 12 Hr. in 1998. The car now has been mechanically rebuilt and track ready. Engine and trans was rebuilt by Jerry Woods Ent. in anticipation of racing in another 24 hr. race. Don,t miss out on a chance to own one of the last air cooled Porsche Built race cars.
History
Daytona 24 Hrs;1997,1998,1999,2000 Sebring 12 Hrs;1998 LasVegas;1997 Pikes Peak International;1997

Performance Data

Class: GTU,GT3
Weight: 2600 lbs

Engine

Engine Builder: Porsche
Type: RSR
Displacement: 3.8
Horsepower: 400
Induction: Fuel injection

Fuel System

Fuel Cell
Manufacturer: Fuel Safe
Age: 1996
Capacity: 28 Gal
Fuel Pump: Bosch
Fuel Type: Racing

Oil/Water System

Radiator: Porsche

Electrical System

Ignition: Porsche

Transmission

Manfacturer: Porsche

Rear End

Manufacturer: Porsche

Body

Construction: Steel tub,roof and rear fenders,Fiberglass front fenders and bumpers
Color: Black
Condition: original, patina

Chassis

Type: Tub
Builder: Porsche
Front Suspension: 993
Rear Suspension: 993
Brakes: RSR,993 turbo
Steering: Power
Wheels: BBS,Speedline
Tires: Pirelli

Interior

Color/Finish: Black
Fire System: Front to rear
Restraints: Original 5 point
Guages: VDO Porsche RSR
Steering Wheel: MOMO
Condition: original

Spares

Speedline wheels with rain tires
Every thing we have for this car goes with it.
BBS wheels with dry tires
All original RSR parts from doors to pistons.
Refueling rig.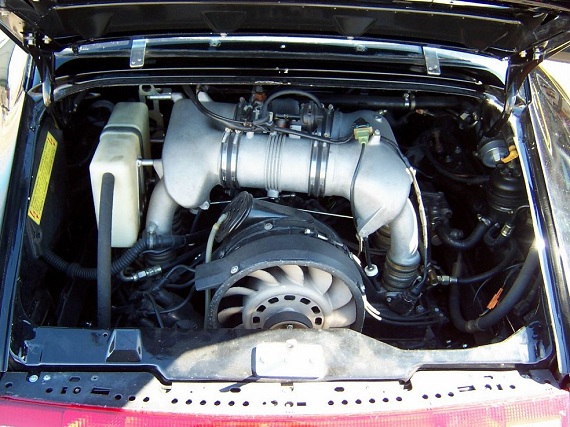 The car has been modified both from it's original delivery configuration – narrow RS body to RSR, and then again from the original colors it ran in 1997. That's not surprising given that most of these cars change hands a few times once they're not the latest and greatest. The condition overall appears good, though no mention is made of major crashes or damage, something if you're into one of these you'd want to know. It is nice that despite the modifications all the original RSR parts go along with the car as that's a fair amount of the value. As this car wasn't particularly sucessful, that it does not appear in it's original configuration probably has less impact on the value than it would if the car were a proven race winner. Still, for a non-winning car the asking price is steep; $265,000 would allow you to pretty easily replicate this car, though you wouldn't have the factory Porsche Motorsport history. Perhaps that doesn't matter to you, but it will undoubtedly matter to the individual who buys this car and will be willing to pay close to ask price.
-Carter