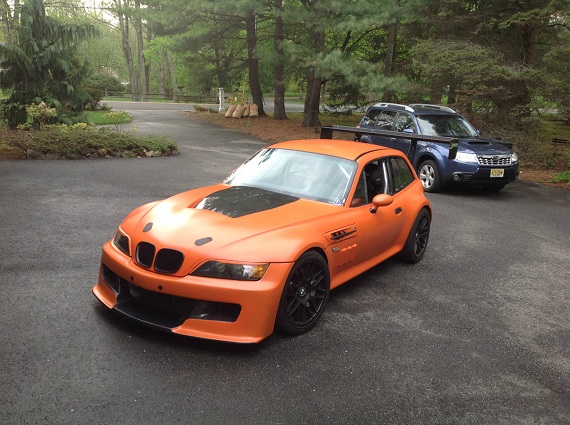 The wild LS2-swapped M Coupe has popped back up on eBay, now with a substantially lowered price to $36,500. There's a lot of custom engineering that you're getting for free at that price, and it all looks very well executed. I originally incorrectly believed the car was vinyl wrapped but was corrected by the seller that it is in fact painted matte orange. I love the audacity of the build and it's just not possible to get more speed for less money in the German car world. This is one really cool setup for a track car and much more unique than the typical M3 or Porsche Turbos!
The below post originally appeared on our site September 15, 2014: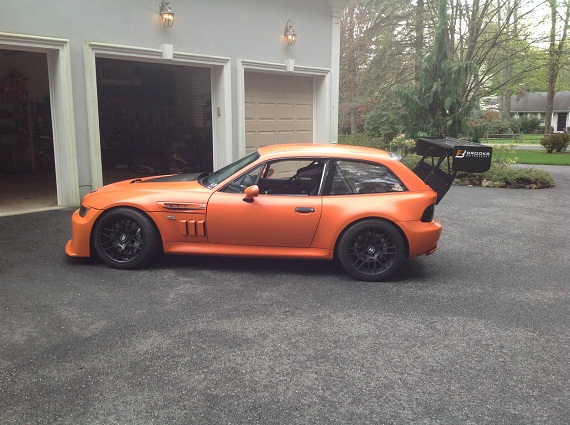 If I haven't previously voiced my displeasure with the "Lime Rock Park Edition" M3, allow me to do it now. On the face of it, it's something I should love – a track that I grew up with and still love to frequent, one of the most historic homes of motorsport in the country tied to one of the best German cars out of the box, celebrating a union with one of the best driving schools – Skip Barber. But the Lime Rock edition is more or less a special color (which, incidentally you can purchase at any point given enough money and checking BMW's "Individual" boxes properly) and a little track map of Lime Rock inside; you know, in case you forget where you are in the middle of the "Big Bend". The color, I'll admit, is pretty awesome to me and of course the competition package E92 was pretty amazing out of the box – but the premium demanded for these Lime Rock cars was simply outrageous in my opinion. What should the Lime Rock Park Edition have been, in my opinion? Well, I think the builder of this M Coupe got it right – stripped down for lower weight, big downforce and 100% more power:
Year: 2000
Model: M Coupe
Engine: 6.0 liter V8
Transmission: 5-speed manual
Mileage: 71,500 mi
Price: $36,500 Buy It Now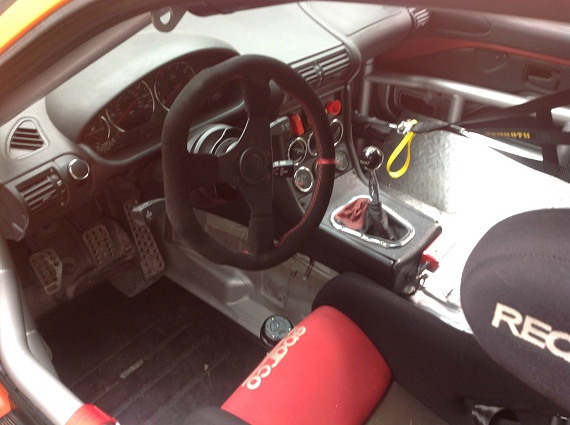 This is a 2000 BMW M Coupe with a Vorshlag LS2 Conversion. I bot the car in 2002 with 29000mi. It was leased for 2 year by a woman in town- all highway miles. It now has 71500 orignal miles on the body today and every bushing and seal has been replaced during the track build.

The carbon fiber hood, roof and bumper / splitter were made by Trinity Motorsports / Sean Bayliff who built the One Lap America s62powered M Coupe. Splitter / Bumper cover is quick release and comes off in seconds.mThe Cage and safety preparation was done by Deman Motorsports ( Grand Am and Tudor GS wining Race Team). The LS2 motor and T 56 Transmission has 30,000 miles on it. The conversion was done with the best of parts through Vorshlag in Dallas. TX.

The car was tuned by Chuck Cow of Corvette of Westchester and puts down 425 RWHP / 440 tq with cam, headers, hi flow ceramic cats and custom exhaust installed by Rogue Engineering. All body harness functions operational and integrated.

Every window is custom molded lexan except for the windscreen from Performance Plastics. WheelS are ARC with fresh set of Hankok Ventus R Comps. Side windows lock down with DZUS, and remove in seconds.

Front Brakes are massive C6 Grand Sport with 2 piece rotors and rears are brembo with dual master cylinders and cabin bias adjustment.

Suspension has freshly valved Koni to match springs. Front lower control arms and roll center kit are from SLR. All bushings have been replaced with either heim joints or 75d hard poly. The rear wing is a Brooks Elite. Rear camber and toe plates welded to sub frame.

No expense was spared in this car. If you are looking for a real drivers car that is light, sorted and has a fast and reliable power train married to a unique platform…then you are looking at the right car.

All electronics work- windows, mirrors, HVAC, door locks, lights, directional etc, This car should have NO issues passing inspection – but the roll cage and halo seat are not street friendly. There is no AC INTHE CAR- but there is heat and defrost.

I oversaw the entire swap- outsourcing to specialty shops when needed to harness and harness integration, track prep and safety stuff etc.

Car weighs 2700lbs and has 425 at wheels. Tons of grip and aero. Auto-x, Time Attack, HPDE what ever your passion. Custom /tested carbon fiber canards / dive planes included but not installed. Used as a tuning device.

Buy this car for a fraction of what it would cost to build. After dick'n around with auctions and multiple listings, the car is available at a fixed price here on EBay. I reserve the right to cancel this anytime and keep the car for myself. Its worth every bit of 55k plus the Car to build a car like this plus 100 of hours in sourcing the materials and planning the build. M Coupes are also achieving cult like status and these cars are going up in price. There is not a scratch on the car. But it is a track monster and should be purchased for that purpose only.

WHY did I build it? Its simple… I loved the M Coupe since the first day I saw one in NYC on Madison Avenue in 1999. I spent a lot of time doing HPDE from the beginning. The car was on a quest to perfection over the next 11 years. I had everything from bull rap Dinan bolt ons to a 360 whp Twinscrew Super Charger from Eurosport. Same set up that mdoprhin won his class several times in One Lap. Nothing was up to the task of real track duty to run with real fast cars.

Eventually I realized most mods were bullshit and a compromise…so I set out to build a real BMW M Coupe. The car BMW SHOULD HAVE BUILT .."…once I started I got so into it, there was no stopping. I have been around tracks , race cars and knowledgeable resources for a long time. I was able to get the right guidance to do this properly.

So this leads me to why I am selling it….I have 2 daughters that require more of my time and I have a few passions: driving sports cars and racing shifters, training for multi sport events and projects like this. reality though is that I have 2 little kids. Unfortunately I have to choose. Kids, Racing Shifters, Training and Projects take a priority so the M Coupe must go to make way for the next project. I'd rather cut off a testical than sell the car! I am also not privileged with a trust fund.

This car won't disappoint I think it's the best deal on EBay, This is not a track rat. This was no 100k mile donor beater turned track day special. This is not some loud straight pipe S52 me too E36 or E46 track day special built by the local shop. If you want to talk to me about how you can buy an E30 or e36 race car for 20k….don't even waste your time. This is not the car for you. If you are a novice driver, this is not the car for you. If you want to enter the lemons race, this is not the car for you. If you want something to challenge you, inspire fear from anyone catching you in their review, if you want to run over Your buddies BMW and leave treads on their hoods, if you want be passionate about your track car…then this car is for you.

Video of me having some fun at Monticello motor club doing lead follow with a C5 Z06….just to show the potential of the car before it lost 500 lbs and got a V8 with aero….the driver in the C5 is an east coast time attack champ and pro instructor…but the way…but we are just having some fun.

By the car before Intake it to the track and realize I need to lop off a testicle and keep it. Send me your offers, but understand that no offers below 32500 will be replied to.

thanks for your interest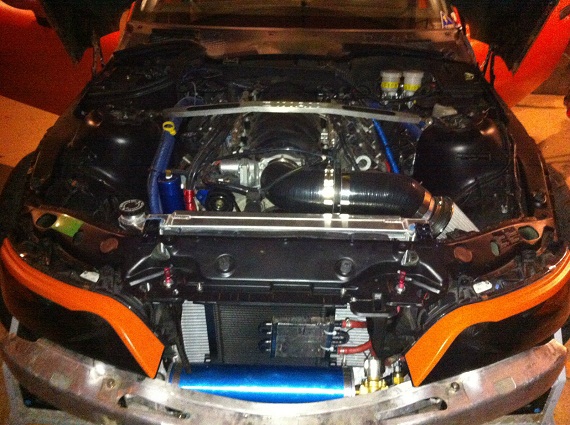 Ever see a car with a giant rear wing and think "that's totally unnecessary!" Not here, my friends. The M Coupe – already known for being more than a tad on the oversteering side, is planted to the ground with the help of that wing. Considering the additional horsepower and lighter weight, I'd wager that I wouldn't want to take it off to see what happened in the middle of "The Downhill" with the throttle planted. Already potent in stock form, the loss of weight coupled with the doubling of power must make this car an absolute monster – but the GM pieces, if anything, help to keep costs much more reasonable. The build has some of the best names in the business attached to it, and I can certainly see where the high quoted numbers come from. Outside, the paint is – to me- the perfect shade of outrageous and just enough like the LRPE M3 to make me smile. $45,000 is an awfully large amount to pay for a stripped M Coupe; but consider that it's about half the price of an equipped M3 LRPE and it's not so horrible. You'll scare everyone this side of a well driven GT3 (including yourself) and short of formula cars, I'm not sure it's possible to go any faster than this cheaper. Kudos to the builder for what appears to be a very impressive car – one that is unlike to generate anything other than smiles on the new owner's face.
-Carter