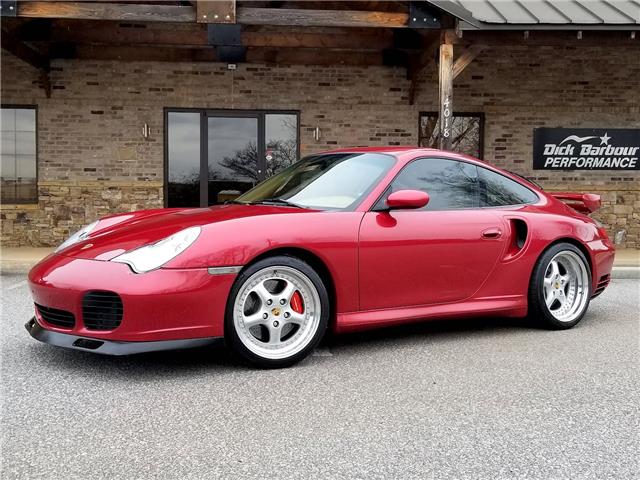 Here we have a car engaged in a little bit of an identity crisis. I find it a little perplexing, but let me get to that later because beyond that disjunction it's actually a rather interesting 911 Turbo. This is an Orient Red Metallic 2002 Porsche 911 Turbo Coupe with 53,795 miles on it. It's fitted with the Turbo Aerokit along with a pronounced front lip spoiler, factory options that are kind of divisive in their appeal, but nonetheless are fairly rare. The interior also has a wide array of maple wood accents and leather fittings. Those options bring with them a level of elegance that seems somewhat at odds with the exterior options. It's all very much racer on the outside and grand tourer on the inside. But which does it want to be?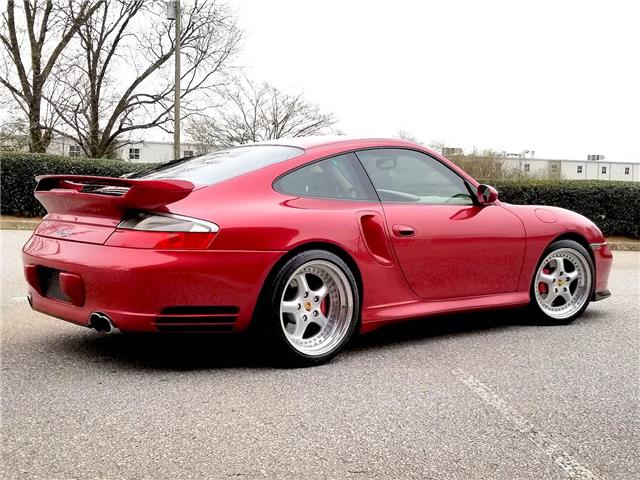 Year: 2002
Model: 911 Turbo
Engine: 3.6 liter twin-turbocharged flat-6
Transmission: 6-speed manual
Mileage: 53,795 mi
Price: $57,900 Buy It Now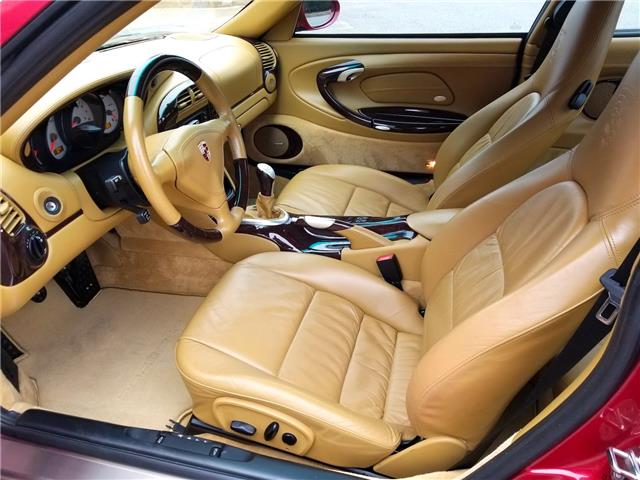 2002 Porsche 911 Turbo.

Vin WP0AB29952S685759.

53,795 Miles.

6-Speed Manual.

Orient Red Metallic.

Savannah Beige Full Leather Interior.

Clean Carfax.

$134,480 MSRP (Very high for non X50 car.)

Books, Manuals, Service Records, 2-Keys, Tools, Spare and a Jack.

This racy looking 996 Twin Turbo comes in the rare Orient Red Metallic color (code L8A3), which is all around in superb condition! The factory Turbo Aerokit is a highly sought out option, and it eliminates the spoiler failure option, which these Turbos are prone to.

The Savannah Beige interior is very nicely complimented by the Dark Burr Walnut trim, which ads lots of richness to the overall feel and comfort.

The overall performance and mechanics are spot on! There is still a certain element of the old era Porsche where you can feel the car working, but it's also injected with the modern twist of smooth shifting and rapid acceleration. The car is fitted with a B&M short shift, which is a very popular upgrade that does not take away from the car's authenticity.

The notable and recent service consisted of:

43,843 Miles – 45K Service.
46,990 Miles – Clutch Slave Cylinder.
47,031 Miles – Hydro Clutch Accumulator.
51,745 Miles – Oil Change.
53,794 Miles – New Front Michelin Sport Pilot Tires.

Options for this car are:

424 – Climate Control.
446 – Colored Porsche Crests on Wheel Caps.
554 – Front Spoiler Lip.
586 – Lumbar Support, Drivers Side.
696 – AM/FM Radio w/ CD Player.
939 – Soft Look Leather for Rear Seats.
982 – Soft Look Leather Seats.
X70 – Door sills in Stainless Steel with model insignia.
X71 – Aluminum painted instrument dials.
XAF – Turbo Aerokit.
XE8 – Gear lever in dark burr walnut with aluminum inlay, leather.
XE9 – Handbrake lever in dark burr walnut with aluminum inlay, leather.
XJ4 – Leather ignition lock surround.
XKC – Side air vent in dark burr walnut.
XPC – Three spoke steering wheel in dark burl walnut, leather.
XSC – Porsche Crest in Headrest.

"I would like to share my personal observations about the 996 Turbo's! The engine was designed by Hans Metzger, probably the best Porsche engine designer ever. Mr. Metzger designed the engines for my Porsche factory team cars that we won the 2000 American Le Mans Series with. They were absolutely bulletproof, enabling us to win 10 out of 12 races. We also won the European Le Mans Series in 2000. The 996 Turbo engines are not the same design as used in the normal 996 911's. There was a intermediate shaft bearing problem with those cars and some have thought the Turbo's also had a problem. Not true, Mr. Metzger's engines feature a totally different design. Serviced properly, they will provide many hundred's of thousands of miles with spectacular performance." Dick Barbour.

Collector car financing available at competitive rates.

Vehicle Disclaimer:
We make every effort to provide you the most accurate, up-to-the-minute information on all of our vehicles in our inventory. However, please do verify with us before purchasing that all the information is correct and up to date. Also, unless we take a deposit, any car is fair play and up for sale.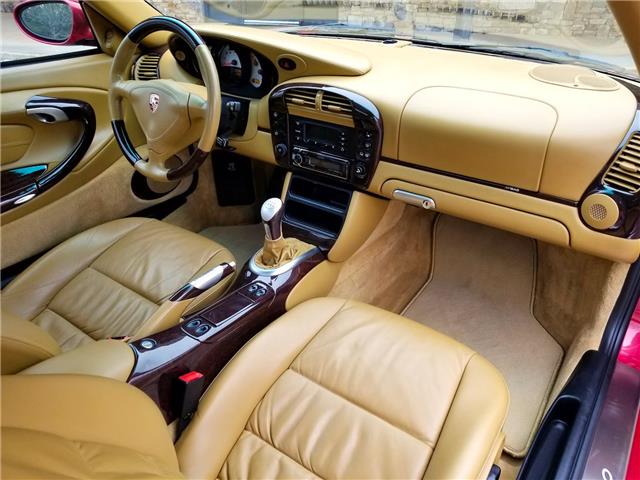 Porsches with wood trim always are a little peculiar. I'll admit some of them look really good even if it's not a route I would take myself. The 911 Turbo long has sought to combine the best of performance and refinement and in that vein wood accents can make sense. They're still somewhat jarring though and I think this Turbo really shows these two attributes in their extreme. Does it work? That surely will be up to each individual. I imagine most will not prefer it, but for the buyer who does seek out these options this Turbo certainly brings with it a rare combination. The Orient Red exterior helps bring it all together providing the excitement of a red exterior, but toned down slightly through its metallic accents.
The thing that perplexes me about this Turbo is simple: how do you select all of these options, and end up with a pretty high priced 911 Turbo, while not selecting the X50 performance package? I'm even more confused given the overall look the owner seems to have been seeking out. The look says it should have the X50 package, but it doesn't. Granted, that package is quite expensive and the 996TT has plenty of power even without it so perhaps it was a case of this being enough power. I don't know, but I remain surprised. If it's that sort of peak performance from a 996 that you're after, this seller does have another Turbo available that will suit your needs. It has a similar sort of look and is offered at a similar price. It does have a few modifications so you may want to tread carefully. I don't find it as interesting or unique as this Orient Red Turbo, but if extra horses are more your thing then it has those.
-Rob