We don't see too many E3 bodied BMWs around. They are over looked by their smaller sportier brethren and despite being more nimble than many of the V8 powered Benz large luxury sedans of the same time. The blood line of the modern large and quick BMW sedan can be traced back to the Bavaria.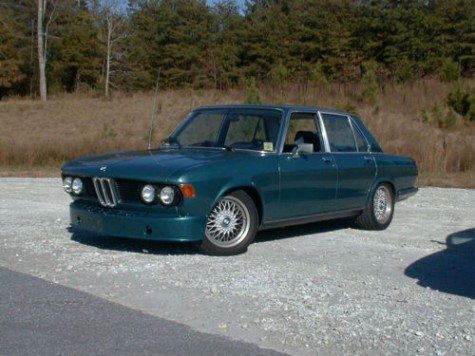 The car seen here falls into the restomod category. The owner has done a number of things to make the car better than original, as long as you aren't a purist car collector. First the original engine has been swapped out with a later 3.5 liter unit, though it isn't specified as to where it came from. The engine has 150k on the bottom end and 10k on a rebuilt top. The car also has a 5 speed conversion, complete with Alpina shift knob. Hartge rep headers, 3.64 LSD, and custom suspension add to the sportiness.
Inside a cloth Recaros and a modern stereo exist.
A CSL airdam and shaved front bumper along with Hella lamps, make the front end of this car stand out, as does the custom Mercedes Benz oyster green metallic paint.Actual miles aren't given, but from the sounds of the description the car currently doesn't get used much.
The car is at $4,500 with bids and no reserve. I'd expect the price to get up to around $6,000 if it finds two folks that appreciate car car's uniqueness. Surely a car to catch eyes at the local car show.
~Evan