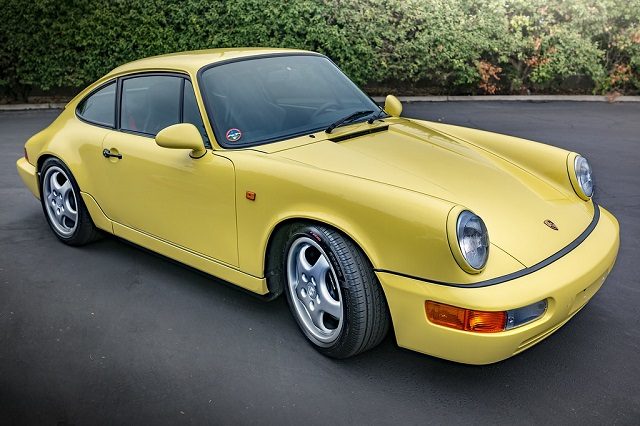 I've been looking at a few yellow 911s over the past week and if we add in Carter's Speed Yellow 968 then these bright yellow Porsches have been a little bit of a theme. I'm going to raise the bar some now and while I know it's tough to top the rarity of that 968 I think this one certainly tries its best. We'll definitely be raising the bar on price.
Here we see a beautiful paint-to-sample Lemon Yellow 1992 Porsche 911 Carrera RS. I've featured a few examples of the Carrera RS lately as now that it has passed the 25 year waiting period I've seen them come up for sale more frequently. It is one of my all-time favorite 911s, perhaps even being my all-time favorite though that seems to change with the season. Regardless, they are spectacular machines and this looks to be a spectacular example.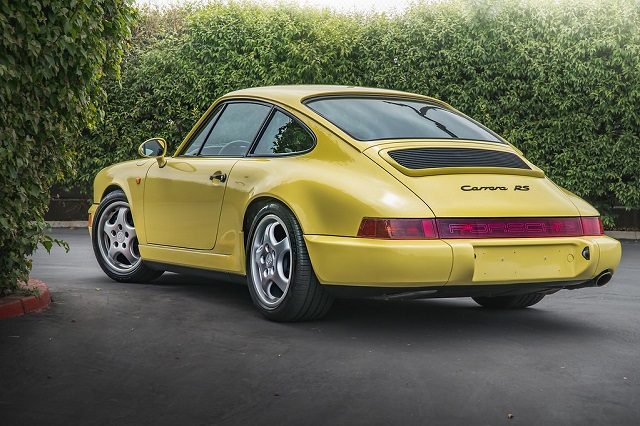 Year: 1992
Model: 911 Carrera RS
Engine: 3.6 liter flat-6
Transmission: 5-speed manual
Mileage: 28,867 km (17,937 mi)
Price: Inquire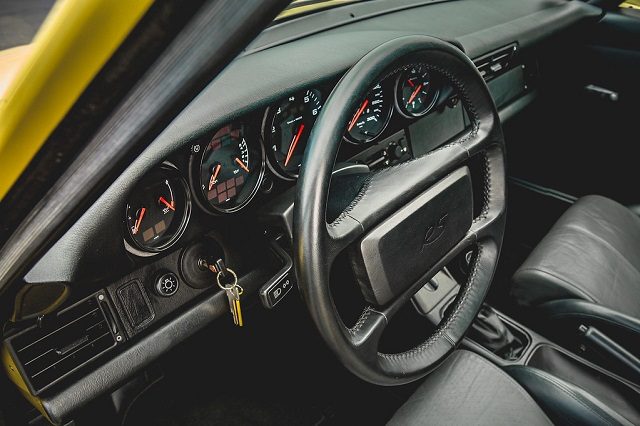 In 1992, Porsche produced a super-lightweight, rear-wheel-drive only version of the 964 dubbed Carrera RS for the European market only. It was based on Porsche's 911 "Carrera Cup" race car and harked back to the 2.7 and 3.0 RS and RSR models. It featured a revised version of the standard engine, titled M64/03 internally, with an increased power output of 260 bhp (194 kW; 264 PS) and lightweight flywheel coupled to the G50/10 transmission with closer ratios, asymmetrical Limited Slip Differential and steel syncromesh. A track-oriented suspension system with 40 mm (1.6 in) lower ride height, stiffer springs, shocks and adjustable stabilizer bars without power steering (RHD UK cars did have power steering).
A stripped-out interior devoid of power windows or seats, rear seats, air conditioning, cruise control, sound deadening or a stereo system (optionally fitted) and new racing-bucket front seats were part of the package. The trunk hood was made of aluminum, the chassis was seam welded and sound deadening was deleted. Wheels were made of magnesium and the glass was thinner in the doors and rear window. The Carrera RS is approximately 345 pounds (155 kg) lighter than the US version Carrera 2 model.

These cars were never delivered to the USA due to the idea that these cars were too track oriented despite being street cars for ROW (Rest of World). Today they are highly sought after due to the incredible road handling characteristics and the thrill of driving a car with your right foot and no added and heavy driving additives!! Lighter and much more fun to drive than the 993 RS and much more desirable and safe to drive than the initial RS built in 1973. The 964 RS Carrera will be the next generation of 1973 RS's and, of course, being much faster, safer and fun to drive than the original RS from 1973 and future values will soon be near or at the level of a 1973 RS.

This is a very rare and highly sought after PAINT TO SAMPLE and FULLY ORIGINAL RS Carrera with only 28,867 KM's from new. No modifications whatsoever and in AS NEW CONCOURS CONDITION. With ownership history from delivery date and in Paint to Sample this particular automobile is for the true collector and 911 enthusiast. Included in the sale are all tools, books, records, jack, gloves, and original spare. Finding a car in this condition is extremely hard to source and the added value bonus of a paint to sample car will always be rare and highly collectible for many years to come.

Price on Request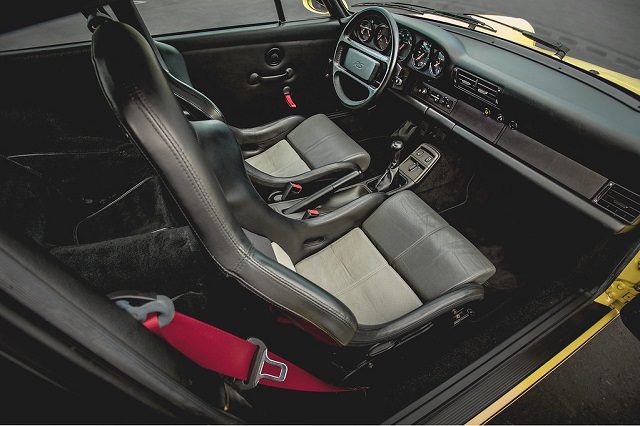 There isn't a whole lot to say about this RS itself. Everything looks exactly as we'd hope from such a low-mileage collectible. It comes with all of its documentation as well. My only quibble – and this is more with how the car is spec'd than with its current presentation – is that the three-tone seats are the standard grey. I'd have loved if they matched the exterior. Perhaps since it was paint-to-sample this was not possible, though it's rare that something isn't possible from Porsche. If you have the money, they can usually find a way.
So how much might it cost? Recent auctions of low-mileage examples of the 964 Carrera RS have been selling in the mid- to upper-$200Ks. But those have been for fairly standard colors. There is a Rubystone RS of similar mileage priced at a whopping $408K, but it's been around for a little while and to me may represent an outlier. I would expect this paint-to-sample RS to eclipse $300K without much problem. After that it really becomes a matter of how much a buyer wants it. There certainly aren't many more like it (well, perhaps any more like it) and even those that are similar may not be in such fine condition.
-Rob