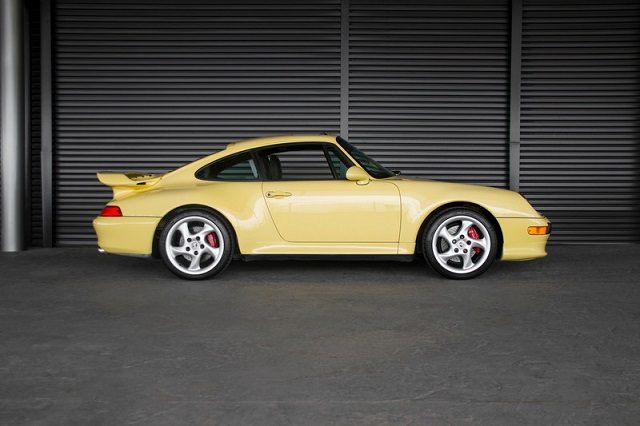 Not everyone likes a bright colored car. But dark colors don't necessarily suit either. Maybe you want something in between: a color that still provokes the vibrancy and enthusiasm of a bright color, but with a slightly lower profile. We aren't talking about blending in per se, but still only attracting a suitable amount of notice. Speed Yellow, perhaps the most common (most popular?) of the yellows Porsche has offered does not really fit this standard. It's very bright; it does not blend in, unless you're very close to the sun, or perhaps a field of sunflowers. Pastel Yellow, on the other hand, seemingly in contradistinction to its name is a bit less bright than Speed Yellow. For the buyer interested in yellow, but without going the whole way, it makes for a very nice alternative.
Here it graces the lines of a really nice looking 1997 Porsche 911 Carrera 4S, located in Colorado, that wears the factory Aerokit Turbo II and sits with 61,805 miles on it.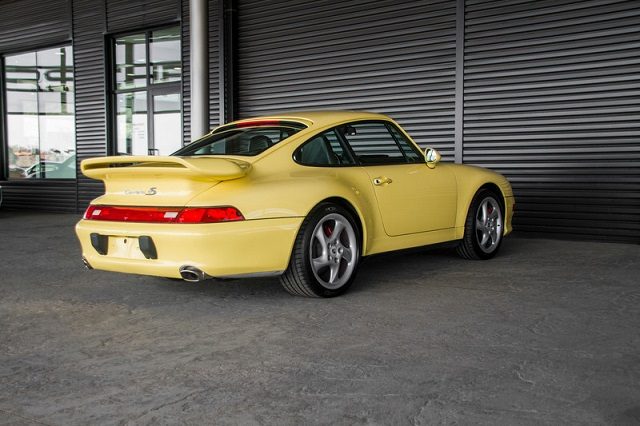 Year: 1997
Model: 911 Carrera 4S
Engine: 3.6 liter flat-6
Transmission: 6-speed manual
Mileage: 61,805 mi
Price: $86,993 Buy It Now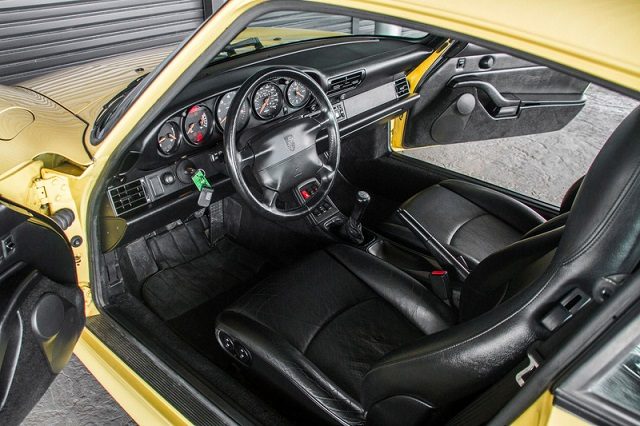 This 1997 Pastel Yellow 911 993 C4S with Black Partial Leather interior and factory Aerokit Turbo II has been freshly serviced by the Porsche Factory Trained Classic Technicians at Porsche Colorado Springs.

The full 60k service has been performed along with servicing the transaxle assembly and front differential. The 60k service includes the following:
Engine oil and filters replaced
Engine air filter replaced
Spark plugs replaced
Air conditioning pollen filters replaced
Engine fan belt, alternator belt, and AC compressor belt replaced
OBDII system scan and clear

The brake system has been flushed and new front hood struts were installed during the extensive service.

The Air Conditioning system has been serviced using R 134a

The vehicle battery has been replaced and maintained using a Porsche Factory Battery Maintainer.

All 4 tires have been replaced and an extensive 4 wheel alignment including the setting of rear axle kinematic toe has been performed. Vehicle ride height and rake were checked and adjusted during the alignment process.

One rear wheel has been repaired due to a slight bend on the inner bead area.

The Black Partial Leather interior is very clean and has been well cared for. There is a 10″ split in the top section of the rear parcel shelf area that can be seen when looking through the rear window from the back of the car.

It is noted the red brake calipers have slight fading or oxidation that can be seen when the vehicle is parked. The exterior body paint shows very clean and original.

Options fitted during production:

159

Motor Sound Package

445

Rim Caps (4) w/Porsche Crest

490

HI-FI Sound Pkg w/Speakers

P02

Technic Package

Y75

Aerokit Turbo II F/R Spoilers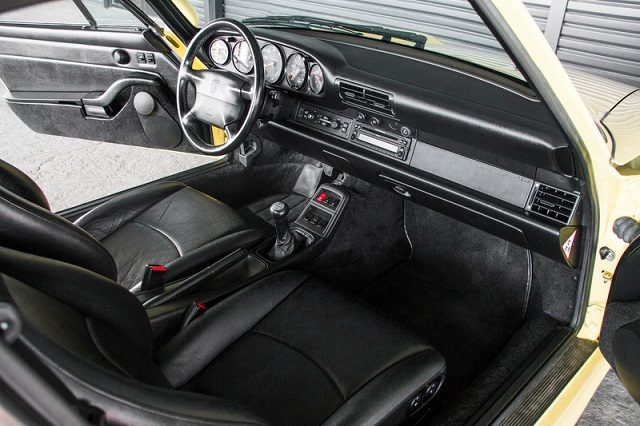 I really like the look of these Aerokit on the 993. It looks especially good on the wider rear of the 4S and overall this is one of the better looking examples I can recall seeing. Assuming, of course, that you like yellow. I like yellow. This 993 isn't perfect though as the ad notes. One of the rear wheels has been repainted and we see some curb rash on one in the pictures. I'm not sure if that's the repainted wheel or a separate issue, but it's present nonetheless. There is also said to be a split in the rear parcel shelf. We don't get a picture of that, which would have been nice. Otherwise it looks good. The paint appears to be in nice shape and the interior (parcel shelf aside) shows quite well with minimal wear and it looks to be completely original.
So it's a slight mixed bag and we don't have a ton to go on with regard to its history. Whether that is a matter of a lack of documentation or just something left unsaid in the ad, we don't know. That's where our questions should begin and we hope that everything checks out. The asking price isn't too bad. It is certainly on the higher end given the mileage, but within the general market for a C4S it comes in a good bit below quite a few others. As a balance between higher mileage and a rare color the price may be low enough to at least spark some interest. Of the various C4S that I've come across this is one of my favorites so I do hope it can find a nice new home. It's certainly pretty damn good looking!
-Rob