While usually our 'Double Take' features look at one model, today I'm going to look at two cars that share a brand, and idea, and a price point. Both of these Audis represent a huge leap forward from their predecessors; versus the front-drive Type 81, the Type 85 B2 was much more modern-feeling, refined and introduced all-wheel drive to the mass market (excusing its bigger brother, and twice as expensive and exotically flared Quattro brethren, of which only 664 sold here) and the C4 S4 introduced the U.S. market to S-cars and merged the 200 20V's setup with a modern body and more sporty interior along with even a bit more power. Both are legendary in the 4-ringed circles for their longevity. Both have cadres of fans who seek each model out. And both are hard to find in good condition.
So here we go, Alice – red or green pill? For your $6,000 investment, which of these inline-5 all-wheel drive legends would be your choice?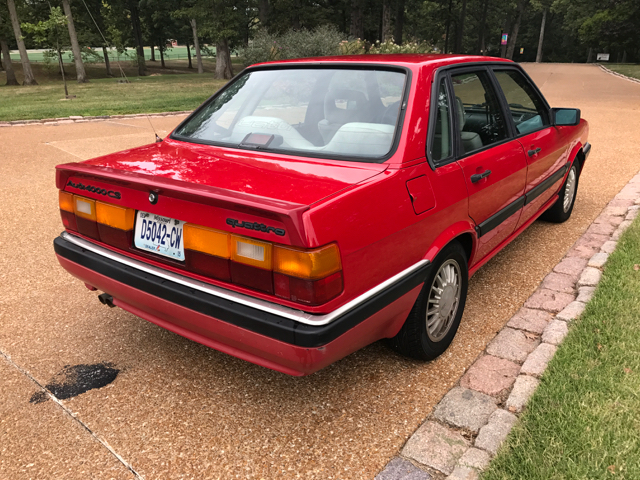 Year: 1987
Model: 4000CS quattro
Engine: 2.2 liter inline-5
Transmission: 5-speed manual
Mileage: 156,777 mi
Price: $5,995 Buy It Now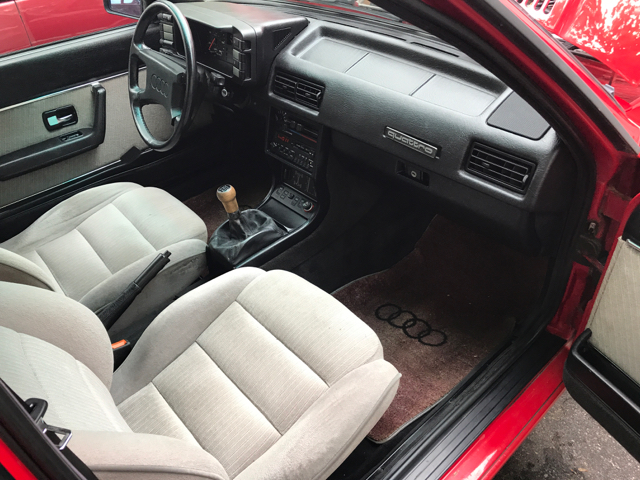 Incredible survivor, 1 owner all records and no rust…. drives very well, clutch tight and shifts well. Has cold ac, all windows work, no issues. New transmission mounts and tune up. Has some minor dings etc. from normal driving. Please email call or text with any questions. See all my cars at www.bogiesmotors.com. Trades accepted.

Free shipping to your door!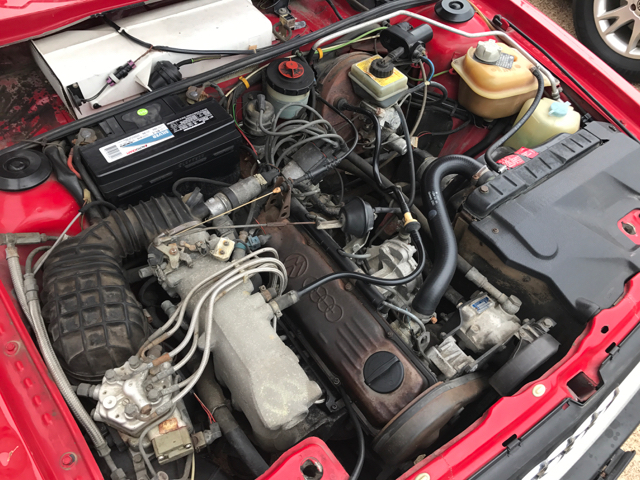 The seller doesn't offer much history on this Tornado Red/Gray Kensington Velour '87 quattro. But looking through the provided photos, the general presentation is quite good and far above average. Mileage is below average, the paint has a nice luster and nearly all of the trim is intact. The car looks to wear its original suspension and obviously is still rolling on the original Ronal wheels. There's a tear in the driver's side seat fabric which is somewhat unusual and the air conditioning signal button is missing. Missing too is the leather on the shift knob which has exposed the wood substrate. The car retains the original Blaupunkt radio, but even more rare to see are an original dealer-installed set of Lloyd mats. It looks like they may have power-washed and dressed under the hood, but it shows reasonably well and retains the side cardboard on the radiator – another rare spot. Front reflectors are broken and the rain tray is gone though. As a plus, the dealer claims some maintenance and that the car's systems all work, including the air conditioning.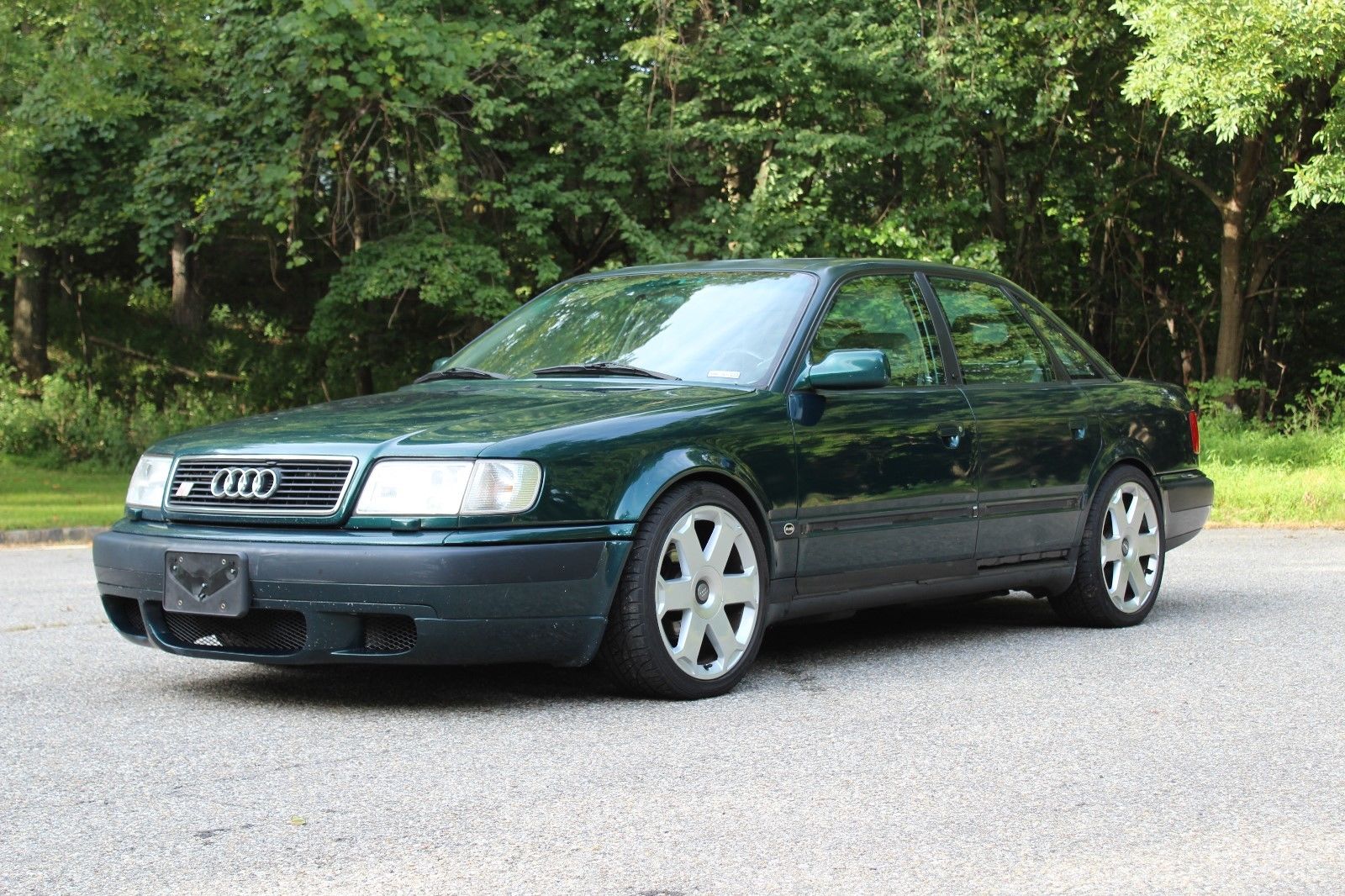 Year: 1993
Model: S4
Engine: 2.2 liter turbocharged inline-5
Transmission: 5-speed manual
Mileage: ~215,000 mi
Price: $6,000 Buy It Now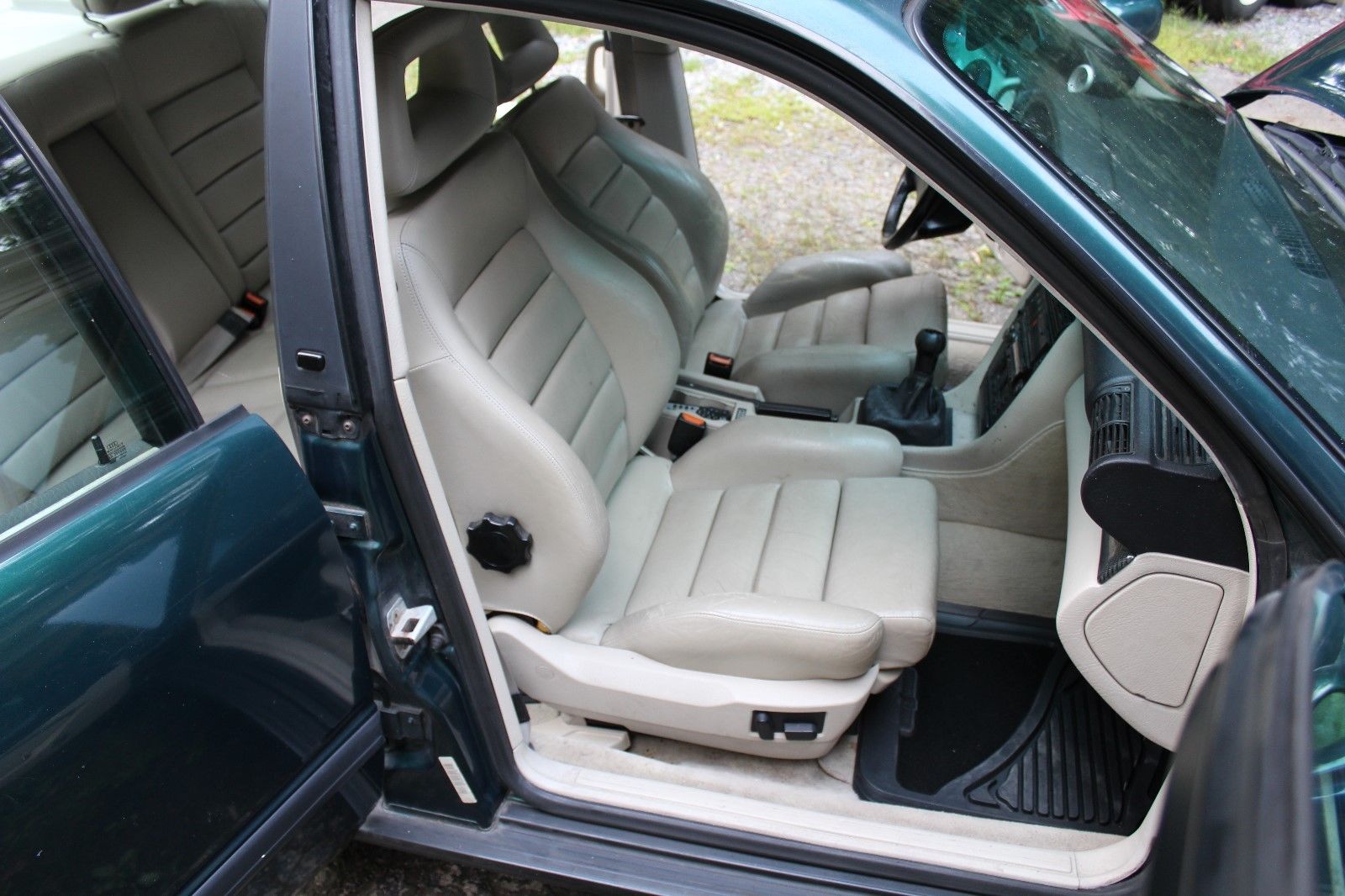 Hi,

I'm selling my 1993 Audi S4 (urS4) and if you are reading this then you probably already know what this car is. But if not, this is the first "S" series car that was introduced in the USA and is known for its infamously overbuilt Inline-5 cylinder 20valve turbo engine.

I have owned this car for over 11 years and I absolutely love this car but unfortunately I have come to a cross road in my life and have to sell a couple of my vehicles. This car has many new parts and I've done a ton of work to the car over the years and it runs and drives great. The car has a transmission and engine that were swapped in that had about 120k miles on them and I've put an additional 20k on them. The reason I replaced them was because I lost the previous engine due to a defective timing belt roller. If you are on any of the more popular Audi forums you will recognize the story. So the chassis itself has about 215k miles on it but the whole suspension was replaced a few years ago including all bushings, ball joints, new H&R springs, Bilstein struts/shocks, wheel bearings, tie rods, etc. Even the rear diff bearings were replaced. Car currently has 18" Audi Avus wheels from a B6 S4. Tires have a lot of tread left (see pic). The radio is a newer kenwood head with a remote control but I'll include the original ESC head that connects the CD changer in the trunk if the new owner requests it. Both the original radio and changer work. There is also an amplifier mounted in the trunk that I believe works but I never used it. Car also has a fullsize spare tire/wheel (D2 S8 wheel).

I've tried to list all the major things that I've replaced recently but over the years I've pretty much replaced almost every part on this car. I've also always used the proper Platin (not Platnum) spark plugs, the proper Pentosin blue coolant, proper mineral oil hydraulic fluid and Mobil 1 synthetic oil. All windows, sunroof, and door locks work properly. Interior is in great shape with the exception of the driver seat that shows some bolster wear but no tears or holes. Original carbon fiber interior trim in great shape. Have clean title in my name, never been in any accidents. 1993 is exempt from inspection in NJ but this car has always passed emissions with no problem. Car has remained mostly stock but would be a good candidate for modifications and is ready for big power. Car is rust free and has been cared for.

Overall, this is the best car I have ever owned and I don't really want to sell it but right now I have to. My plan was to replace all the door molding that is warped or missing with the brand new factory original ones I have (INCLUDED) and then get the cars paint touched up. But unfortunately I never got that far and now I'm just out of time. I would like to find it a good home with someone who appreciates these cars. Aside from the paint this car is ready to drive every day if you want. I will also list the minor issues with the car at the bottom of the parts list. I didn't have space to post all the pics of the extra parts but if you want them I can send them.

sorry for the long description but Thanks for looking!!!

Some other major work that was done within the last several months:

-lower mileage engine and transmission installed with about 120k miles on them.

-Brand new Audi Factory heater core.

-Brand new Audi Factory blower motor.

-Brand new Headliner installed by professional restoration shop.

-Brand new hydraulic clutch master cylinder.

-rear wheel bearings

-rear upper control links

-Timing belt and water pump done about 20k miles ago when engine and trans were installed.

Some work that was done within the last few years:

-LLTEK front bumper. (Original bumper also included)

-professionally converted over to from R12 to R134a(including new compressor, dryer, oil, orings, etc.)

-Brand new H&R Springs and Bilstein Struts/shocks

-Re-drilled upper strut bearing plates to allow proper camber adjustments after lower springs installed.

-new front/rear subframe bushings

-new front control arms & ball joints

-new front tie rods

-front/rear wheel bearings

-front upper strut bearings

-front upper strut mounts (improved Mehle design)

-Silicone lower turbo outlet hose

-New fuel pump and fuel pressure regulator

Spare Parts included:

-Brand new Audi Factory front and rear mid and lower door molding. (still in packaging approx. $800 if you can even get them anymore)

-Rear diff with axles

-hood release cable

-front struts and springs

-rear shocks and springs

-front subframe

-rear subframe

-Rear lower control arms

-used steering rack and tie rods

-used heater box with blower

-used evaporator box

-used electric cooling fans with radiator

-extra set of A6 wheels

-Extra headliner

-extra front and rear passenger side doors with windows

-trunk lid and rear S6 bumper.

-lots of other parts also!!!

Issues with the car:

-the paint on the rear of the roof is showing age and the clear coat is started to turn white in spots(see pic)

-paint on the top of trunk lid has some crazing.

-crack on driver side of windshield along with small chip on passenger side(see pics)

-new hood release cable needs to be installed. New cable INCLUDED!

-body has the usual minor chips, scratches, dings, dents that a car of this age would have, but overall good shape.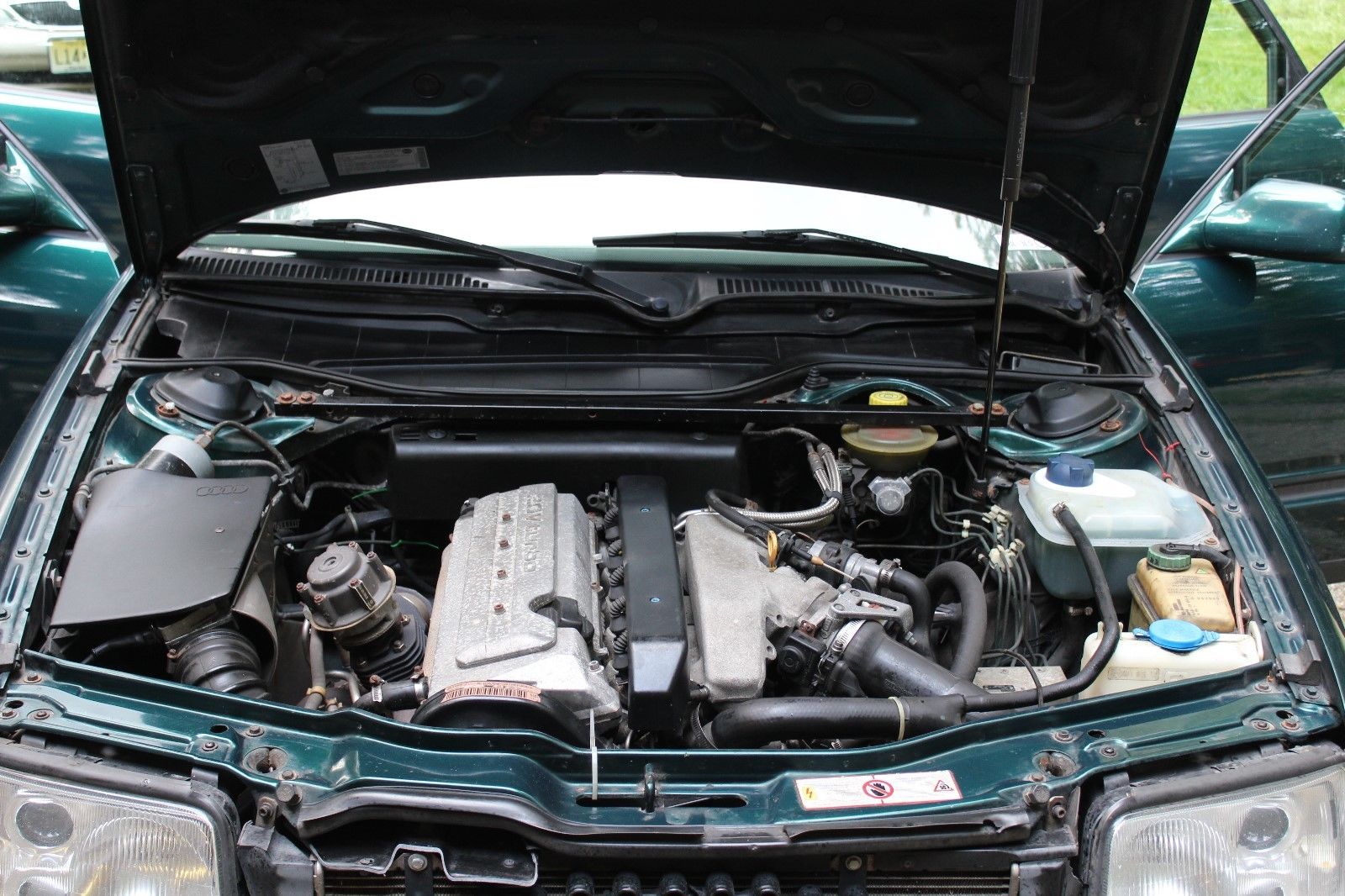 At times, it seems like all of these S4s came in Emerald Green Mica with Ecru leather. Beyond it being the cliche color combo of the 90s, few of them ever show well. When they do, Emerald can be a great color – but here, like many, it looks tired. So you're not in this car for the looks. But what you get in return is a lot of go, with a replaced and lower-mileage drivetrain and upgraded the suspension. These S4s are most impressive when they're turned up and this one generally wears the right bits to take it to the next level. The seller has also performed a lot of heavy lifting with maintenance and NLA or hard-to-find parts that are included in the sale. Just the original front bumper alone, if it's not broken, is worth about 1/6th the asking price of the entire car. While the 18s are neat looking, I'd probably swap them out for an original set of the 16″ Fuchs wheels for a stealthier look and better ride quality on rough Northeast roads. The asking price? $5 more than the 4000.
Which is the one to grab? From a history standpoint, the S4 seems to have more history to back up its current status. We know precious little about the status of the 4000 quattro from the second-hand dealer. But, and it's a big but, I don't think I could live with the way that S4 looks. It's begging for paint and the interior, in typical Ecru form, looks tired. Even though there are a few trim issues on the 4000, it overall presents much better than the newer car. As an added bonus, though we know less about it's current state, frankly there is just a lot less to go wrong on the early cars versus the more complex turbocharged variants. While much of this comparison comes down to priorities, few looking at this are looking at either of these cars as a potential daily driver. So as a second or play car, the win here for me goes to Teutonic Tornado Type 85.
-Carter