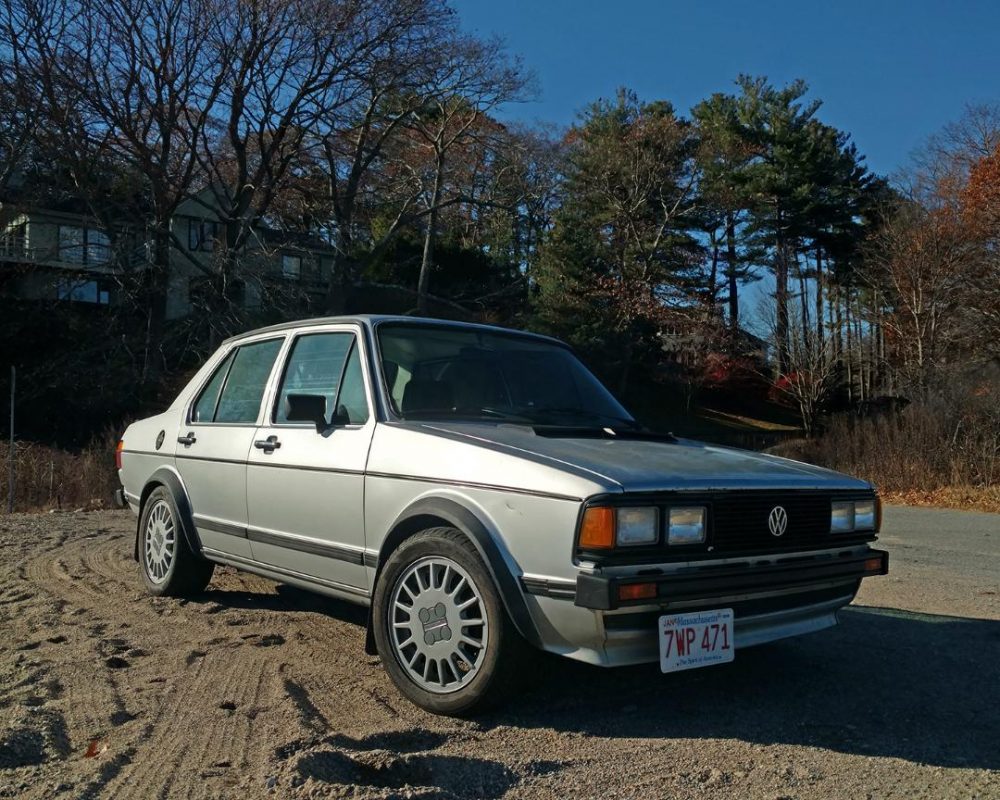 It's always great to hear from a reader who appreciates the blog or just sends in a link to a neat car that they spotted. While I don't always take enough time to acknowledge them, I'll let you know now that we always are thankful that you're out there thinking of us! But it's really special when one of our readership buys a car that we featured, and last fall that exact thing happened with this cool 1984 Volkswagen Jetta Turbo Diesel:
I caught up with its new owner, Jesse, who was kind enough to share his story and some images of the car!

GCFSB: What made this Jetta appealing to you? How did you find the car?
To be honest, this was a total impulse buy. I put in what I thought was a low(ish – is there a better deal to be had? Always) bid, and frankly didn't expect to win. At $2641 I was happy with what I paid and had enough money to get it home from Minnesota to Boston. I was looking for something to replace my 99 Passat 1.8T wagon as a daily driver. I got the Passat basically for free from a friend who was ready to send it to the junkyard. It had been sitting in a field in Vermont for three years and at $0, I may have overpaid. 🙂 I replaced almost everything under the car that had rotted out, including axles, motor mounts, exhaust, entire suspension, brakes, lines, calipers, a handful of little things, and had to spend hours tracking down some wires that were chewed through. The idea was that body itself didn't have any rot (shockingly), and the AEB motor had 100k miles on it, with a recent top-end rebuilt/timing belt before being put away in the field. Good bones so to speak. I made the investment bringing this Passat back to life but failed to take into consideration just how awful driving an automatic is. The Passat is probably the most comfortable car I've ever owned. The B5 seats are just the perfect balance of support and comfort. If I commuted more than a mile for work I might appreciate the automatic a little bit more, but as it is, I just couldn't stand driving it. So I was kind of looking to replace it, but didn't really have a budget. I thought I might be able to get $2k for the Passat, but I think the market for B5s generally favors buyers. Doesn't leave a lot of money to find something to replace it, so I was just kind of sitting on it. Figured I'd drive it this winter, save up a bit and see what came up along the way. After reading the GCFSB post on the Jetta though, it looked like just the thing and I put the bid in.
I love the diesel engine. You might say I'm a diesel fetishist, or at least a diesel romantic. My other two cars are diesels: 1991 Corrado with a 1998 1.9 AHU TDI swap, and a 1991 Mitsubishi Delica with a 4D56T 2.5. And I had been previously been looking at the Mk1 Diesel Caddys (Rabbit Pickup), but I'm 6'3″ and it turns out the Caddy is way too small for me! (Turns out the Jetta is too, but there's room to do a little cut/weld customization to the seat brackets to make the driver seat more comfortable.) I had bought the Corrado TDI and had planned to fit a veggie-burning system to it, but ended up going down a different road (more performance-based build with bigger turbo, performance pump, injectors, nozzles, exhaust, intercooler, tune, etc.). I just love the idea of using waste oil as fuel. By all accounts the 1.6 is a good mill to covert to run grease, and so that's part of the ultimate plan now.
GCFSB: Were you considering other cars too?
The Jetta wasn't on my radar as a car that I was interested in. The design was interesting, but there's a long list of more interesting looking cars that I'd have picked over the Jetta. I do like the early Jetta coupes generally better than the sedans, but this particular one really caught my eye. A combination of the stance (slightly lowered), wheels (Corrado Sebrings), and especially the elimination of the North American bumpers (replaced with "small" bumpers, but they don't look great up close. They have too much gap if you look closely. But still the OG North American bumpers absolutely ruin this car's look! I'll try to track down some genuine Euro bumpers at some point.) really do wonders for this sedan. I think it looks great as is. The fact that it's mechanically sound, has AC, looks good, no rot, interior is in excellent shape, and (maybe most importantly!) is a 5 speed all kind of factored in to make this one appealing to me. And I think you said it best in your post about a GLi:

GCFSB: Were there any problems with the purchase, and what did the post purchase reveal relative to the original description?
The car was basically as-described. So credit due to the seller there. The car arrived a week later on a truck, and I'm loving driving it. Did the timing belt, water pump, and every other seal I could find. As you might expect, a 30+ year old VW leaks oil. Did you know the valve cover gasket is made of cork on this mill? I didn't. Again, learning as I go. I'm hoping the leaking will be eliminated or at least minimized with fresh seals. Time will tell.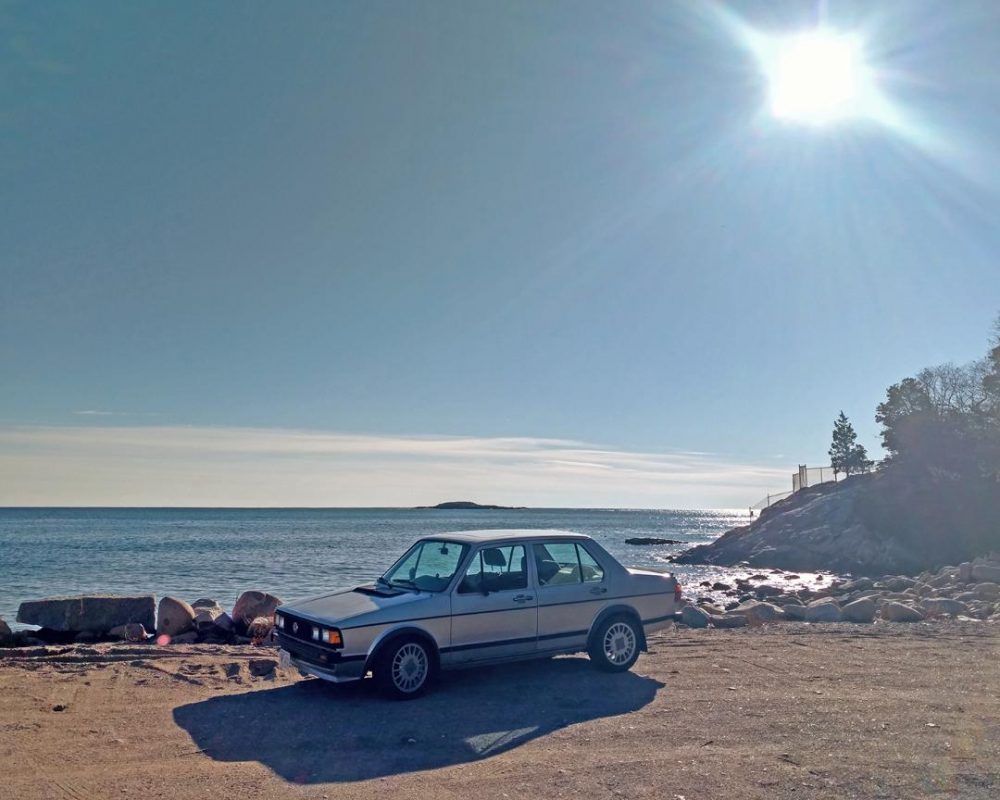 GCFSB: How was the ride home? Any notable stories?
Well after the impulse bid comes the practical necessities of getting the car home. To ship or to drive? I'm a high school teacher, so I don't have infinite free time to take a leisurely drive home, and Minnesota to Boston along rts 80 & 90 in a weekend isn't exactly fun… That being said, I looked into finding a TDI or Mk1 specialist to give it a once-over to certify a 1000-mile road trip, and low and behold, there was one just a few hours away! I called him up and he agreed to look it over and do a timing belt change. If you recall from the original listing, it had been sitting for 20 years and the seller hadn't said anything about replacing that. I confirmed this after purchasing. So I bought a ticket to Milwaukee and convinced a friend to drive me clear across Wisconsin to pick up the car from the mechanic about two weeks after the auction closed. Well. "The best laid plans of mice and men often go awry." The mechanic backed out (too busy), but offered his shop to do the timing belt myself. An unusually generous offer. But I've never done a timing belt, and time was of the essence if I was going to make it home. Well I had already booked the ticket, so I said, sure, maybe, and caught a flight at 5am Saturday AM out of Logan. After driving out to Minnesota to pick up the car, getting caught up in a storm, and a few stops (gas and food), there really wasn't any time to work on the car that day, and if I delayed at all, I wasn't going to make it home, so I made the decision to just hang out in the midwest with friends for the rest of the weekend. Ended up driving all around Wisconsin on some pretty great roads, enjoying a gorgeous weekend (after the storm) with old friends and left the car in Chicago, which had the benefit of being closer to the main auto transport routes, so the transport was a little cheaper. So: adventure achieved! Even if it wasn't a long road trip.

GCFSB: Does the car have any needs to address, or any modifications you're planning?
Check injectors/nozzles, replace as needed (or replace all of them, or at least nozzles when converting to veggie), valve adjustment as needed, refresh fluids. I wouldn't mind converting the rear brakes to discs, and upgrading the brake system to get a little bit more stopping power. I have no illusions that this is a "safe" car, but if there's anything I can do to keep me from getting into an accident, all the better. I'll probably delete the short shifter kit too.
I also need to replace the windshield/seal/trim (luckily Massachusetts has mandatory windshield replacement insurance, which I pay out the butt for. The windshield will end up being free, while the trim and seal are minor expenses.) At some point it will need paint, but probably not this year. I've been debating respraying it in the original color (Polar Silver Metallic), or going with another period-correct VW color (like Stratos Blue Metallic, available that year on Jetta GLs and a match to the interior), or maybe a cool vintage VW color (strato silver? Bernina?). When you're talking about the possibility of a full respray, the world is your oyster! Ferrari Blu Abu Dhabi? Someone stop me! I'll probably just stick with silver. It looks good. Maybe find some cool modern silver like Rhodonite Silver or Pure Metal Silver (BMW individual colors). Actual Euro bumpers. A full coating of dynomat to reduce the noise?… Nah! It's a diesel! Wouldn't make any difference. Removing the hood scoop. I actually quite like the spoiler, so that can stay.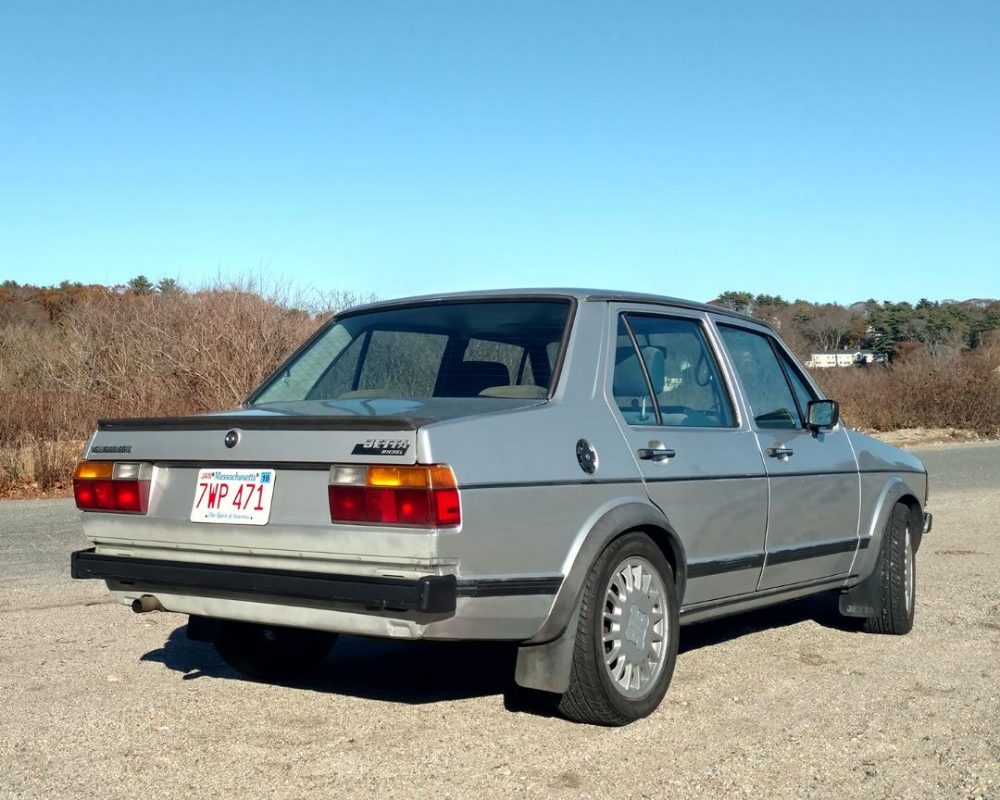 I found some Mk2 Recaros that need a little love… Going to rehab them and then retrofit to run along the original tracks and extended to allow a little bit more leg room. Also gotta figure out some kind of cup holder…
Manual steering, locks, windows, and sunroof aren't necessarily pluses (OK, the mechanical sunroof is flippin' sweet), and like any Mk1 it'll probably be a basket case. It's already developed some new issues (aside from the ones the seller disclosed in the listing) but that's expected, most notably yesterday there developed a super loud clacking noise when turning at low speeds. I'm guessing it's the lower steering column bearing, a common Mk1 issue. Good news is that there's a cheap, better-than-OEM replacement available. While that won't always be the case when things inevitably fail, parts are available from speciality shops like http://www.mk1autohaus.co m. Did I know all this before I impulse-bought a 33-year-old car? Nope! But that's part of the fun. Figuring it out as I go.
GCFSB: Would you share other cars that you currently own, or notable ones you owned in the past?
Other than the Corrado and the Delica, my family had a Mk2 Jetta (88/89 I think). I don't remember much about it except that I was driven to soccer practice a lot in it. Because I was like 8.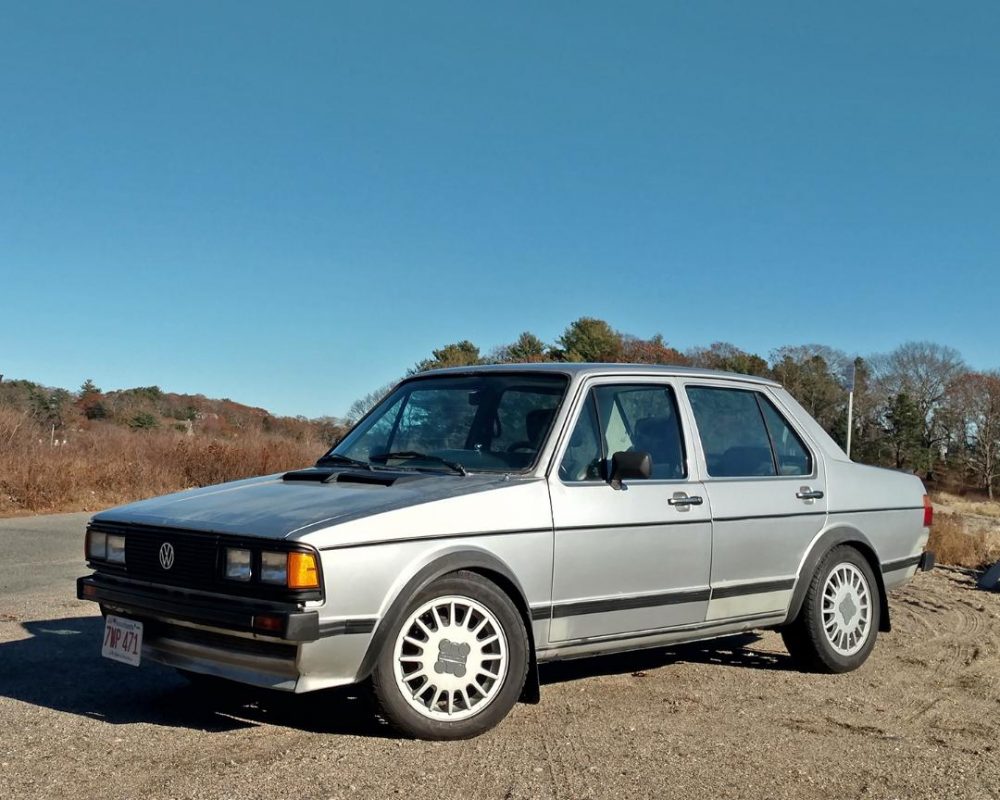 GCFSB: Thanks for sharing Jesse, and enjoy the ride!
Did you buy a car we featured on our site and would like to share your story? Email us!