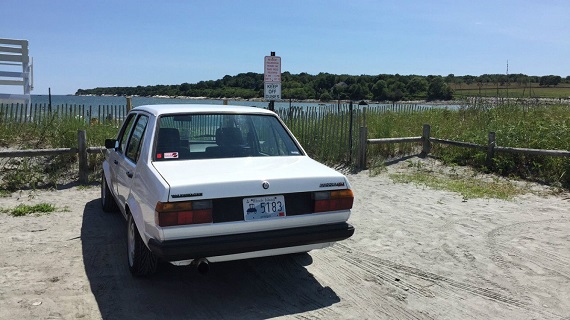 Yesterday, searching through bad 1980s movies to watch I came across the Orwellian classic 1984. I sat and stared at the image of John Hurt, slightly bemused that Orwell's vision of the future was so dark, dire and complicated. Sitting at the end of a head-scratching 2016, 1984 seems in many ways to be such an easy time. Okay, remove the equally crazy politics of the period; telling my students that bombings in downtown London were commonplace when I was growing up confuses them, or that plane hijackings happened almost as often as mass shootings do today, nevermind the environmental and infectious disease disasters of the period. In 1984, you could buy a Volkswagen Jetta GLi for $8,500. Inflation corrected, that's just below $20,000 – so still quite a deal in the grand scheme. Sure, today's cars offer more luxury and convenience, and isolation from the driving experience. They are, without a doubt, safer in every measurable characteristic than cars in the 1980s. And faster? Also indisputable, as a new Jetta GLi turbo will positively wipe the floor with this A1's performance. With only 90 horsepower on tap, you'll struggle to best speeds most modern cars can do without the driver even blinking. Relatively speaking, this Jetta GLi is slow, loud, unsafe, and not hugely comfortable. Why, then, were they so much fun to drive?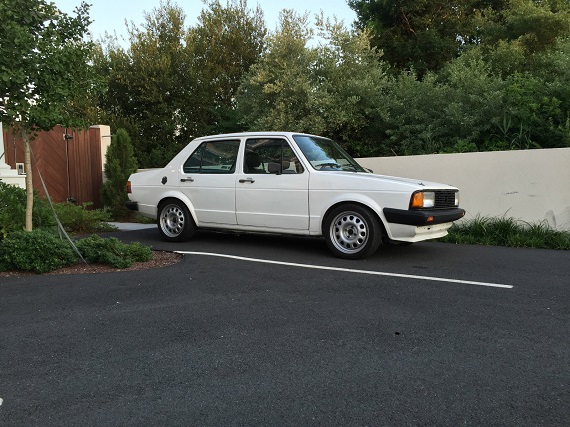 Year: 1984
Model: Jetta GLi
Engine: 1.8 liter inline-4
Transmission: 5-speed manual
Mileage: 80,888 (TMU) mi
Price: $6,000 Buy It Now
For sale is my incredibly rare 1984 Volkswagen Jetta GLI. It is a genuine GLI – the VIN number confirms this. It kills me to put the car up for sale, but as the winter approaches, I realize how impractical it is to have to store 2 cars (and have none to drive for the winter – my other car is an M3, so I need to make space in my garage and invest in a winter vehicle). The Jetta is perfect mechanically, needs absolutely nothing engine/drivetrain wise – it's a blast to drive and is one of the most reliable cars of its age I've ever owned. I bought the GLI from a mechanic who used the car as his daily in the summer. He bought it from another mechanic (his partner) who performed an engine swap – it's a 1.8L 16v from a Scirocco. It's got a ported and polished head and a 5 speed manual from the same Scirocco – the engine was taken from a Scirocco that only had 70xxx miles on it. So it's estimated the engine has a little over 80xxx miles on it now – you can definitely tell the engine is a baby by driving it. Almost everything is new: new alternator, new OEM Bosch fuel injectors, new spark plugs, new ignition cap, new ignition rotor, new air filter, new ignition wire set, new fuel pump, new fuel driver wires, regular synthetic oil changes (just had the oil changed last week), radiator is a year old, the PO put a new high-speed fan in over the summer that's controlled by a switch inside the car next to the ignition, the sloppy shifting was fixed with better bushings by PO as well, brand new battery as of a month ago, and I'm sure I'm forgetting some other things that the previous owner just did before I bought it earlier this year. Part of the $1500 service I just had done on the GLI included a full up and down diagnosis of the car – body is in phenomenal condition with no structural rust at all. The shop was really surprised by this – only classic surface rust here and there on the underside. Nothing else. I'm unsure how many miles the body has, but I know it's not what the AutoCheck report says it is – I have no idea where the information on the record comes from, but according to the report, the car accumulated 200,000 miles in a one-month time span…that's clearly impossible. Somewhere along the line, there was a misrecording of information. As you can tell, the car had a very recent respray, so the paint is in phenomenal condition. The shop was extremely impressed with the car's condition and the way it drove, even before the tune-up. They recommended replacing wheel bearings at some point – not an immediately pressing issue, but it was next to do on my list. The wheels are OEM VW Steelies from a Corrado, and the mechanic that did the swap also put the car on coilovers. The PO included so many extra cosmetic parts for the car, including the original OEM US spec double-square headlights and a set of MK1 GTI circular headlights (and corresponding grille sets). He also gave me 2 MK1 Rabbit doors for the parts (mostly for the manual window mechanisms, as the passenger side needs to be replaced in order to work properly – was meaning to get to this by doing a simple swap of parts from that door). I'll include all of this with the sale if you'd like the parts. The front seats are original MK1 Jetta seats, and the back bench is a blue leather MK1 Jetta bench. They don't match, but I was planning on sourcing a set of MK2 Recaros at some point anyway. PO also included another fan in addition to the high speed fan he put in that's a dual-speed one, although it's not as powerful.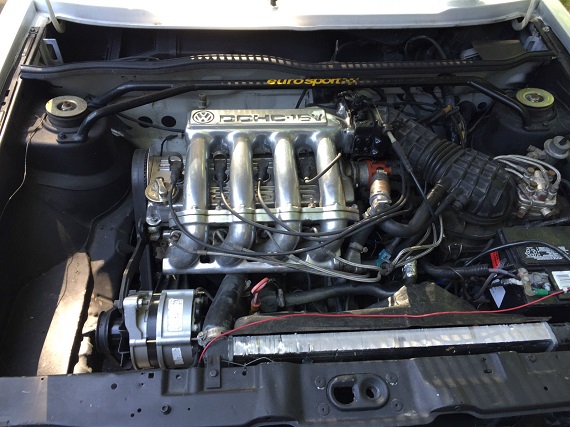 I think, in some ways, it's because 1984 was such a simpler time in automobiles. Did you want the performance of a GLi? Then you had to drive a manual. There was no option. My first Volkswagen had manual steering, too, so you had to plan how to park. It also had manual windows, so you had to plan paying tolls – especially in the rain. Speaking of rain, you had to plan driving in the rain, too, because there was a fair chance that the electrics on your early Volkswagen might implode at the sight of moisture. If Tesla's legacy didn't, the body certainly would, so you had to plan how you were going to deal with the almost inevitable rust these A1s were prone to breeding. You also had to plan for the weather, because there was a chance that either the air conditioning (were you so rich as to afford it!) or the heating system, or at the very least one of the speeds on your blower motor miraculously wouldn't work when you wanted it to most.
None of this sounds appealing.
But the A1 was such an endearing car that I think nearly everyone who owned one still loves to see them. They were positively fun to drive – it was genuinely a car that you could keep your foot flat down just about all day long. Want to take that exit ramp at 10/10ths? You had to plan, and you could measure the improvement of your line not by the amount of throttle you were able to give the car (because, see above – you were flat on the floor), but by the one mile an hour better your exit speed was. You did that, not the car (or at very least it seemed that way…).
This Jetta won't be the fastest, best handling, most comfortable Volkswagen you've ever been in. It won't win any beauty contests, nor is it the most economical. It, like many, has a checkered past, and it's not original – though outside of the steering wheel, all of the modifications are generally pretty good looking. And it will probably break, maybe even quite often.
But it will make you smile. Could Orwell have predicted that of 1984?
-Carter