This ride comes to us from reader Daniel, it is a a vintage 280SL in nice driver condition. Some W113 SLs command seriously high prices if they are in perfect condition; auction prices over $50,000 have been seen. The car featured here doesn't appear to be a garage queen. It shows signs of use, but doesn't show neglect. This car looks like a nice entry point for a Benz fan looking to get into the top of line of late 60s early 70s topless Mercedes motoring.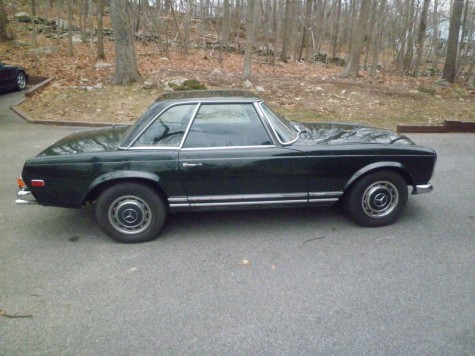 The car has 88,000 miles on it and has plenty of room for improovment in terms of comesmetic problems. Overall it presents nicely. The chrome looks decent and the engine bay looks clean. The seller says it is mostly rust free and that it is clean underneath. A new owner could fix the paint bubbles with a full strip and respray or try to do some touch up work and just enjoy it. Inside things like the cracks in the dash are easily fixed with readily available custom dash pad covers. This is a very common occurrence on Mercedes. The wood may not be past saving, but it looks close so a new owner will probably want to pull it out and see how rotted it is. Some sanding and new varnish could make a world of difference. Again this is a very common problem and many helpful Benz aficionado can provide advice or service for the wood depending on budget.
The seller says the A/C hasn't been run in several years, that can be read as doesn't work. A new radio is in place, while I appreciate keeping it German with a Blaupunkt unit, I'd source a proper vintage Becker unit or one of the vintage look newer units. Honestly, as much as some of the newer features are nice, the old Becker units were truly high quality devices and for regular over the air entertainment would offer satisfaction for most users when matched to some nice high efficiency speakers.
A new owner will need to pay attention to the backwards transmission. A number of Benz models featured these backwards shifting autos, with park at the bottom, before going to the more familiar park at the top layout. These cars are fun to shift manually even without the manual transmission, but enjoying that means taking note of this reverse layout. Despite the indents on the shifters it is pretty easy to unexpectedly. go from 3 to 2 or 4 to N.
The 2.8 liter engine offers plenty of power and provides great thrumming inline six sound. Being an owner of a 1970 two door Benz with this same M130 engine I can attest to its easy of maintenance and enjoyment.  This engine is a thirsty one though so despite being a six an owner should expect 15 or so MPG.
Current price is just under $14,000 with the reserve not met. A nice solid car like this will see something around $25,000 despite its needs. A couple thousand in work by a new owner and $10k more is possible.
~Evan