I've featured a few of RAUH-Welt Begriff's Porsche creations, but this one might be my favorite. It's an interesting mix of old and new, borrowing its colors and interior aesthetic from vintage Porsche hues and fabrics, then wrapping that in a body that is anything but vintage 911. In addition, unlike many of RWB's builds this one has the performance to complement the wildly aggressive design.
For this build they used a 1992 Porsche 911 Carrera 2 Coupe. The design remains unmistakably that of Akira Nakai with its swooping hand-formed curves, very wide fenders, and huge wing. Under the hood this is a very different beast with the standard 3.6 liter flat-six now built to 3.8 liter RSR specs. I'm always curious if such statements mean precisely what they say because I believe that would mean around 350 hp from this engine. At the very least we can assume there's going to be a decent bit of extra power going to the rear wheels.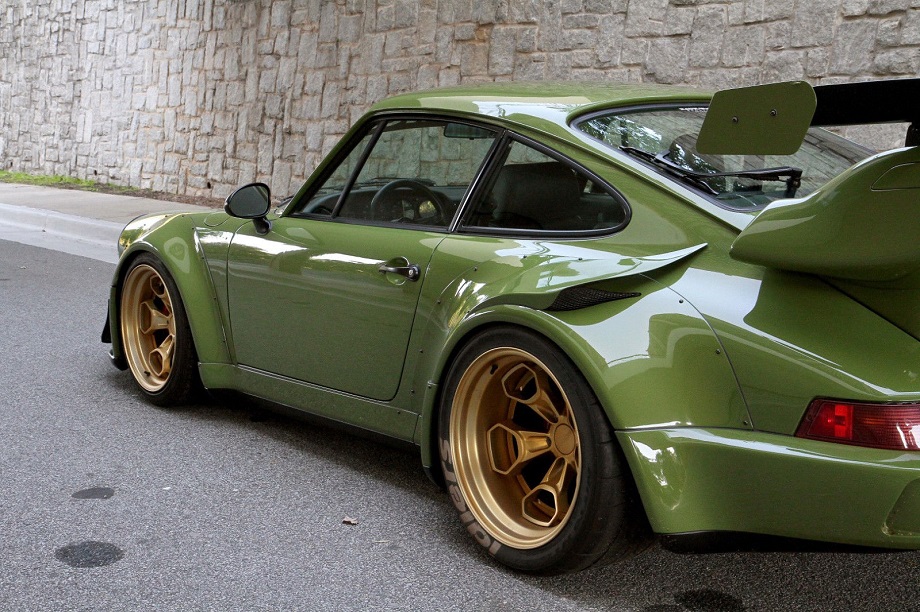 Year: 1992
Model: 911 Carrera 2
Engine: 3.8 liter flat-6
Transmission: 5-speed manual
Mileage: 118,298 mi
Price: $169,900 Buy It Now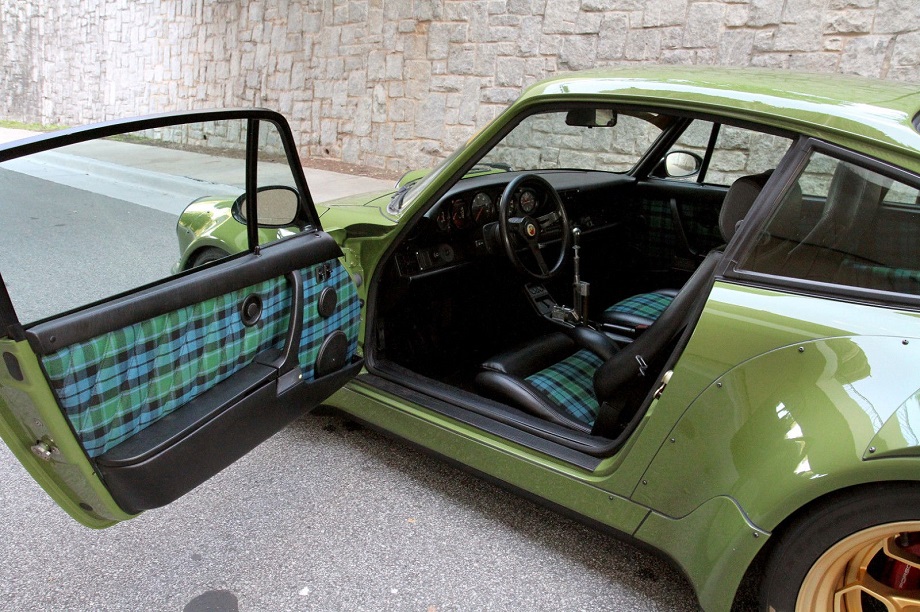 Motorcar Studio is pleased to offer this 1992 Porsche 911 C2 Manual Coupe (964) RWB. Akira Nakai's RWB cars need little introduction but for those not familiar with this Japanese artist's work you may want to visit his website here or have a quick read of Road and Track's article here. Better yet take the next 20 minutes and watch the documentary of the build by Brett May for THIS car on youtube — over 280,000 of your closest Porschephile friends already have.
Each RWB is special and demand is high with a two-year waiting list to have Nakai-San build you a car. And although all of them have a unique personality and the creator's hand crafted details, not all of them are completed equally below the surface or under the engine lid. Clermont, as this car is affectionately known, was the culmination of the owner's vision and some of the most-expensive and highest-quality parts that could be installed on a 964. The result is pretty wild both in looks and driving dynamics with attention to detail throughout.

Driven 6,000 miles since built and shown at Rennsport Reunion, SEMA, Sebring 12 hours and more this, RWB and its owner are well known within the Porsche community.

Several specialist shops were involved with the build, including us. The owner started with a clean, black 1992 C2 Coupe. It was stripped down to a rolling shell before going to a fabricator for a carbon fiber sunroof delete panel, then finished in Olive Green (a 1978 Porsche color). It retains the comforts of a street car such as heat, A/C and power windows. Rotiform produced the custom-designed wheels at extraordinary cost — they are wearing new rubber. KW V3 coilovers were fitted and the hydraulic lifting option (for ground clearance over speed bumps) was also spec'ed. 993 Turbo brakes. The stock 3.6 liter engine was completely rebuilt to 3.8 liter RSR specs by Martine at Auto Europe — it was fitted with 3.8 Mahle P and C's, Webcam custom ground cams, custom headwork, lightweight RS flywheel/clutch and Steve Wong chip. The engine build exceeded $30,000. Custom exhaust was fabricated by Turbocraft, a CAE shifter was sent over from Germany and HID headlights were sourced from Retrofit Source.

The interior was finished in Scottish Tartan — the driver's seat is a vintage Recaro, chosen for its comfort and support (and for its low mounting position as the owner is tall and wanted to maximize headroom). Other details include vintage Abarth steering wheel and Heuer clock face.

Clermont was just serviced with a tune up and valve adjustment. The owner is working on some special builds for Rennsport and needs to free up some space so he is reluctantly listing this one for sale. If you are looking for something "tastefully wild" and built to a high standard consider adding this RWB 911 to your stable. Click here for a complete set of more than 60 photos. For more information, contact Motorcar Studio at 404-692-5250.
The interior of this RWB takes another departure from most of their builds I've seen. Rather than remain slightly transformed, this one takes on a totally different spirit through the use of tartan inserts in the seats and doors. I'll admit, I think the doors are a bit much, but I've loved the tartan seat inserts in pretty much every 911 in which I have seen them and this one is no different. They certainly work well with the Olive Green exterior and combined with the modifications to the drivetrain this RWB strikes me as a much more complete design and build than most others.
Given the typical asking prices associated with any RWB the fact that this one looks like a complete design definitely makes it a more compelling option among these rare machines. Of course, this asking price also is a little higher than the others, but still if you're seeking one of RWB's creations I would think this might be one of the first you check in on. Especially if you want one based off of the 964.
-Rob