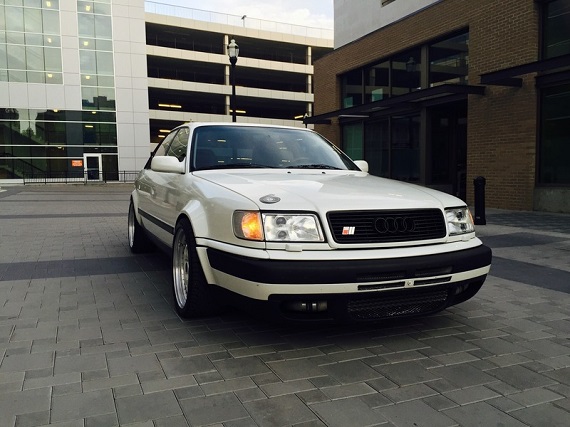 Virtually every week we feature some of the best and most memorable tuner cars in the German sphere in this time slot. Yet, while it's rare to see the exact same configuration, it's fairly predictable what will appear – AMG, Alpina, Hartge and Ruf. Sure, occasionally we'll get a neat Brabus or something else rare, but infrequently do we get to take an in-depth look at an Audi. There are some notable tuners for the off beat brand, especially as its popularity has blossomed over the past decade. But older cars? Well, not only are they hard to find, but clean modded examples are moreso. It is interesting given that the C4 was such a popular and strong platform, but what was built around it was not a single tuning firm but rather a community of unique one-offs, now avidly supported by the internet fora and the next generation of electronic fuel injection modifications. They've managed to take the original S cars to the next level. Recently, it was an original S4 that set the world speed record for a sedan, besting 242 m.p.h. from a custom build. Others have developed monster power levels of their own, such as this impressive example that is claimed to churn out 500 wheel horse power: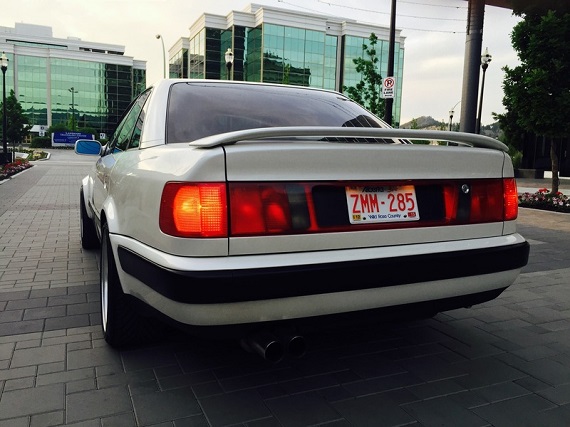 Year: 1993
Model: S4
Engine: 2.2 liter turbocharged inline-5
Transmission: 5-speed manual
Mileage: 178,000 mi
Price: $14,400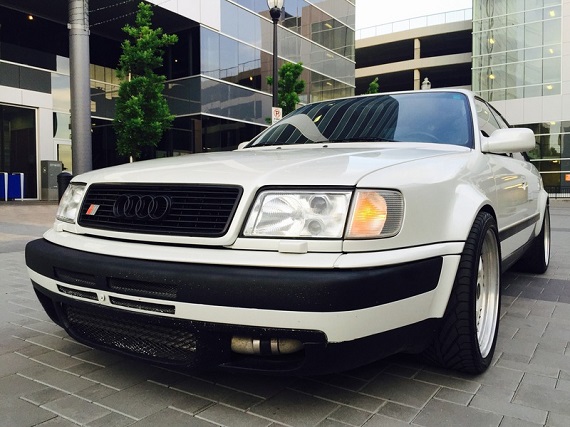 Well gents, I've been pretty unmotivated to sell this car in the past. It owes me nothing and it's a hoot to drive. I've found the motivation to repost it again after finding another car I'd like to buy.

I've been daily driving it through the last couple months to work all of the kinks out. The car got new coils, a detail and an inspection in that time.

Without further adieu, I've decided to drop the price to $14,400 USD FIRM to go towards a couple of minor imperfections the car has. This is a $30,000 build, not including the car and it was literally JUST built.

As most of you know, I haven't been on the forums much of late, so if anyone is seriously interested I would highly encourage them to email me so we can chat over the tele.

Also worth noting, the one off carbon fiber trunk lid, over a dozen good working stock coils, a set of Boleros with top of the line winters and a parts box full of goodies are all available with the car, but not included.

Enjoy the video!
1993 Audi S4 (178k miles) – Pearl on Black Leather with CF Trim

Wheels:
Simmons FR18, Custom Painted Audi Pearl White Faces, 18×8.5″ front, 18×9.5″ rear – 255/35/18, Spacers, Extended wheel bolts, Audi Bolero 17×8 winter wheels
Suspension:
H&R Springs, Revalved Bilstein Sport Struts, 2Bennett Revolution Camber Plates, Front Strut Tower Bar, Weldo Rear Sway Bar
Engine:
Garrett GT30/40R Turbo w/ 0.82 AR, 4″ Inlet and T04E Housing, LoveFab Tubular Manifold, Custom made 034 Downpipe w/ V-Bands, QTEC Electric Exhaust Dump Valve, 7A Intake and Exhaust Cams, 75lb/hr High Impedance Injectors, Bosch 044 Fuel Pump, 24.5×9.5×3.5 Dave Stone FMIC, Samco Hoses, Stromung RSS Turbo Back 3″ Exhaust w/ V-Bands, Tial 44mm Wastegate, 034 Custom Modded Motronic ECU, Javad Shadzi Tune with 91, 93 and 100 Octane Programs as well as Valet (5000 RPM rev limiter and 50 MPH top speed), 4 Bar Pressure Transducer, 3-5 Bar Adjustable FPR, 4″ Custom made MAF, 4″ AEM Air Filter w/ Relocated Oil Cooler, 4″ Intake, Rebuilt Motor With ARP Head Studs, RS2 Rod Bearings, Forged Eagle Rods, Titanium Valve Retainers, High Rate Valve Springs, Compression Dropping Multilayer Steel Headgasket, 034 Fuel Pressure Gauge, -8 AN Fuel Lines To Fuel Filter, -6 AN Fuel Lines To Fuel Rail, 4 Way Boost Control Valve, 034 Fuel Pump Relay Kit, Custom 034 Oil/Water Line Kit for Turbo, Aluminum Oil Catch Can
Drivetrain:
Audi B5 S4 6 speed, Rebuilt with Updated 1-2 Collar and Syncro, 4:1 Center Differential, 0.73 5th Gear and 0.56 6th Gear, SPEC Stage 3+ clutch kit, Fidanza 10lb flywheel, 034EFI Short Shift Kit, Heavy Duty S6+ Transmission mounts, 034EFI Dense polysnub mount with bracket
Brakes:
Porsche 996tt Calipers, Porsche 993tt 2-Piece Drilled Rotors, Textar Brake Pads, BIRA Hats, ECS brackets, Stainless Steel Brake Lines
Cosmetics:
Painted 12/2011, Fenders Widened 1.5″ per side front and rear, Carbon fiber hood, Carbon fiber trunk, Euro S4 one piece rear bumper, Euro S6 PLUS center tail light section, LLTEK RS lower valence, Slatted Front Bumper and Rebar, OEM trunk spoiler, HID conversion kit (6000K), PIAA Fog Lights, Clear front turn signals, 20% window tint
Interior:
A pillar 30 PSI boost gauge, Pioneer Premier AM/FM/CD/MP3 DEH-740MP, JL Audio 4 x 100 amplifier, Diamond Audio 5.5″ w/ tweeters, Diamond Audio 6″x9″ speakers, 2 Watt dash lights, B5 S4 6 Speed shift knob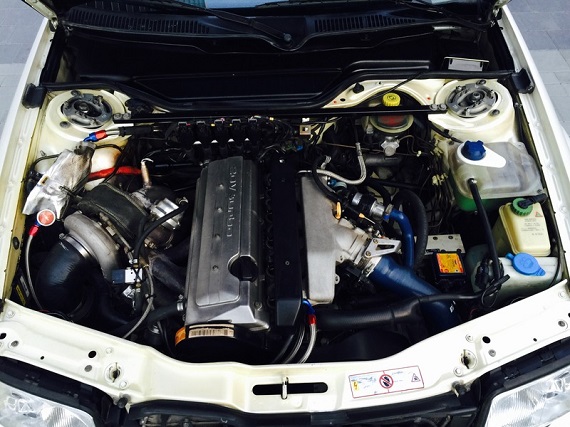 The highlight of the build is undoubtedly the engine and the impressive power levels it develops, but outside this car is quite a looker thanks to the respray in the original Pearlescent White Metallic with a host of upgrades. Most subtle is the 3″ wider track, though the massive Simmons wheels fill out those fenders so well it would be easy to miss. With upgraded suspension and brakes to match the power levels and a newer 6-speed transmission, this car has been thoroughly and well modified. The asking price seems staggering compared to most; $14,000 will buy you nearly three pretty well sorted examples of the C4. But none will be nearly as special or as powerful as this one, and compared to its contemporaries this S4 will outpace and outshine the M5 or 500E at a fraction of the price. It's tastefully modified and one slick looking package that should be capable of brutal speed.
Thanks to our reader Jason for the great spot!
-Carter