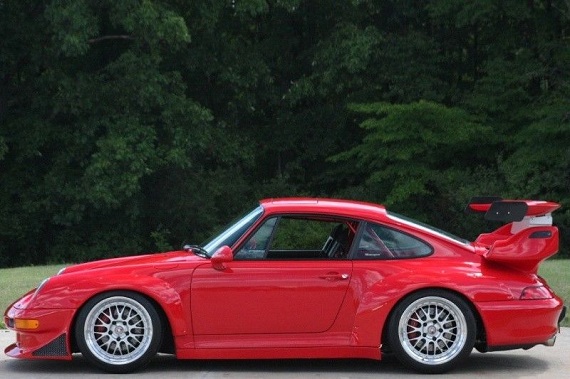 Earlier in my Ruf-modified 930 post I asked if you needed an original version of the car. Well, I'm at it again, this time with a car modified to recreate an awesome version of the 993 Turbo – the homologated GT2 Turbo. With more power and lightened to only two-wheel drive with some of the best wheels ever fitted to a Porsche (in my opinion, anyway) the GT2 was an instant classic – so much so that Porsche has subsequently recreated it in 996 and 997 versions. But while the last few versions of the GT2 have been nutty ultimate-street versions of the Turbo, the original GT2 was really a race car toned down for the street; in that mold, today's 1997 911 Turbo has been converted to capture some of that dual-purpose magic. The question is, does it achieve the magic of the original GT2?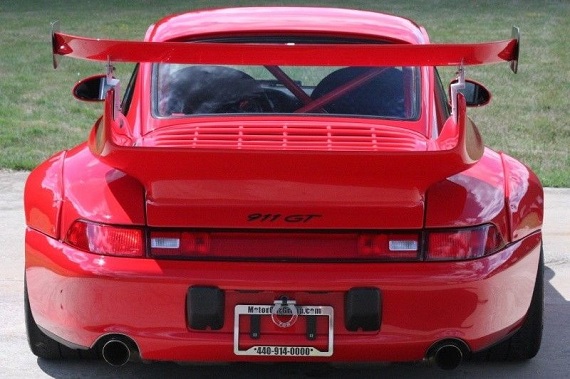 Year: 1997
Model: 911 Turbo
Engine: 3.6 liter twin-turbocharged flat-6
Transmission: 6-speed manual
Mileage: 70,098 mi
Price: $89,900 Buy It Now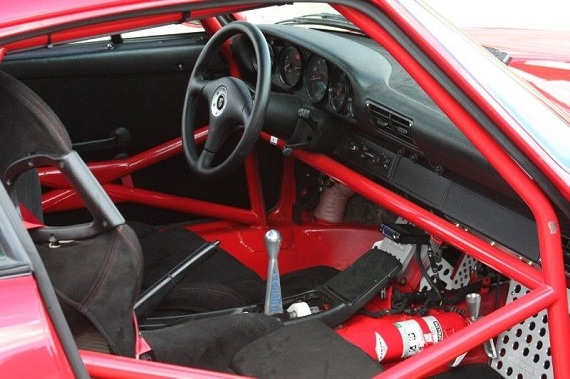 1997 911 Turbo "GT2" Conversion

EXTENSIVE rework of a clean low miles red 993TT
Emissions compliant, road legal
Two-wheel drive conversion using GT2 parts
Over $100,000 in service work by Rick Deman!
Amazing presence, awesome sound
Street Legal – Track Dominator
BBS Motorsport wheels
Moton Club Sport shocks
New Nitto racing Tires
Factory AC just Installed
Porsche Race Team Mechanic Recent Set-Up
Fast, fun, one of a kind.
#1 Photo'd Car at All Events
New Turbo's – Hybrid
Boost Controller
New Brakes Complete with Rotors

Here's something you don't find every day—a '97 911 twin turbo modified to GT2 specs. Sure, you can bolt on wheel flares and put a roll cage in a car, but it takes dedication and a fat wallet to convert the car to rear wheel drive! Motons, monoballs and Motorsport wheels, oh my!

If at first you looked at this car and dismissed it as a track-only piece, we don't blame you. Six point harnesses, a quick release steering hub and a stripped interior don't immediately scream "take me to the grocery store." Look again, though, and you'll find nearly every convenience item down to the power windows is still in place. Moton Club Sports are at all four corners but adjust from rock hard down to civilized. Sure, you have to climb over some bars to get in, but imagine picking up your kid after school in this thing!

The largest benefit to this dual personality ride, though, is the ability to drive it TO any event you'd like. This is a car which can show up at a track day or autocross, pass tech, kick ass, and drive home while your competitors load their cars onto trailers. The car is still OBDII compliant, has catalytic converters, and passed emissions in Arizona mere months ago.

People toss around the term "open checkbook build" just a little too frequently these days. That might be great for Barrett-Jackson, but not for a car you're looking at buying! You first need to find great shops, like DeMan Motorsport and Protosport to do the work. Then, you need to pay them enough money to get the job done, trusting their expertise to do it right.

Start outside. Those are very well made flares, held tight with stainless fasteners. The body itself was in great shape before they were added, but they just look so…menacing! Those wheels are stunning BBS 3 piece E88 wheels, just like Porsche Motorsport runs. They and the Michelin Pilot Sport Cup tires surrounding them have fewer than 50 miles on them since installation this past fall. Look around at the clean glass, the clear lights and lenses, and check out the big bore tail pipes. A full clear bra in front was installed right after build to protect the paint.

Climb over the professionally built, Gt2 style cage and imagine qualifying for the Rolex 24, even if you're just stopped at a red light. You're hugged tight by high quality replica GT3 seats covered in Alcantara, and held in place with Schroth six-point harnesses. You'll notice fresh red paint everywhere—the original carpeting and sound deadening is gone, which is no easy task. The inside of the tub was prepped and coated in Guards Red, just like the outside. Rennline aluminum floorboards and foot boards brighten your office. There are also new Alcantara floor mats to match the rear seat delete if you'd prefer that look. RS-style door panels simplify your side view, and those cool red door pulls are simply classic. Your hands definitely get the royal treatment, though—that gorgeous Momo wheel in your left and the awesome FABCAR shifter falls to your right. Turn off the still-functional factory alarm and twist the key…

Few things sound better than a barely-muffled 911. Fabspeed headers feed K16/K24 hybrid turbos, spitting spent fumes into TechArt cats and custom tailpipes. You won't sneak around in this car: You'll turn a TON of heads! In case you're worried about longevity, know that the motor is nearly stock in every other way. New hoses and fittings and new gaskets seal everything tightly. A new RS clutch and flywheel lead to a custom built transmission with Protosport-spec gearsets, stainless steel synchros and GT2 rear wheel drive parts. There's an enclosed dyno sheet showing 415rwhp at stock boost on 91 octane fuel—suffice to say there's more in the combination if you turn up the wick.

Underneath, you'll find Moton 3 way adjustable remote reservoir Club Sport shocks, RS sway bars and drop links and GT2 front spindles. Obviously, that's high dollar stuff. All supporting hardware is there, too, from monoballs at the pivot points to a new power steering rack. New street pads are on the car while another set of OEM drilled rotors and Pagid yellows come for track days.

If you go through the receipts you'll quickly crest the $100,000 mark, and that doesn't include the car. If you're looking at track focused, street legal 911 turbo, look no further.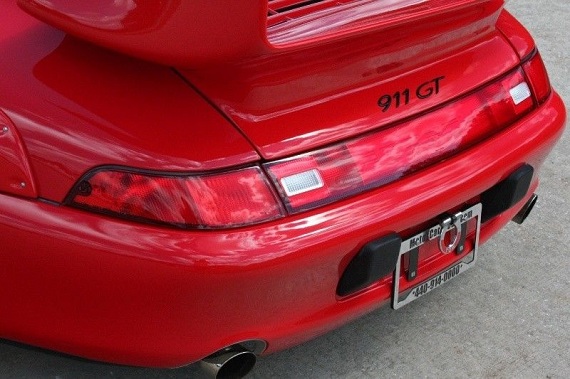 This really is a car that you can pedal to the track, blow just about everyone short of a factory race car off the track, and then drive home. But, to me I think this build misses the mark slightly. Personally, I'd prefer to see road-versions of the front and rear spoilers – to me, they're much better and more classic looking, as well as understated. The wheels disappoint, too – The BBS magnesium wheels are one of the best choices for racing no doubt, and always look classic on Porsches, but the lack of the 3-piece Speedline wheels is a big omission to me on an "open check book" build. Inside things certainly look race-ready, but again if this was my ride to the track, I'd probably opt for some carpet. I do like that the motor isn't overdone, sacrificing dependability in the quest for power – well done there! And the suspension setup is certainly great, along with the work completed by notable Porsche mechanic DeMan. Despite the big dollar conversion, though, this isn't really a GT2 and it's no longer a stock 993 Turbo – which have undergone a big surge in prices lately. That means if you're looking for a deal, this car is actually priced below many other 993 Turbos. What would you do? Well, the gripes I have could be fixed for around $15,000, leaving you with a stunning GT2 clone at around half the price of many asks on other limited Turbo models. For that kind of savings, I'd sure go for a ride in it!
-Carter