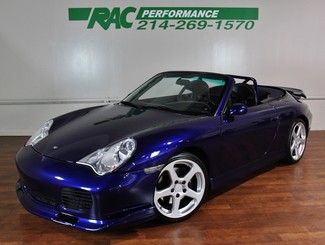 If you want to understand why Ruf managed to achieve its own status as a manufacturer in Germany, it can at least partly be explained by considering the R Turbo. Not satisfied with Porsche's own twin-turbocharged variant of the 996, Ruf made their own. They completely disassembled the 3.6 liter flat-6, reworked a fair amount of the internals including the Variocam system and turbochargers, then revised the electronics by remapping the Bosch ECU. Then they fit this upgraded engine, in keeping with their history, into the narrow-body of the normal 911 Carrera. In order to do this, it required utilizing both GT2 and GT3 parts to make the package come together. You could opt for different states of tune starting with 520 horsepower – some 100 more than the standard Turbo, making the R Turbo one of the fastest cars on the planet. Take a look at the speedometer, for example, which sweeps well past 200 m.p.h.. Yes, the R Turbo could get there, too – with a reported 217 m.p.h. terminal velocity. 0-60 was achieved in under 4 seconds and in between, very little could stay with the thin Ruf. To deal with all of this speed, of course Ruf fit their own suspension coupled with bespoke Speedline wheels and some pretty giant Brembo brakes. On top of all that, you could select new R Turbo as a Cabriolet – something Porsche themselves wouldn't offer until 2004. And as they always have, the modifications Ruf made were as seamless as the factory bits with accompanying reliability. It made for one quite special package: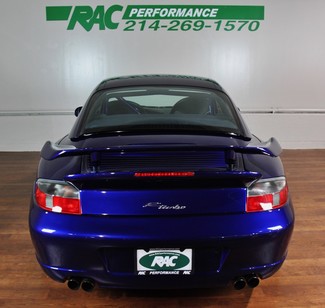 Year: 2002
Model: R Turbo Cabriolet
Engine: 3.6 liter twin-turbocharged flat-6
Transmission: 5-speed automatic
Mileage: 34,300 mi
Price: Reserve Auction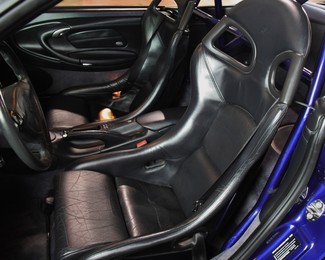 Description

1 OF 1 RUF MANUFACTURED RTURBOS IN THE WORLD!! ORIGINAL MSRP $238,078!!, RUF 3.6L 520 HP MOTOR, RUF 19 WHEELS, RUF FRONT LIP SPOILER, RUF SIDE SKIRTS, RUF SIDE MIRRORS (WITH HEAT), RUF REAR BUMPER, RUF INSTRUMENTS, 4 WHEEL DRIVE NARROW BODY RTURBO CABRIOLET W/HARD TOP, GT3 SEATS WITH RUF BADGING, ROLL BAR, XENON HEADLIGHTS, ORIGINAL BUILD SHEET, MANUALS AND MUCH MORE!! VIN W09BD236Z2PR06036. This car has been inspected by our certified technicians and is ready to drive home. Upgrades are available at RAC Performance. TUNES, EXHAUST, WHEELS, TIRES and MORE!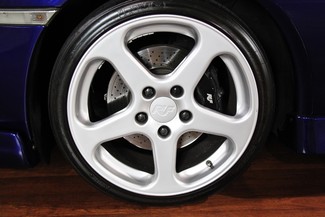 It seems like any time a recent Ruf pops up their are questions over whether it's a legitimate build or not; the "W0" VIN seems to verify this is a real car, along with it's appearance in the Ruf Registry. That it's also offered for sale by the Ruf Auto Centre is another indication of the level of this car, and the presentation is top notch. With only 34,000 miles covered, the Iris Blue Metallic paint is pretty exceptional and it's matched everywhere in the car. If the 996 isn't the prettiest Porsche made, the Ruf details help to make it look pretty special. Granted, I don't think the cow-catcher front end meshes well with the fried-egg headlights, but considering the car is capable of mussing your hair at over 200 m.p.h., I understand the need. As always, the Ruf alloys are probably the highlight of the exterior for me. What's not to like? Well, it's a Cabriolet for one – something that doesn't make the car more appealing to me. And, it's a Tiptronic; again, not how I would have specified the car. But, if you were less concerned with driver engagement and lived in Southern California where I could leave the top down for extended periods, this speedy convertible is likely to change hands at only a fraction of the original purchase price and is still a serious – and seriously rare – weapon.
-Carter