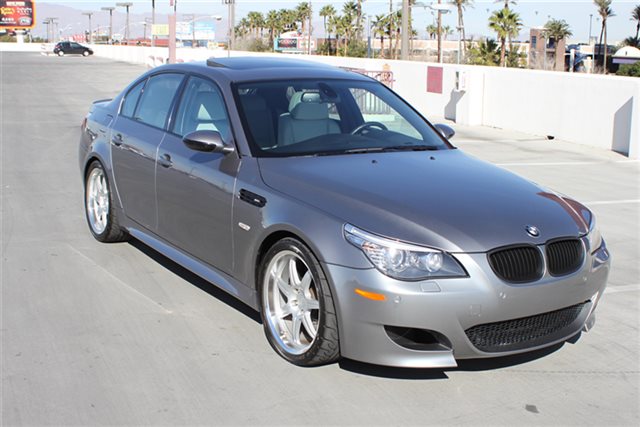 I know that, amongst the authors that grace these pages, I seem to do a lot of comparisons of cars, some of which are extremely unlikely comparisons. One of our readers termed my picks a "Cheese and Chalk" competition; in many ways, he was right. After all, how can you really compare cars that are in completely different demographic categories? To be fair to me, I don't always do such, but in that case that's the appeal of the "10K Friday" series – taking a fixed budget and looking at the wild variety of cars that's available simply because they're similarly priced. However, I also like to compare similar vehicles and that's the case today. I have two rare examples of Dinan-modded BMW 5-series. On the surface, they're quite similar – both grey metallic, both with light grey interiors, both with normally aspirated motors, both have silver multi-spoke wheels with polished lips, and both have 6-speeds. But the level with which Dinan has breathed on them is quite different; consequently, one has double the power of the other, more technology and more complexity. That model also has one tenth the mileage of the other, and unsurprisingly is on offer at ten times the price making these seemingly very similar 5s very different. Which is the winner in your mind?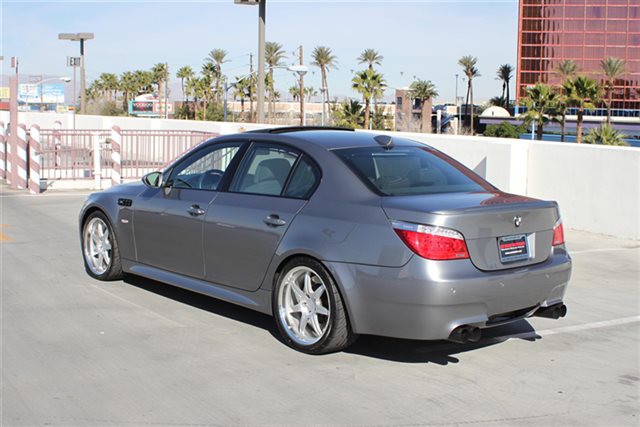 Year: 2008
Model: M5
Engine: 5.8 liter V10
Transmission: 6-speed manual
Mileage: 13,599 mi
Price: $79,998 Buy It Now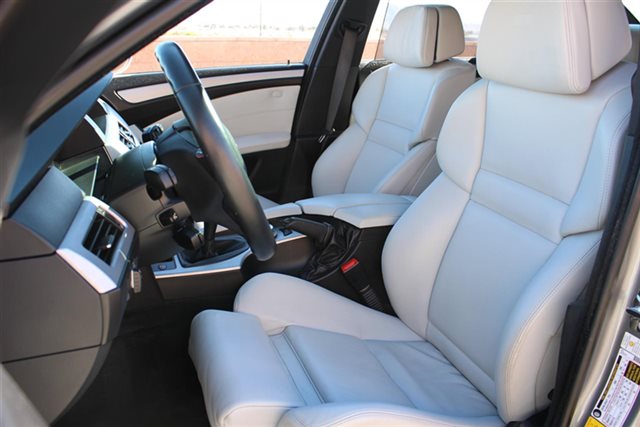 2008 BMW M5

FULL DINAN 5.8L V10 STROKER MOTOR WITH OVER 87K INVESTED IN DINAN UPGRADES!

628 HORSEPOWER & 468 LB-FT TQ!

OVER $180,000.00 INVESTED AND DOCUMENTED PLUS ALL DONE AT BMW!

FULLY SERVICED @ BMW SINCE DAY ONE!

ONE-OWNER & ONLY 13K MILES!
UPGRADES!

DINAN 5.8 Liter Stroker Motor: $50,000.00 Upgrade! (Installed)
628 Horsepower
468 LB – FT Torque
Bored and Stroked 5.8 Liter Dinan V10 Motor
Dinan Proprietary Forged Crankshaft
Dinan Proprietary Lightweight Forged Pistons
Dinan Proprietary Forged Connecting Rods
Balanced and Blueprinted
DINAN Electronics and Engine Management Software
DINAN Serial Numbered Block

DINAN Underdrive Pulley System: $600.00 Upgrade! (Installed)
+6hp Increase
+4tq Increase

DINAN Hi-Flow Throttle Bodies: $4,500.00 Upgrade! (Installed)
+13hp Increase
+8hp Increase
Improved Throttle Response

DINAN Carbon Fiber High Flow Air Mass Meter / Intake: $3,100.00 Upgrade! (Installed)
+21hp Increase
+14lb-ft tq Increase

DINAN High Performance Free Flow Exhaust with Black Tips: $2,995.00 Upgrade! (Installed)
9 Horsepower & 6 Torque Gains
Full Stainless Steel Construction
Weight Savings of 20 LBS over 30 Percent Lighter
Quad 3.5 " Diameter Exhaust Tips Finished in Black

DINAN High Performance X-Pipe Exhaust: $2,799.00 Upgrade! (Installed)
4″ Resonators
100% Stainless steel

DINAN 3.91 Limited Slip Differential: $4,799.00 Upgrade! (Installed)
Lowers 3.62 final drive ratio to a 3.91
8% torque magnification increase

DINAN Stage 2 Front & Rear Big Brake Kit: $8,499.00 Upgrade! (Installed)
Front 6 Piston Mono Block Aluminum Calipers
Rear 4 Piston Mono Block Aluminum Calipers
Front and Rear 380 MM Rotors with Aluminum Hats
Goodridge Stainless Steel Brake Lines

DINAN Suspension Upgrades: $4,445.00 Upgrade! (Installed)
DINAN Stage II Suspension Package: $1,750.00 Upgrade! (Installed)
DINAN Strut Brace: $700.00 Upgrade! (Installed)
DINAN Rear Stress Brace: $900.00 Upgrade! (Installed)
DINAN Lower Control Arm Bushings: $1,095.00 Upgrade! (Installed)

DINAN 19″ Forged Wheels: $7,500.00 Upgrade! (Installed)
19″x9.0″ Silver Finish Forged Front Wheels
Yokohama 275/30/zr19 Tires (Just replaced!)
19″x10″ Silver Finish Forged Rear Wheels
Yokohama 295/30/zr19 Tires (Just replaced!)

DINAN Driving Pedals Kit: $350.00 Upgrade! (Installed)

**OVER $87,000.00 INVESTED IN DINAN UPGRADES ALL DONE AT BMW DEALER!

FEATURES & OPTIONS!

Color Options
Space Gray Metallic Exterior
Silverstone II Merino Full Leather Interior
Aluminum Interior Trim

Engineering and Safety Features
5.0 Liter, 40-Valve V-10 Engine with M-Pressure Double-VANOS "Steplessly" Variable Valve Timing **(NOW 5.8L V-10)**
6-Speed Manual Gearbox **(VERY RARE WITH MANUAL GEARBOX)**
Dynamic Stability Control (DSC) with M Dynamic Mode (MDM)
All Season Traction with M Variable Differential Lock
Independent Suspension with M Calibration
Tire Pressure Monitor
Xenon Adaptive Headlights
Rain-Sensing Windshield Wipers with Automatic Headlight Control and Headlight Washing System
Park Distance Control with Front and Rear Sensors
Logic7 Surround Sound Anti-Theft AM/FM Stereo CD Audio System with MP3 Capabilities and 13 Upgraded Speakers
M Multi-Function Leather-Wrapped Sport Steering Wheel with SMG Paddles, M Drive and Cruise Control
Service Interval Indicator
On-Board Computer with Check Control Vehicle Monitoring System
Navigation System
2-Way Power Glass Moonroof
Driver's and Passenger's Front Airbag Supplemental Restraint System (SRS) with Advanced Technology
Front and Rear Seat Head Protection System
Front Door-Mounted Side Impact Airbags
BMW's Advanced Safety System
Coded Driveway Protection
BMW Assist with Bluetooth Wireless Technology

Options
Comfort Access System: $1,000.00 Option
Multi-Function Front Seats w/Lumbar: $1,900.00 Option
Active Seat Width Adjustment
Moonroof
Rear Sunshades: $575.00 Option
Satellite Radio: $595.00 Option
iPod and USB Adapter: $400.00 Option
Universal Garage Door Opener
Soft-Close Automatic Doors: $600.00 Option
Power Rear Sunshade: $575.00 Option
Auto-Dimming Mirrors
Split Fold-Down-Rear Seat: $475.00 Option
Retractable Headlight Washers
Adaptive Light Control
Head-Up Display: $1,200.00 Option
HD Radio: $350.00 Option
Enhanced Premium Sound: $700.00 Option
Rear Spoiler
Variable Light Decoding

HUGE MSRP NEW $94,470.00!
OVER $180,000.00 TOTAL INVESTMENT WITH DINAN UPGRADES!

OVERVIEW!
Las Vegas Motorcars is proud to offer you this extremely limited chance of a lifetime at one of the rarest cars on the market period! This RARE 6-Speed Manual Transmission 628HP 2008 DINAN BMW M5 V10 BEAST is by far one of the hottest colors, heavily equipped/optioned and best upgraded of any M5 anywhere listed for sale! With over $180,000.00 invested in this car you are looking at a phenomenal deal! For peace of mind in purchase, this car is 100% fully documented and we have receipts for every single part that was installed on this car, there is no guessing game here! This miraculously upgraded M5 is a prior one-owner NON SMOKER car that was purchased brand new in Nevada and completely upgraded at the selling dealer which was Bill Pearce BMW. If you desire the ultimate driving machine, continue reading…I can assure you there is none quite like this one!

The exterior condition of this 628HP show stopping monster has been exclusively upgraded with a stunning yet subtle appeal which gives it a rare and exotic look that is impossible to find elsewhere. Sitting still the car looks like a stealth fighter going 200 MPH! (WHICH IT WILL EXCEED ON THE OPEN ROAD) Looking at our pictures and clear High Definition Video you will get a true sense of just how well this one has been kept. But to be honest, that's just a sense, there is so much visual stimulation that you really must see the car in person to get an accurate feel for what you are truly looking at. The paint has a super high gloss to it with no major scratches , no dents and no dings. For a car with just over 13k miles we are baffled at how well this car has been preserved. We studied every inch of this car and cant find any prior damage, it appears all original which is hard to find in these days! Every aspect of the exterior was done in a very subtle and tasteful manner. The factory original wheels were upgraded with Forged Dinan 19″ Lightweight Staggered Wheels (With New Tires) to give it a more agressive look to enhance the appearance of the car without adding "bling" or weight to the car by using Forged wheels which actually reduced weight in return just shows how picky the prior owner was. There truly were no stones unturned when deciding the level of perfection/quality used to build what is the most tastefully done M5 that we've ever encountered and we have had many over the years with major upgrades! There are no signs of it ever being in an accident and our incredibly detailed inspection backs up all reports 100% and shows a great car with NO stories! All history reports are perfect & accident FREE including a Certified Carfax Report Vehicle History Report. All things considered you truly won't find a better quality build M5 for the price point in which we are offering this car, for that matter I doubt there is a V10 MD anywhere in the world that really compares to this level of build…

The interior of this brute powerhouse has been left alone with a stellar amount of highly desirable color/fabric choices from the BMW factory with a stunning addition to the Silverstone II Merino Leather with some added Aluminum Trim to strike a gorgeous contrast to the interior. You won't find any crazy boom boxes or wild audio systems in this car. The prior owner told us that the sound of the beastly 628HP 5.8L STROKER V10 DINAN engine was such an attraction that he just couldn't bear to add to an already great sounding package. This M5 is a NON-SMOKERS car with no foul smells or signs of abuse and the only smell you will encounter is that of the properly treated leather inside the car. All of the surfaces are extremely clean and the seats are in excellent condition. To be honest it doesn't look like there have been very many passengers in it, there were never any kids or car seats in the back and its obvious that it was very well kept by a car nut. I would imagine that if you spent over $180k on a car of this magnitude then you'd probably treat it pretty nice too, I know I would and it's clear to see that this one is excellent in all respects.

From the moment you push the starter button your blood pressure will rise with the crackle of the DINAN built 5.8L Stroker V10 & DINAN exhaust as the deep growl that emits from the car in a surround sound style of way and it will have your anxiety level on edge. Chances are, you'll start the car, blurp the throttle a touch or two then you'll hop out and listen to all 10-cylinders purr with 628HP on tap that are ready to be unleashed! Jump back inside, strap yourself in and hold on, this car means pure business! This car has catalytic converters on it so it isn't the obnoxious sound that you've heard from some of the uncorked M5's out there. This car can be enjoyed with guests inside of it regardless if you are having work clients as passengers or your family. Once you calm down to a manageable level push the "M" button and hold on! As you can see and hear from the video, performance is out of this world and you'll have no shortage of incredible memorable times in this car. Also keep in mind this car is slightly lower than a stock car and it handles much tighter and better than a stock car as well. If you want a car that runs and drives like an exotic race car yet fulfills the void of other life commitments that a 4-door provides then this is an easy choice!

If you've seen our feedback as of late you'll notice that we sell rare exotics like this very quickly! Your options are slim due to the lack of availability on rare cars like this and fortunately for you this one is in stellar condition with very sensible upgrades to please anyone. Just check our 100% Positive eBay Feedback rating and see for yourself. We specialize in incredible finds just like this. Please feel free to bid with the utmost confidence and by all means call us for any further information. Thank you and good luck! Don't let your dream car slip away…

SERVICE+BUYER PROTECTION!

We have conducted a FULL History, Safety Inspection of this stunning DINAN built M5 to ensure you are buying the best one possible. A comprehensive road test along with full function test of all options was performed to perfection with no issues, everything is operating perfectly. We were able to obtain the BMW Service History which shows the car has been fully serviced since day one at the BMW Dealer and that it is fully up to date on all services. We have a copy of the BMW "Vehicle Data Report" and a copy of the "Print Key Data" that shows the following;

In Service Date: 4/05/2008
Scheduled Maintenance Service Completed on 04/22/2008 @ 704 Miles BMW
Scheduled Maintenance Service Completed on 10/27/2008 @ 6,849 Miles @ BMW
Scheduled Maintenance Service Completed on 07/27/2009 @ 8,923 Miles @ BMW
Scheduled Maintenance Service Completed on 03/18/2010 @ 10,236 Miles @ BMW
Scheduled Maintenance Service Completed on 09/27/2011 @ 11,791 Miles @ BMW
Scheduled Maintenance Service Completed on 09/09/2013 @ 13,081 Miles @ BMW

This M5 just had a complete maintenance service 500 miles ago @ BMW that included a BMW Standard Scope Diagnostic, a Complete Vehicle Inspection, a Synthetic Oil & Filter Service, a Brake Fluid Flush and installed new Passenger Compartment Micro Filters. It also has a perfect and Certified Carfax Vehicle History Report with no problems!

At the conclusion of our inspection we sent the vehicle to our VIP Detailer who in turn went completely through the car giving it a super high end cleaning and polishing with the worlds leading detail products so that when this car comes off of the enclosed transporter in front of your house or office it will be ready for show & go!

We facilitate all shipping needs in a safe timely manner, please contact us for an accurate door to door quote.

We offer extended term financing for up to 144 months OAC Dependent on vehicle and credit of buyer.

With nearly 40 years combined highline and exotic sales & service experience we know the intricate details in which to inspect & service all of the cars we sell. If you've seen our other cars on eBay & our website then you know how extensive of a job we do to accurately represent the condition of the car, pass on what we know and deliver a fully serviced ready to go vehicle. EXTRAS!

Complete with your purchase will be:
Two Full Function Keyless Remote Keys
Owner Manuals With Leather BMW Case
All Season Floor Mats & Cargo Mat
BMW Tire Kit Including Compressor & Tire Sealant
BMW Tool Kit
BMW First Aid Kit
Brand New DINAN Wheel Center Caps X 4
BMW Original Window Sticker with M.S.R.P. of $94,470.00
Complete DINAN Upgrade Receipts **(FULLY DOCUMENTED WITH OVER $87,000.00 IN DINAN RECEIPTS)**
BMW "Vehicle Data Report" Printout
BMW Service Records
Certified Carfax Vehicle History Report
Clear & Clean Title

For a Personal Vehicle Walk Around Presentation or Viewing Please Contact:

Dustin Prunty @ 702-596-8090

Thank You and Good Luck!
CONTACT sales@lasvegasmc.com FOR MORE DETAILS!!!
Options & Packages
OEM Code
Description
MSRP
GAS GUZZLER TAX

GAS GUZZLER TAX
$3,000.00
TRANSMISSION
2MA
6-SPEED MANUAL TRANSMISSION
$0.00
SEAT TRIM
LK__
EXTENDED MERINO LEATHER SEAT TRIM
$0.00
(STD)

ADDITIONAL OPTIONS
322
COMFORT ACCESS SYSTEM
$1,000.00
323
SOFT-CLOSE AUTOMATIC DOORS
$600.00
416
PWR REAR SUNSHADE W/REAR MANUAL SIDE WINDOW SHADES
$575.00
456
20-WAY PWR MULTI-CONTOUR FRONT SEATS
$1,900.00
articulated upper backrest
passenger seat memory
active head restraints
adjustable side support
adjustable thigh support

465
FOLD DOWN REAR SEATS
$475.00
610
HEAD-UP DISPLAY
$1,200.00
653
HIGH-DEFINITION RADIO
$350.00
655
SIRIUS SATELLITE RADIO
$595.00
(1) year subscription

6FL
IPOD & USB ADAPTER
$400.00
752
PREMIUM SOUND W/ENHANCED BASS
$700.00
Buyer Resources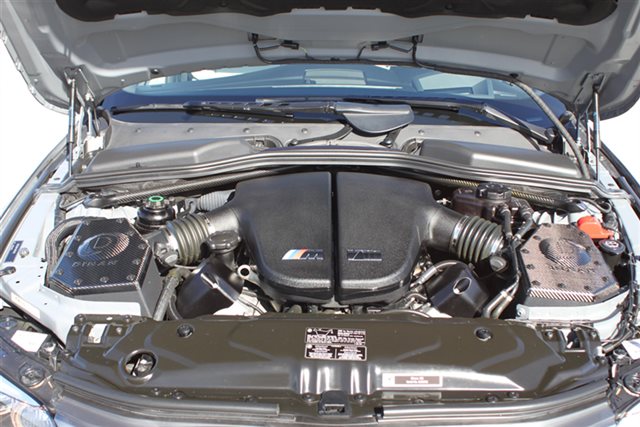 Clearly, this is an M5 that the original owner had an open checkbook attitude towards. Taking the car to Dinan nearly doubled the original sticker price; arguably, a bad investment considering that resulted in only 125 horsepower more than stock from the upgraded 5.8 liter V10. However, the list of work performed is quite impressive and well documented. The last time I featured an E60, it was quickly shot down by most of the comments as an expensive Accord. To me, though, this one looks really special and well executed. It doesn't do the normal trends like black wheels, for example, opting for the shining lip Dinan forged examples instead. Notably inside is the rare to find 6-speed manual; typically, the SMG transmission would have people running for the hills. That 6-speed normally means you didn't get the trick rear differential, but this car has upgraded Dinan units coupled to that transmission, and as if the stock M5 suspension and brakes weren't good enough they've also been worked over. Condition is absolute top and in line with the scant 13,000 miles covered, and the color combination isn't outrageous but is certainly tasteful. The result is one super sleeper sedan, but also an extremely expensive one. Therein lies the problem; 628 horsepower used to sound massively impressive, but today a light change to the computers in a stock M5 will net the same power levels or more. Plus you could walk in to your BMW dealer and order a brand new M5, replete with warranty, for only about $20,000 more than this example. Granted, to some that's a massive sum of money; but were I in the $80,000 price range on this car, I'd shop around to see if I could get a bit more financing and get a brand new M5. They're better looking, faster, come with a warranty and you can pick the color that you want. You can still even opt for a 6-speed manual. This car is impressive, but it'll take one seriously devoted M5 fan that likes Dinan cars to get into this one.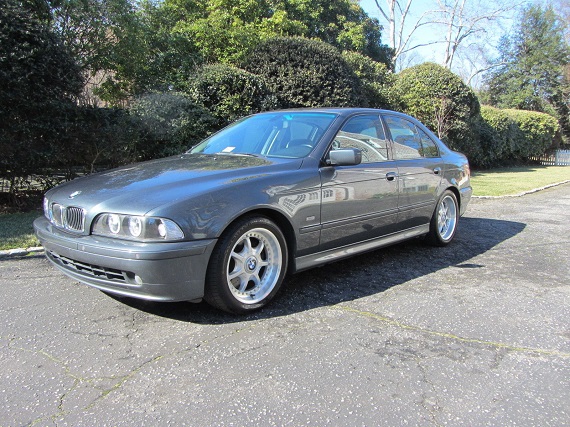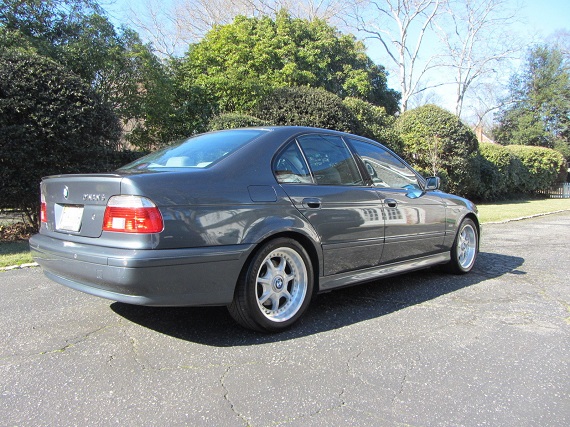 Year: 2001
Model: 540i Sport
Engine: 4.4 liter V8
Transmission: 6-speed manual
Mileage: 153,000 mi
Price: No Reserve Auction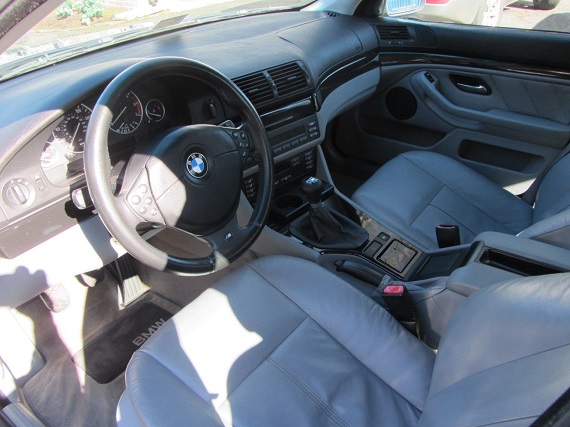 2001 BMW 540i "DINAN 5" M-Sport 6-Speed Manual

Authentic DINAN-badged 540i with:

Dinan Stage IV Engine Software
Cold Air Take
High Flow Throttle Body
High Flow Air Mass Meter
Slotted Brake Rotors

Estimated 335 horsepower, versus 290 for stock car. Very quick, wonderful engine sound. When I purchased the car, I called Dinan to confirm the upgrades and was told it was a badged car, and the rep sent me a new Dinan 5 badge, since part of it was missing from the car. The original owner did the DINAN modifications, and I am the 3rd owner.

In addition to the Dinan modifications, the car has:

Custom, "piano black" wood trim (minor cracks, customary for age)
BMW "M" shifter
Instrument cluster silver gauge rings
Euro-style headlights with angel eyes and clear corners
BBS BMW "Style 19" wheels (2-piece, very light weight) with polished rims and near-new tires- square setup
Akebono brake pads (about a year old). Great feel and no brake dust!

Anthracite with gray interior, 6-speed manual, comfort seats, front & rear parking sensors ("PDC"), CD.

Overall, the car is in very good condition with a couple imperfections (see pictures) and a few scratches. No rust. Interior is very clean with no rips and minimal wear on the seats. There is the usual pixelation issue on two of the cluster readouts (odometer & temperature)- please see picture. When I purchased the car, I used the Leatherique Restoration System and put new floor mats in.

The car is mechanically sound. There were a few issues discovered on the PPI when I purchased the car 15 months ago, most of which I corrected:

Power steering hose needed replacement- replaced, new fluid, new rings
Brake hoses needed replacement- replaced, new brake fluid
Rear control arms had too much play- replaced.
ALSO DONE: Fuel filter replaced, Rear Diff & Transmission fluids changed. Oil (LiquiMoly) changed.

The valve cover gaskets were seeping just a little oil, but the issue was so minor I did not replace the gaskets. The coolant was slightly dirty but seemed okay, so I did not have flushed.

So, the car really needs nothing, except for the two items listed at some point. I have never had a SES light come in since I have owned the car.

The car drives perfectly- very powerful and smooth. No creaks or squeaks, and no vibration. It is a pure pleasure to drive. Why am I selling? Regrettably, I have developed a left foot problem, and it is now uncomfortable for me to drive a manual transmission with a clutch.

Vehicle is sold AS-IS with no warranties. Buyer is responsible for shipping. I am happy to help with shipment, such as driving to a DAS drop-off point near Richmond. Oil changed 300 miles ago. I have service records, both keys, and all manuals.

Deposit of $500 due with 48 hours of auction end. Clear title in hand.

Nice examples of these cars with a 6-speed are getting rare. I encourage anyone interested to arrange a PPI (I will gladly assist) and a test drive. Please send me a message with any questions. Thank you!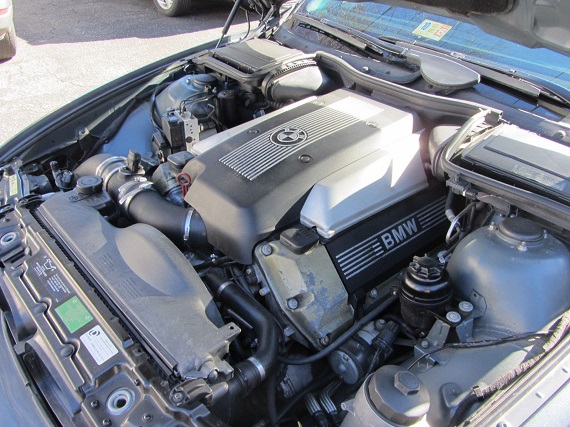 Here's the recipe that most seem to want; the E39 sedan that most love, a 6-speed manual mated to the pretty potent M62 V8, original condition and a list of reasonable Dinan mods that neither break the bank nor the motor. Sure, this car isn't as much of a pinup and probably wouldn't draw a crowd like the M5 would at a 'Cars and Coffee' event, but then you could buy much more coffee with the $72,000 you'd saved. That's because right now this example is available at no reserve for much more reasonable $7,500 (current bid, no reserve, no bids at time of writing). To me, the big attraction here is the not often seen Style 19 BBS multi-piece wheels in great shape. They're lovely and I always liked them. The condition looks to be very good on what is now amazingly a 14 year old car and the color combination is classic without being cliche. It's also offered by a seller who apparently did their homework, something that is appreciated by enthusiasts.
Which is the winner? While the heavily modded Dinan 5.8 V10 M5 S2 will grab the headlines (or did, a generation ago), to me the value of the much more affordable and arguably more usable E39 is undeniable here. Besides being better looking than the E60, you simply can't extract the performance of the over 600 horsepower V10 easily on these shores. On the other hand, you can enjoy revving out that E39 much more legally and despite the much higher mileage you'll still have a good condition and classic BMW to enjoy.
I wouldn't mind taking the M5 for a spin, though….
-Carter