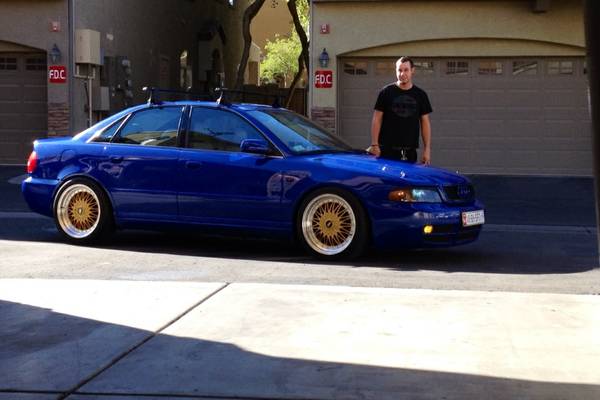 As I've talked about many times, the Audi/Volkswagen crowd is one of the most unique in the automotive enthusiast world. The home of polarizing taste, there are both VAG enthusiasts who do a great job modifying their cars and those who ruin them in the pursuit of the being unique. Today we seemingly have one of each; a questionably modified 2001 S4 and a slick looking 2003 S8. Which would be the ride you'd choose? Let's start with the S4: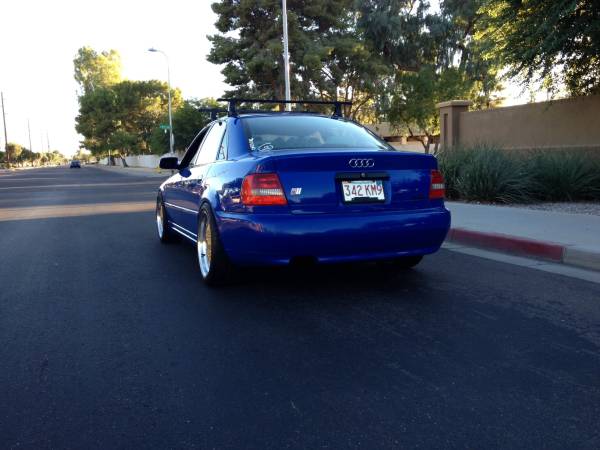 Year: 2001
Model: S4
Engine: 4.2 liter V8
Transmission: 6-speed manual
Mileage: "65,000" mi
Price: $8,000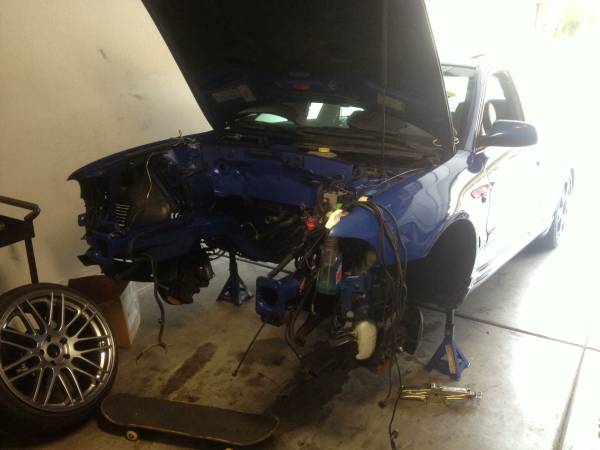 Time to sell my Nogaro b5 s4. Had the car since 2010. This car is v8 swapped. Engine comes from a 2000 a6 4.2 liter. It's attached to the factory 01e 6 speed manual trans. Runs and drives good. The motor is factory except for miltek downpipes and a cone filter intake. Exterior is Nogaro blue and interior is white cream leather. Few rips in the drivers seat other wise the interior is mint. Everything works. Cluster and all gauges are accurate. Paint is in good shape. The front bumper was painted in summer of 2012. The vehicle is originally from nh but has spent the past few years in phoenix Arizona. I swapped the vehicle myself. The 4.2 has 65000 miles on her and is originally from Colorado. This was in a b5 a4 and raced on pikes peak and rolled over at the top in the rain. I can provide videos and pictures of the pikes peak 4.2 race car. I am running a staggard set of bbs knock offs. 18×9 up front and 18×9.5 in the rear. Tires and wheels are within 3 % of rolling diameter for those wondering about a staggard setup ok awd. The engine bay is plasti dipped blue and semi shaved. I did all the work myself last summer of 2013 in my garage in Tempe az. All accessories work except ac ofcourse cuz there is no room. I had to move the stock radiator and plum it myself. The hood does not latch now because of radiator support modification. It has hood pins installed at this moment. It's sitting on k sport coilovers. The headlights are slightly tinted and had eyelids installed on them. Don't really know how I feel about the lights in general. Yellow fogs( not working at the moment) wiring probably. Front bumper has a little crack down bottom. The power steering line is custom. I had to modify the stock rack. Power steering pump has a slight wine. Drivers inside door handle is broken. All exterior and interior lights work. There's a pioneer sub and amp in the trunk not installed yet. Both Bose rear speakers are blown. Calipers are painted Nogaro blue. Color matched at real paint store. Slim fans installed with switch. I usually leave them on all the time driving. The highway u don't really need them. There's also a switch for the ignition / cluster and fuel pump. Starts up Everytime and never gives me problems. Leaks nothing . Exhaust is fucking awsome. Straight 3 inch pipe with 2 resinators. No muffler installed. Could need one if u don't like it loud. Sounds better than any vette or mustang. Pulls strong. Only revs till 4500 right now. I think the maf is bad. 7200 rev limiter factory. High reving for a v8. Don't wanna sell this car wana keep making it better but i can't afford another ticket. I am a mechanic for audi and can't afford to lose my job over this crazy car. Looking for 8k or a nice trade and cash on top. Text me anytime. That's way less than I have into the car but it is what it is. Text me let's talk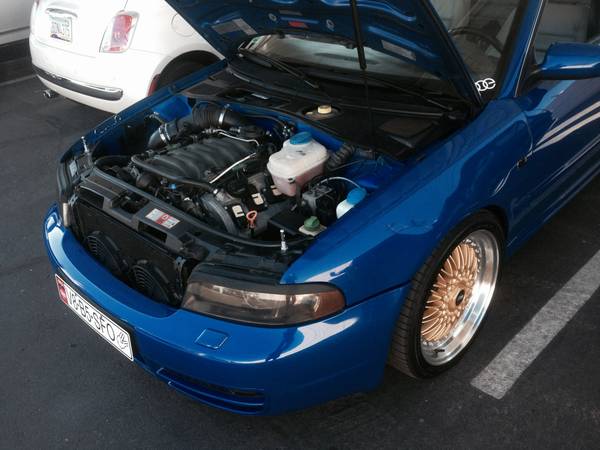 Nogaro Blue is certainly a fan favorite of the Audi crowd, and it always looks stellar. I spotted a B6 S4 in this hue just the other day from the best part of a half-mile away. It's like a beacon of light in a sea of grey and black that normally defines the Audi color pallet from this time period. But is the color alone enough to save this car? On the face of it, the concept is great; the fully loaded 4.2 V8 is reportedly lighter than the V6 and offers instant power and a great soundtrack. They're also known for being long lived if pulled from the right source; I managed over 250,000 miles on my ABH 4.2 V8 before the hydraulic system let the rest of the car down, and the motor was never apart and still strong. But then there's a host of problems with this car; it's not running 100% and there are several compromises in sticking the V8 in there. Then there are the too-low coilovers, replica off-color BBS wheels and ugly headlights. Still, the price is low enough that if you want a crazy S4 this car isn't outrageous. But would you rather see something a little less compromised?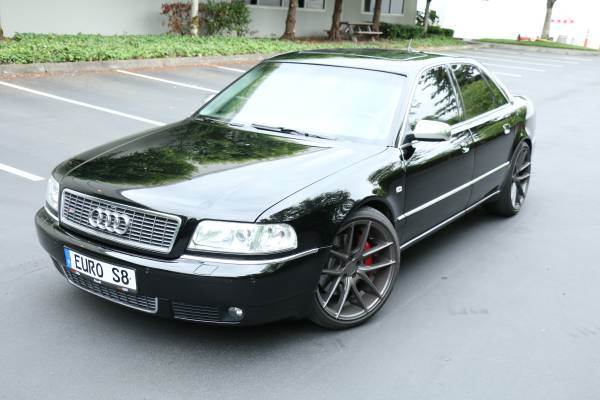 The S8 is just a great looking car, hands down. In the right color combination they're downright stunning despite what could be considered boring styling. To me, the proportions were just right and the S8 is a menacing hulk that hides its heft and size well; the all-wheel drive velvet hammer counterpoint to the M and AMG cars. Throw a 6-speed conversion into the mix and it's borderline intoxicating: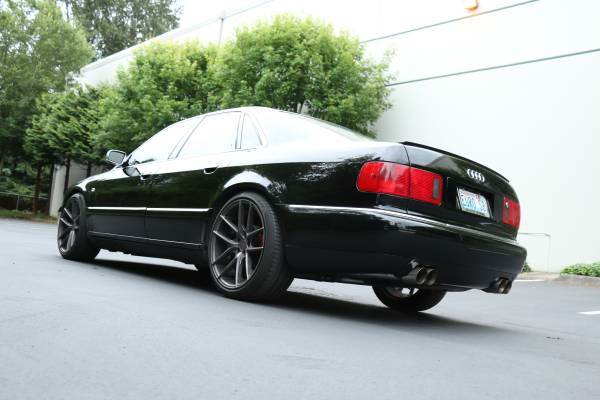 Year: 2003
Model: S8
Engine: 4.2 liter V8
Transmission: 6-speed manual
Mileage: 90,119 mi
Price: $19,995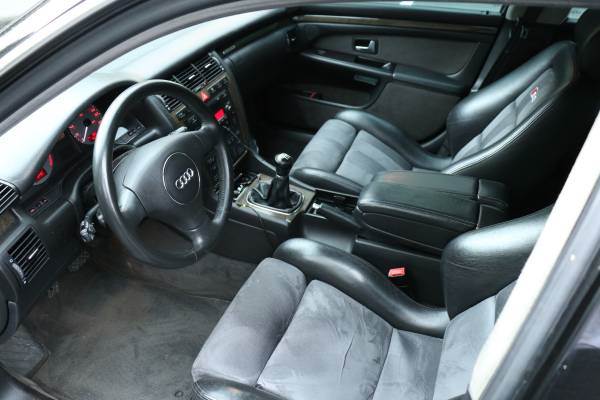 2003 Audi S8 D2 ***** 6 speed manual – FULLY custom

2003 Audi S8 d2 6 speed manual conversion. Everything is new and custom/special made to give this beauty a look and to stand out in front of others. Car runs nice and perfect. Everything works out perfect. Everything is align perfect for conversion.

If you have any questions or reasonable offers, feel free to contact via email.

Thank you for looking

List Date: 7/8/2014
Location: Seattle, WA, United States

For more info, click here to view the original listing: 2003 Audi S8 D2 ***** 6 speed manual – FULLY custom
————————————–
On Sale For: $19995 (Local Pickup Only)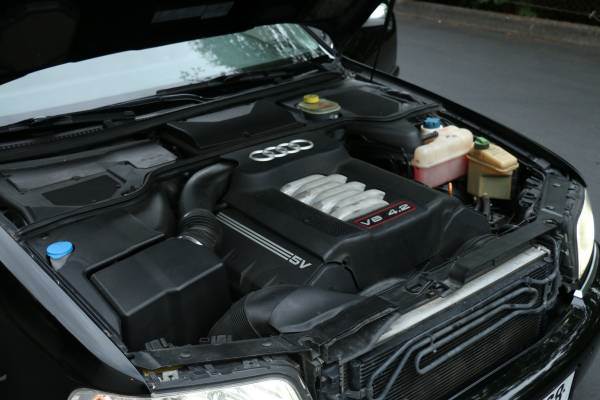 That said, I do have some reservations about this particular model. I'm not a fan of the quad exhaust, first off. The factory got it right with an understated by noticeable one-side only exit, and I don't see how a custom set up improves upon that – even if it's executed well. No matter how much I try, it doesn't look right to me. Nor do the wheels, for that matter. They're a touch too dark and oversized for my liking. While it's true I'm not a fan of the "Celebration" wheels that originally adorned this model, there are a few options I'd prefer to see on there that would really improve the look if you wanted to go large – for example, the 19″ Speedline/BBS factory option wheels would look at home I think. It's also true that black isn't my favorite tone on the D2, but overall I think this car presents very well. The only problem is that I think it's pretty far overpriced; at nearly double the price of most of the rest of the S8 market, you could pretty easily afford to do the 6-speed swap with your savings on another model. But if you want a turn key S8 6-speed, there aren't many options for you out there.
Of the two, the S8 would have to be my choice. The S4 is intriguing and priced more aggressively, but would require likely double the initial investment to get to a place that I'd like it. The S8, on the other hand, generally fits with my definition of a cool Audi – but is overpriced and a tad overdone for my liking. Still, either is a neat alternative to the everyday norm and they both depart from the typical mods and models; that alone is worth appreciating.
Thanks to our reader John for spotting both of these neat rides.
-Carter