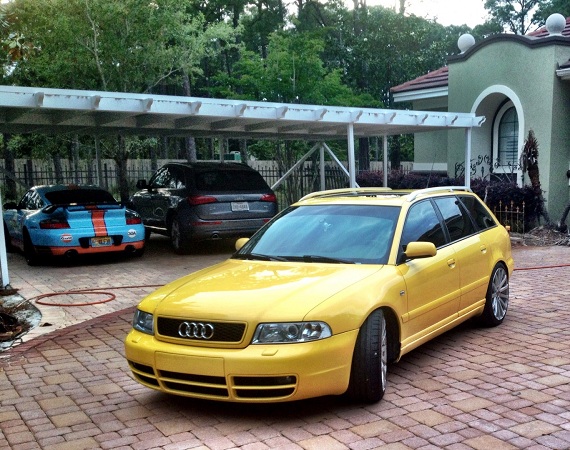 Okay, I got the memo. You didn't like earlier's Tuner S4. And while I think it's pretty silly to discount the car completely because of some fairly easily changeable interior pieces, I also had issue with the car as honestly I'd prefer an Avant if I was going the S4 route. What's a guy to do? Well, lucky for us there's an equally awesome, equally Imola Avant in our Self Service Classifieds: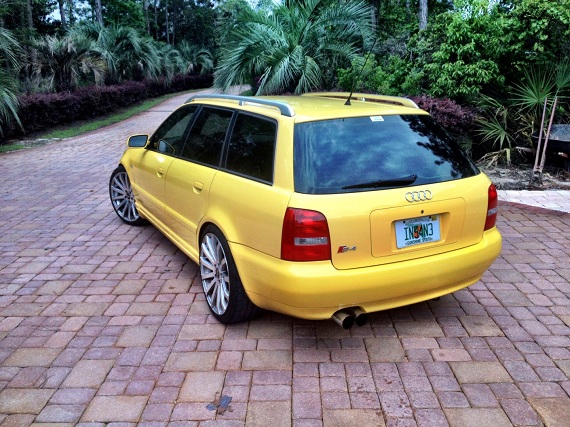 Year: 2001.5
Model: S4 Avant
Engine: 2.7 liter twin-turbocharged V6
Transmission: 6-speed manual
Mileage: ~120,000 mi
Price: $17,500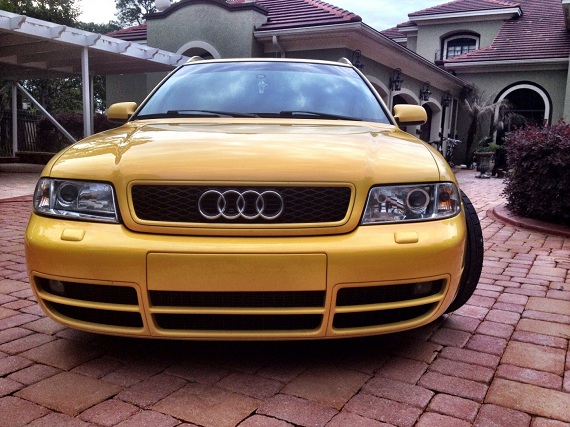 More Information
*JHM RS6-R turbos
*SRM intercoolers
BOSCH Racing EV-1 injectors
Deutschworks LP400 fuel pump
034 cold air with carbon fiber heat shield & 90mm MAF
ARD full 3″ mandrel bent downpipes
*SSAC dual twin with electric cut outs in place of resonators
H&R ultrlow coilovers
034 lightweight flywheel, clutch slave
RS4 motor mounts
RS4 trans mounts
JHM DTS bar
JHM stage 4 clutch
*Advanced Automation TDI 6spd with high bias diff
*wavetrack front diff
*Raxle Axles
Apikol rear diff mount
Awe boost gauge
Innovate wideband
New radiator
JHM Electric fan kit
*Yellow 6 piston Porsche BBK w/350mm rotors
new 235/35ZR19 Pilot Super Sports
Piano black interior trim.

Over $20,000 just for the new parts in this build. By the time you find a donor car as nice as this your looking at +29k to duplicate assuming you do all of the labor on the build entirely by yourself!

Never raced, never dyno'ed. ~23psi under full boost. Timing belt and other maintenance done at ~120k miles. Car is in fantastic shape!

Link to photo album:https://www.icloud.com/photostream/#A85Uzl7Vjsop1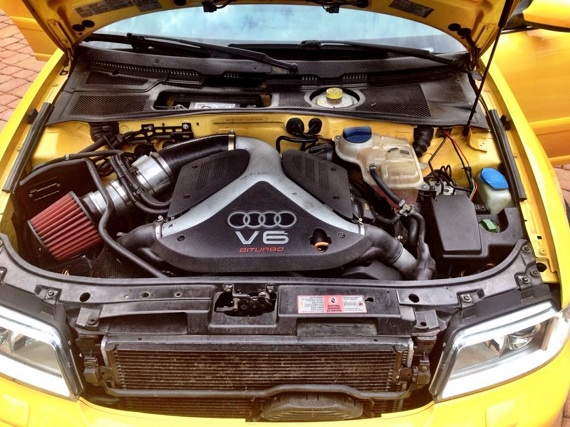 Okay, nit-pickers! Here's your ride – stealthy (or, as stealthy as Imola Yellow can be) in OEM spec outside, but turned up under the hood. Despite the massive power increases, this car retains the family-friendly versatility of the Avant – a big draw for the S4 compared to the M3. The seller is right; building an S4 to this level isn't cheap and finding a clean Avant in completely stock form will easily set you back over half the asking price of this example. The only downside is that this car has around double the mileage of the earlier S4; but for about the same asking price, I'd really rather have this one even with the increased mileage. Swap the wheels for something a bit less showy and this car is pure win.
-Carter