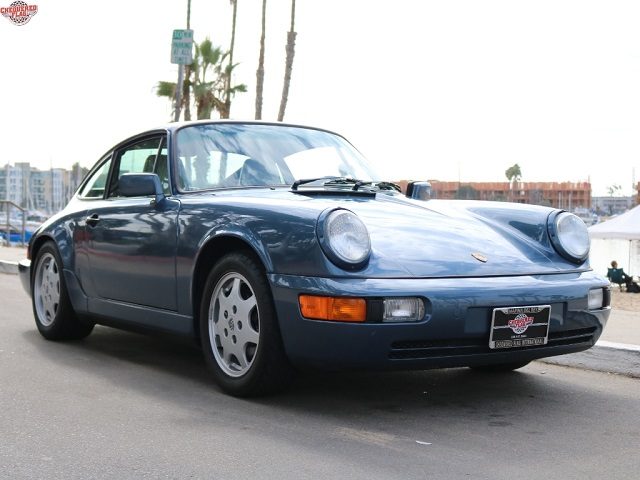 This post is intended to serve in part to provide some perspective on the Baltic Blue Carrera 2 posted earlier this week. That car had some questions regarding paintwork, current maintenance and modifications. It also had a ton of miles. The asking price didn't seem to be taking those factors much into account, which is where the comparison with this 964 may be useful.
This one is also Baltic Blue Metallic, though this time it is a 1989 Porsche 911 Carrera 4 Coupe rather than a Carrera 2 Coupe. The mileage is much lower, in fact it's quite reasonable given its age, and the condition appears to raise far fewer questions. The asking price is indeed higher, but perhaps not by as much as we'd expect given their differences. Comparing a Carrera 2 and Carrera 4 isn't quite the perfect comparison, but there are enough similarities that we can at least make use of it.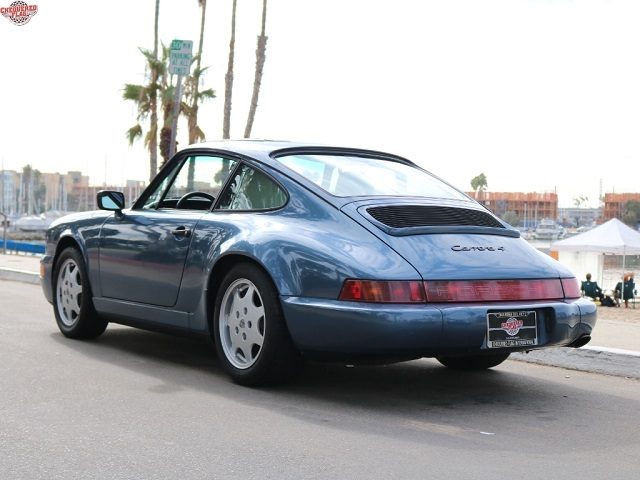 Year: 1989
Model: 911 Carrera 4
Engine: 3.6 liter flat-6
Transmission: 5-speed manual
Mileage: 67,510 mi
Price: $57,500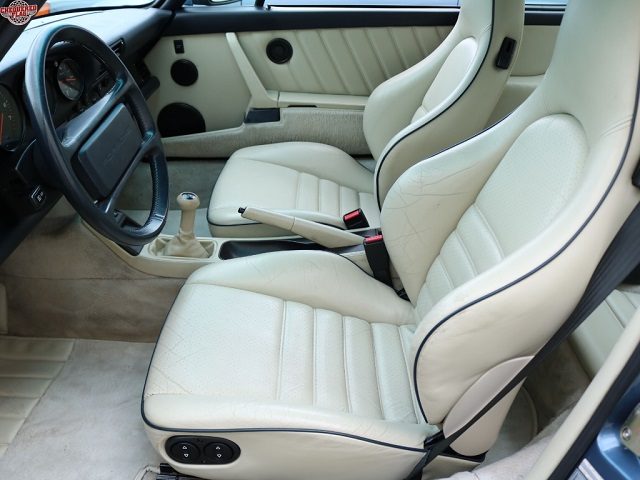 Chequered Flag International is pleased to offer this 1989 Porsche 964 C4 Coupe in Baltic Blue with Linen Sports seats piped in Blue. 67,655 miles. Excellent body with good but not perfect paint. All stickers in place including option code sticker under the hood. Very good interior, un-cracked dash, nice seats, door panels, carpets and roof liner. Mechanically superb, just checked and serviced, oil filter, spark plugs, valve adjustment, valve cover gasket, A/C service, replaced oil lines, new belts, replaced engine insulation, replaced control arm bushings. Fitted four new Michelin pilots, in all over $3000 at our cost. Plus $15k in receipts over the last 4k miles. Comes with its original books, including warranty book with option sticker, records from 2006, jack and toolkit. Inspections encouraged. All sales AS-IS. Sales tax and license fees due if delivered in California.

Visit Chequered Flag International online at chequeredflag.com to see more pictures of this vehicle or call us at 310-827-8665 today to schedule your test drive.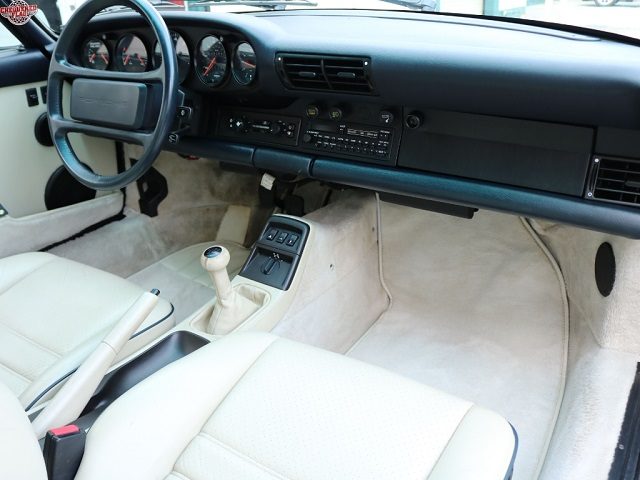 The Carrera 2 appeared to have a substantial amount of early record-keeping, but we could be less sure of its recent care. This one may be the reverse as there are said to be a good deal of records for recent work, but we are told little about its early life. We do get a picture of the maintenance log showing some of its early servicing, but how robust that log will be remains to be seen. Still I think there are far fewer questions and I also don't think there are less questions about this Carrera 4's originality.
The condition of this 964 does work in its favor as it looks to have been well cared for both inside and out. I'm not generally a huge fan of a Linen interior on a 911, but the exception almost always comes when the exterior has been one of these lighter shades of blue. It has an oceanic feel that is quite inviting. There is definitely some wear noticeable, especially to the driver's side seat bolsters, but for the most part it's clean and in good shape. The price probably is a little high all things considered, but I think it makes a workable starting point.
-Rob