The year 1999 was perhaps one of the most significant years for Porsche in recent memory, as it signaled the beginning of a new era for the venerable 911. Gone were the direct links to the past, such as air-cooled engines, round headlamps and fixed quarter light glass. The type 996 was indeed an all new design, by famed stylist Harm Lagaay and while it didn't share any components with its predecessor, it did share much of its front end with the less expensive, mid-eingined Boxster. While some 911 purists derided the new model, it did bring about evolutionary touches to increase usability, while retaining the trademark rear-engined layout. Over a decade later, prices for 996s have lagged behind other, more desirable 911s, but it allows less wealthy enthusiasts access to the brand. This particular 911 is owned by our reader Joe and is very well sorted despite having just passed the 100,000 mile mark.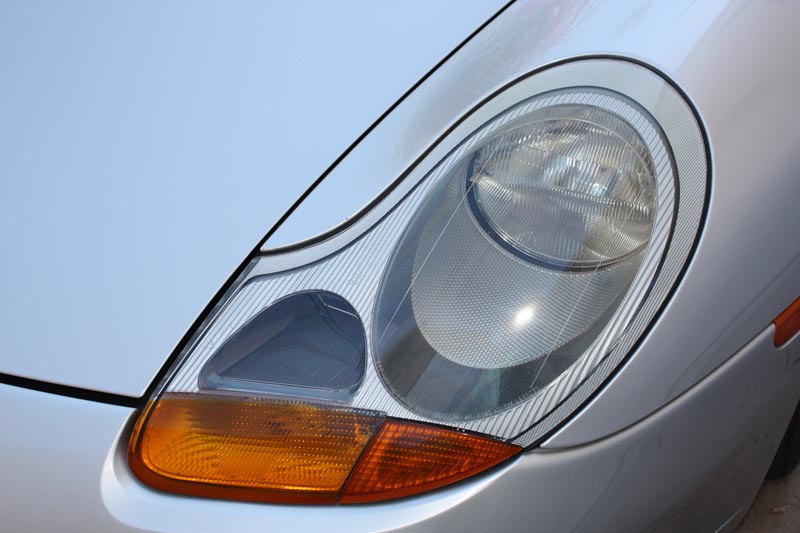 For sale: 1999 Porsche 911 Carrera C2 coupe. WP0AA2990XS623132. Production Date: June, 1998. Engine Type: M96

Transmission: 6-speed manual
Mileage: 100,679
Asking price: $19,400

I have the California title in-hand. Payment should be by wire transfer, check, or cash. Car is located in Los Angeles area. Please contact me via email: joe@joe250.com. I searched far and wide for this car. I wanted an LSD-equipped, no accident, all-original paint 996 coupe. It had 60,000 miles when I purchased it 2 years ago. I used it as my daily driver and racked up 40,000 miles in short order. My job requires me to drive all over California. It only let me down once when the crank position sensor started to go. Other than that it has been a fantastic car to own and drive. It is plenty fast, comfortable around town and perfect for long drives. I have never raced the car or used it at track days. I drive the car quickly at times but I never abuse it (no revving past 4,000 until fully warmed, rev-matching on downshifts, etc.). It is so easy to drive and comfortable that it is easy to foget just how fast this car is. It is a shockingly quick car on a twisty road, which I would be happy to demonstrate for any potential buyer. The car continues to be accident-free and is now parked until it sells. I decided to sell because my work continues to increase the amount of driving I do and because I will soon have another sports car.

Maintenance

I have spared no expense maintaining the car. I performed the routine items myself (oil changes, brakes, shocks, etc.) and relied on two reputable shops to tackle the bigger stuff – The Rennshop in San Jose and Werks II in Burbank. Anything they recommended I have fixed or replaced, I did without exception.

Recent work includes a brake fluid flush, transmission fluid flush, new Porsche floor mats, a new Interstate battery and new Michelin Pilot Sport PS2 tires f&r 7,000 miles ago. Included are the original books, 2 working master keys with built-in remote, 1 valet key, 3 extra oil filters with crush rings, the original un-used tool kit, the original (working) stereo, original headlight bulbs, wheel lock key, and all the service records for the car.

Car was just inspected at 99,000 miles by Werks II in Burbank and was given a clean bill of health. Everything on the car works, no exceptions. Car needs nothing mechanically. Paint has a few rock chips and door dings. Interior has some minor scuffing on the driver seat and the usual scratched paint on the front trunk release lever. Overall though the car looks very good for being 13 years old.

Upgrades

When the rear main seal started to weep oil, I had it upgraded with the latest 997 style replacement, upgraded to a sport clutch and lightweight flywheel, and had the LN Engineering IMS bearing kit installed. When the front lower control arm bushings started to go last year, I upgraded to the GT3 adjustable LCA's and added a tiny bit more negative camber in the front. I upgraded to the ROW Sport suspension, replaced the replica Carrera 5-spoke wheels with genuine Porsche/BBS Carrera 5-spoke wheels, installed a Porsche short shift kit, and a Kenwood head unit. This includes a Garmin navigation system with touchscreen, a DVD movie player, MP3 audio, Sirius/XM satellite radio, and iPod plug. (Note: No wires were cut as part of the install. I used an aftermarket adapter which simply plugs into the original harness.) I had the windows tinted with the lightest 3M tint available both to keep the interior cooler as well as to protect the interior from UV. A previous owner had installed a set of HID bulbs, which are quite effective.

Options

I don't know the exact amount but this was an $80,000+ car when new and included a few interesting options, like the LSD, aluminum gauge faces and chrome door sills with 'Carrera' script. Here is a break-down of the option codes and their original cost:
Type 996 110 $67,463
Engien code / Trans Code M9601 – 68W G9600 – 00
Paint No. L92U Arctic Silver Metallic (water-based pearl effect) $805
Interior AY
C02 Catalytic Converter
X54 Oval Chrome Exhaust Pipes $747
X70 Metal Door Sill with Insignia $425
X71 Aluminum Instrument Dials $855
041 ?
220 Locking Differential 40%
222 Traction control system $1,215
224 Active Brake Differential
413 Pressure-cast light alloy 18″ Turbo look wheels $1,190
425 Rear wiper $345
437 Comfort seat left (Full power seat left – optional)
438 Comfort seat right
490 Hi-Fi sound system – optional $830
537 Left seat with positrol (memory) and lumbar
659 Onboard computer $275
692 Remote CD changer (6-disc) $715
936 Leather seats rear
983 Leather seats front $1,520
09991 Exclusive Options Program (?)
Floor mats $110
Destination Charge $765
Luxury Tax ?
Partial total: $77,260

When comparing this car to others of similar age and mileage, please keep in mind the cost to bring them up to the same level of mechanical condition (IMS bearing upgrade, lightweight flywheel and clutch, etc.) and to have the same types of modifications (LSD, wheels, shortshifter, stereo/nav system, etc.). You'll see that this car is a relative bargain.
This 911 has had a great amount of care lavished on it. Looking at pictures, things like scratch-free door handles and crystal clear headlamps are the mark of a careful owner who appreciates fine machinery. I have to admit, the 996 was never my favorite 911, but being the 911 fan that I am, a vehicle such as this is making me rethink my stance on this particular generation of 911 in the chances that I may move out of my Cooper S in the near future.
-Paul