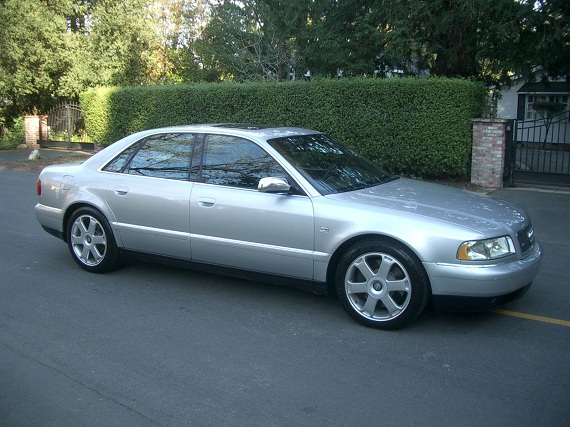 A few weeks ago, Paul wrote up a low mile 1995 740i, always a favorite of ours here at GCFSB. Also a favorite is the D2 S8. Together, they represent in our minds the pinnacle of large executive designs – fast, comfortable, quiet, and with enough presence to draw respectful looks without being overstated, showy or brash. We also think that these two executive sedans are better looking than the multiple generations that have replaced them. While performance and luxury have increased in both BMW and Audi, in our opinion both of these cars are the high-water marks for their respective brands. So, which would you rather have? Let's start with the S8: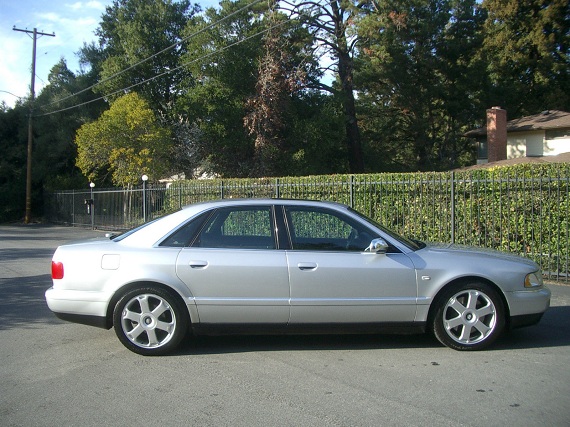 Year: 2001
Model: S8
Engine: 4.2 liter V8
Transmission: 5-speed automatic
Mileage: 154,000 mi
Price: $8,899 Buy It Now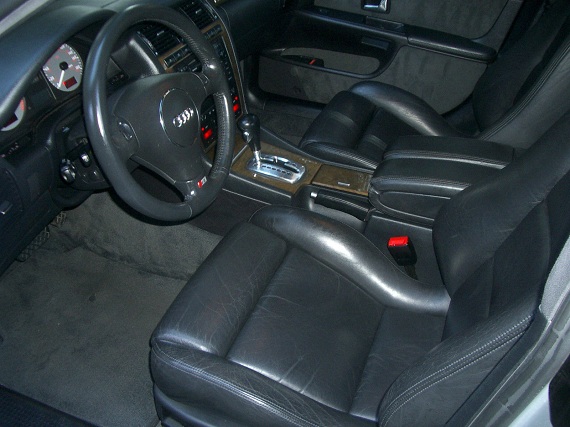 2001 Audi S8 one owner, very nice!

Silver over Black Valcona Leather, Audi's top of the line in 2001; this A8 "S" version is still quite formidable the 360 HP 4.2 40 valve V8 delivers 5.8 sec. performance to 60MPH, superb AWD handling dynamics and loads of luxury. Even 20 MPG is respectable given the power and size of the car. Superb fit and finish, no squeaks or rattles to impact the BOSE Sound, heated seats, Navigation and power everything even rear sun shade; plus parking sensors. This well cared for 154k mile has many enjoyable miles ahead. No accidents, one owner, service history, good tyres and brakes this consignment S8 is ready for a new home. Please call 650-261-1777

VIN: WAUGU54D71N008062

Price: $8899.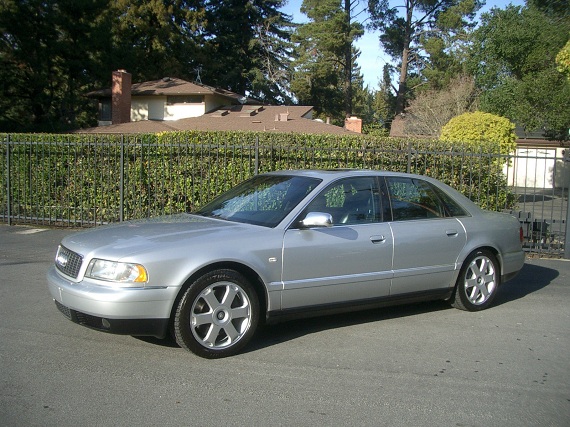 Silver over black certainly was a signature of the S8, following in the inspiration of the all-polished aluminum Space Frame design study back in 1993. That car certainly left a mark on the imaginations of many Audi fans and the styling of the A8, as it was a near copy of that car. The pictures show a well cared for example of the D2 here, but the only drawback in my mind is the 154,000 miles; it's not an outrageous number for the chassis or even the engine, but I'd be concerned about the longevity of the transmission at this stage in life. Considering the asking price is still pretty high without taking transmission work into account, I think it's a bit overpriced though it does seem to be in good shape. Perhaps the lower miles on the 740 will sway you: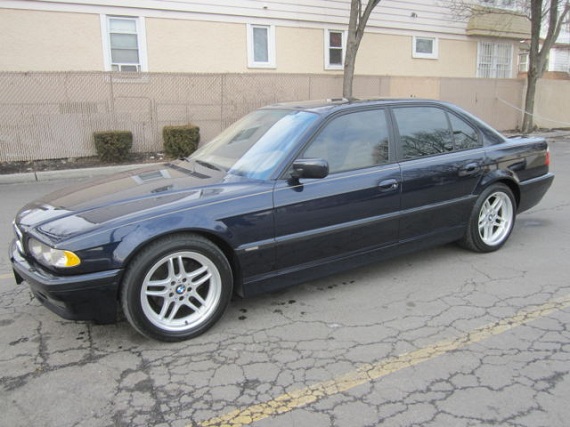 While the flashier colors may make the 740 stand out, I think this example in Orient Blue is lovely. It's understated but very pretty, and shows the quite aggressive lines of the E38 well. With almost exactly half the miles of the S8 for about the same price, perhaps what the 740 lacks in performance compared to the Audi it makes up for in condition: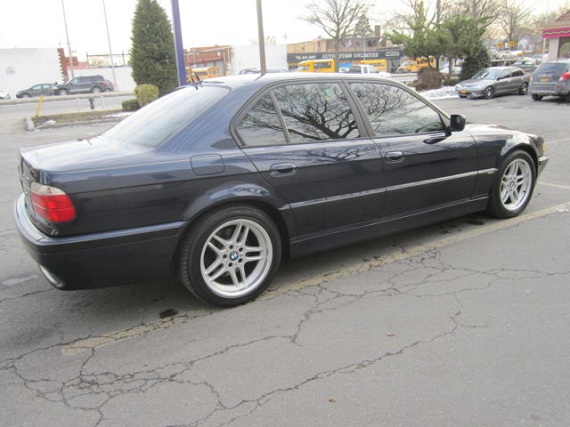 Year: 2001
Model: 740i Sport
Engine: 4.4 liter V8
Transmission: 5-speed automatic
Mileage: 78,454 mi
Price: $7,950 Buy It Now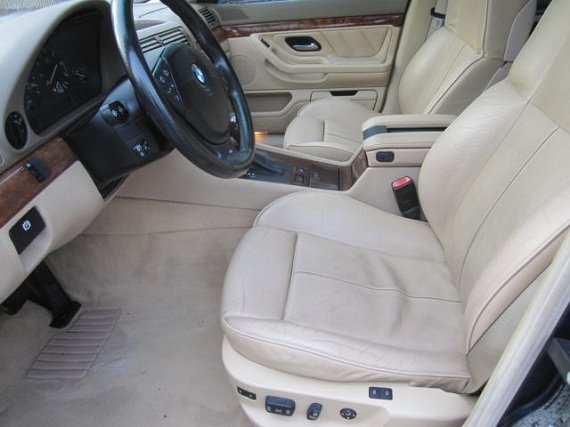 This is a great previously owned vehicle. This is a smoke-free automobile. There is no damage evident on this vehicle. This is a garage kept vehicle.The engine on this vehicle is running properly. This vehicle has no known defects. Overall, this vehicle's exterior is clean. The interior is clean and in good condition. Glove box handle and cupholders are in op. The tires have 25% of the tread life still left on them. The mileage represented on this vehicle is accurate, few pixels out on display, common on this car but we will try to resolve before sale ends. There are no signs of prior damage on this vehicle. There are no noticeable dings on the exterior of this vehicle. There is a small crack in the front impact strip on bumper. This vehicle has a smooth shifting transmission. Please review 100 pictures of this stunning bmw. Please note this car is still in use and mileage may be slightly higher at the point of sale.also note the car will not be available for pick up until after next weekend.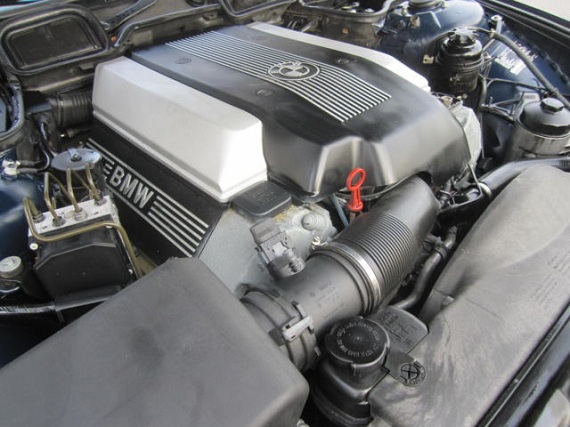 So, you'll need to purchase some tires for those pretty M-Parallels, but otherwise it seems to be in good shape. I'm really not a fan of the pinstripe on this car and wish it wasn't there, but perhaps it doesn't bother everyone like me. Condition seems above average and miles are well below average on this 2001. And nearly everything about it makes me want to say this is the car I'd choose; but then, I see beaten up E38s being driven all around Providence and I just can't do it. They may have been much more popular than the Audi, but that just makes the Audi more appealing to me. Despite the higher miles, the S8 would still be the car I'd choose. I'd negotiate the price down a bit due to transmission concerns, but even though silver over black isn't my preferred color I just find myself liking the D2 more than the E38.
-Carter