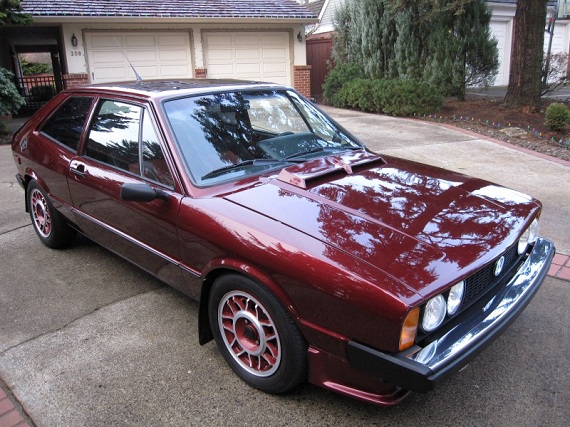 In lieu of the normal "Tuner Tuesday" posts, today I decided to write up two home-brew specials in the likeness of many tuners. We started with the 1968 BMW 1600 S14 swap, a rare to see model with some really great looking and fun-increasing modifications. But I think the cake might go to this afternoon's Christmas Eve special, a 1977 Volkswagen Scirocco that has more period modifications than you'll usually see – but manages to pull it off really well! That can't always be said for 1980s-era modifications in general, as quite a few were in questionable taste. That's part of what makes this Scirocco so special and neat to see, if seeing an old Scirocco wasn't neat enough. We've gotten to see two this week, the all original and mint condition 1981 Scirocco and today's tuned example: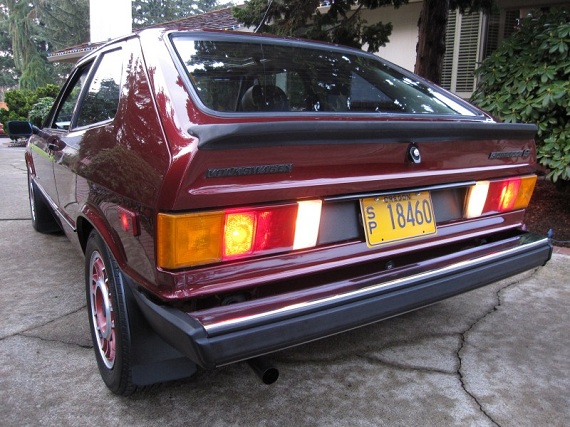 Year: 1978
Model: Scirocco
Engine: 1.8 liter inline-4
Transmission: 5-speed manual
Mileage: unlisted mi
Price: No Reserve Auction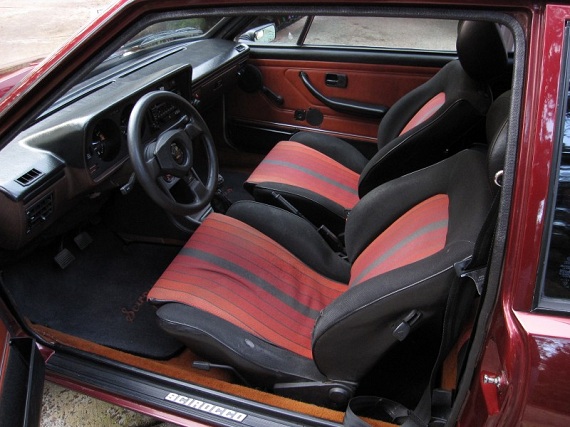 Whether you're attempting to relive your youth (as I was when I bought it) or simply have appreciation for these rare and unique cars, I doubt you'll find a better example to enjoy. Now, I'm in my 40's but in the mid-1980's I owned several VW Rabbit's, GTI's and Scirocco's. Good grief! Was that really almost 30 years ago? These days, my collection consists of primarily Camaro's, Nova's and my 55 Belair Convertible. I hadn't owned a Volkswagen in probably 20 years when I found this MK1 Scirocco. I purchased it immediately. Everything came back to me right away as I sat behind the wheel. Almost as if I had driven one yesterday. I didn't even jerk the clutch or miss a shift. It was all just like I remembered. It also helped that this car is extremely well-sorted out. Previous owner had the car for 25+ years and over that time period he performed all modifications. The transmission shifts flawlessly and each gear is easy to find with the close-ratio linkage. The tasteful performance and handling enhancements make this car very fun to drive. She has a 1983 GTI 1.8 liter with a 5 speed transmission. I will list all upgrades throughout the auction layout but basically this car is set up exactly like we would have done back in the late 80's and early 90's. I haven't used words like Kamei, Tokico, Techtonics and Neuspeed in decades. I don't feel 46 years old but the birth date on my drivers license reminds all the time! In short, this is a great car in wonderful shape with many vintage and desirable upgrades. Rock-solid with NO rust issues. Exterior, interior and mechanical components are all very nice. For those that prefer as many details as possible, I will continue describing the car under many of the upcoming photo's.

I will make a few brief comments under certain pictures throughout the photo display. All of my eBay experiences have been enjoyable over the years as I've sold members of my collection. I'm grateful for the kind words and compliments I've received. My opinions have guided me well and I stand behind them but please keep in mind that these are my personal opinions and observations and they may differ from your own. I welcome showing my Volkswagen in person to anyone with genuine interest. I live very near the Portland Oregon Airport and would gladly pick you up. Each photo shows the car clearly and accurately from as many angles as I could think of. It is my intention to make this as close to you seeing and touching the car for yourself as possible. Feel free to click on the "ask a question" link here in the auction and I will respond to all polite questions. Phone calls are great too. My telephone number is 503-575-0404 and calls between 8AM and 9PM Pacific time are just fine. My auction runs for 10 days and is scheduled to end on Monday evening, the 30th of December at 7:30PM Pacific.

I reserve the right to end my auction early in the event I accept a genuine offer and the car becomes no longer available.

*If you are outside of the U.S. or Canada, PLEASE contact me to confirm your bidding activity as genuine.*

Everyone, please be sure to read my terms of sale located near the bottom of this screen. I'm a reasonable person but I will not bend on these basic terms unless previously discussed during the auction. A little communication goes a long way.

NO RESERVE AUCTION

I did not set a reserve price on my Scirocco. All that I ask in return is for your bids to be real and your intent to purchase be sincere. I took every picture you're about to see in my driveway at home the day before this auction started. No photo has been altered or enhanced in any way. This is my car and these pictures are true to her in-person appearance. Thanks for your time, DAVE

The interior is in very nice condition. Carpet, door panels and headliner are perfect. The Scirocco "S" seats were installed years ago. The drivers seat shows light wear on the outer bolsters but all seats are in impressive original shape. These are now obsolete and impossible to find.

Although some liberties have been taken with regards to originality, the upgrades are certainly era correct and only add to the cars overall appeal. The "S" front spoiler, Kamei hood scoop and GTI snowflake wheels look spectacular on the car. The body and paint quality is very good. Painted many years ago and a nice job was performed at that time. Certainly not Concourse level but the finish is smooth and holds a high shine and gloss. Clear reflections can be seen in all panels. Also, the car is very straight as you look down the sides. No waviness or washboard effect. There are a handful of imperfections in the form of small touched-up chips and one scratch (photos provided). I have discovered no evidence of rust or corrosion anywhere on the car, past or present and the undersides are outstanding. Both chrome bumpers, grille and all exterior trim is excellent. The car shows and presents itself extremely well. More than deserves every compliment it receives.

Body panel fit, gaps and alignment are very nice. Again, impressively straight as you look down the sides.

I'm not sure when the sunroof was added but a beautiful installation was done at the time. Only a trained eye would know it's not factory.

All glass is excellent and crystal clear with the exception of an L shaped crack in the windshield. It has remained unchanged but should be replaced. I do have a new rubber seal that will come with the car. The windshield itself is inexpensive. I will gladly have that done at the next owner request for $200.

Both doors open and close easily and the windows roll up and down with 2 fingers.

This tiny blemish is located on the top of the passenger front fender.

As you can see, the paint is smooth and has a high shine. That 3 inch scratch pictured here is one of the flaws I mentioned previously.

Please note: I do have a replacement marker/turn signal lense to replace the one with a superficial crack.

These Kamei soft rear spoilers are extremely rare and difficult to find. The flaw on the corner of the hatch is the 2nd of 2 notable imperfections. The scratch shown previously is the other.

The SP Oregon license plate is a special interest collector plate. I would like to keep it but I'm willing to be flexible on this. Yes, even the back up lights and license plate light work! The electrical on this car is all in proper working order. A big plus on German cars of this vintage.

Each and every light works on the car. The headlights are H4's.

Remarkably, no one has ever miss-used a jack and dented the lower body panels while lifting the car.

This photo shows the RPM at 70 miles an hour. I only looked away from the road for a second to snap this pic. Both the speedometer and tachometer are extremely accurate. Even though this car is powered by a 1983 GTI engine, it has the wider ratio 5 speed transmission. Still very quick off the line and through each gear but provides comfortable RPM at highway speeds. I don't believe this is the original speedo and gauge cluster. The speedometer is dead-on accurate but the odo works when it wants to. Mileage on the car itself is unknown.

The only wear showing on the interior is at the lower and side bolsters of the drivers seat.

Every switch, lever and knob operates as intended. All lights, gauges, heater, wipers, radio and even the horn all function properly.

The door cards are excellent but obviously have speakers in them. The door pockets are a Kamei add-on.

Again, the sunroof install is excellent. It will leak slightly in a heavy down-pour of rain but not when I wash it. It's always in the garage anyway.

The rubber Kamei golf ball shift knob is my favorite part of this car. I had them on many of my VW's back in the day. They feel great! The linkage is adjusted perfectly and each gear is easy to find with a firm feel. The clutch engages flawlessly with no chatter. How this car shifts through the gears is one of many things that make her a blast to drive.

Holds amazing oil pressure at all times.

She never over-heats and the cooling fans work properly
Even the hatch seal area and latches are free of any corrosion
Ok, here's the general mechanical run-down. 1983 GTI 1.8 liter engine with the following performance enhancements: Head has been ported, polished and port-matched with Eurosport valve springs. Engine block is balanced as well as the flywheel and pressure plate. Techtonics Stage 3 camshaft and Neuspeed throttle body. Factory European twin pipe manifold with Techtonics down pipe and Borla 2 inch exhaust
Autotech front and rear upper stress bars.

Mechanically, she is extremely reliable. Always starts easily warm or cold even after sitting untouched in the garage. Simply turn the key and go. Throttle response is crisp and acceleration is impressive.

This ducting is for the cooling of the intake manifold. It is cooled by a separate fan from the radiator fan. See "FAN" switch above radio.

The body is excellent and the car is structurally solid as a rock. It appears that this portion of the core support has been repaired at some point. All tolerances are in spec and the car holds perfect alignment.

The suspension consists of the following: H&R springs with Koni adjustable front struts and Tokico rears. Quickor front stress bar and Neuspeed rear sway bar. Drive axles, CV's and ball joints are all standard GTI. To say that she handles like she's on rails would be an understatement. This car corners better than anything I've ever owned, including my 911. Slightly stiff of course but still really comfortable to drive even for extended periods. Not bouncy at all and never bottoms out. A lot of thought and expertise went into the suspension and handling of this car. Enjoyable at all times.

The undersides and entire belly pan are outstanding! No corrosion or rust issues with no sign of repairs, floor jack dents or accident damage. Exactly what we hope to find.

The VIN number matches the certificate of title. There are no brands or encumbrances of any kind. A clean and clear Oregon title and bill of sale will be provided for an easy transfer to any State in the U.S. and is exactly what Customs officials want if you intend to ship her overseas.

I'm hoping that my appreciation for this car is contagious and that your impression is fully formed by now. In my neighborhood I'm known for my lighting display. I pulled the Scirocco out of the garage for this photo to remind myself to wish everyone a Merry Christmas and Happy Holidays. Be safe and enjoy your loved ones. Thanks again-
____________________________________________________________

Terms of Sale: 36yr old vehicle being sold AS-IS:

Please read and agree with the following:

I have described my VW honestly and to the best of my ability based on over 25 years of owning and driving classic cars. This is a rare and very nice car but certainly not perfect. I have 100% faith in the drivability of my Scirocco. I enjoy driving her without concern but she is 36 years old and routine service and repairs should be expected based on her age. If you are not comfortable with a sight-unseen purchase, please come see the car for yourself or have an independent inspection performed PRIOR to bidding, NOT after. I will not be responsible for the decisions of others. Free and clear Oregon Certificate Of Title will be provided. I would appreciate the winning bidder contacting me immediately upon end of auction just so the lines of communication are opened. My telephone number is 503-575-0404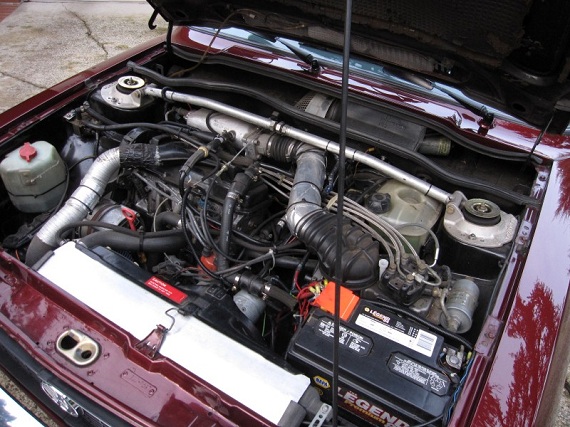 I don't know Dave, but I want to personally thank him for such an exhaustive and well documented write up. My transposition doesn't even do it justice; if you go to the ad itself you'll see the notes with detail. There are so many hard to find items on this car it's hard to quantify. The car sports a desirable GTi engine upgrade but maintains a wider ratio 5-speed gearbox for better highway behavior. Having owned a 1983 GTi, that's a very, very good thing. The exterior pieces remind me of one of the special edition mid-1980s Cabriolets that came in cranberry with cranberry-accented snowflakes, and that may have been the inspiration of the paint scheme. I'm not a fan of some Kamei pieces and the hood vent is no exception, but the overall look makes it work I think.
The car was obviously built to drive, too – with suspension modifications to keep it planted while the extra GTi grunt propels you down your favorite road. There are rare to see Scirocco S seats, some neat Kamei interior details like the shift knob and door pockets. Heck, they even added a second fan (a la Audi 5000 turbos) to help cool the air intake – how cool is that? Every time I look at the photos again I see some small detail that makes me smile and reminds me of the lengths I've gone through to build my own car. This was clearly a labor of love! When I first started writing for GCFSB, I wrote up an equally cool period-correct modified scirocco – no doubt that car was cool and I preferred the understated nature of it, but overall this Scirocco is even cooler than that one. Pricing? Tough to peg on a non-original car like this, but the combination of rare details may push the package fairly high – perhaps $6,000 – $8,000 even taking into account the unknown mileage. For that money you're buying a ton of personality in a chassis that many are now appreciating as one of the best looking German cars ever made.
-Carter