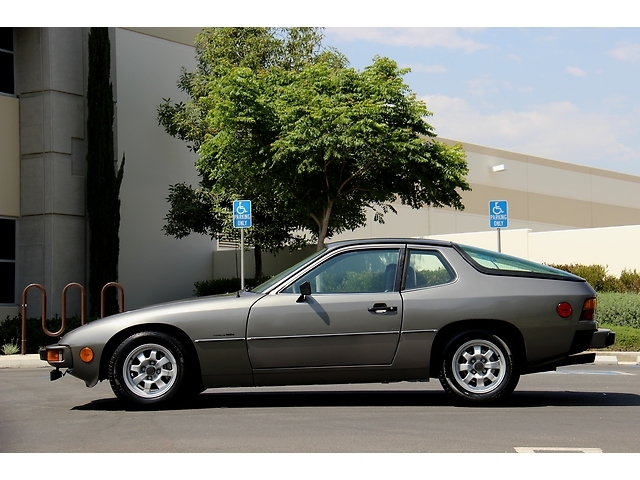 In the past two weeks, I've reviewed both a 1987 Porsche 924S and a 1988 Porsche 924S "Special Edition". The while both of those cars shared their big brother 944's engine and suspension for a more sporty feel, today's 924 is from the beginning of the model run. This is the car that generates probably the most violent reactions in the Porsche crowd, with many claiming it is unworthy of a Porsche badge. This is unfortunate, as the original 924 design was groundbreaking in both aerodynamics and styling, and is the most pure expression of that iconic look that would carry through the 1990s and be copied by many other companies. Sure, it shared the engine from an Audi 100 and didn't really have the power to match its looks, but let's not forget that the iconic 356 also borrowed heavily from the Volkswagen parts bin. Most of these early 924s have gone the way of the dodo, so it's exciting to see this Limited Edition 1978 model pop up on eBay: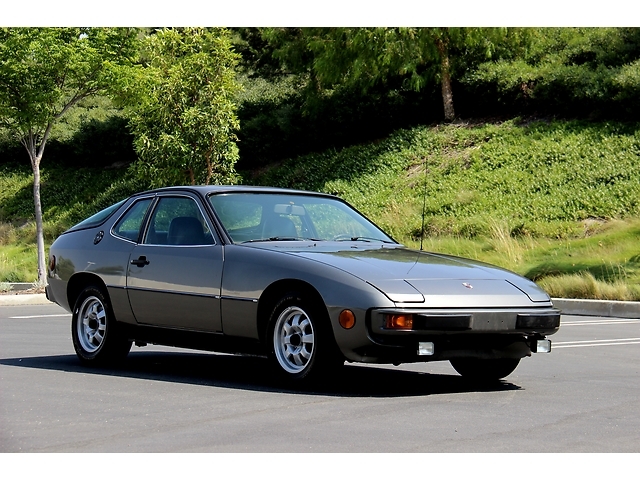 Year: 1978
Model: 924 Limited Edition
Engine: 2.0 liter inline-4
Transmission: 4-speed manual
Mileage: 53,000 miles
Price: $3,700 Buy It Now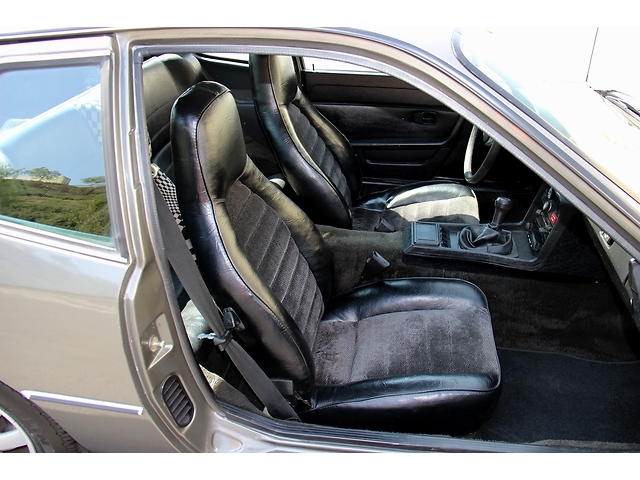 This is a super rare California original 1978 Porsche 924 Limited Edition with only 53k miles! It is one of only 1800 that were made. It is a beautiful gray exterior that shines up superb! It has a nice set of cloth insert seats that really hold you in place as you are taking the turns! This 924 is equipped with the original 2.0 Audi motor that produces 125 horsepower and over 125 lbs/torque. It has a huge sunroof that goes in the trunk and it still has the original bag that it goes in. This car was recently sold and fraudently misrepresented on Ebay as a near museum quality piece and a true survivor. The car was described as immaculate and flawless etc. and I do not want to mislead the next owner.

I am selling this car for my friend who is simply trying to get back some of the money that was spent on this car. This car has super potential and truly is in remarkable exterior shape with a nice interior as well but if you are looking for a show car (as he thought he was buying) this is not for you. She starts right up and idles great after about a minute of "warm-up" time. The clutch grabs as it should but does feel a little spongy. The rear hatchback will need the grommets that are sold here on eBay to allow it to have a tighter seal when it is closed. It does not leak to my knowledge. The tires are great but she does need a set of brake pads front and rear and will in the future be ready for a set of shocks all around.

The windows work great but one of the switches has a mind of its own. The AC is not working but is fully intact. I have a German car sickness that I do not want to be cured of– I am well versed in the 924/944/968 chassis and can tell you that this car is ready to rock and roll with a minimal amount of effort. My friend knows that he has a rare piece of Porsche history but his family circumstances do not allow him to have a car that needs to be finished. He was under the assumption he was buying a museum car. This 924 is a blast to drive and has a great visceral feel without the added weight of the 944 Queenesque "fat-bottomed girl" rear flared fenders. She revs out like a cat with its tail on fire and is what a sports car used to feel like. This car is equipped with a manual rack for the steering which puts the driver in total control of the road. She is truly a point and shoot go-kart for the open road.

The original 924 motor was much maligned as a fake Porsche because of the Audi motor but the ease of maintenance and smiles per gallon that she will provide has proven over time to be a real winner. The steering wheel is in nice shape but could use a cover or be refinished. The dash is in nice shape but does have a properly installed coverlay on it. This car is well above a project car but a few notches below a museum car. It is simply NOT what my friend was trying to purchase. This car could be used as a great daily driver or a Sunday leisurely cruiser. If you have always wanted to own a Porsche but have a VW budget this is THE car for you. I have great positive feedback and have honestly tried to disclose all that I know about this wonderfully engineered piece of German automobile history. The next owner would be proud to have this car in his or her garage. If you have any questions please ask! From my previous experience with the 924/944/968 chassis I can tell you that NOTHING is quite like the feeling of meandering down the coast with the top out and Led Zeppelin on the radio. This car was created to carve through the twisties like a hot knife through butter! I wish that I could keep this car for myself.

I have plenty of other photos upon request and please ask if you have any questions. The reserve on this car is extremely reasonable.
I like that the seller is upfront that the car is not a museum piece, but rather an exceptional quality driver. From the look of the photos presented, he's not hiding anything – the car looks to be in fantastic condition. One has to feel a bit for the story presented; that the car was represented as a museum-quality piece to the current seller when it was not, and they're selling to limit their losses. As many classic cars are being over represented these days in online auctions, this scenario isn't very hard to believe!
You could buy this car and drive to your local Porsche show, and would probably be scoffed and berated for having continued the existence of a 924. You could buy this car and drive to your local coffee shop meet, and spend a lot of time explaining why you didn't buy a 944. But if it were me, I'd buy this car and drive it to a Volkswagen and Audi meet. I guarantee that upon arriving you'd have a group of appreciating enthusiasts pining over the condition and uniqueness of this car. It is actually a great counterpoint to the 1983 Scirocco I wrote up last week. For about a third of the money, you can have a very similar experience in this car, if not feel a bit more special. For those that claim it's not deserving of the Porsche badge, I respond it's not deserving of the treatment afforded it by the Porsche crowd. A car of this quality deserves to be appreciated and enjoyed, and I think the next owner will – and they'll have gotten a bargain for sure.
-Carter