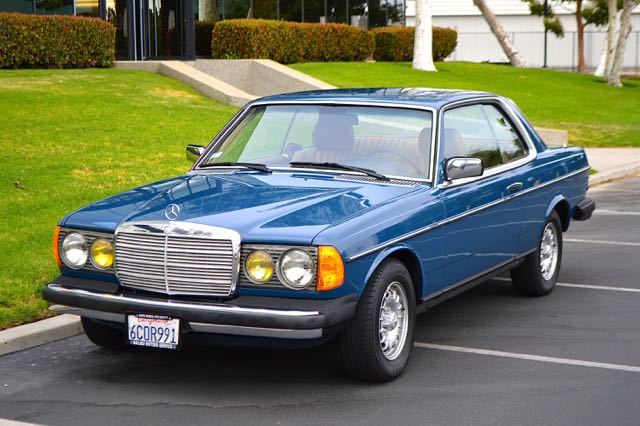 When I really sit and the think about it, the W123 Mercedes-Benz chassis is not the most beautiful thing ever to roll out of Stuttgart. Especially considering they were producing some of the most beautifully styled coupes only a few years prior and basically every year since the start of the company up until this point. The W123 was total functionality, and did its best to look good as an afterthought. See one randomly parked among today's blobs of cars? Sure, you can call it handsome. It's making the best of what cards were dealt. The big bumpers are there to take a 5-mph impact. The squared-off taillights with a wavy design? Mercedes-Benz consulted a team of optometrists to study which taillight design is easier to be seen by the eyes in the dark and wet. Those taillights are what went on the car. The list goes on and on. Mercedes built a car with the intention to last forever and it sure is doing a good job so far.
This 1982 300CD up for sale in Los Angeles can be one of those "forever" cars. Enough miles to not think one second about not driving it in fear of devaluing the car, but not so many that its ready for taxi duty in the Middle East. The condition is bordering on outstanding, and the price? Well, its not cheap, but thankfully not too crazy.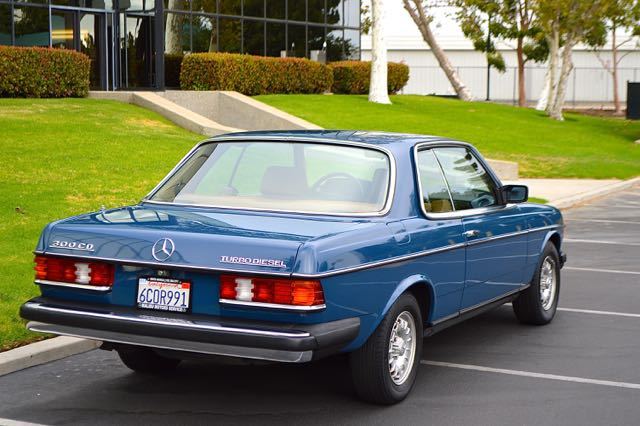 Year: 1982
Model: 300CD
VIN: WDBAB53AXCB001342
Engine: 3.0 liter inline-5 turbodiesel
Transmission: 4-speed automatic
Mileage: 136,100 mi
Location: Los Angeles, California
Price: $17,950 Buy It Now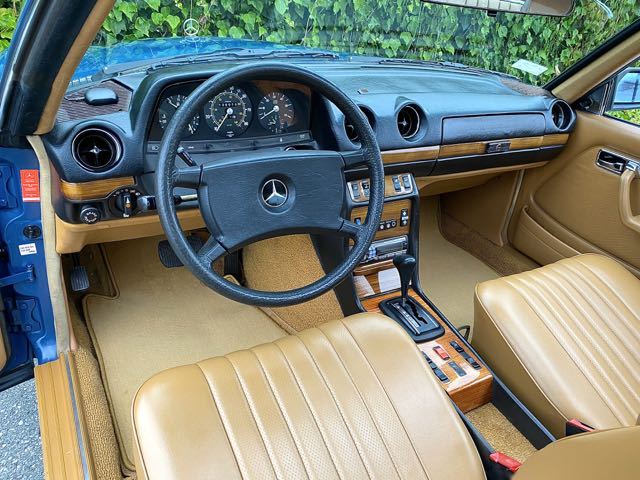 1982 was the first year Mercedes introduced a turbo charger in the gorgeous W123 series coupes. These cars already had a reputation for being very reliable and economical. Now with the added horsepower they were also a lot more fun to drive in town and on the freeway. Only 8007 of the turbo charged coupes were made and not many are still in the condition this one is in . This 300CD was finished in Marine Blue (MB color code 940) with palomino color interior. It is a stunning color combination and i do get compliments on this car all the time. The paint is still original and in amazing condition, especially for a 38 year old classic car, There are no main dings, dents or scratches and the paint still shines like new. The chrome is in wonderful condition as well. This car was always garaged and it shows.
The interior is very clean as the many pictures will show.The original radio was replaced at some point with a period correct Alpine stereo and it works great. For several years this car was owned by the owner of Malibu Motors , one of the best Mercedes repair places on the westside. Whatever it needed mechanically was always attended to right away. This car always starts up right away and has plenty of power. Everything is working , including the cold air-conditioning, all the windows, door locks and the power sunroof. This car really is a pleasure to drive.
I would prefer to sell this car locally to somebody who could come by and see it / test drive it. But i would also be willing to help with shipping arrangements for any out of town winning bidders.
If you have any questions or would like to see it , please send me a note through Ebay and i will get back to you swiftly.
Please have your funding in order and do all your " due diligence" BEFORE placing a bid. This is a wonderful 38 year old classic Mercedes and it will be sold without a warranty. I could not think of anything it needs and i would not hesitate taking it across country tomorrow. I did upload many more detailed pictures and they can describe this car better than i can. This 300CD will be sold with a clear CA title in our name. Thank you for looking at my auction and good luck…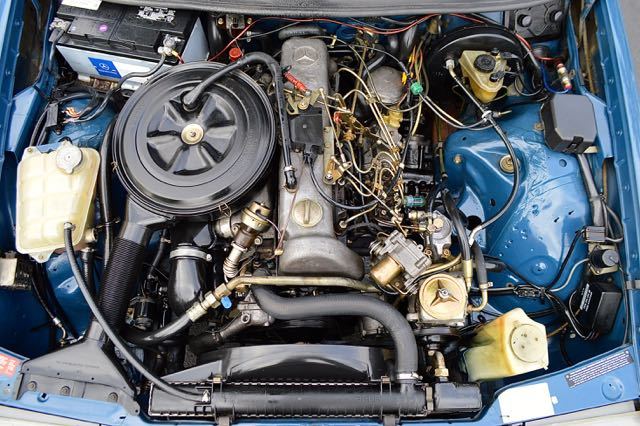 This one looks like a gem. Marine Blue over a Palomino interior is classic. Under the hood? Cadmium plating as far as the eye can see. This is a great C123 and then some. The only knock I found was some 90s aftermarket head unit and a receiver mounted to the dash speaker, but thankfully that can be fixed in a few hours. It's traveled a healthy 136,000 miles, so take it on as many drives as you like and you'll be fine.
The asking price of nearly $18,000 is maybe steep at first glance, but I get it. The seller is probably shooting a little high, but this car is looks like one of the good ones. Colors like this do bring a tiny premium over the typical earth tones, but the condition is where the money is at. If you can knock a grand or two off the asking price, I'd say fair buy. Wish I had room for one like this.
– Andrew