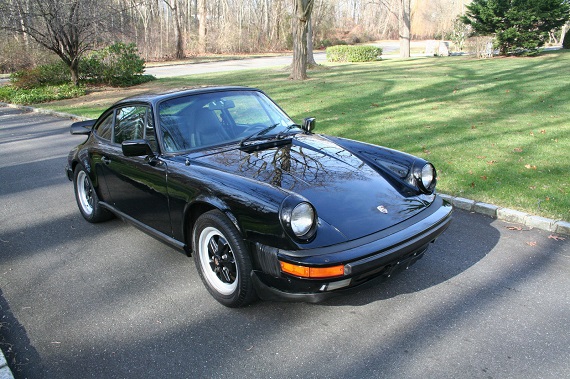 The perils of searching for and writing about interesting cars for sale is that you inevitably start thinking. And it doesn't matter what your present situation and car needs might be, you still start thinking about getting another car. It's almost as if writing becomes an ascetic act with cars as the tempters we strive to overcome. But I digress…here we have another of my favorite reasonably-priced, ready-to-be-driven, 911s outfitted precisely how I'd want it: a 1984 Porsche 911 Carrera in Black, located on Long Island. This isn't a low mileage example, but still appears excellent all around and simply awaits a new owner to whom it may bring driving pleasure.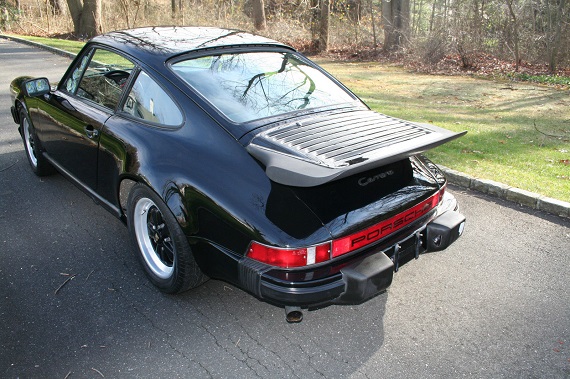 Year: 1984
Model: 911 Carrera
Engine: 3.2 liter flat-6
Transmission: 5-speed manual
Mileage: 163,383 mi
Price: Reserve Auction (reserve met)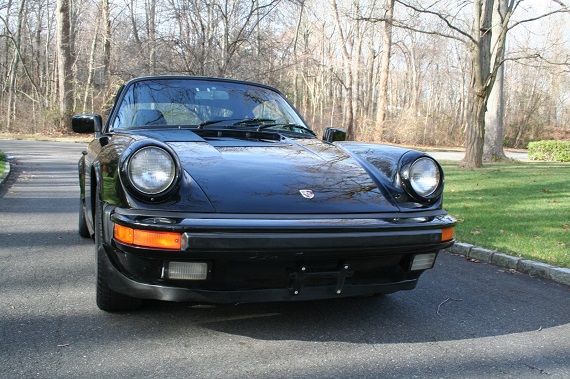 "The 3.2-liter 1984 Porsche 911 Carrera debuted hot on the heels of a very successful run of 911SC models, built from 1978 to 1983. The Carrera—priced at $32,000—shared most of its visual cues with its immediate predecessor, but benefitted from added power and performance, as well as other evolutionary updates.

The cars came as they had when the SC bowed out—in coupe, open Cabriolet, and the in-between Targa body styles. The chief upgrade in the Carrera was the larger 3.2-liter flat six engine, which looked much like that of the 3.0 it replaced but was built chiefly of all-new parts. One crucial change was an improved timing chain tensioner, which had been an issue on previous models. Also new was Bosch Motronic fuel injection, which replaced the K-Jetronic system of yore. The engine produced 200 horsepower and came mated to a Getrag five-speed manual transmission. This was enough to propel the Carrera from 0 to 60 mph in about 5.5 seconds.

Standard goodies included leather upholstery, air conditioning, power windows, a sunroof, and 15-inch alloys, while cruise control, 16-inch wheels, and an AM/FM/cassette stereo were popular options. For those who wanted to appear faster than they actually were, a Turbo Look appearance package was available on coupes, which provided the large whale tail and wider rear wheelwells, but not the actual turbocharger."

The New York Times has described the 1980's 911 as one of the top five collectible cars for 2013. These vehicles are still affordable. Check out the Haggerty Insurance web site: hagerty.com/valuationtools/HVT/VehicleSearch/Report?vc=883090. The vehicle for sale is tuely a unique automobile. It is for the true collector who seeks out one owner and meticulously maintained automobiles. Purchased new in December of 1983 from Walter Donaldson Porsche-Audi located in Hicksville New York. It remained in the possesion of the owner untill his recent death. Recently purchased from the estate I have neither registered it nor re-titled it thus it retains its one owner history. The vehicle just went through a complete inspection from a Porsche Mechanic who commneted that this vehicle is one of the best maintained older 911's he has ever worked on and was surprised to see the mileage on the car was over 160,000. In thirty years as a collector of classic and antique autos I am not sure I have ever come across a vehicle that has been maintained and documented as well as this one has. The original owner retained a documented history of practically every repair ever done on the vehicle as can be seen in some of the pictures below.

This 911 starts and drives effortlessly. All mechanical aspects of the car work as they should. A/c blows cold, radio, wipers, lights, etc etc work as intended. Appearance wise this car shows up extremely well. The paint is in excellent condition with no visual chipping or rust. The car has been garaged during its entiere life and with that comes some small door dings that are only noticeable in the correct lighting. Undercarriage of the car appears to be in very good condition. Engine compartment is in very good condition as well as the trunk. Interior is in good shape with some wear on the drivers seat but no tears. Door panels are in good shape but may need some sprucing up. Dash is in excellent shape. Sun roof is in excellent shape and works perfectly. Radio is a Blankpunt and works as intened along with the automatic antenna. The only after market addition appears to be a radar detector. I am not sure if it works but can obviously be removed without any effort.

I have set a realistic reserve on this vehicle. Please do not bid unless you intend to purchase. The vehicle is available for inspection(located on Long Island, New York) for those who want to see the vehicle before bidding.
For a 30-year-old car with more than 160,000 miles this Carrera appears to be in remarkable shape. The seats show minimal wear, the dash looks excellent, and the paint still looks to have retained a good deal of its luster. The engine bay seems especially clean for a car of this mileage. Given that the seller claims to have a documented service history on hand, these qualities all combine for an excellent car that while garaged its whole life has still been given a proper amount of driving. As with any car of this mileage you'll want to have a thorough PPI, but at the very least I think we're looking at one of the better examples of a 3.2 Carrera that has not spent its life as a low-mileage collector. Bidding is currently at $17,500 and the reserve has been met. It wouldn't surprise me to see this come up just a bit more and likely finish right around $20K. Overall, another excellent example of a classic Black 911!
-Rob