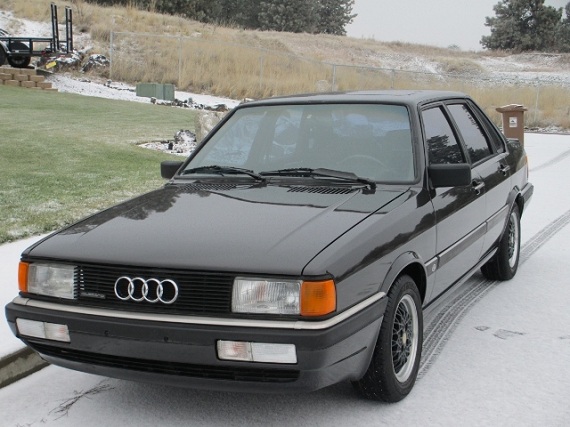 Low mileage survivors, no matter what marque, seem to always present a conundrum. Unless you're extraordinarily lucky, you won't find a cheap mint condition car, because there always seem to be hawks that swoop in for the kill before you get there. It's become an entire industry; finding low mileage survivors, doing a light overhaul, and flipping them at incredible prices. Such is the case with today's 4000 Quattro – without a doubt, the best condition non-restored 4000 Quattro I have seen in all of my days as an Audi fan. Yet, as we see with mint condition E30s and Porsches, the asking price is quite high and the fan boards are alive with chatter about how crazy the seller is for asking such a price. The question, at least in my mind, has nothing to do with the seller's mental state – it's a simple matter of math. But before we get there, let's take a look at this time capsule: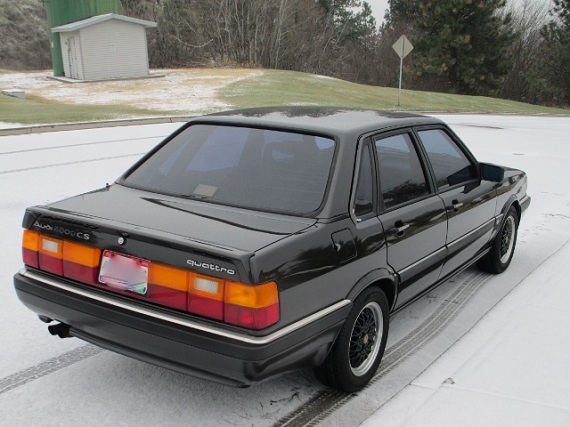 Year: 1986
Model: 4000CS Quattro
Engine: 2.2 liter inline-5
Transmission: 5-speed manual
Mileage: 78,000 mi
Price: $9,800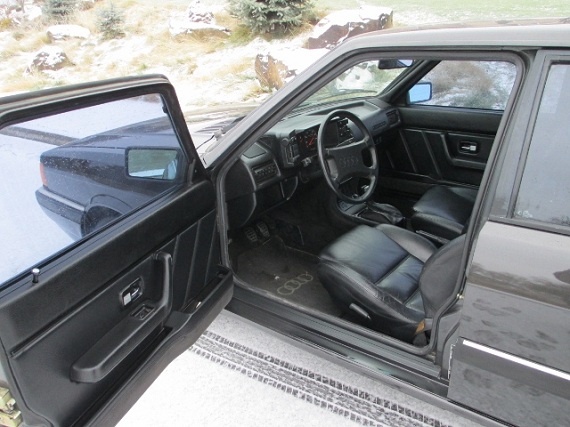 Well, time to put this beauty up for sale. 78k original miles. No misprint. Clean title/carfax. Car was parked and covered in 1998. Then drove around the block every now and then for 5 years. At some point the engine failed. Why, no one knows. This summer the engine was replaced with another very low mileage factory engine. Compression 175 across the board. Lots of other parts were replaced to ensure this car will last a very long time.. Fuel system was gone through, filter, pump, injectors, injector orings, seats, lower seats, fuel distributor, new spark plugs, seals front and rear mains, valve cover gasket, gas tank replaced, battery, and more. Car was professionally handled at local European shop with many years combined experience. It took them months to go through everything. But well worth the wait. Car looks great, drives even better. Rust free. Never seen salt. Or deicer. Being able to drive many 4k quattros in the past, All to be said is they all drive like crap. This one drives like its brand new. Car is very tight. Great power, gets up and goes. New cat back exhaust too. Sounds great, able to retain factory tips. Paint is factory black metallic, dont see that often. Black leather heated seats are mint, as well as door cards, carpet, mats, not a stitch out of place. Seats get warm within 60 seconds. Everything works on the car. Everything. All windows, doors, interior/exterior lights. All gauges, lights on gauges, console, little lights on every window switch. Cruise, A/C blows cold, R12. Aftermarket Alpine pull out C/D player, was amazing back in 92 or so. Stereo sounds good. Power antennae is smooth. No leaks of course. Tires are like new Dunlaps. Bonus real BBS 14×7 ordered from the dealer in mint condition. Have original multi spoke rims in excellent condition as well, with all center caps. This is a rare chance to own a fully documented one owner 4000 Quattro that seems to have been in a time capsule. Original title from 1992. Dont even consult the wife, unless shes a Quattro fan. Five zero 9, nine five four, 88nine five.
First off, let's acknowledge that it's a rare color combination on 4000s at all; indeed, black leather was a rarely selected option. Second, let's agree that the condition of the car is pretty spectacular. There are factory option BBS RA wheels that are color-coded, and everything about the car screams "Hey, it's 1990 again and I'm still pretty factory fresh". Now, the price – $9,800. Now, that price point puts you into line with a lot of other cars, nevermind a lot of other Audis. To name a few, for $10,000 you could have a 944 Turbo, any number of E36 M3s, and a few hot Benzs. Indeed, you could also have your choice of many S4s, S6s, and even some budget S8s. But that's not the point, because if you're looking seriously at this car, you want a 4000 Quattro. So what is competition? You could get a Ur-Quattro that needs sorting, for example – but this car needs no sorting.
So here's the math part: take a decently rare already 4000 Quattro. Now, restore it to the level of this car; recover the seats in original marterials, refresh all of the plastics, buy the NLA parts that are in fantastic shape, find the optional wheels, go through the car mechanically. Then, paint it, correctly. Now, add up those bills, and tell me where you think you are – because by my math, there is no way this car could be replicated for the $9,800 asking price. Even if it could, you've got a restored 4000 Quattro that you spent a mint on, tons of time, and it's got what – 200,000 miles? Sure, if you're building a modified car it doesn't matter, but if you want a factory fresh unit you'd be silly to attempt to replicate this car.
Is it worth $9,800? Well, I happen to know a few people that have tossed the $10K plus figure around when searching for the perfect 4000 Quattro. Yes, I find it strange the original motor failed, but I don't really see how that impacts value; it's been corrected, the car appears pretty much spotless, and it may be one of the only ones left in this original condition. To me, that warrants the price for the right buyer, though admittedly the pool is pretty small. In the meantime, enjoy the view of one of the best preserved 4000s I think I've ever seen.
-Carter