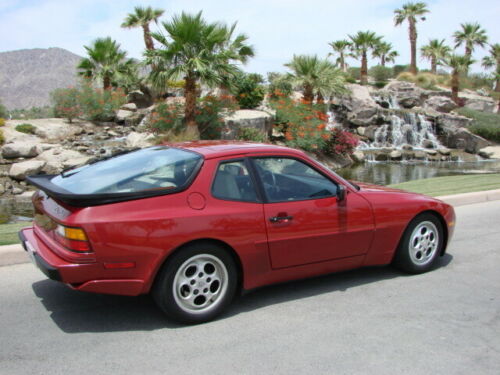 1987 saw some minor changes to the fantastic forced-induction 944 Turbo; most notable was the addition of ABS, which meant no more Fuchs. Instead, higher offset 'Phone Dials' were added, with an option for the forged 'Gullideckel' polished wheels. The other change was in color combinations available. Azurite Blue replaced Copenhagen Blue in the dark tones, while two new standard colors were introduced – Lemon/Summer Yellow (LMIA) and Malven Red (LY3E). Both of these colors were a one-year only option on the 944, and both are pretty rare to see. I looked at a Lemon/Summer Yellow '87 Turbo back in 2016:
But I think this is the first time I've seen a Malven Red Turbo, and it looks like a good one to consider: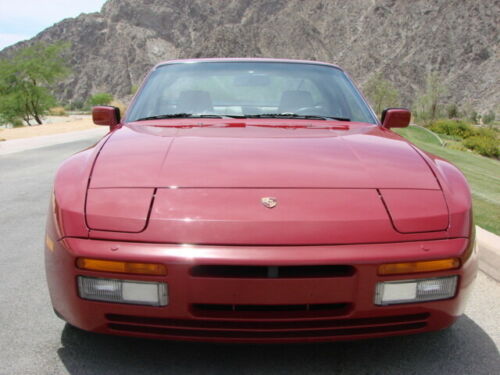 Year: 1987
Model: 944 Turbo
VIN: WP0AA2959HN152207
Engine: 2.5 liter turbocharged inline-4
Transmission: 5-speed manual
Mileage: 84,273 mi
Location: Redlands, California
Price: Reserve Auction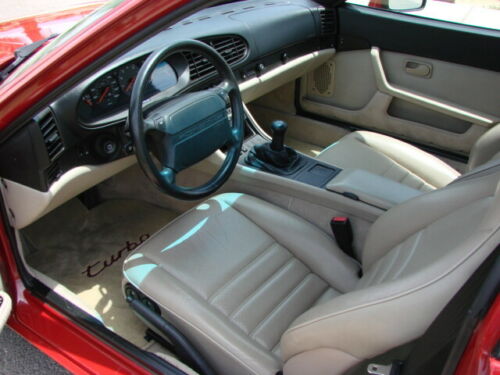 Hello folks. This Porsche 944 has been on my collection since 2009. I've purchased it here in Indian Wells, Palm Springs, California area, and here it stayed. I am located in Redlands, CA which is not to far.

All original, complete records including gas receipts. A great car to drive regularly or take to the local car shows.The one of only 24 imported in 1987. Needles to say, it has always been protected in Southern California.

There is no history of any collision.

Malvern Red, (if I've spelled the name correctly), is a rare colors on 944. Such color was typically available only on 911 at the time, and especially ordered for this 944 Turbo.

Immaculate interior, light grey leather, and original Blaupunkt radio. There is a 2/32 of an inch, a chip in the windshield, which has always been there.

Runs excellent, and started frequently, and on battery tender. A video running is available. Let us know how to send it to you.

AC is cold.

Also, original paint – a plus. It does show some freeway paint chip marks. Original paint is plus in my opinion, even if at the cost of having some cosmetic blemishes, (and NOT some sub standard paint job which most often ruins the car's originality).

The trunk and front hood shocks expired just by sitting, and will need to be replaced. Tires are are new Yokohama, well, we're new. A safe protocol is and I recommend to replace them every 5 years.

All tools, pump, manuals, history records, extra keys, even exact touch up paint is available.

Record of previous owners as well, and yes. Timing belt was serviced / replaced before I purchased it.

Drive it or collect it.

Reason for selling is while I am full of enthusiasm, my warehouse is FULL and conflicting with my need for space for newly acquired vehicles. …Yes, I know, my warehouse is not as big as Seinfeld's or Leno's…

Well keep the reserve hush for now. Please do your research, study recent auction results, you will be pleasantly surprised to learn how these Turbos are increasing in price now.

Thanx for your consideration, and viewing our auction. Come visit us for an inspection.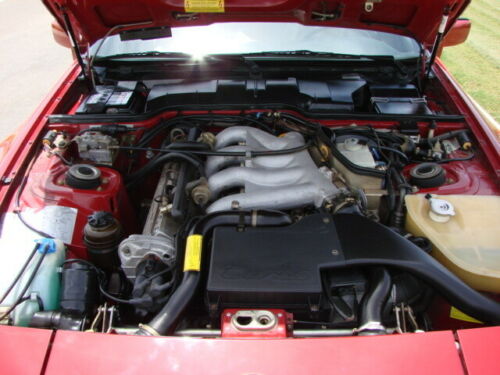 So, a few things – first, the color's name is certainly Malven Red, not Malvern Red. Malvern is a town in Pennsylvania. Malven is a pretty purplish-red flowering plant. Second, the color wasn't a special order only affair. Like Lemon Yellow, it was a standard color for '87 – but that doesn't make it common. Upgrade colors on the 944 Turbo in '87 were Zermatt Silver Metallic, Slate Grey Metallic, Satin Black Metallic, Nautic Metallic, Flamingo Metallic, Maraschino Red Metallic, Almond Beige Metallic, Nile Green Metallic, Diamond Blue Metallic and Nougat Brown Metallic. The interior is shown on the build sticker as LQ, so while it looks like Linen the seller is correct that it's actually Light Gray. Linen wouldn't be an option until '89, anyway. Other options as shown are 418 Side Moldings, 425 Rear Wiper, 454 Cruise Control, 533 Alarm, 650 Sunroof, 946 Leather seats. In all, fairly standard options even if the color isn't all that usual.
Condition appears to be above average, mileage is below average, and there is documentation that seems to back up the ownership story. Unfortunately the high resolution photos are all close-ups, so we don't get a really good idea of the condition of the paint – but it looks like it could be improved upon with some heavy detail work. Bids so far have hit $12,300 at time of writing with a bit over a day to go, but with the reserve on it doesn't look like it will sell. To me, it seems like the reserve may be a little high considering that a very nice (and similar) '86 944 Turbo in Garnet Red Metallic with factory sport seats just sold on Bring a Trailer for $11,300. There are some selling for a lot more, but they tend to be better presented and with much lower mileage. But if you could grab this for under $15,000, it still seems like a good deal for a very rare toned 944 Turbo.
-Carter