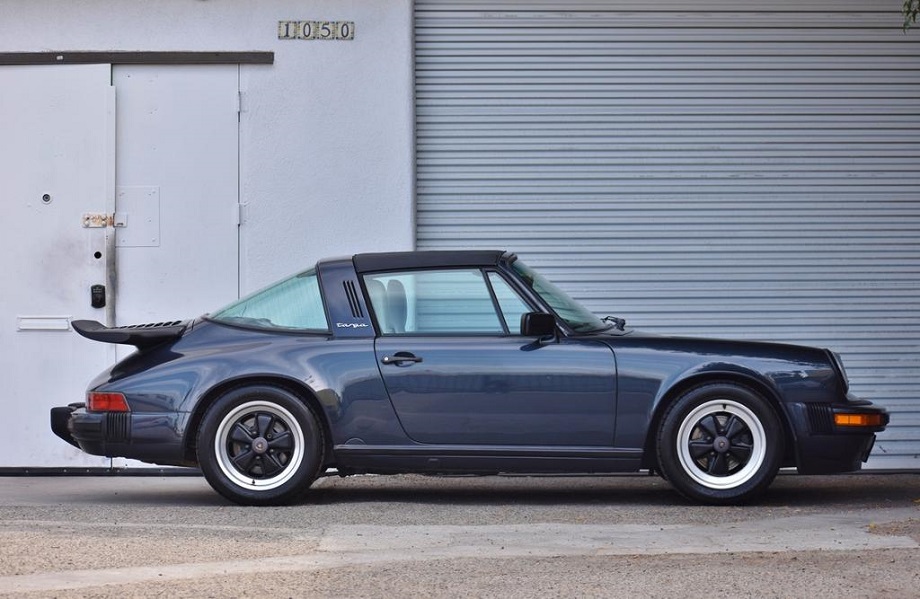 What is it that we look for in these cars? Assuming you're not after the perfect collector example the list is fairly straightforward though not short. The availability of documentation and a known history obviously are of great importance. A knowledgeable seller helps in this regard as well. Abundant photos, paint meter readings, an assessment of its current mechanical condition including any known flaws, and possibly originality of the equipment. Obviously, the last point will vary quite a bit from buyer to buyer, but any buyer will want to know what is original to a particular 911 and what isn't even if that buyer does not mind the lack of originality. Lastly, we all want a fair price, but perhaps even more so when looking at driver-quality cars. Their value typically is pretty locked in so you can't bank on higher resale down the road.
I think this Marine Blue 1988 Porsche 911 Carrera Targa fulfills most of those points and that's part of what I like about it. It's up for auction without reserve so the price should be fair. It also looks pretty great. It sounds like there isn't a huge amount of documentation, but some does exist, and it does appear we know the ownership history. There is one red flag in its history – it was a theft recovery back in the '90s – but that red flag doesn't seem to be causing it any problems. It is stated to have a clear title. It isn't perfect, but looks like a very nice example of a late Carrera Targa and could find itself in a sweet spot in the market.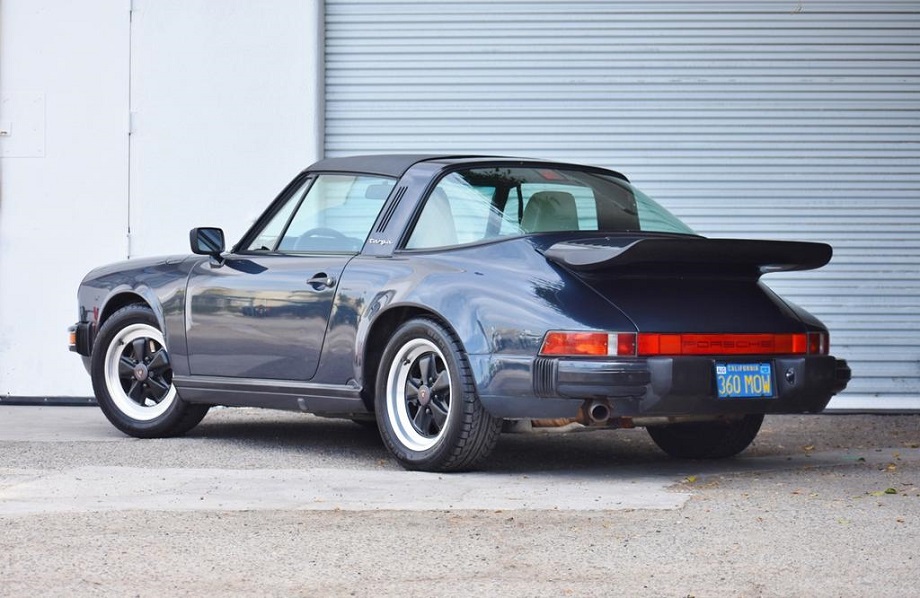 Year: 1988
Model: 911 Carrera Targa
VIN: WP0EB091XJS160842
Engine: 3.2 liter flat-6
Transmission: 5-speed manual
Mileage: 91,000 mi
Price: Auction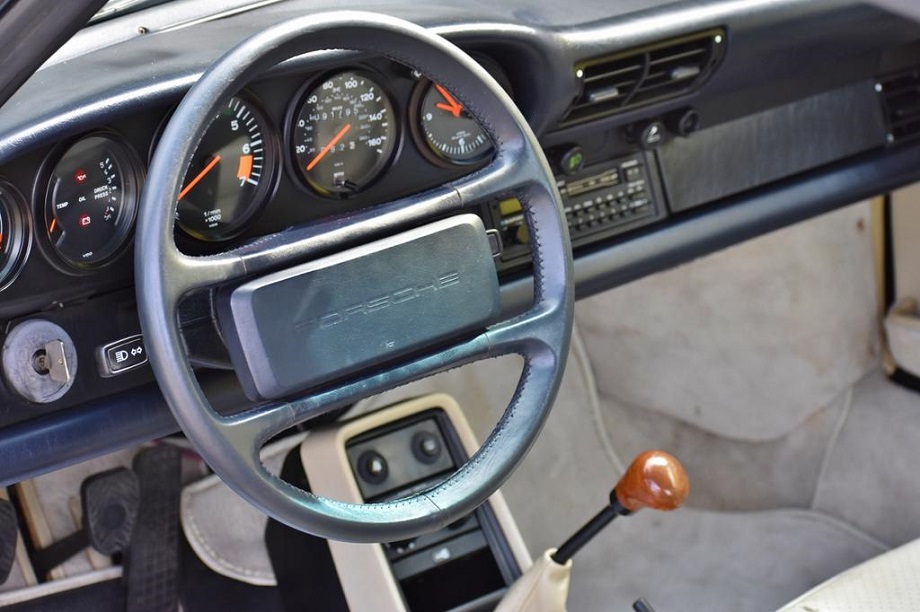 This 1988 Porsche 911 Carrera Targa is finished in Marine Blue over a Linen leather interior and was sold new in Florida, where it spent a year before going to Texas through 1994, California through 2009, then Nevada, and California again until present. Power is from a 3.2L flat-six paired with a G50 5-speed manual transaxle, and the car is equipped with a color-matched targa bar, forged 16″ Fuchs wheels, and factory Blaupunkt stereo.

The exterior is finished in its original Marine Blue (L35V) with a color-matched targa bar. There are some minor blemishes in the paintwork, including a touched-up scratch near the left taillight and another between the engine lid and rear window on the right side. Paint meter readings are provided from numerous locations throughout the car, and show consistent paint thicknesses between 5 and 10mils, please note the photos below of the readings. There are no signs of ANY paint work or accidents on the car.

The car is equipped with a rear spoiler, black targa top, and standard US-market lighting. Black-centered 16″ Fuchs wheels will be fitted with new tires prior to delivery to the new owner. The pictured license plate is shown for display purposes only, and a new plate will need to be procured for California buyers.

The cabin features Linen leather seats (NG) with matching panels and carpets contrasted by a black dash. A factory 4-spoke steering wheel is retained along with a Blaupunkt stereo system featuring speakers in the doors and rear parcel shelf. Some minor staining is visible on the carpets.

The air conditioning system is functional. Factory instrumentation includes a 160 mph speedometer, tachometer with 6,400 rpm redline, analog clock, and several auxiliary gauges. Just under 92k miles are shown on the 6-digit mechanical odometer and are original.

The air-cooled 3.2L flat-six was factory rated at 217 horsepower and is paired with a 5-speed G50 manual transaxle. The engine number is pictured in the gallery and is numbers matching. There is some degradation of the engine sound deadening pad and light moisture on the engine case. An oil and filter change was performed approximately 100 miles ago. Other recent services include new valve cover gaskets, fuel pump, and a new battery installed in July, 2018. Clean, no accidents or damages reported to Carfax. The car was listed as theft recovered in 1996 which did not net any damage. Partial service records are available and the car has driven regularly in the past weeks in prep for sale and has been flawless. The trans and syncros shift wonderfully.

Feel free to ask any questions!

My standard disclaimer/mantra for any car regardless of service or price: The car is sold with no warranty. You are buying a used car. Eventually every car will break, if you find one that doesn't please let me know. I do my ABSOLUTE BEST to describe accurately the shape of the car, but keep in mind it is impossible to discuss every detail of a car for better or worse. I am not a dealer, just a guy who loves Porsche (among other cars) and hope to pass along my passion and fervor for these cars. That said if ever you encounter an issue I do my best to provide advice, direction or even parts if I have them. Please understand that it is a used car and will have minor signs of use. That means please do not expect a showroom brand new car. Please adjust your expectation level to that of a car that however is very good condition. This is a nice Porsche of this year, but please just remember that no car is perfect. It is though a clean, very nice Porsche! Please only bid if you intend to buy. If you would like to have an Ebay 3rd party mechanic service check out the car I MORE than welcome it. Please have the car checked out before bidding and not after, if you intend to use that service. And please, if you would like to utilize this service, contact me with more than a couple days left in the auction so we can arrange schedules. Please check your local laws and registration procedures before buying. Buying over the internet can be scary sometimes! I get it, because I am an enthusiast too!! For that very reason, I am more than happy to answer every and any question you may so you know 100% what you are buying. But, please ask any and all questions ahead of purchase! It is impossible to list every pro and con of a car, I am not an inspection service, it is your responsibility as a buyer to do your due diligence and inspect the car. All sales are final, you are buying as-is, the sky is blue, etc, etc. Sorry to have to give the boring speech!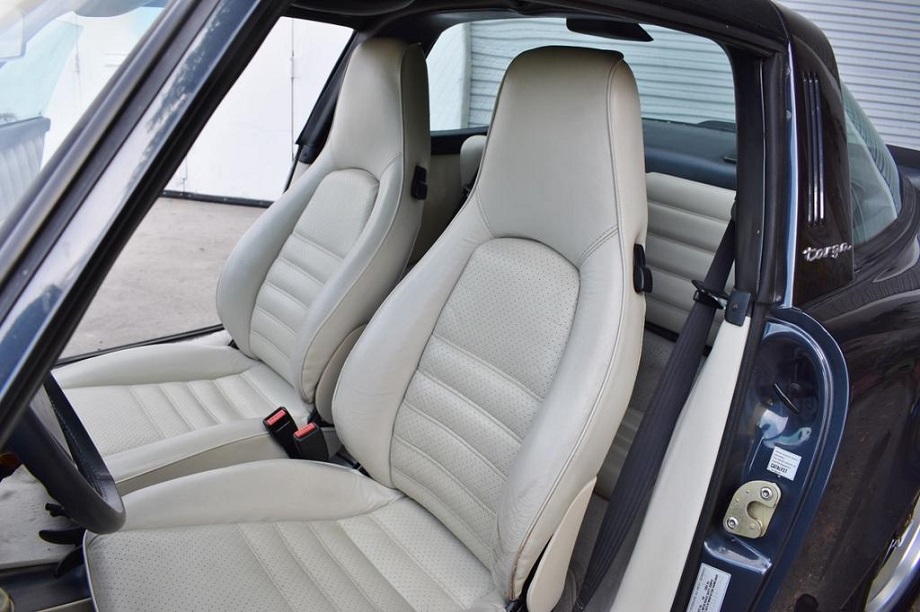 There are A LOT of pictures provided with this ad. We get plenty of closeup shots of both the exterior and interior along with a few shots to show the full scope of each. Those are quite helpful in assessing the condition of this Targa and generally speaking the assessment is positive. Marine Blue is a fantastic color that really shows some nice variation in sun and shade. Under light the blue pops just a little bit, but in the shade it can almost look black. The profile shots of this Targa show particularly well. I'm very intrigued by the color-matched Targa roll hoop. I'm not sure I've seen another Targa with it and I'm not sure whether it is original to the car. Looking at the paint meter readings the Targa bar does show more thickness than the other readings, but I'm not sure whether that should be expected or whether it's a clear sign it was a later addition. Either way I think it looks pretty great!
Like quite a few other blue Carreras the Linen interior provides nice contrast to the exterior. Other than a decent bit of wear to the driver's side seat bolster most of it looks in pretty good shape. Cosmetically I think most buyers would be plenty happy with this Targa. There are some rock chips in the usual spots and some seat wear, but I don't think either is significant and for those looking for a driver they're certainly something you can live with. The biggest questions all will be mechanical and hopefully a PPI can sort out any issues. From the wording I'd guess the A/C isn't blowing exceptionally cold, but "functional" implies it works. Other than some dampness on the engine case we aren't told of any other issues and it's had a few routine items taken care of recently.
Altogether this looks like an honest, correct, Targa. An '88 makes it pretty desirable, but with a few blemishes and over 90K miles I don't think its going to attract huge dollars. That's ok though and hopefully that'll allow it to come to its new owner at a nice value and continue to provide plenty of miles of joyful motoring.
-Rob