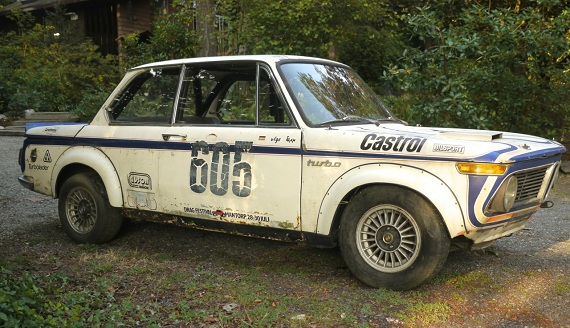 Update 11/20/18: Blast from the past! I wrote this custom turbocharged drag racing BMW 2002 back in the Summer of 2014. It failed to sell on eBay but apparently did change hands, and the current owner has relisted it with basically the same photos and information as the original listing. The reserve auction has yet to get a bid at the $5,500 opening bid. It's a long road ahead to get this one back in shape, but it's still a pretty neat car!
I know what you're thinking. "Carter", you're saying, "you spent a little too much time around the high test this weekend. This thing is a wreck". And you know what? You're right. This car is a wreck. Yet I'm still mystified by it, like a Siren's call – there is just something about period race cars that I find very, very cool. So if you'll indulge me a bit let's look at this turbocharged 2002ti from 1969. Perhaps not the most likely car you'd consider for the form of motorsport it ended up in, this car was modified in the early 1970s by Holger Tapp. Mr. Tapp built his own turbocharged setup, running a KKK turbo through the twin Weber carbs. Then Mr. Tapp went racing – drag racing – with this 2002. The period picture reveals the car appeared to originally be a orange and wear some awesome BBS magnesium race wheels. Some of that original color can still be seen on the unmounted and damage chin spoiler. According to some light research I found, Holger Tapp was actually quite successful with the car, according to a competitor winning quite often. It also appears that at some point he built a second, more wildly flared car that picked up the BBS wheels – indeed, in one photo the plate "HU AV 303" this car wears can be seen on that car. The rest of the history appears to be pretty fuzzy; however, if you brush up on your German, Holger Tapp is still in business today doing much the same thing: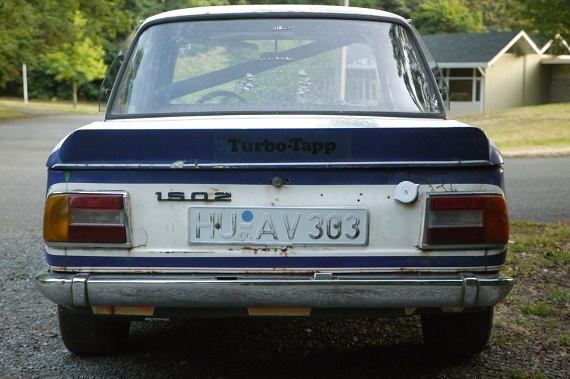 Year: 1969
Model: 2002ti
Engine: 2.0 liter turbocharged inline-4
Transmission: 5-speed manual
Mileage: Not Listed
Price: Reserve Auction
1969 BMW 2002ti vintage race car. Built and raced by well known German tuner Holger Tapp – aka Turbo Tapp and actively raced in Northern Europe and the USA in the 1970's and 1980's. Stickers on the car include Mantorp, Sweden; NHRA World Finals in Ontario, CA – 1978 – 1981; and Sko-Uno festival Mantorp Sweden. I have not done a tear-down and do not know precise displacement of the engine. But does have KKK 3LD turbo and custom manifold blowing through twin Weber DCOE. Roll bar; 'drag-water' and pump for burnout; interior adjustable boost & brake bias; fiberglass hood and truck.

I think the photos serve to illustrate the condition but to be clear, body has rust in the rocker panels and less severe rust elsewhere. Some filler in the drivers door and rear 1/4 panel. Windshield has some bubbling. This is a race-car in need of complete restoration to bring back to it's former glory. Sold on a bill of sale only. Happy to work with your shipper but must have this moved by September 15th.
http://www.bmwclasicos.com/vin.php

V.I.N. 1681415
Modelo BMW 2002 ti
Región Europa
Versión (LHD) Volante a la izquierda
Transmisión Mecánico
Carrocería 114
Generación Pre 71
Año 1969
Producción ene-69 – dic-69

If you have any questions, please let me know. Thanks and happy bidding!

http://www.dragracinghistory.de
http://turbo-tapp.de/
http://www.bmw2002faq.com/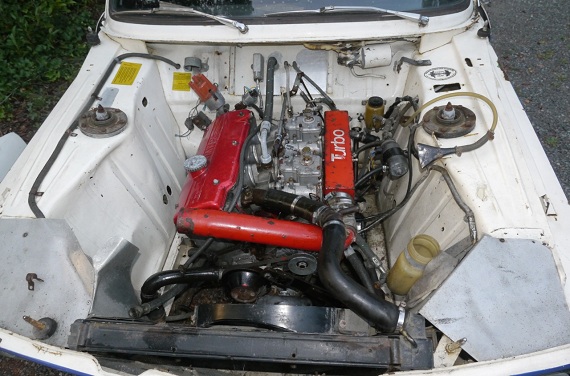 I know that it's pretty unlikely that someone will spend the time and money to restore a tough-luck 2002 back to its former glory. It's not an easy task to begin with, but for a period race car – such as a Schnitzer or Alpina car, I'm guessing there are plenty of folks that would give it a go. Drag racing, though, attracts a different crowd. Being part of the Audi faithful, I've followed some local guys for the past few decades as they've gone drag racing with their home-modified cars. Many have gotten quite successful; 034 Motorsports is a great example of that. However, to restore this car you'd need someone who wanted to rebuild a 2002 and a drag race car. Sure, you could probably turn it into a road racer, and perhaps it would even be competitive. It would be a very long road to get this car back to its original configuration – but I guarantee that if you went to a BMW show with it, it would generate many, many smiles. Unfortunately, the amount of bloody knuckles, tears and money that will be needed to generate those smiles will scare most away.
-Carter