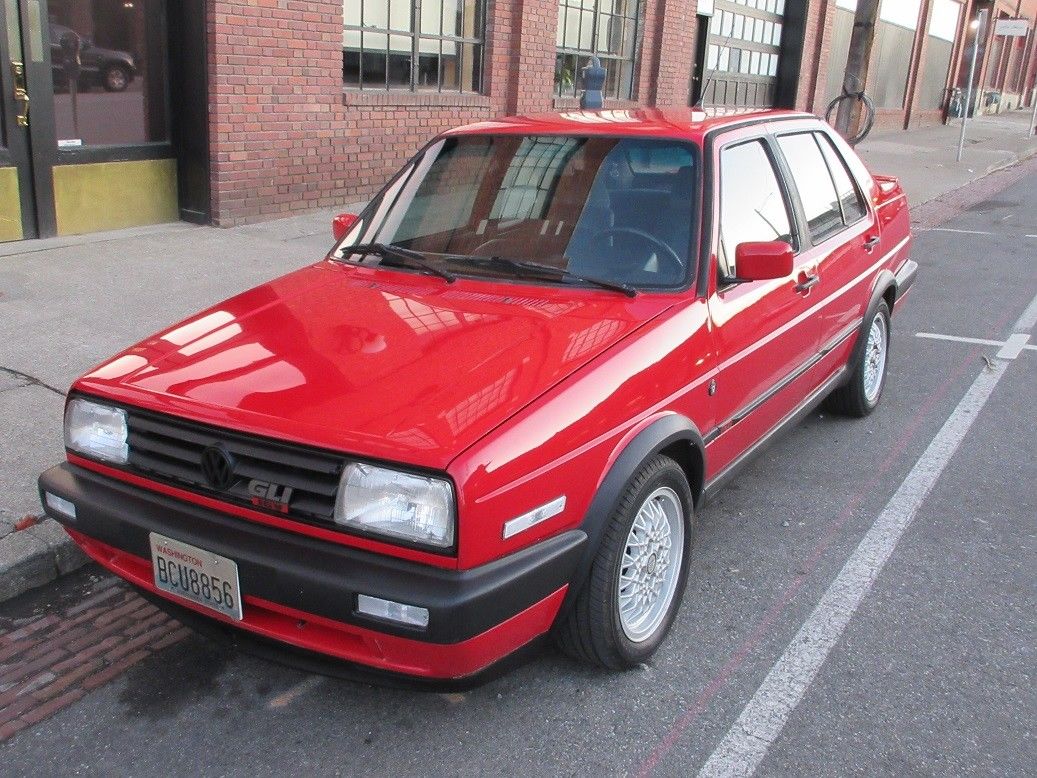 Much like the S4 I posted over the weekend, the Jetta GLI 16V is a car which on paper I should like very much. After all, I'm a huge fan of the same-generation GTI 16V, and the Jetta was little more than a trunk added to that formula. Underneath, there were almost no changes between the two. You got the same high-strung 9A 2.0 16V with Motronic fuel injection pushing 134 horses through that open-diff front end. Your only choice was a 5-speed manual, of course, and it was a close-ratio one – enjoy those highway speeds! Brakes were updated to 10.1″ and dual tailpipes emerged from the new 'big bumper' A2 refresh. Central locking and a cassette player were standard, while you could opt for many power options including windows, mirror, anti-lock brakes, trip computer, cruise control and of course a sunroof. The GLI also carried over BBS wheels from the pre'90 1.8 models, in this case the 15″x 6.5″ 'RA'.
These items should have conspired to produce a deeply desirable product for me. And yet, somehow I never really took to the Jetta though many did. I suppose it's the same as the 4000 quattro/Coupe GT fan bases. Rarely do they seem to cross over, yet there's a mutual respect between them. I like the Jetta, and in the absence of the GTI it would probably be a great favorite of mine. It was aimed at being a more refined alternative to the racier hot hatch. But ultimately it falls second fiddle to the GTI, which always seems (and, arguably is) just that little bit more neat.
For enthusiasts, though, that means potential value. As GTI 16V prices climb steeply with no real relent in sight and few good examples hitting the market, you can get a bit of a value if you don't mind the junk in the trunk: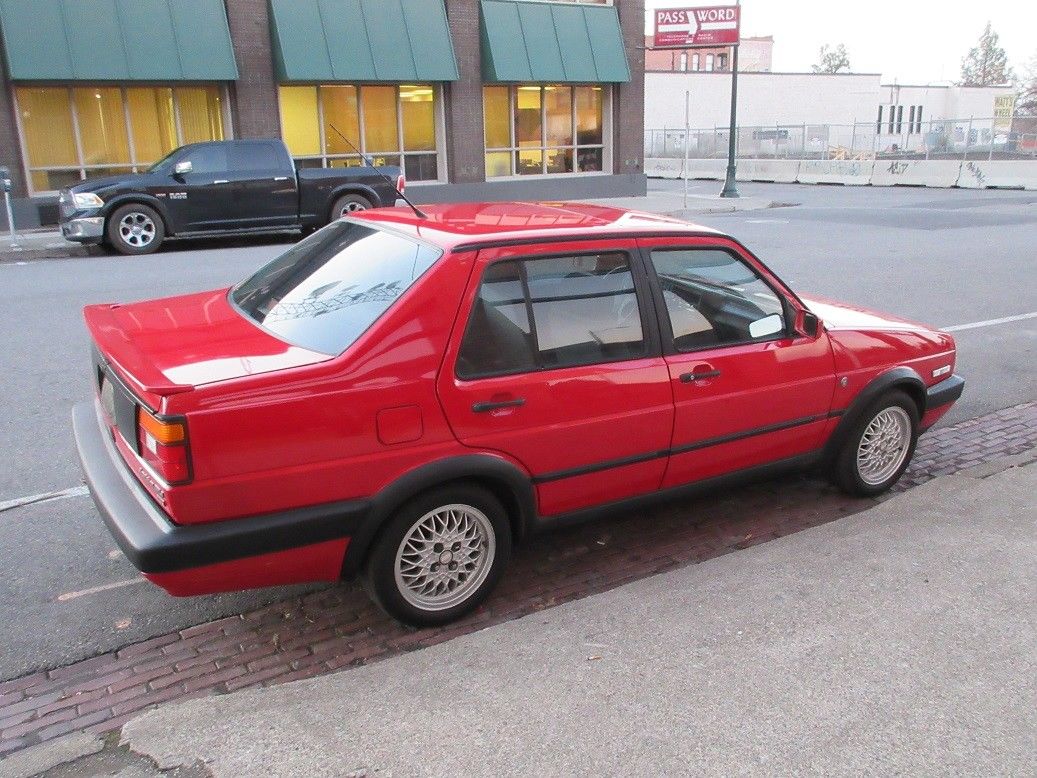 Year: 1990
Model: Jetta GLI 16V
Engine: 2.0 liter inline-4
Transmission: 5-speed manual
Mileage: 195,000 mi
Price: Reserve Auction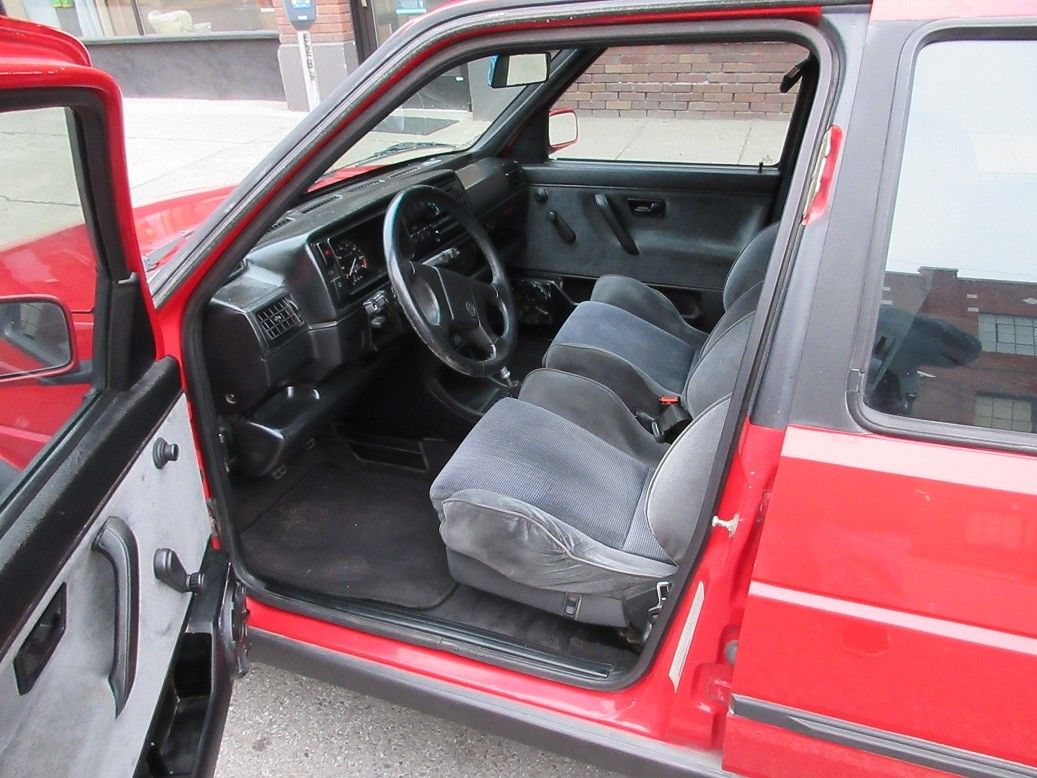 Up for consideration is a gorgeous 1990 Volkswagen Jetta Gli 16v. Tornado Red with Grey Recaro interior. Rare all black oem headliner and pillar covers. Original pill key included. All stock.

Such an exhilerating little car to drive. Enthusiast owned. Carves up corners and goes straight down the road with no problems. Fits into tight spaces, driver can reach the whole interior from one seat, and still has a spacious trunk. Suspension feels good, no clunks, quite tight and nimble. Engine always fires right up, and runs smooth with plenty of power. Usually getting 25-32 miles per gallon. Transmission shifts as it should. Exhaust tones are clean.

Quite a bit of maintanence over the last couple of years. Nankang tires like new, recent alignment, oem BBS 15's in great shape. New front brake pads, tie rod end, wheel baring, rear motor mount, all newer shift linkage, clutch cable, v belt, valve cover gasket, oem style cat back exhaust, r32 control arm bushings, heater blower motor. In 2015 complete lightweight clutch kit, with numerous related parts, seals, bushings. In 2014 fuel injectors, spark plugs, distributor cap/rotor, intake and throttle body gaskets, O2 sensor, vacuum lines, etc. Timing belt looks fine, no cracks or odd noises. P/o claimed it was done at 160k.

The exterior presents very well. Usually garaged. Always a shiny red, despite usual minor dings, chips. Rust free. Little bubbling paint under windshield. Decent tint. All mouldings, weather stripping, lights, emblems in good shape, intact. Will come with locking/keyed Yakima cross bar rack not pictured.

Interior is in great shape, quite comfortable. Minimal wear. Manual windows, Power seats and doorlocks/trunk. Has a hint of the good factory Recaro smell, that can take one back into the 90's. Front seats wrap and hold you in. All the gauges, trip computer, lights in/out, switches seem to work fine. Great heat, A/c worked fine last summer, was fully tested and serviced. But developed a leak around the upper left condensor. Newer stereo sounds good. Black headliner and upper interior looks as sharp as the rest of the cabin.

Car has been looked after, kept clean, driven maturly, and stored well for most of it's life in the Pacific Northwest. With proper care it should last another 27 years easily.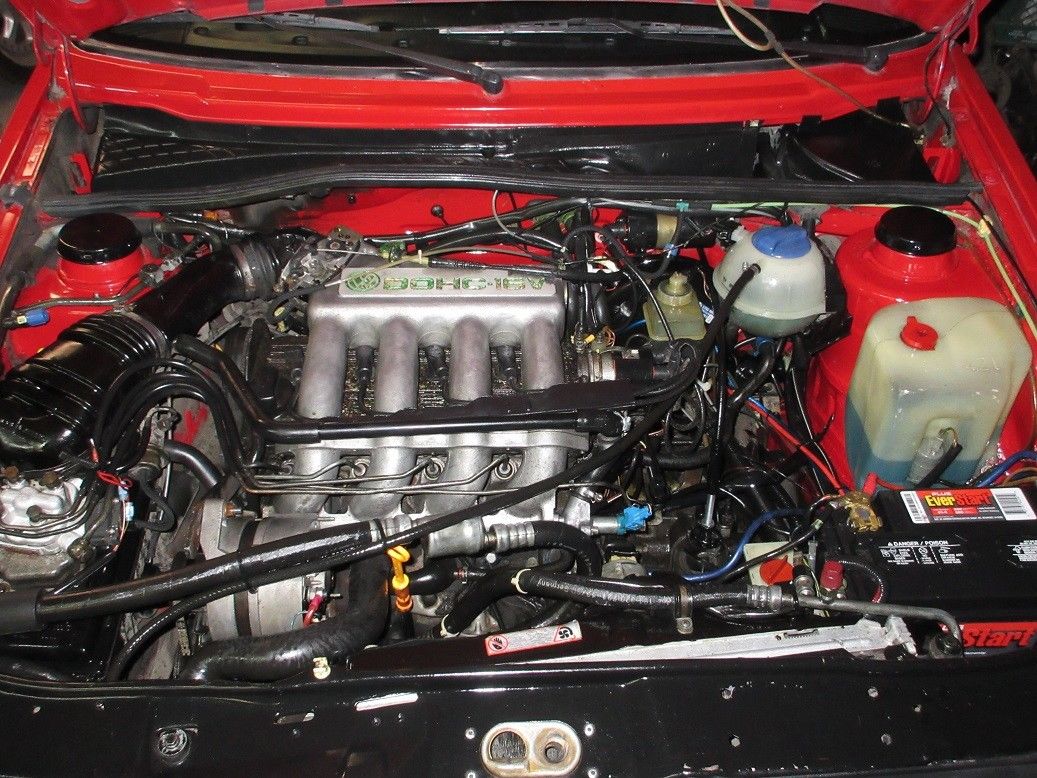 Two things really pop out at me in this listing. For one, I want to move to the Pacific Northwest. The cars that come out of there are simply amazing survivors. The second is closely related to that; you'd be hard pressed to see the reported 195,000 miles covered on this Jetta. Sure, there are goofy door speakers and wear on the steering wheel and seats. It's got a gallon of Armor-All under the hood and the shift knob doesn't really mesh that well. The clear turn lights don't work for me, either, but at that point I'll admit I'm being totally picky. They're all pretty easy fixes in the grand scheme. So how's the rest of the car?
It really shines in just about every measure. It's got maintenance done, it's retained the stock configuration so few appear in, and from every angle it appears to have a quarter of the mileage displayed. It's not likely to be a collector with the mileage on the chassis, but as a solid driver this one looks stellar. And because of the mileage, and because it's a Jetta, it should remain more affordable than its stablemates. A year ago, a 205,000 mile '92 GTI 16V hit $5,300 and wasn't as nice overall as this car. Bids, with two days to go, are at $3,000 here but the reserve remains. I'd expect the seller is hoping to match the figure of that GTI at the very least. Whether that's enough to break reserve – and if bids will make it that high – will be interesting to watch.
-Carter