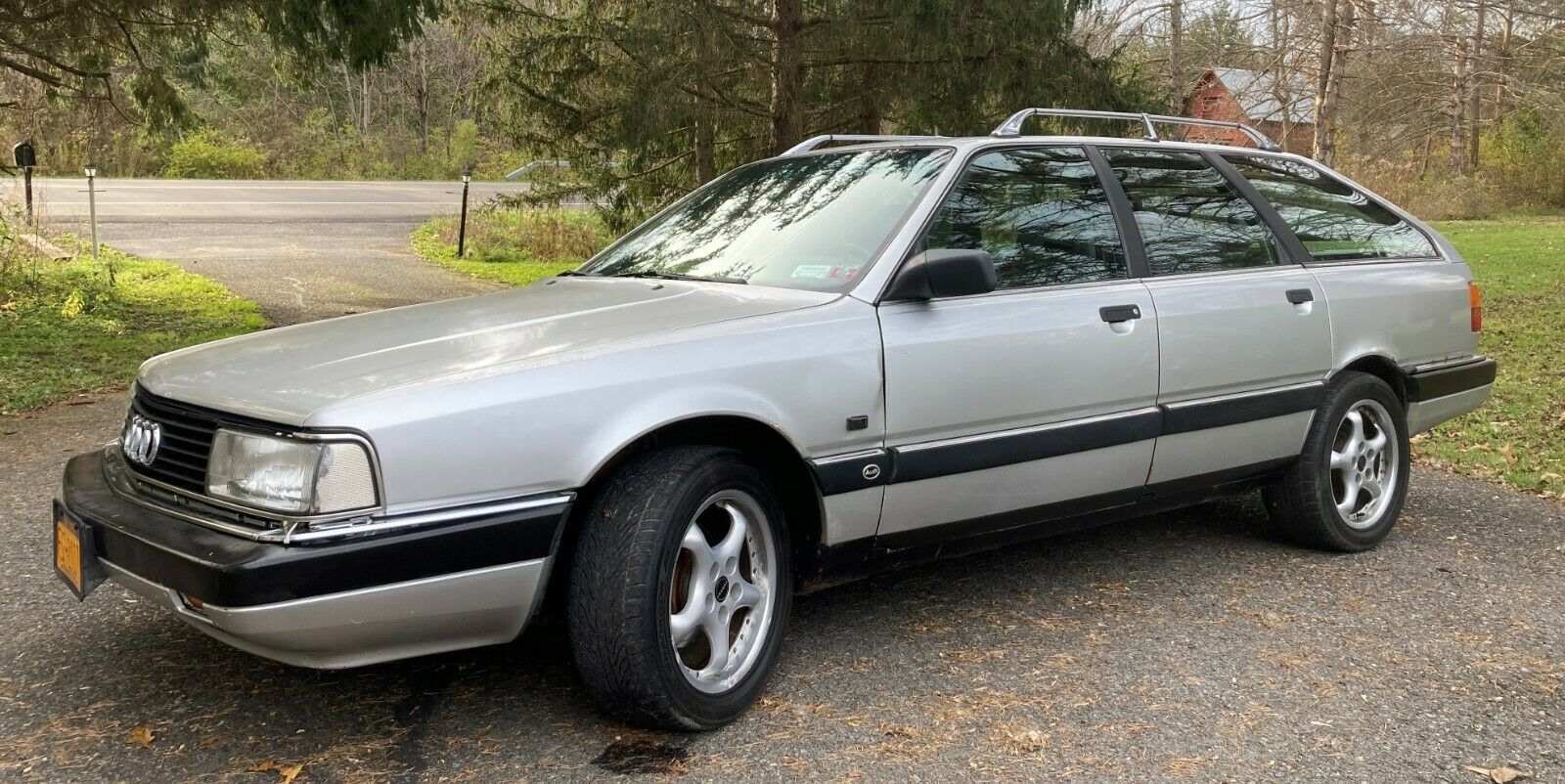 This Type 44 sold for $2,773 on November 21, 2021.
No stranger to these pages, you're already likely familiar with why this car is here. But if you're new to GCFSB and would like a quick overview of what was special about the early 90s Audi/Volkswagen lineup, I dove in a bit in May 2020:
Of the 149 200 20V quattro Avants originally imported here, it's safe to say a fair number have gone the way of the dodo. So while today's car is far from pristine, it's still worth a look. And, as a plus, it's also no reserve!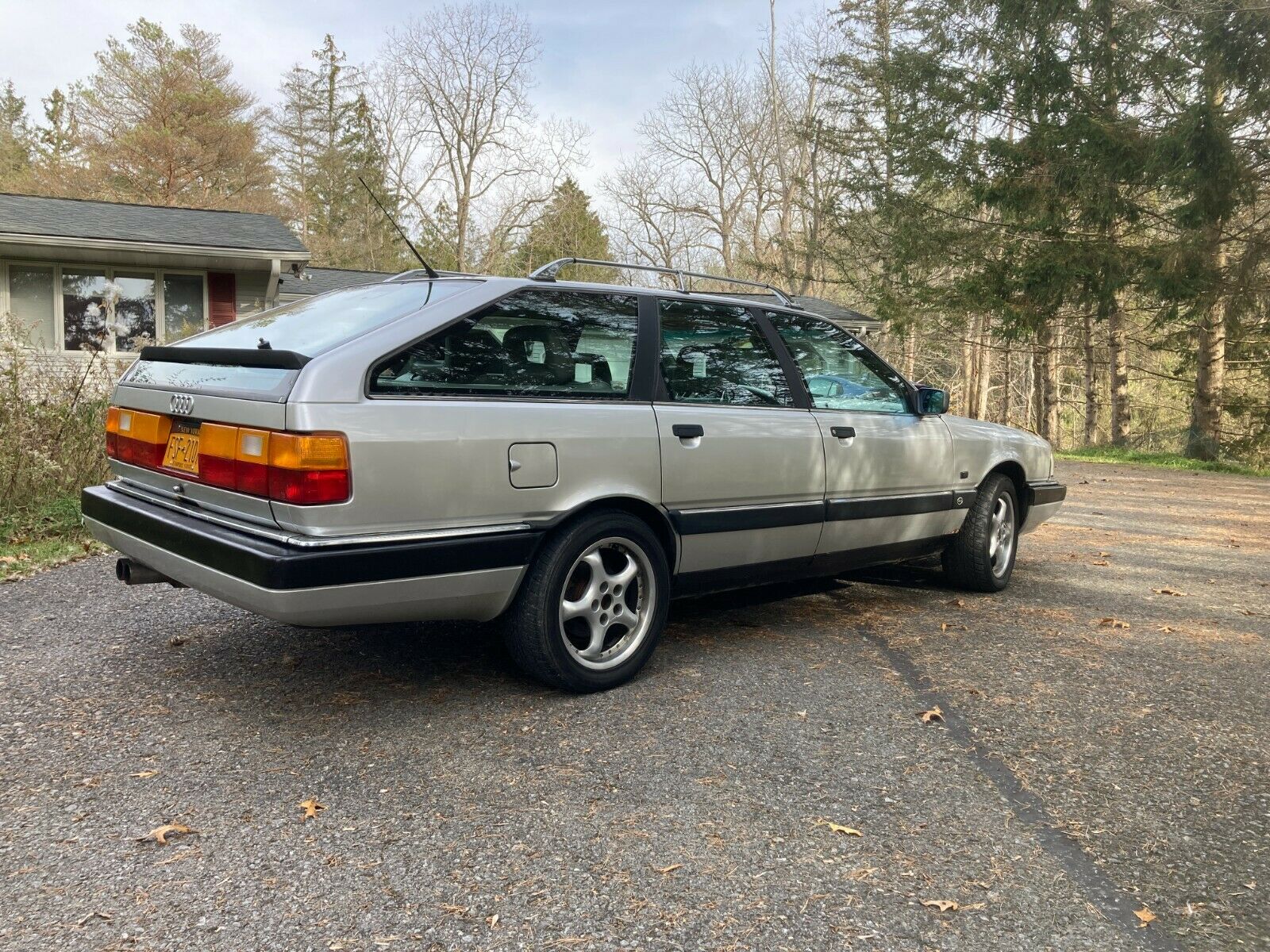 Year: 1991
Model: 200 20V quattro Avant
VIN: WAUHE5443MN018402
Engine: 2.2 liter turbocharged inline-5
Transmission: 5-speed manual
Mileage: 287,000 mi, TMU
Location: Ithaca, New York
Price: No Reserve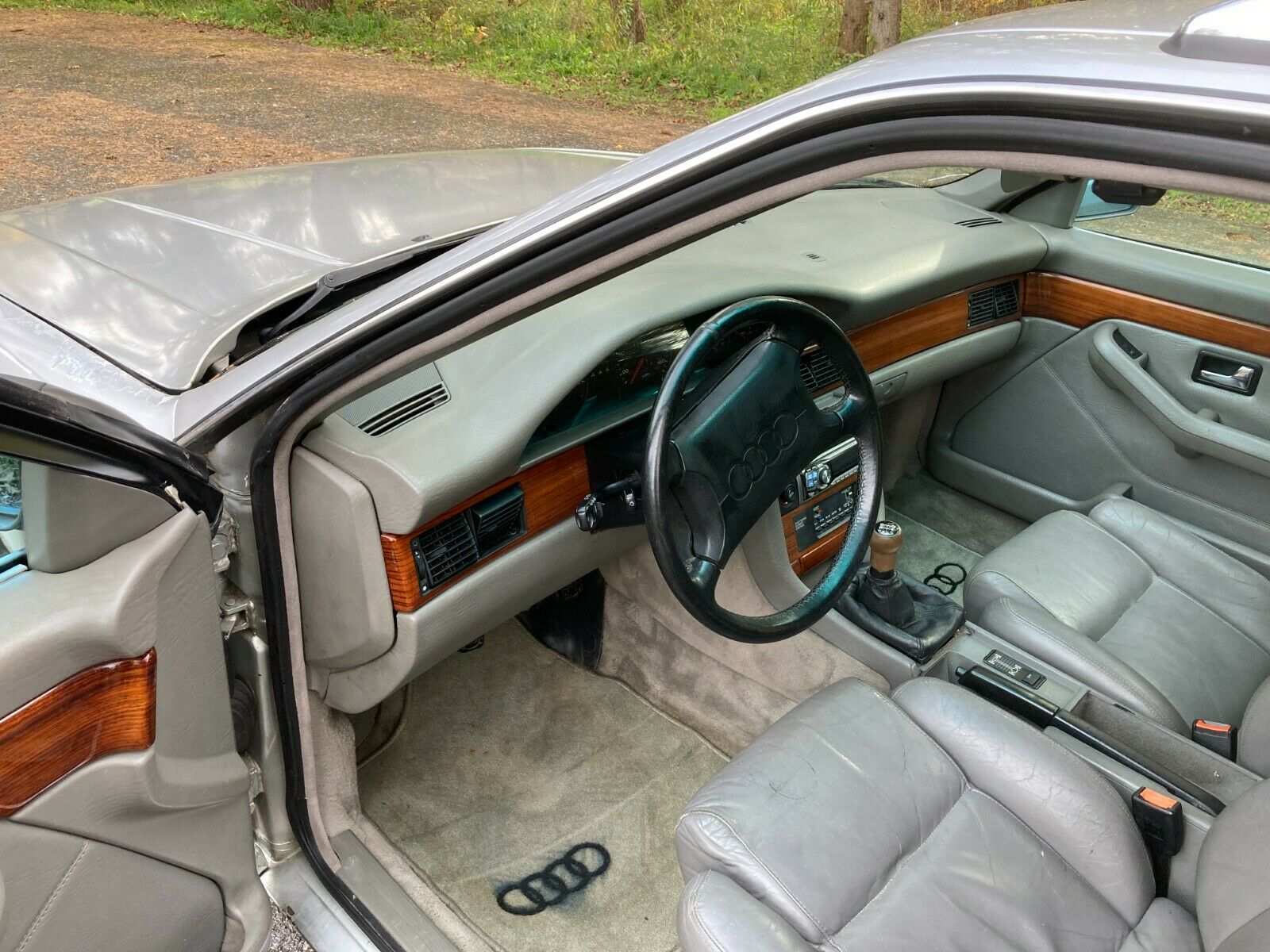 1991 Audi 200 Avant Quattro Turbo 5-Speed

If you're an Audi fan, you already know why these cars are special. This is a great chance to own one for a fraction of the $20K recently fetched for a pristine one on BaT. With relatively little work it could be a really solid winter car. With snow tires, it is pretty much unstoppable, I have never driven anything better in the snow. The current summer tires on the Borbet rims are pretty much worn out, but there is plenty of tread left on the included Michelin X-Ice tires. The Stromung exhaust sounds great, the signature 20V sound comes through loud and clear without being too loud for everyday driving.

As can be seen in the pictures, the car is cosmetically rough with numerous dings, dents, scratches, and other paint issues, some missing and poorly fastened trim pieces, etc. Rust is starting in a few areas around the wheel wells and bottoms of panels, but there is no major structural rot that I am aware of – the factory rust protection on these cars was excellent. The interior is in good shape except for the common issue of the headliner coming unglued, currently it is held up pretty well with tacks, but the edges and especially sunroof will need re-gluing. The shifter boot is detached from the center console.

It runs very well and doesn't burn much oil considering the mileage, less than a quart per oil change. With the Stage 2 MTM chip it makes over 1.1 bar boost (factory gauge only goes up to 1.1 bar) and it pulls smoothly to redline. The transmission shifts fine, though the linkage is a little sloppy. Once in a while the clutch will slip, but only under very hard acceleration. It will obviously need replacement at some point, but it is fine for everyday driving at the moment.

There are numerous minor issues listed below, please read carefully and ask for any clarification where needed. Most are either minor annoyances or fixable fairly easily if you're familiar with Audis of this vintage. The only issue keeping it from being a fairly reliable driver at this point is the fuel leak.

Recent work includes new timing belt, water pump, radiator, oil cooler, front control arms, front CVs, front wheel bearings, rotors and pads.

True mileage is higher than the 287,630 miles shown since the odometer wasn't working for a few months, I would estimate another 5-10K miles.

Non-refundable deposit of $500 due within 24 hours of auction end, balance due in 1 week. Car must be picked up ASAP. Please contact me with any questions or to set up a time to inspect and test drive it.

Cold start video: https://youtu.be/aKugjrqI2RA

Short Driving video: https://youtu.be/VVWD4AUWFqg

Upgrades/Modifications:

-Euro Headlights with clear corners (spare driver side corner included)

-Stromung turbo back 3" exhaust

-MTM Stage 2 chip

-Samco Silicone intake hoses

-2Bennett Revolution Adjustable Strut Mounts (not installed)

-H&R Lowering Springs (not installed)

-Short shift kit

-UFO brakes converted to conventional calipers (I know it is debatable whether this is an upgrade or not, but it does make replacing the brakes much easier and cheaper)

-R-Click remote locking system (alarm is disconnected)

-Sport Seats

Extra Parts:

-3 Volume Bentley manual

-Set of 15" Audi 5000 alloy wheels with Michelin X-ice snow tires, 6-7mm tread depth

-Original EEProm

-Spare transmission (represented to me as low mileage with no issues, but I have not verified this)

-Used metal gear distributor

-New center driveshaft bearing

-New OEM hydraulic brake servo

-Used AC compressor, condition unknown

-Multiple extra trim pieces, varying condition

Known Issues:

-older collision damage causes alignment issue with stock strut mounts, will align OK with included 2Bennett adjustable mounts. Tracks straight and handles fine.

-multiple dings, dents, scratches, paint issues (see pictures)

-numerous trim issues, broken tabs, etc

-crack in windshield (not in sight line, no problems with NYS inspection)

-passenger mirror adjustment does not work

-rear washer not working, rear wiper arm missing

-rear windows not working

-headliner sagging extensively

-heated seats not working

-driver seat height adjustment not working

-no center armrest

-passenger inside door latch not secure

-A/C not working

-ABS not working (worked fine until recently)

-airbag probably nor working (no warning light on startup)

-autocheck works intermittently

-brake servo needs replacing (brakes work fine, but servo leaks just enough to trigger warning light at times. New servo included)

-clutch occasionally slips in 3rd gear under full boost.

-throttle cable attachment broken, currently ziptied

-Auxiliary radiator removed (this is common and shouldn't cause any issues in normal climates)

-Water leaks into driver side footwells if parked in a hard rain in certain orientations

-fuel leak from line under car (easy access to fix)

-rear door speakers not installed but included

On Nov-18-21 at 12:38:29 PST, seller added the following information:

Update 11/18: When moving the car I just noticed that the parking brake is sticking, so add that to the list of known issues. It is easy to release by pushing on the linkage at the caliper, so hopefully some lubrication and exercise will fix the issue.

I also saw that I had a message asking for a picture of the data sticker, but for some reason I can't access the message to reply to it. If someone wants this I am happy to provide it, but please resend your message. Thanks!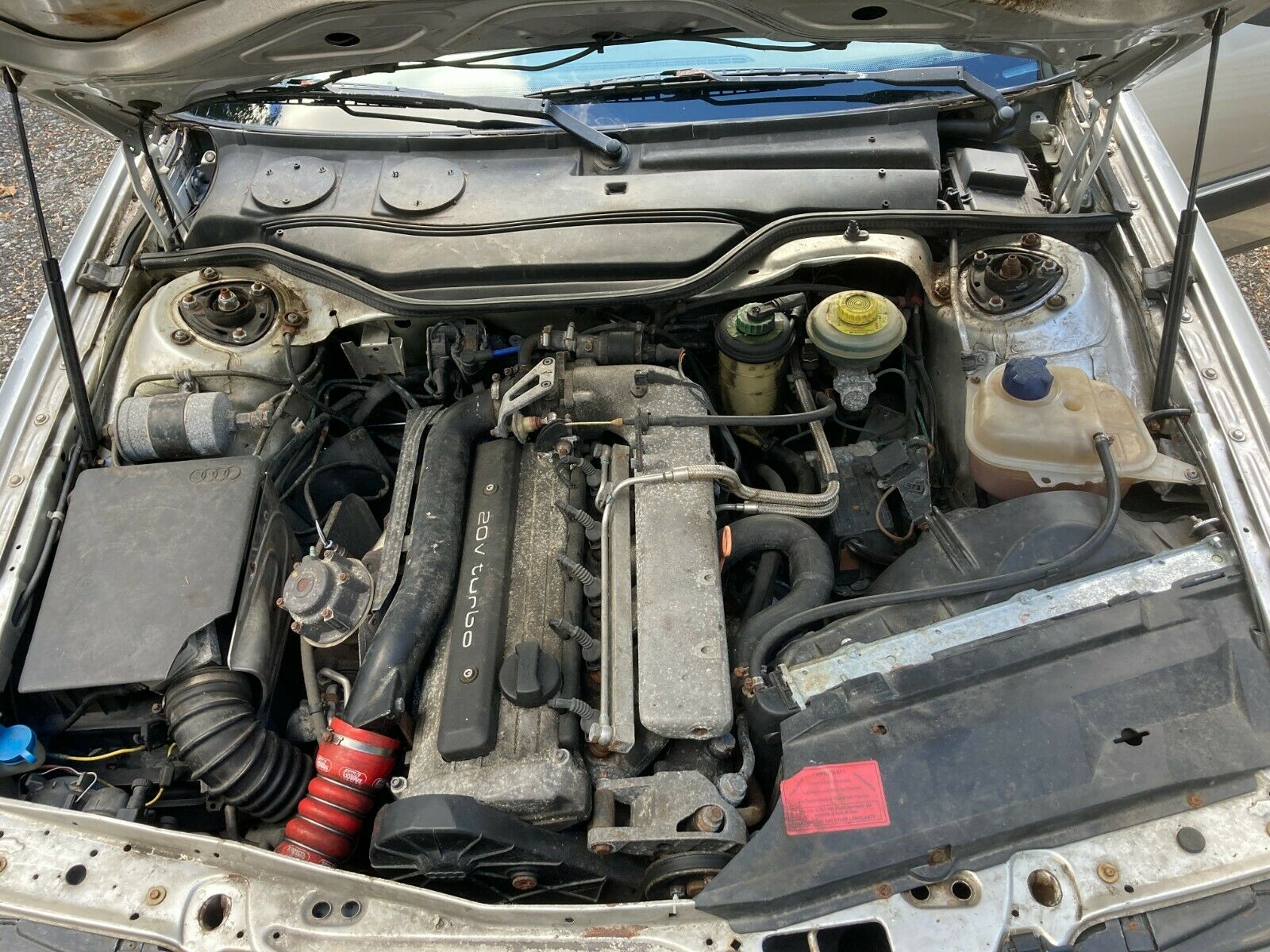 Make no mistake, most of these cars as they sit today are projects. They're 30 years old, which means that if critical electrical or hydraulic systems have not yet failed, they likely will. Sourcing parts can also be difficult, and it's a bit crusty in places. Still, there's potential and a lot of good parts here – certainly enough to justify the current bid, anyway.
-Carter