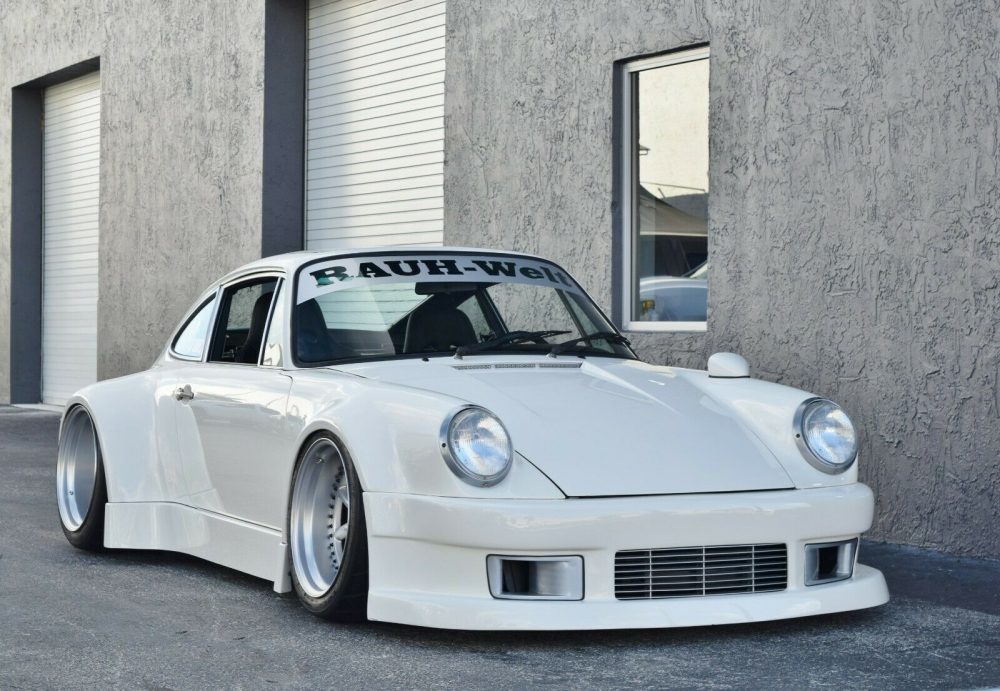 Oh boy.
It was bound to happen. Everyone's favorite "love them or hate them" Porsche tuner, RAUH-Welt BEGRIFF (RWB), has suddenly been pumping out a ton of builds over the last few years thanks to the magic of the internet. These cars are extremely divisive in the car community as some think they are rolling art, while others think they are all show and zero go, along with the fact is it literally cutting up clean Porsches. The formula is pretty straightforward on the builds, as you contact Akira Nakai, give him a giant pile of money, a 911, and enough beer and cigarettes to get him through the process, and he gives you a one-of-kind car that will never be overlooked. Some builds are pretty tame like this backdated G-body, while others go really wild like this 993. Either way, these cars are not for the purists.
Naturally, when things get popular organically, companies want to jump in and try to capitalize. This is exactly what went on with the build we are looking at today with a 1991 964 that was commissioned by a video game maker Electronic Arts for their Need For Speed series. Just as a side bar, I grew up addicted to the Need For Speed games, especially Need for Speed III: Hot Pursuit and Need for Speed: Porsche Unleashed and can directly correlate some bad grades on report cards because I was playing those games instead of studying. Although look at me now; we all have spell check and I write about cars for a living. Back on track, this 964 was built in the typical wild JDM style we are used to seeing, but also had some help from some other builders. Electronic Arts also reached out to Magnus Walker for the styling and Bisimoto Engineering for drivetrain. They must have been writing some pretty big checks for this one.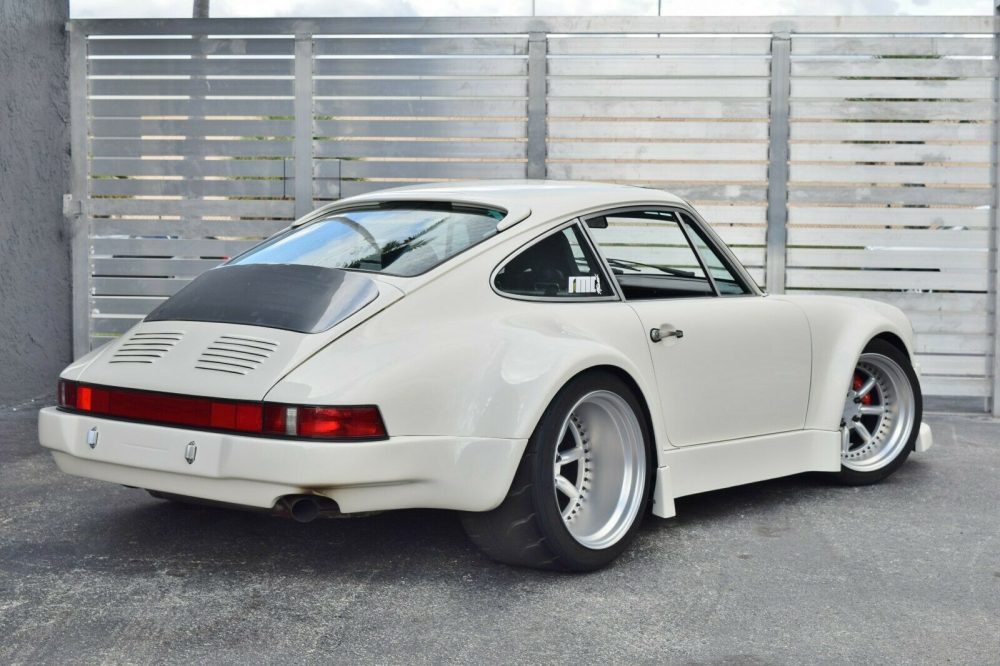 Year: 1991
Model: 911
VIN: WP0AB2962MS410570
Engine: Supercharged 3.6 liter flat-6
Transmission: 5-speed manual
Mileage: 117,746 mi
Location: Miami, Florida
Price: $144,900 Buy It Now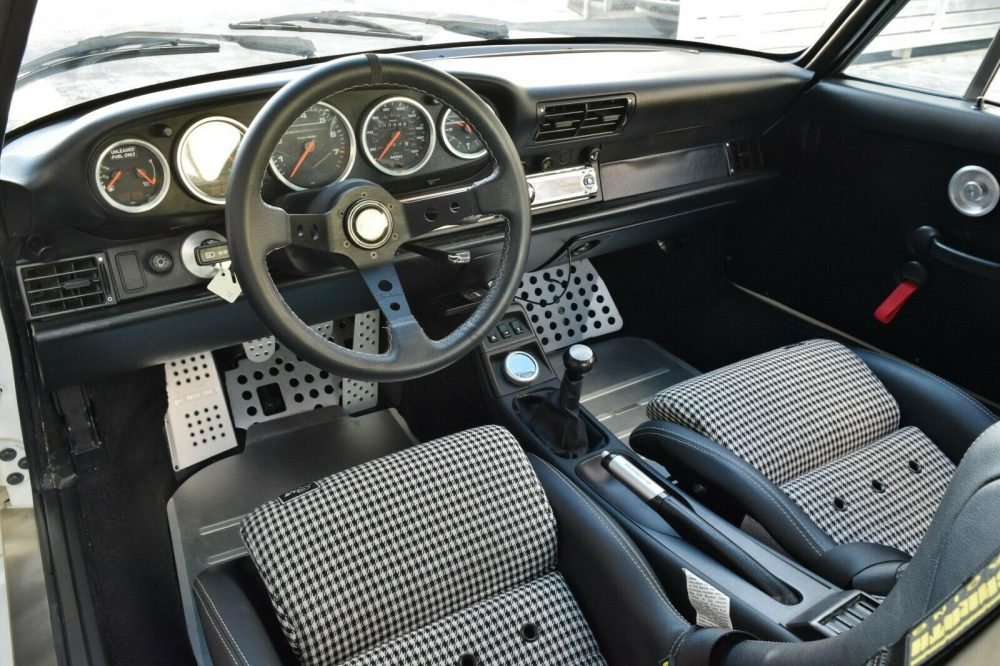 SPIRIT OF 147 NEED FOR SPEED RWB BUILD

Available now from RMC Miami for your consideration.

What started life as a 1991 Porsche C2 is now probably the most unique RWB on the planet.
Originally the car was built by NAKAI (Creator of RWB) and was twin turbo as seen on the link below
http://www.speedhunters.com/2016/02/collaboration-finest-nfs-porsche-build/

Later on the car was setup for SEMA and reborn as the SPIRIT OF 147 done in black added CIBI
headlights updated the wheels and looked just like the article link below for full detail

SEMA 2016: Spirit of 147 – The Need for Speed RWB Porsche reborn

Now you have what you see today, Fenders now smooth without exposed rivets all white show car quality
paint with beautiful brushed steel trims completing the backdate style vintage look of yester year.
Body is in mint condition the super wide body looks amazing there is no dents dings or scratches to note.
The gorgeous Rotiform wheels brushed to match the trims look amazing with the perfect offset and wrapped in TOYO R888R tires.
Airlift 3p suspension has been added and is perfectly tuned to give you a very smooth ride at any desired ride height.

Interior has houndstooth cobra bucket seats AFR gauge centrally mounted and a speed hunters steering wheel.
A brey knause harness bar has been added for the 5 point schroth racing seat belts on both sides along with a rear seat delete.
Aftermarket rennline floor boards have been added for a more racing inspired look and goes with the rest of the car nicely.
The car has had an AC delete so does not have heat or AC. An aftermarket head unit was put in for bluetooth/mp3 player connectivity.

Engine is the 3.6L which now is TPC supercharged putting down around 400 Horsepower. Engine has
had a full engine rebuild with 9:1 Compression ratio, Carrillo connecting rods, stock heads, slightly enhanced cams
new bearings, new chains, new gaskets, and seals. The car runs like a beast.. 5 Speed manual transmission is mostly stock as it a
G50 and in many minds the best transmission for any air cooled Porsche.

Car has a clean title and clean car fax with no accidents. Receipts will come with the car for all the engine work.

Serious Buyers Only Contact 305-527-6867 Eddie or Bernard 305-443-7626

Follow us on Instagram for live updates! @rmcmiami

Can Ship (Insured) Anywhere Worldwide if Needed.
Located in Miami, Florida 33126
Financing Available with Approved Credit
Trades Always Welcomed (UP or DOWN)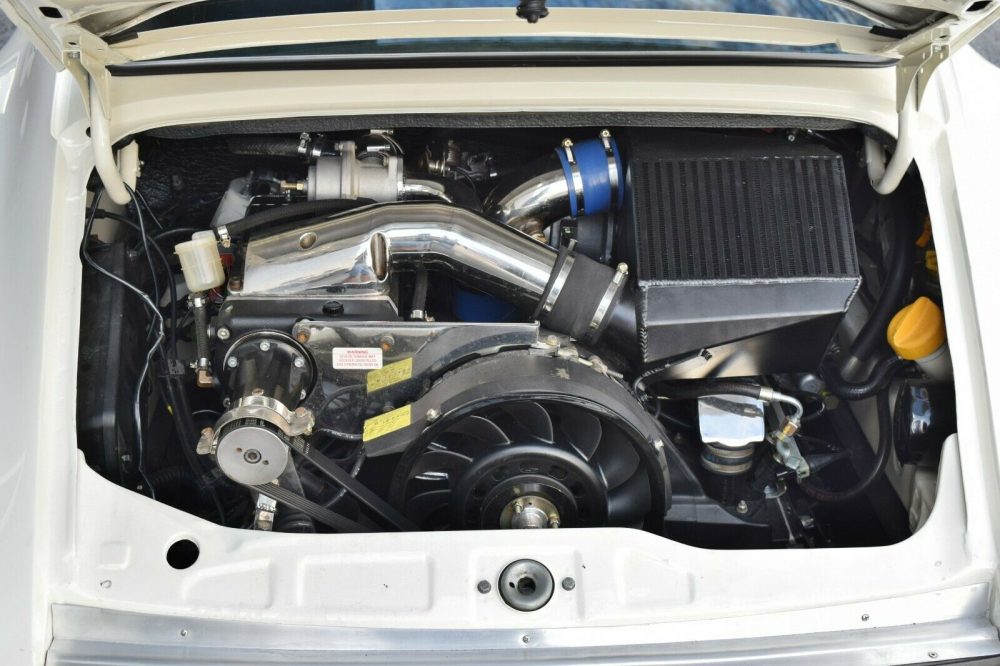 When it was all said and done, it ran around the Las Vegas strip to various events and did a bunch of PR stuff. However, the car you are seeing today, is not how it looked back in 2015 during the event. To get even stranger, the car was then black for a SEMA event in the next year, and now it sits today in 2020 as a white car with no stickers outside of the signature RAUH-Welt windshield banner. Why did all these events transpire like this? I have no idea. Sponsor deals are always a funny thing and once the project is complete, stuff often is forgot about immediately. What I do know is that this thing looks really strange as it sits. Without all the little things that make an RWB what it is, this just looks like a really odd 964 that probably can't even use the power given those rear tires are rubbing even time the car moves under its own power. I do think the interior is well done as well as the supercharger system, but what is it for if you can barely drive the car?
The asking price for this car is $145,000 which I personally think is insane. Yes, RWB cars can bring over $100,000 in the market, but those are the original creations made by Akira Nakai, not a third rendition of an abandoned sponsor deal. To me this car just looks really odd, and given its been through a ton of changes, it doesn't do anything for me at all. I'm not sure where they came up with the $145,000 price tag, but given this car has been for sale for a long time with no takers it would suggest it's heavily overpriced. Love it or hate it, you can have at it in the comment section now.
– Andrew