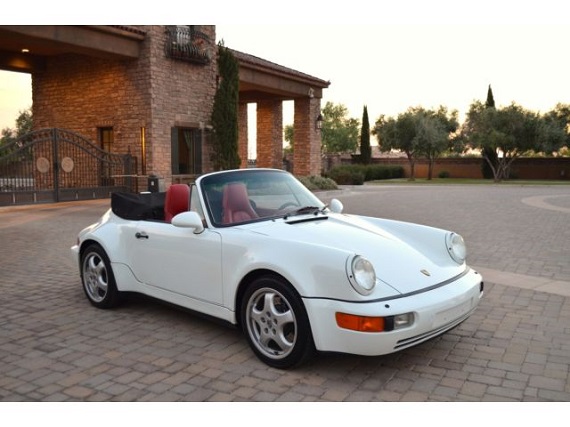 I'm a sucker for a bright red interior, and Can-Can Red is one of the best, so naturally I was immediately drawn in to this 964. Here we have a 1992 Porsche 911 America Roadster, located in Arizona, with 47,720 miles on it and, of course, that fantastic Can-Can Red leather. The America Roadster distinguishes itself from other 964 Cabriolets by its wider rear, braking, and suspension all borrowed from the 964 Turbo along with the deletion of the rear seats. I've written that the 964 is an exception for me in that it is the one 911 model where I prefer the narrow-body design relative to the wide-body. The narrow body seems proportionally just about perfect and I find that the wider rear disrupts that. I am probably among a minority in this. That said, I've slowly begun to come around to the wide body, with a caveat. I happened across a very nice looking 964 Turbo on our streets the other day and I'll admit that the wider rear of the Turbo really showed well. It fit the personality of the Turbo, providing a degree of menace and purposefulness to the exterior that the narrow body lacks. But that's the Turbo. On a Cabriolet I'm not so sure I prefer it, but the overall lines of the Cabriolet 964 aren't as good as on the Coupe so perhaps if I saw it in person I'd come around. But again, I think I'm in the minority on this and the America Roadster, with that wider rear, is pretty well regarded. Add in the improved braking and suspension of the Turbo along with a limited production run of 250 examples and you have a pretty desirable 911.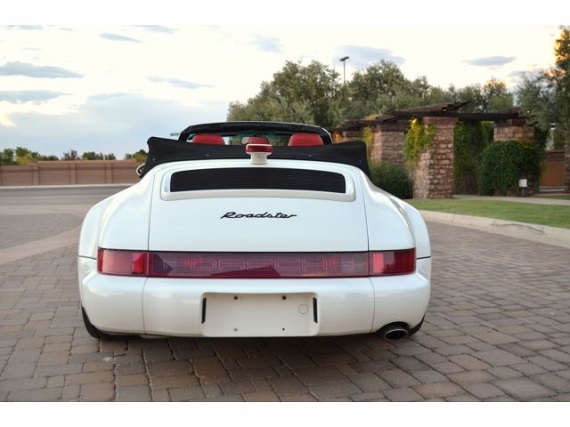 Year: 1992
Model: 911 America Roadster
Engine: 3.6 liter flat-6
Transmission: 5-speed manual
Mileage: 47,720 mi
Price: $127,995 Buy It Now
European Motor Studio is proud to offer this stunning and very rare 1992 Porsche 911 America Widebody Roadster finished in special order Grand Prix White with Leather-to-Sample Can Can with a Black convertible top. This Roadster left the Stuttgart production line in January 20, 1992 and is 1 of only 250 America Roadsters ever made. The America Roadster was a Turbo look Widebody with Turbo suspension and brake setup and only two seats. This special order America Roadster was sold new by Braman Motorcars in West Palm Beach FL to its first owner in the amount of $94,616 and today has only covered 47,720 actual miles. The Grand Prix White paint is all original and in beautiful condition aside from one small touch up about the size of a quarter on the front passenger side nose next to the turn signal and a few small stone chips in the front nose and on the lower side body moldings (paint has been metered and is all consistent). The body is arrow straight and has never been involved in any kind of accidents or had any kind of repair work done to it. The interior is original leather and in beautiful condition with very minor creasing on the driver seat bolster. The dash and center console are in excellent condition free from any damage or cracking. The original convertible top is in excellent condition with the exception of one small area that is shown in the pics. The 3.6 liter engine starts right up and idles smoothly and free from any smoke under start up or acceleration. The engine pulls incredibly strong through the RPM range and the gear box is smooth through all of the gears. There is no fade or slipping in the clutch or any grinding in the gearbox. The suspension is nice and tight and free from any noises or issues. The steering is nice and tight and free from any play or wondering. The brakes have an excellent solid feel to them and free from any fade or noises. All of the electronics appear to be operating as designed. Power door locks, power mirrors, windows, seats, convertible top and rear spoiler are all operating as designed. All of the lights are operating as designed including all of the interior and exterior lights and dash lights. The original Porsche radio is still intact and operating as it should. This America Roadster comes with its original convertible boot cover, owners hand book and warranty/service book, original spare, Porsche Certificate of Authenticity, copy of the original window sticker and a clean Carfax and title. This is an excellent opportunity to acquire an incredibly rare and highly desirable 964 Factory Widebody America Roadster in special order colors in original condition. These rare and desirable limited run cars are going to continue to stay high on collectors lists for their rarity and sheer driving pleasure that comes with the ownership of an air cooled 911.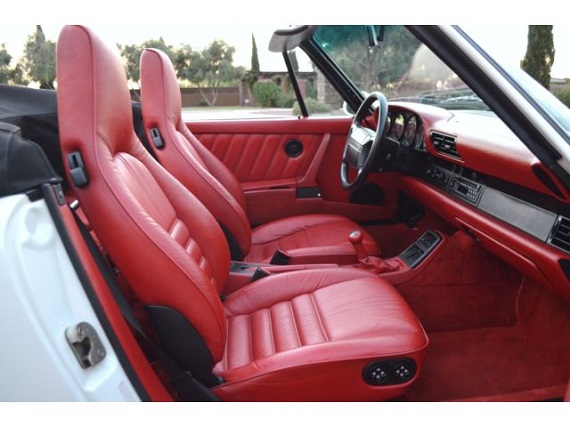 The overall condition of this America Roadster looks quite good. There are a couple of minor paint blemishes mentioned, which appear to have been fixed, along with a picture of what looks to be a problem area on the convertible top. Some further inquiries there would be warranted. At this price, the history and documentation will need to be top notch and while much of the original documentation sounds like it's available, we don't have much word on its history. Hopefully the documentation reveals all of that. From there it's a great looking color combination and I always enjoy these bright reds in an open-top design. There's simply no reason to hide that color from the outside world. It's flashy, that's for sure, but it's also vibrant and smile inducing, which really is what having a Cabriolet is about. I was somewhat taken aback when I saw the asking price, but a recent auction saw a sale at $123,200 so this isn't entirely unprecedented. That America Roadster had far fewer miles (~12K), but came in a much more standard triple black color combination. Significant mileage premiums likely dictate that this one is priced well too high even given the more rare colors, but I think we could still see it sell around the $100K mark. Time will tell.
-Rob