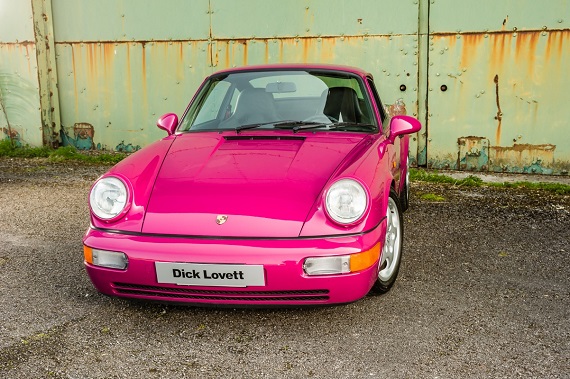 Edit 8/24/2017: A little over two years later, this RS has resurfaced on eBay with 70 more miles and about the same $400,000 asking price.
Another week, another wonderful 964 Carrera RS. This time, however, we've gone a little more aggressive in the color department with a Rubystone Red (Sternrubin) 1992 Porsche 911 Carrera RS with contrasting interior and just 19,919 miles on it. I recall that we featured a Rubystone 964 Turbo a while back and that 911 had a Grey interior that, frankly, was entirely unbefitting of the dynamism of the exterior. We have no such problem here as the black interior with purple and violet seat inserts provides the right balance of flash and subdued character that highlights, but doesn't overshadow, that exterior. Inside or out, there should be no mistaking what this car is.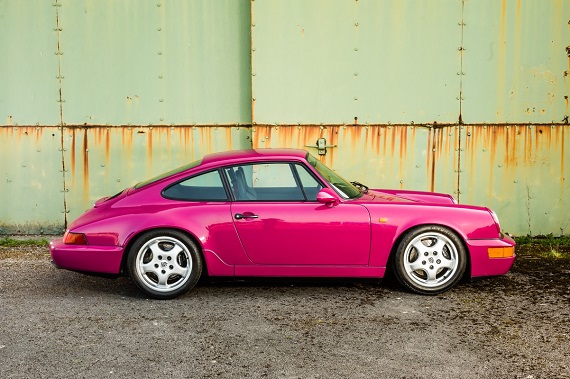 Year: 1992
Model: 911 Carrera RS
Engine: 3.6 liter flat-6
Transmission: 5-speed manual
Mileage: 19,981 mi
Price: $408,000 Buy It Now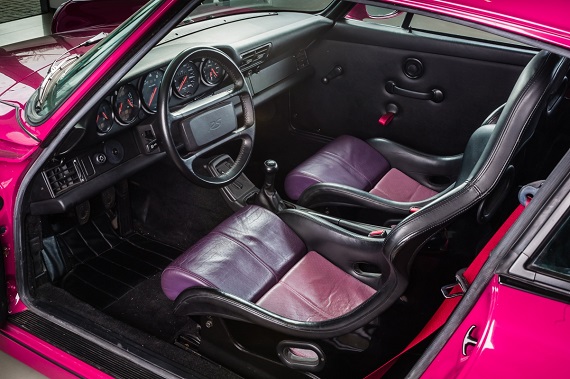 Dick Lovett are delighted to offer this very eye-catching example of the rare Porsche 964 RS. Built in the early 90's, the Porsche 964 featured significant styling revisions over previous 911 models, most prominently the more integrated bumpers. The RS Variants were launched at the 1991 Geneva Motorshow as a lightened version of the standard 964, this meant most luxuries were removed – electric windows, electric seats and sound deadening, instead the car received a revised version of the standard engine which featured a new lightweight flywheel and increased power output. Together with the removal of the luxuries the RS model weighs 155kg less than the standard C2 model. This particular example is finished in original Ruby Stone with a black interior and just under 20,000 miles on the clock and just one owner from new. With only just over 2,200 of these particular cars built, this is a perfect opportunity to own a distinctive model, in a rare and very desirable colour, from the truly great Porsche bloodline.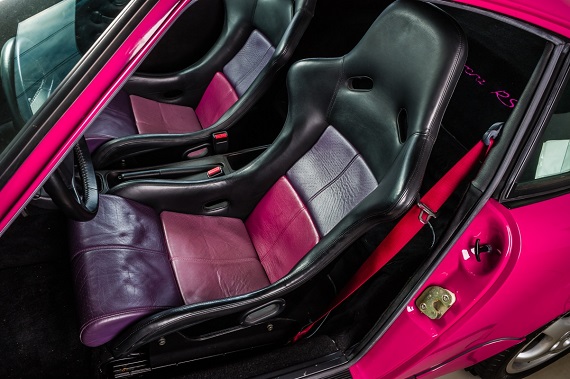 The profile of the Carrera RS has to be one of the best shapes in automotive design. It looks entirely purposeful with little wasted space, providing both beauty and aggression at the same time, but it isn't insane like a Zonda or Lamboghini. Rubystone Red is one of Paul's favorites and while it isn't one of my favorites I always appreciate any of the wilder colors Porsche has produced over the years. I just happen to prefer the orange and blue areas of the color wheel quite a bit more. Like last week's Maritime Blue RS, Rubystone was only available during the 964's model run so it makes for a great showcase of the RS itself. It's also quite rare and would never be mistaken for a standard color on any car and that makes this car very expensive. With an asking price north of $400K this RS comes in at more than $100K ABOVE the asking price of last week's RS. Such is the premium commanded by a very rare air-cooled 911 in a very rare color. It almost makes the Maritime Blue RS seem like a significant bargain!
-Rob