I'm not sure if I can do justice to this car. While not the ultimate version of the 964 Turbo, nor the ultimate air-cooled 911 Turbo, the 1992 Porsche 911 Turbo S Leichtbau remains for me the best. It is the final iteration of Porsche's turbocharged 3.3 liter flat-six that had been in use since 1978 powering these machines to heights most other automakers scarcely would have envisioned. This is a car that probably never should have existed since Porsche likely had intended for the 964 Turbo to debut with a turbocharged version of the 3.6 liter engine found in other iterations of the model. But the development of that engine took time and the early years of the 964 saw the continued usage of the engine from the 930. When it finally became time to retire its use, Porsche gave the 3.3 a wonderful send-off in the guise of the Turbo S: a lightened, more powerful, version of the standard 964 Turbo that remains one of the lowest production models in the Porsche portfolio. I featured one a couple months ago that we surely wouldn't call subtle, but whose exterior did come in a somewhat subdued Silver. The one we see here, painted in stunning Electric Blue Metallic, possesses no such subtlety and will be on auction as part of Silverstone Auctions' Salon Privé 2015 on September 4 in Oxfordshire, England.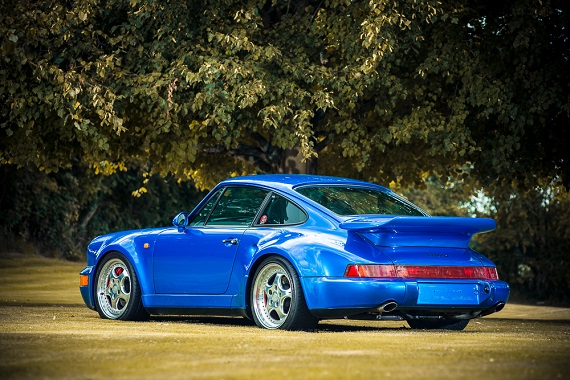 Year: 1992
Model: 911 Turbo S
Engine: 3.3 liter turbocharged flat-6
Transmission: 5-speed manual
Mileage: 23,000 mi
Price: Reserve Auction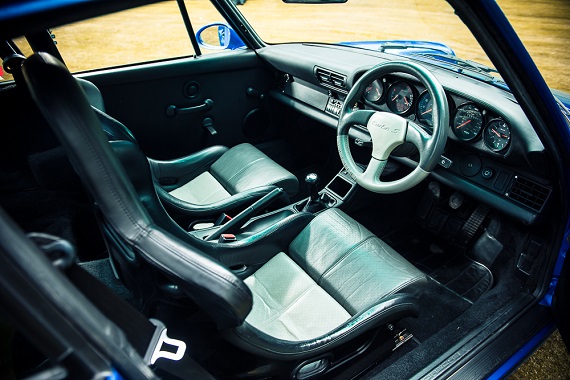 In May 1992 Porsche announced that it was planning to produce a very special limited edition of its current 964 Turbo that was to be christened the 911 Turbo S Leichtbau (Light build). They expected to build 25-50 units (later upped to 80), they would be sold through Porsche Centres at a price not exceeding 300,000 DM, and the car was to be built in the fiscal year ending July 1992. The new project was to be a lightweight road legal turbo that would feature an increased engine output, together with enhanced handling and subtle styling differences.

A prototype was built using a 1992 3.3ltr Turbo chassis and the "1992 Turbo S Leichtbau" came into being but, ironically, production did not start until July 1992 meaning that they were all built in the 1993 Model Year. The car was a development of the Turbo S2 and the goal was to increase engine output by around 40bhp, but that was exceeded and in the end an additional 61 horses were found bringing net power up to 381 bhp. Porsche explained: "With different camshafts, precision-machined intake ducts, slightly higher charge pressure and an optimised ignition and fuel injection system, this six-cylinder engine was capable of unleashing 381 bhp. To deliver all that power to the road surface safely, the car was lowered by 40 millimetres and the running gear was given firmer settings." However the main quest was to find a significant weight reduction and they were successful reducing the overall weight by 180 kg. This was achieved by doing without under body protection, sound proofing, air conditioning, power steering and rear seats. Further savings came from thin glass, aluminium doors, a carbon fibre luggage compartment and even thinner carpets.

A total of just 86 cars were produced, of which only a handful are believed to have been destined for the United Kingdom.This is a very rare car, as recognised by Porsche in 2011 as the "1992 Turbo S Leichtbau" was one of very few models to go on display as part of "25 Years of Porsche Exclusive" held at their museum in Stuttgart. This right hand drive example, chassis 74, was delivered to its first and current owner and registered during March 1993. Finished in a special order body colour of Electric Blue Metallic with a black leather interior, the car exudes purpose. Having covered just c.23,000 miles since new, this stunning racer-for-the-road is in commensurably fine condition throughout and features the optional extra of air conditioning, together with power assisted steering – a standard fitment on all RHD cars presumably as the good folk at Porsche felt that we in the UK needed something a little more comfortable.
Ready to electrify its new lucky owner, it comes with a Swansea V5C, a current MoT certificate, comprehensive service history and all the original correspondence between the owner and AFN Isleworth detailing the paint, build and original bill of sale.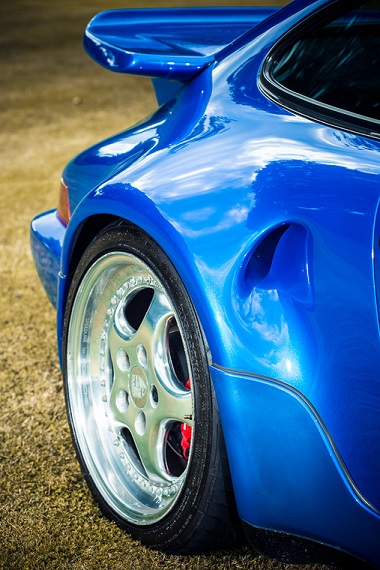 Recent auctions have illustrated quite clearly that air-cooled Turbos are the hot item on the Porsche market these days. While to a degree this has always been the case, the rapidity with which Turbos have risen in value relative to nearly every other model suggests that those looking to enhance their collections would do well to give them a long look. We may always wonder how high they can go, but with a car like this that is so rare and represents the last of the 3.3 liter air-cooled Turbos we should expect a bright future ahead. Of course, with an estimated value already in the neighborhood of $600K the cost of entry here is very steep indeed. But this is without question one of the best.
-Rob