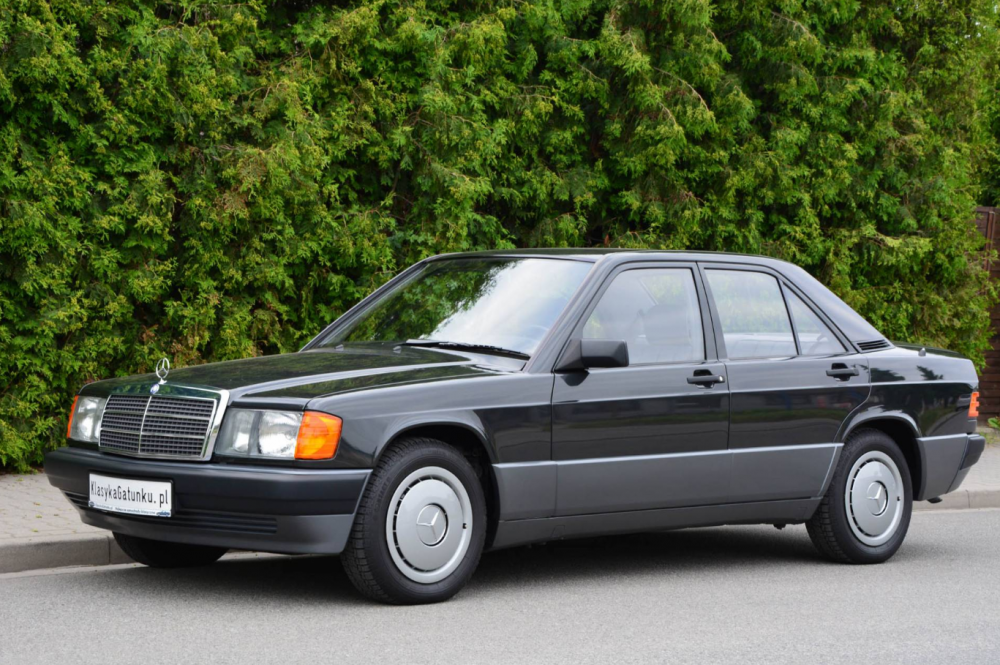 Last week I looked at one of my favorite and oddest Mercedes-Benz ever: the 190E Avantgarde Azzurro. It was an incredibly expensive car for its time at $40,500 ($72,000 in 2018 money), especially when you considered it was marketed towards younger buyers. As expensive as that car was, Mercedes offered a much more inexpensive option if you still wanted a new W201. How inexpensive? Nearly half the price at just $21,000. Of course you might have noticed I am talking about the 190D. This 190D up for sale in Poland has just 2,200 miles and in addition to being a time capsule, is probably the most bare bones and basic Mercedes I've looked at in a long time, if ever. The data card lists just six different build codes compared to the 20 for the Avantgarde Azzurro. Seriously, my manual-everything 1983 240D has more luxuries than this car. I hope the buyer for this car has lots of money and likes the sound of total silence, but that is what is going to take to own this car. Let me explain.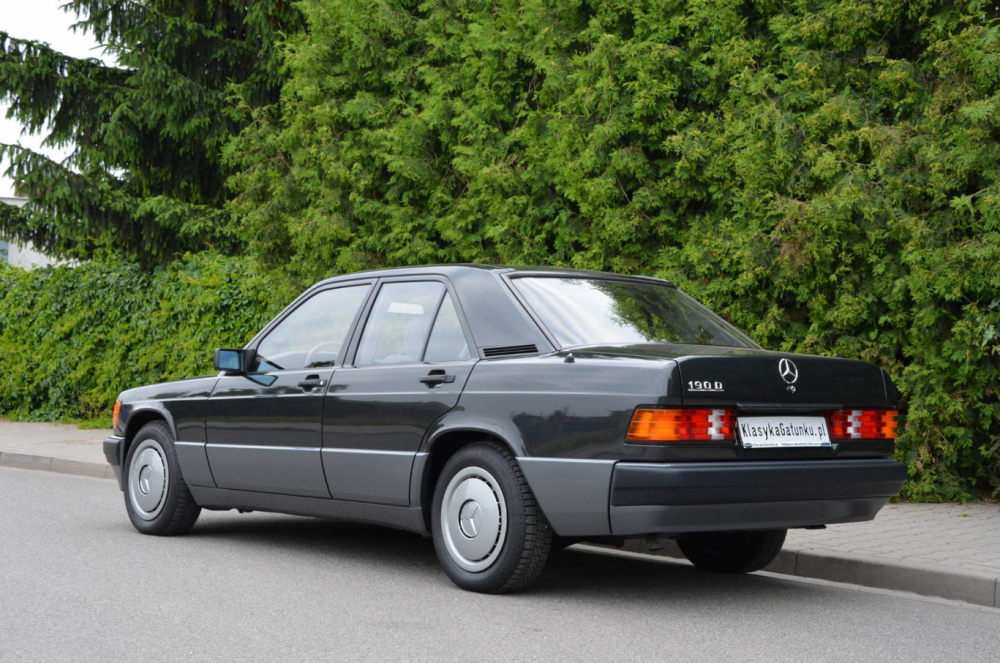 Year: 1993
Model: 190D
VIN: WDB2011221G090987
Engine: 2.0 liter inline-4
Transmission: 5-speed manual
Mileage: 3,546 km (2,203 mi)
Price: €28,000 ($32,023)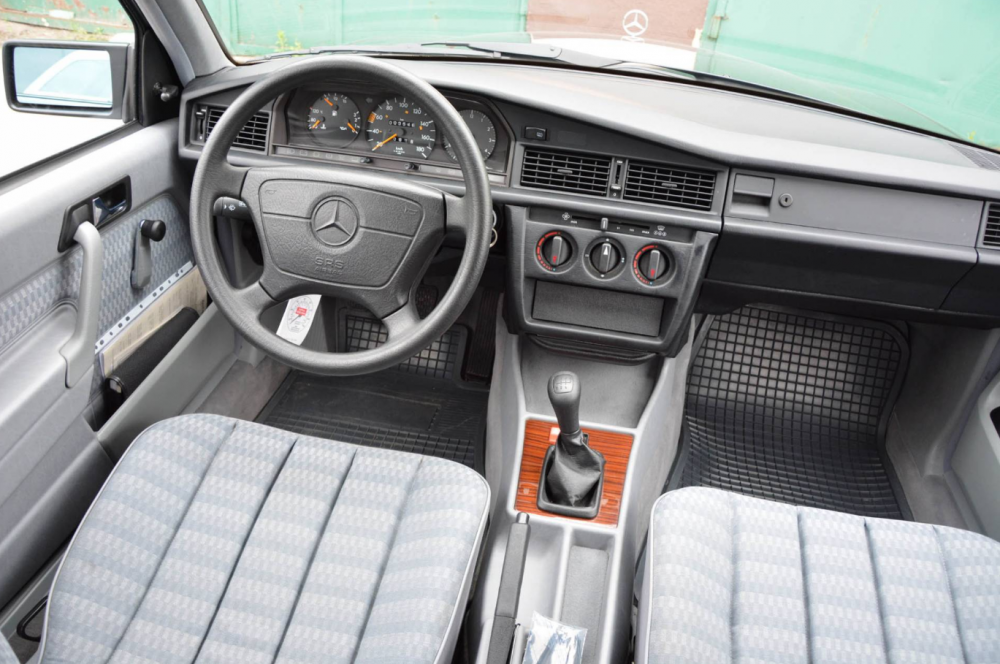 Driving that car you can feel like travelling in time to the year 1993. We offer for sale a close to brand new condition Mercedes 190D, with only 3500 kilometers on the clock. Car in fabulous museum condition, one of the best to exist. Was bought new in Mercedes-Benz dealership in Eggenfelden by Austrian farmer, who brought it back home. Car comes with it's original "Kaufvertrag" – contract of sale from 1993 and even a "Sparkasse" Bank receipt for 37'000 DM, so was the price of the Benz back then. Of course original service book and a set of keys is also present. The owner bought the car becouse the production of w201 stopped in 1993. He was an owner of another 190D, which he used on daily basis. The black one was meant to be keeped as a supply vechicle, when the second one gets broken. All those years the baby-benz was stored unused in dry garage and never seen sunlight. The car was very well kept, engine was started every weekend, paint was covered from dust. In 2015 car was bought to our collection from the family of the first owner. We never seen better preserved w201, so rare with diesel engine. Diesel Mercedes-Benz is known to last for 1'000'000 kilometers, and it's very hard to find a one in good condition. They were build to last, and this one was accidentally preserved as time capsule. We hope the car will find a good home and someone that understands it's uniqueness.
First, I want to talk about the condition of this car. Next time you see someone say "showroom condition" in some random for sale ad, show them this car. This is how they are supposed to look. Everything is spotless and every single paint mark on the bolts and suspension is still fresh. The interior still has the hang tags from the steering wheel. Even the little plastic bag that holds the keys are still there. Going even further, the little sticker on the side of the OM601 is still factory fresh. Usually all these just burn off over the first few years from the heat, but somehow this one still survived 25 years and this cars first 2,200 miles. I am truly blown away by how mint this car still is.
Next, I want to talk about the actual 190D. If the W123 240D had a son, it would be this car. Look up "basic" in the dictionary, you will see this car. It has a 5-speed manual, cloth seats, hubcap, no air condition, crank windows and no radio. It doesn't even have a tachometer! Like I said earlier, it just has six options on the data card. The five-speed gearbox, airbag, central locking, ABS, catalytic converter and a power antenna for the radio that doesn't exist. Even the mirrors are manual adjust on this W201. Honestly, if this car had a radio, I think it would appeal to a lot of people for its basicness. There is something soothing about knowing that you own and drive has very little, if anything, that is capable of breaking outside of the engine. You can drive this car for generations without any major problems and there is value in that.
Now we have to talk about price. This brand new 190D has an asking price of $32,000. I love this car, but I don't love it for $32,000. I honestly think I would be just as happy with a 190D 5-speed with 250,000 miles for $4,500. I totally get why this dealer is asking that, but I think they are just overshooting it just a bit. Even if it had a radio and air conditioning the price might be possible, but for that kind of cash people are going to just want some creature comforts. I'm glad that this thing exists and I'm glad that I can be on the lookout for one of these now.
– Andrew