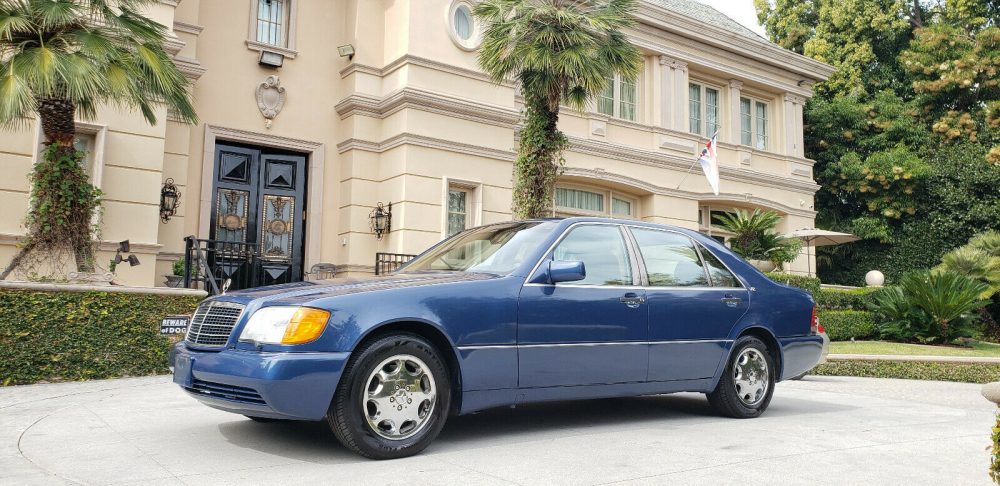 Last week I looked at a really exceptional 1997 Mercedes-Benz S500 that looks to have found a new owner at right under $15,000. Probably a fair price for both parties, and I doubt it will lose much as long as the condition stays close to what it is now. Naturally, that got me looking around at other W140s, and wouldn't you a 1993 600SEL popped up finished in the rare Nautical Blue Metallic. Granted, any color on a W140 that isn't black, silver, or white is rare, but this one really seems to pop. Match that with the Palomino interior, and this one is well into "classic" status.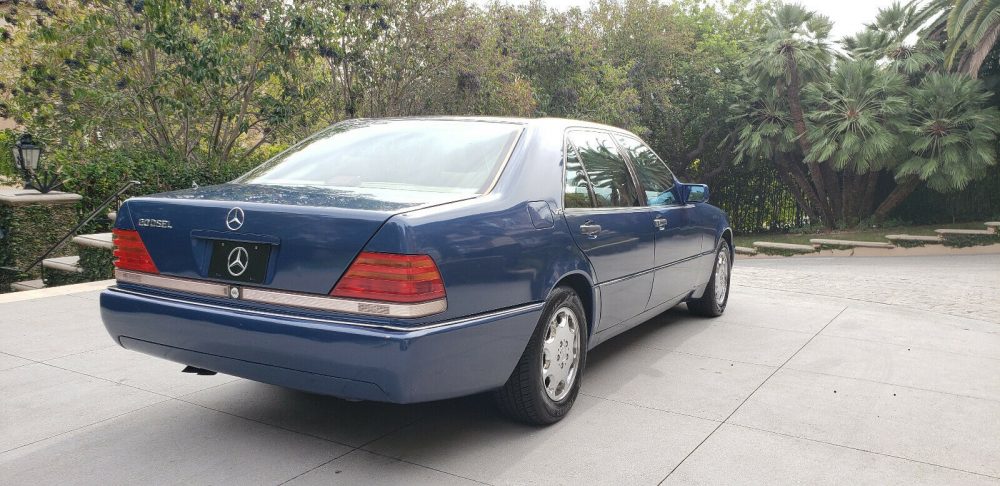 Year: 1993
Model: 600SEL
VIN: WDBGA57E9PA108243
Engine: 6.0 liter V12
Transmission: 4-speed automatic
Mileage: 113,644 mi
Location: Los Angeles, California
Price: No Reserve Auction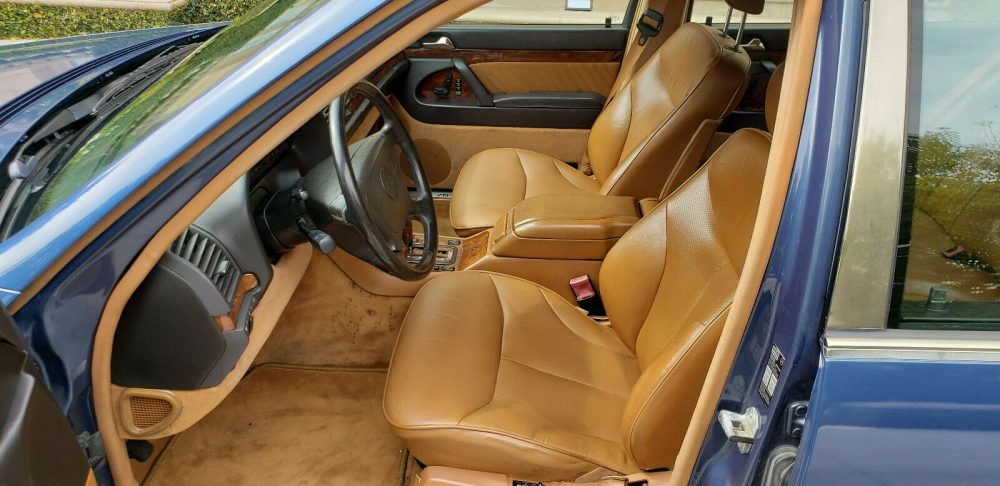 7-Day No Reserve Auction!!!
High Bid Wins!!

Beautiful *RARE* COLLECTABLE 1993 Mercedes Benz 600SEL 6.0L V12
SEE MANY PHOTOS BELOW

Loaded With Many Options Especially for a 27yr old Vehicle Only 113k Miles

55+ PHOTOS BELOW

PLEASE ONLY SERIOUS PAYING BUYERS

If You Have Any Questions Or Concerns Please Address it Prior To Purchase/Offer

Relisted Due to Non Paying Buyer.

IF YOU CAN NOT COME THROUGH ON THE SALE AND COMPLETE THE TRANSACTION THEN PLEASE DO NOT Purchase!!! Thanks For Understanding

Current Retail Value On This Beautiful *RARE* 1993 Mercedes Benz 600SEL Ultimate King Color Royalty Sedan Is Really Priceless These Are Super Rare And Not Seen Anymore Especially in this Excellent condition

MERCEDES BENZ V12 600SEL. – Original MSRP Back In 1993 Was Approx $130k

Being Offered On An Exclusive WoldWide
!!7 Day No Reserve Auction!!

Clean, Clear, NO RUST California Car & Title !!

THIS 1993 Mercedes 600SEL is the Ultimate Mercedes – Super Powerful And An Absolute Joy To Own &Drive!!

LOOK AT THE PICS Beautiful Vehicle- Rare Vehicle and Ultra Rare Special Color Combo with all the sophisticated options.

Beautiful Blue Exterior On Beautiful CAMEL Peanut Butter Ultra Luxury mint condition interior – Absolutely Gorgeous

Has Only Approx 113k Original Miles!!

All California Rust-Free

Runs/Drives Excellent, Powerful & Strong !!

RWD

Well Maintained

Ultra Thick Paned Windows

A DREAM to Drive

No Warning Lights At All

Excellent Automatic Transmission

*Great Handling, Ultra Smooth With Phenomenal V12 Luxury Power*

Beautiful CHROME Mercedes Rims With Decent Tire Treding

Vehicle Comes With Books/Manuals & 1 Remote key with 3 Keys

This Mercedes 600SEL Has many Options!!

Original Car Phone

*Front SEAT Firmness Tensioners*

All Power Windows, Doors, Locks, Steering…. All In correct Working Order

Sunroof Is Fully Functional

Beautiful Full Size Rear Seats With Power Seat Adjusters And Rear Climate Control

All Direction Power Seats including Power Seats

All Direction AC(very cold)/ Heater In Great Working order

Great Full Sound System With All Entertainment Options

CLEAN HEADLIGHTS

Full Size Trunk

Traction control / ABS

Beautiful Gorgeous Color ComBo!!

The Exterior On This Beautiful 600SEL is in Great Condition, Especially For A Used 27yr Old vehicle, Blue in Color. Rust-Free, No Dents Or Major Damage At All… Has Some scratches, scuffs, Scrapes, Chips, Dings… – Looks Fantastic Overall- RUST -FREE !!

Interior is Gorgeous Mercedes Camel Peanut Butter Black Leather In Great Condition all Around – Seats do not have Rips Or Tares, Wood Grain All Around In Excellent Condition No Cracks On Dash…- Great Condition

Overall Gorgeous, Great Luxurious *RARE* 600SEL V12 (Look at pics)

DONT MISS THIS Awesome & Rare 1993 Mercedes Benz 600SEL V12. FLAGSHIP Mercedes – With Many Options – Clean Califronia Title

This vehicle is Nevertheless 27yrs Old & Used!! Plz Do Not Expect Perfection!! Vehicle being sold as-is where is with no warranty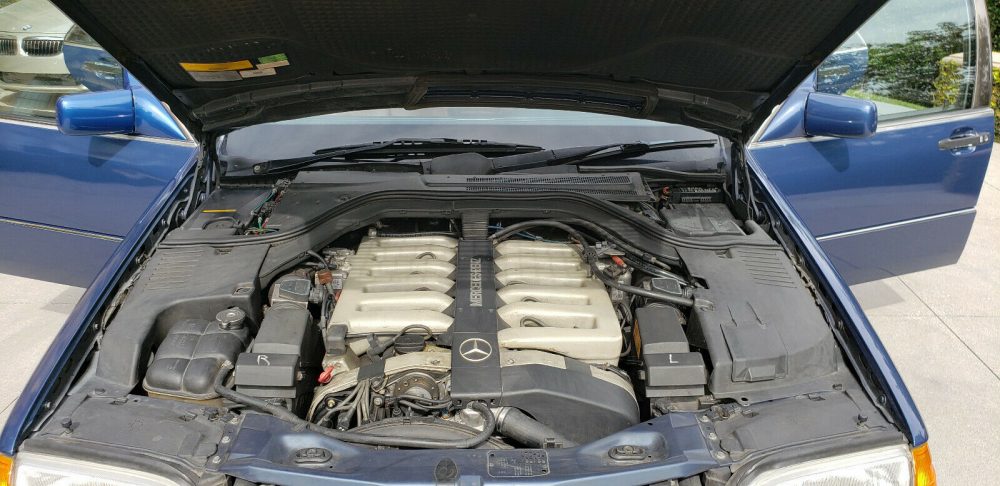 There seems to be an argument within the Mercedes community about the early W140s car vs the later builds that wrapped up in 1999. Many will say the first few years before the face lift the cars just "felt" better and had less issues, but I can't imagine a car that Mercedes-Benz spent a billion dollars (literally) only for it to lessen its quality as the years went on. Yes, some features disappeared on the face lift like the little parking poles that stood up when you put the car in reserve, but that is only because digital technology was replacing analog technology. It was still the same M120 V12 that while can be pricey and difficult to work on, is easy as pie compared to a V12 from a British or Italian marque.
This one in Los Angeles has some miles on it, but looks to be in okay shape. There is a nasty stain on the carpet and one of the covers is missing on the engine, but I've certainly seen worse. I can't remember the last time I saw a W140 in Nautical Blue Metallic, let alone a V12 example. I think this one might be a little too well used to be put away as some kind of investment you can flip in 10 years given its miles and shape, but for a driver, this could work out rather well. My guess is around $10,000 for this one. As many words at this dealer said in the ad, not a whole lot about servicing, so just a waste of letters. Curious to see where it ends up.
– Andrew