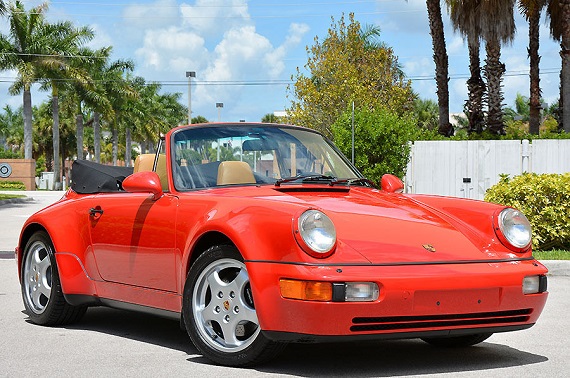 Earlier this week we had a look at a Carrera 4 Widebody, otherwise known as the Turbo-look Coupe, and today we will turn our attention to the other Turbo-look variant produced for the 964 range, the America Roadster. Both examples were produced in fairly small numbers, but unlike the Carrera 4 Widebody, which held true to its Turbo-look moniker, the America Roadster would never be confused for a Turbo Cabriolet since one was never officially offered for the 964. The America Roadster, along with the widebody Speedster, were the only options for those who preferred the wider rear styling, but also wanted the ability to enjoy some top-down motoring. Frankly, it's kind of peculiar that Porsche produced multiple turbo-bodied variants sans roof without also offering a Turbo Cabriolet, but perhaps they hoped to maintain the performance image of the Turbo and felt the Cabriolet hindered that image. Nevermind that they produced a 930 Cabriolet. Porsche's business decisions aside, rare 964s tend to attract a good bit of attention and while the America Roadster probably attracts the least attention of the rare models they remain something to keep our eye on. Also, like the Carrera 4 Widebody they are a really pretty design! Here we have a Guards Red over Tan 1993 Porsche 911 America Roadster, located in Florida, with 44,350 miles on it.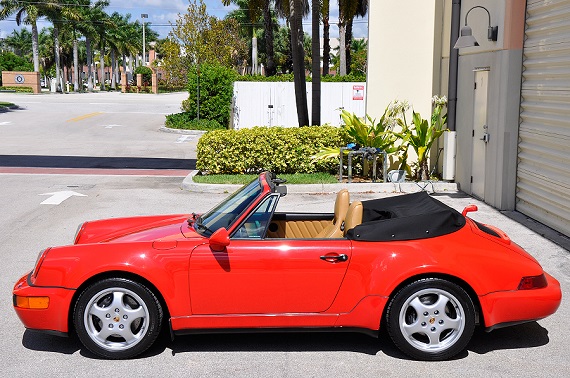 Year: 1993
Model: 911 America Roadster
Engine: 3.6 liter flat-6
Transmission: 5-speed manual
Mileage: 44,350 mi
Price: Reserve Auction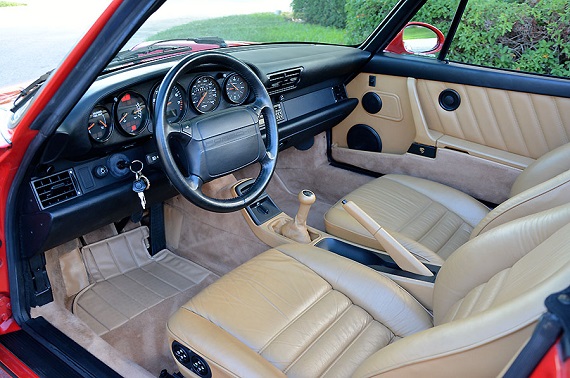 1993 Porsche 911 America Roadster! 1 Of Only 250 America Roadster's From 1992-1993! Ultra Rare! Only 51 1993 America Roadster's Produced! Low Miles! Collector Quality! Great Service Records! Great Vehicle Investment! Rarest Air-Cooled 911 On Ebay!

This 1993 Porsche 911/964 America Roadster Is In Guards Red Over

Beige Leather Interior Which Makes it An Ultra Rare Collectible Porsche!

With Just 44350 Miles This 911/964 Porsche Turbo Body Roadster Is As

New!! This Air-Cooled Porsche 911 America Roadster Is Loaded With

Options. Great Ownership History With Carfax Showing Only 2-Owners

Since New! This Ultra Rare 964 Porsche Looks Awesome Under The Hood!

Do Not Miss Out On One Of The Rarest, Lowest Mile, Best Condition Air

Cooled 911/964 Turbo Body (Wide Body) Porsche's On The Market.

This Car Is Amazing!! This Ultra Rare 911 Porsche America Roadster Is

Loaded Performance And Luxury Options Such As…

• 1 of 52 America Roadster's Produced For 1993 (250 Total 1992-1993)
• 5-Speed Manual Transmission
• Power Adjustable Front Seats
• Porsche Crests On Head Rests
• Ultra Rare 964/911 Wide Body Roadster
• Will Come Delivered With Fresh Complete Service

Please feel free to contact our Sales Dept. with any questions you may have at 561-445-5093.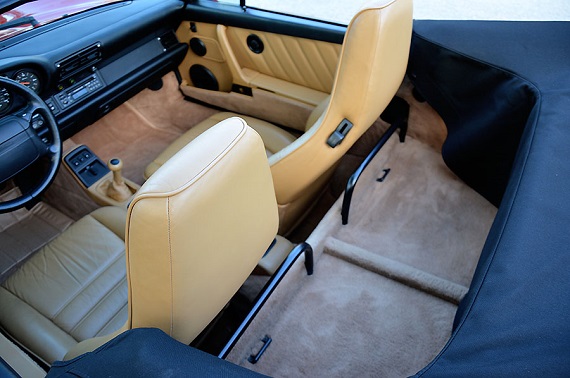 I could be wrong, but I'm not sure this being a '93 MY rather than a '92 will make much difference to prospective buyers so we should probably continue to view this as 1 of 250 rather than 1 of 52. 250 is still a small model run though so the rarity is there regardless of the year. The 964 Cabriolet always has struck me as a somewhat funny design, but I do find it much more agreeable in widebody form. It will never look as purposeful as the Coupe, but its proportions appear much better filled out and it possesses better presence with that wider rear. This one presents quite well and with bidding at $68,100 the value isn't too bad either. I suspect the seller has no intention of selling it at this price given the asking prices I have come across for other examples of the America Roadster, some of which were in poorer condition than the one seen here, but maybe with some patience a buyer can work something out.
-Rob