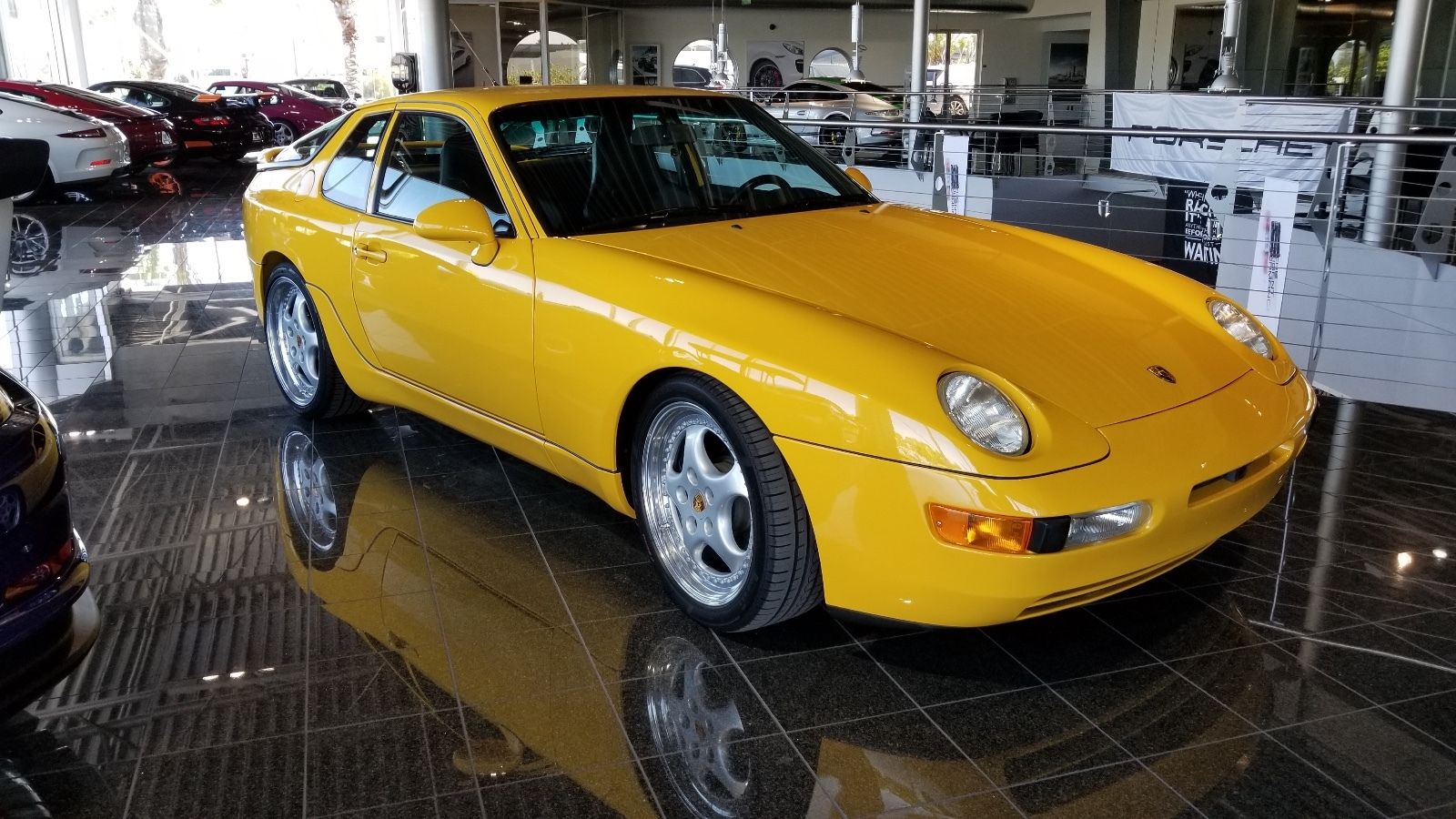 At the beginning of the 1990s, pretty much everyone was stepping away from twin-cam inline-4s. While they had been the rage in the 80s and "DOHC" was nearly as popular as Miami Vice, buyers demanded more power and refinement. Sure, you could make 200 horsepower from a high-strung four-pot; but making it tractable for daily driving, passing emissions, and reliable? That was another ball-game. As a result, most major manufacturers went to larger displacement 6- or 8-cylinder motors in their small performance cars.
Everyone, that is, except for Porsche.
Porsche dialed in the 944S2 a bit more with updated 928-inspired looks and a new 'VarioCam' adjustable valve timing on the 3-liter inline-4. Now with 237 horsepower and an impressive 225 lb.ft of torque, it roamed the sports car elite field like a small dinosaur. Porsche added another speed to the mix, but since this was a relatively expensive 4-banger coupe based on a twenty year old design, they didn't sell particularly well. A total of 2,234 Coupes were imported between 1992 and 1995; the last year was the worst seller, with a scant 259 making the journey. This particular last-year example may just be the best one left in the country: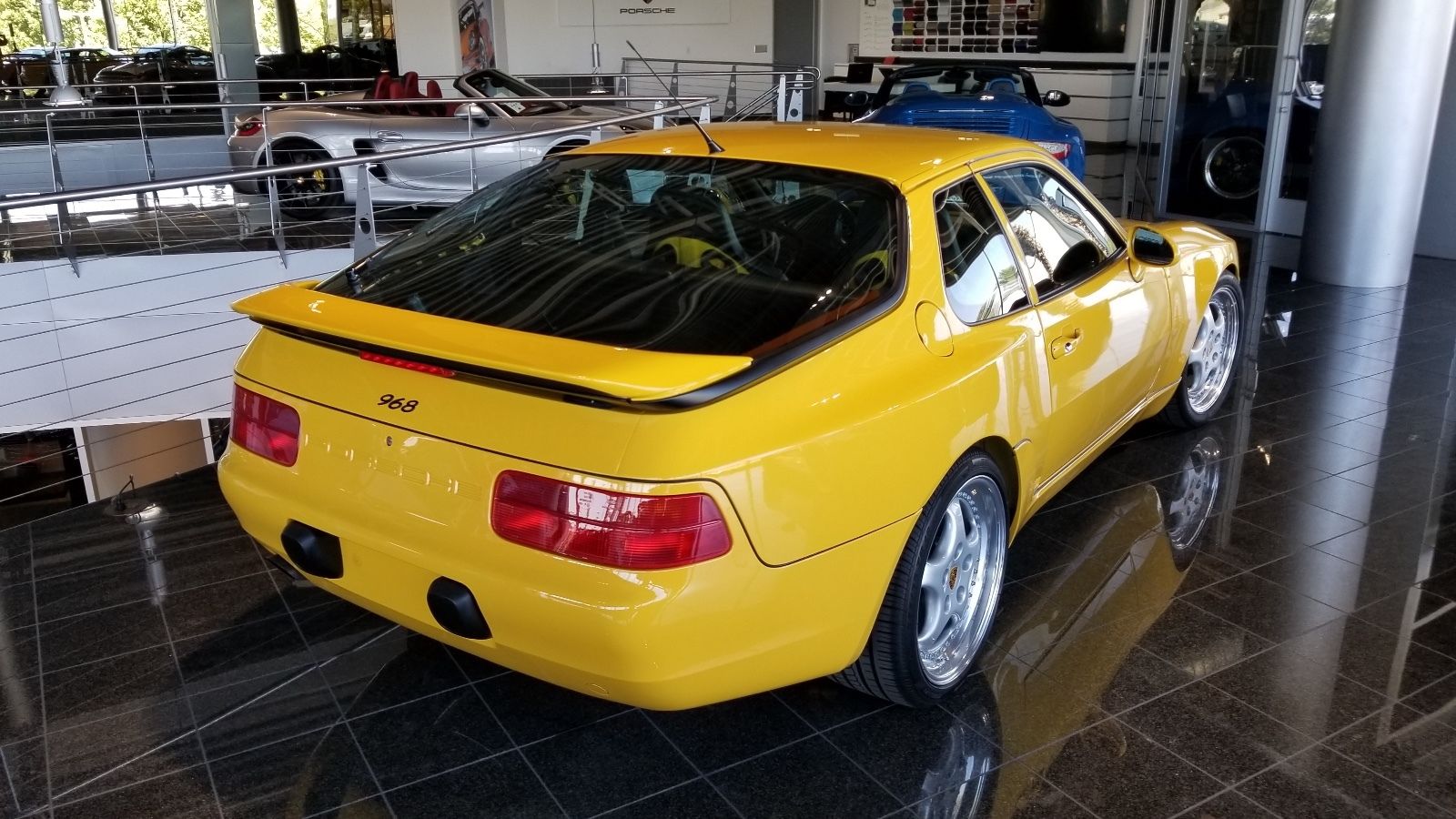 Year: 1995
Model: 968
Engine: 3.0 liter inline-4
Transmission: 6-speed manual
Mileage: 8,200 mi
Price: $75,888 Buy It Now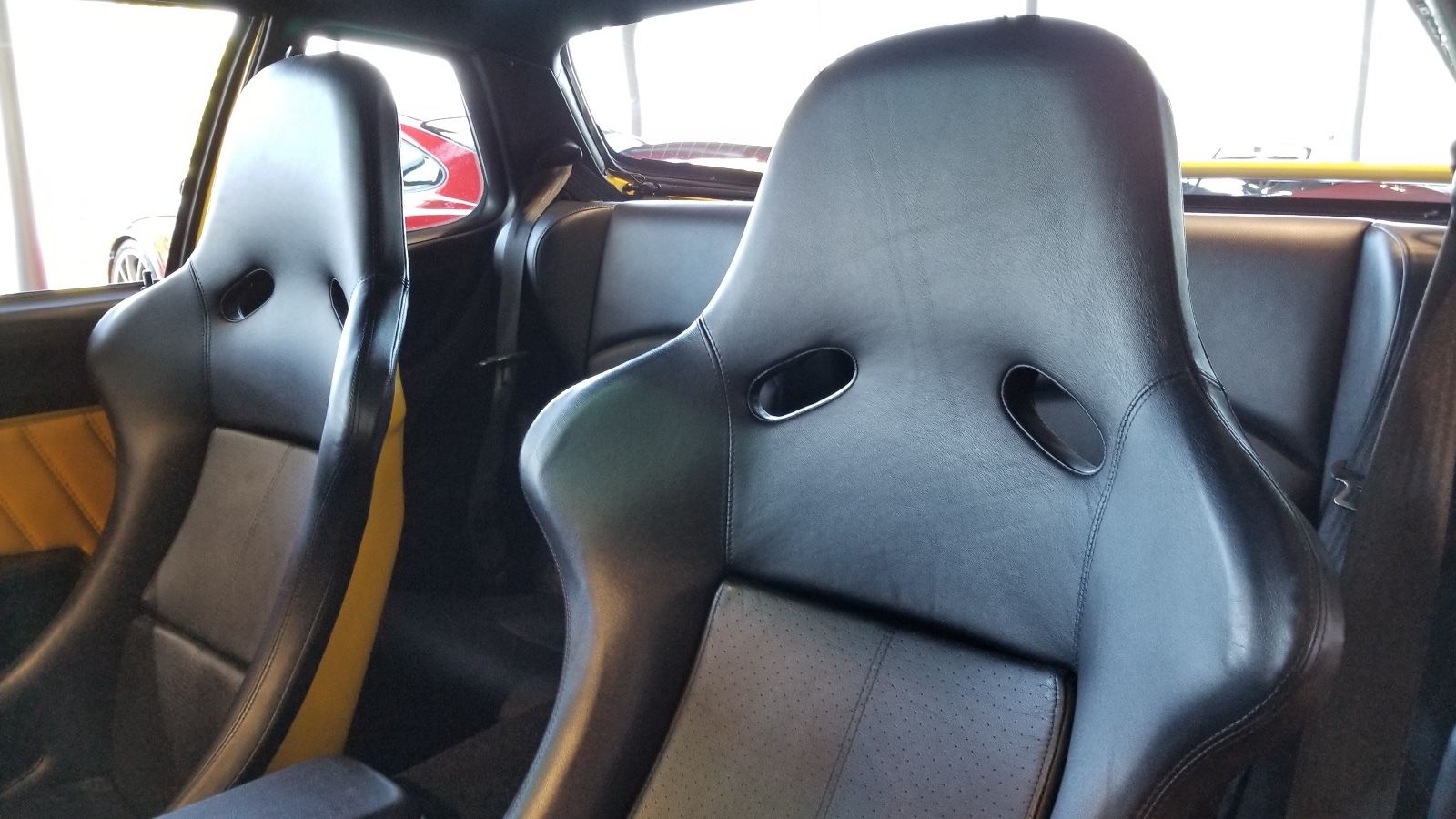 Welcome to the CJ Wilson Auto Group eBay Store

Porsche Fresno

1995 Porsche 968 Rare Speed Yellow

Notes:

Update: This is one of the finest and rarest 968 in the country. Please research the car on the 968 registry. It is extremely well documented. It is sitting on our showroom next to million dollar cars and shows like a time capsule. The price is the price. The owner of the dealership is happy to keep this car in his collection unless someone pays the asking price. I hope this helps and thank you for the questions.

This car is a no hesitation excellent condition original 968 out of CA most of its life. The debut of Speed Yellow – 1 of 10 and the only one w/ sunroof delete and sport suspension. This is #9 on the speed yellow registry.

Per 968 Registry:
"The 968 looks great in all of the exterior paint colors that were available, but after years of being out of production one of the most desirable colors in the used 968 market is Speed Yellow. The reason is most likely the combination of rarity and how great it looks on the car. By the time production ceased on the North American 968 only 10 cabriolets and 10 coupes had been painted in the X4 (sales code) L12G (paint code) hue of Speed Yellow making them quite a rare sight today.

Porsche launched Speed Yellow as an exterior offering in Canada in 1993 and the US in 1994 so the 968 series was one of the first to receive the vibrant color. The color remained as an available offering until 2012 when it was replaced by a new yellow called Racing Yellow. Although SY commands a premium on the used 968 market today back when the cars were being sold new the color was actually a "no additional cost" choice.

Because of their desirability the 968 Register has been tracking the whereabouts of the SY 968s for years. Partial VINs along with configuration details and option codes of the individual cars appear below. Photos are included for each SY 968 if available. If you are an owner of a SY 968 you are a fortunate enough to be part of an elite and desirable group. If you find an unaccounted for SY 968, buy it!"

Options:
LT black partial leather interior
XK7 Alternate color leather shifter knob (spd Yellow, 09991 exclusive pkg)
030 Sport chassis (includes 17″ wheels)
220 Limited slip
383/387 Sport seats/driver/passenger
393 17″ Cup2 wheels (part of 030 Sport chassis)
595 Painted rear spoiler
18101 Door panels in alternate color
Sunroof delete

Asking Price:
$75,888 OBO

This car is going to sell fairly close to full ask. I always want to leave the door open so the best offer box stays checked.

Fees: Low & Straight Forward

Doc Fee: $80
Electronic Fee: $29

Vehicle Location:
Porsche Fresno
7121 N. Palm Ave
Fresno, CA 93650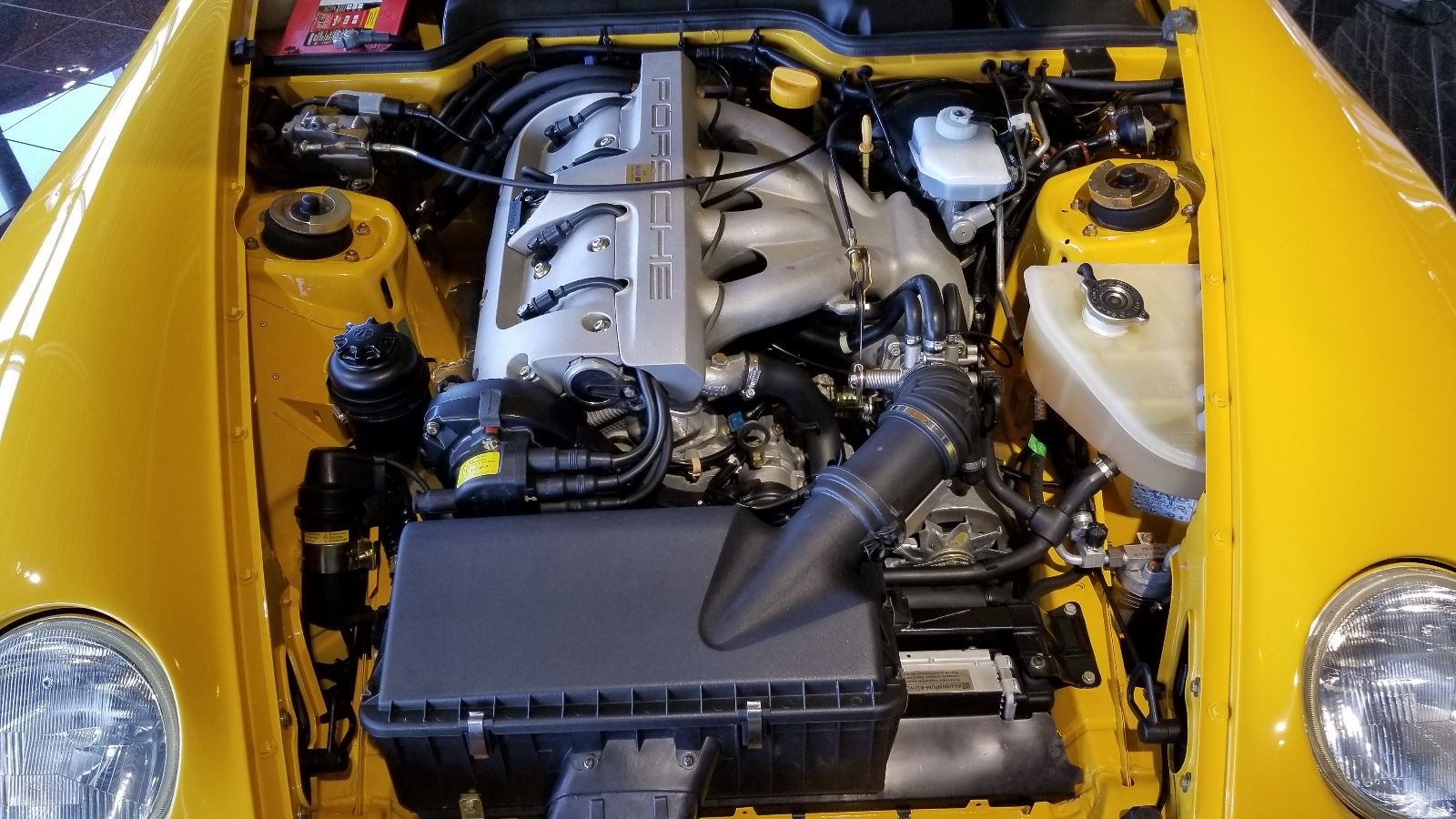 Speed Yellow was certainly one of the least-frequently selected colors on one of the least-frequently selected Porsches. Of the ten originally produced, only five were opted with the $2,017 M030 Sport Chassis option. On top of that, this car had a few more special options; it's a sunroof delete car making it lighter, plus it had some leather options added to the interior. Here's where things get a bit tricky; as the car appears, it's been opted with the 968 Club Sport Kevlar Recaros and 17″ Speedline 3-piece wheels. Both are fantastically presented, but the seller is clever in their wording; I'm pretty sure that the car did not originally come in this specification, but these items were added. Mileage is unbelievably low and condition is outstanding. Outstanding, too, is the price – $76,000 gets you into a whole other league of performance, but in terms of collectability this phenomenal example of the best inline-4 sports car the 90s had to offer is still priced below equivalent examples of the E30 M3 and W201 190E 2.5-16. Is it the better car? I think if I were presented with this budget and those three options, this would be the one I chose.
-Carter