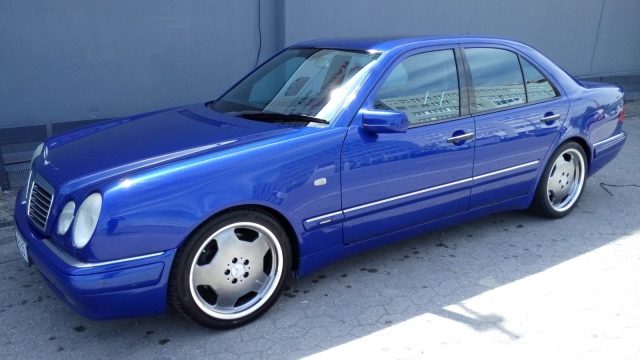 I don't need to tell you know why I am featuring this Mercedes today. What you are looking at is a 1998 E55 AMG for sale in Schwenningen, Germany dressed in the wonderful Linarit Blau Metallic otherwise know as Bahama Blue in North America. (Because there is nothing Americans and Canadians love more than the Bahamas.) A special order color borrowed from the SLK, this early W210 AMG just isn't blue on the outside, it also went a little crazy on the inside as well.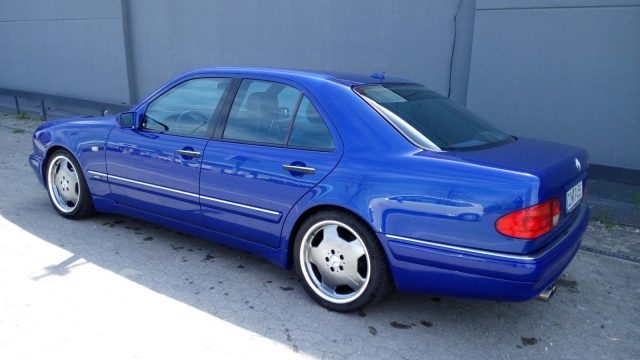 Year: 1998
Model: E55 AMG
Engine: 5.4 liter V8
Transmission: 5-speed automatic
Mileage: 299,500 km (186,100 mi)
Price: €7,950 ($9,518)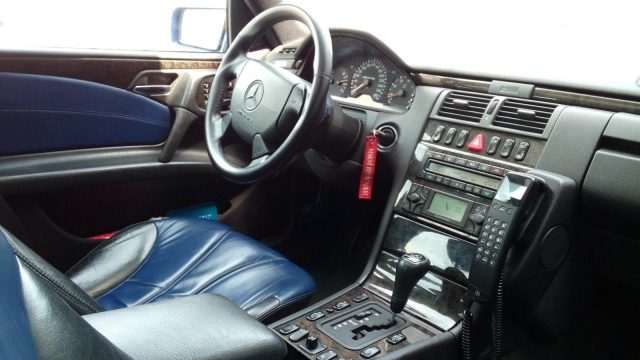 SPECIAL VEHICLE with unique paint finish 352 linaritblaumetallic, at that time at the SLK, interior equipment matching DESIGNO leather – Exclusiv black-TWO-WHITE-linarit blue, NO W210 problem – vehicle has NO rust – was taken in the factory to paint from the production – Then put back into production !!

Was not driven more in the winter, only in the summer, with seasonal mark

Very well maintained, bought by lovers and cultivated by lovers in second hand!

Open, does not regulate at 250km / h …. is also open of performance development ….

Equipment in addition to the E 55 AMG Scope of delivery ex works: Parktronic, ski bag, telephone fixed installation D-net, rain sensor, navigation APS 4, sliding-lifting roof in glass door mirrors hinged , Seat heating REAR & FRONT … uvm ..

Was replaced by a Mercedes-Benz E 63 AMG W212 … to the 60th birthday …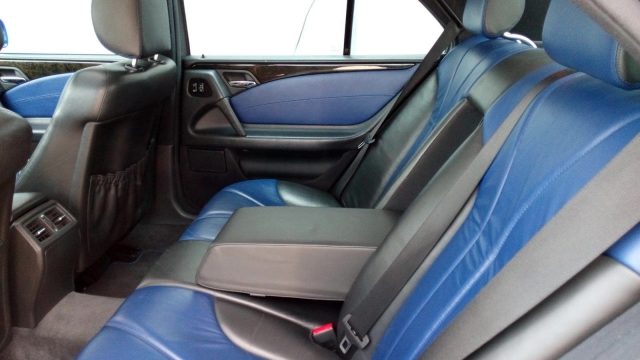 My understanding with how the W210 AMG was built is that Mercedes would ship the half built W210 shell from Sindelfingen to an hour north in Affalterbach to the AMG factory. AMG would take the shell and some of the interior then hand assemble the rest of the car before sending it off to wherever in the world it was going. Since the majority of the colors were either black, silver or sometimes white, this wasn't a big deal in terms of production. So I can imagine when this blue odd-ball was ordered, they had to be really careful with everything because it's not like you can go grab another blue bumper or door panel since this is probably a one of one car. The Designo interior in blue is something I've never seen before either and I can't imagine it came cheap when it was ordered. Another thing to highlight is the Monoblocks were painted a dark gray color that actually looks pretty good in the overall scheme of this car.
In general, this car is pretty loaded up for a 1998. Parking sensors, rear heated seats and navigation are all options I usually don't see on the W210 E55 but I guess if you are going all out for a custom AMG, you might as well check all the option boxes too. For 186,000 miles, this thing looks great. W210s with that kind of mileage are usually well beaten and bruised but thankfully this car was treated as special as it deserved.
The price of $9,500 is totally fair in my eyes. If this was a silver or black car, I think the $7,500 range would be more reasonable so the seller is asking a premium for the special paint and interior. In my eyes, it's totally worth it despite the mileage. I've never seen as Linarit Blue W210 E55 and I doubt another one exists. If you keep this car in the conditions it is currently in I see no reason why it won't keep it's value to a certain extent. Normally I would never even consider a pre-facelift W210 E55, but if this car wasn't across the pond in Germany, I'd totally consider it.
– Andrew