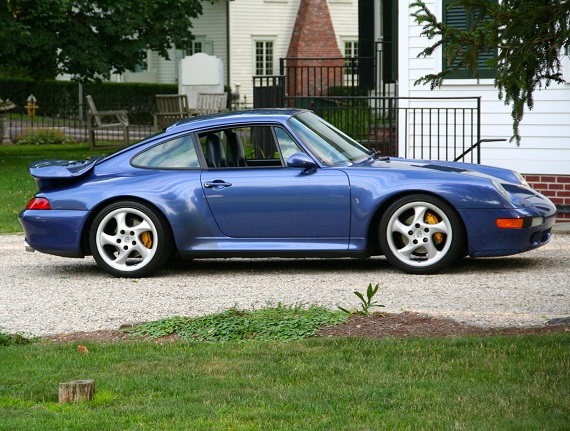 It isn't hard at all to see the appeal of the 993 and why values barely seem to have ever waned. That these were the last of the air-cooled 911s is well known and carries with it ton of cachet. But it is its aesthetic qualities that carry the day even more as they represent an easily identifiable evolution of the design from the 911's debut in the mid-60s. That the design of the 996, which followed upon the 993, has been so derided has only served to further enhance the already stellar reputation of the 993 itself. It is almost as if there is a sense that the 911's evolution ceased with the 993; the 996 is viewed as a separate species that has branched off from the original and its genetic traits, while enabling the model to survive in renewed form, are actually deemed less desirable. All of this comes together to build an icon. While all examples of the 993 are in high demand it is the wide-body designs that really force buyers to submit to temptation. Of all the air-cooled 911s the 993 wears the wider rear better than any other. Most of the others look good, but the 993 looks completed. The wider rear fills out its curves better than on previous models and it all comes together in a package that is both aggressive and beautiful. There really is a lot to love. The example we see here is a Zenith Blue Metallic 1997 Porsche 911 Carrera S, located in Connecticut, with Blue leather interior and 50,500 miles on it.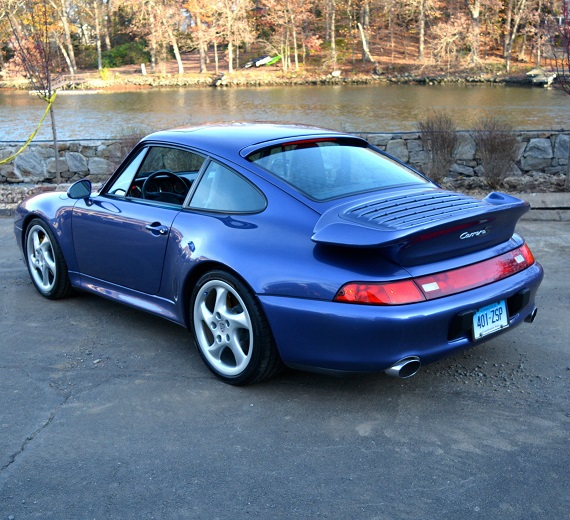 Year: 1997
Model: 911 Carrera S
Engine: 3.6 liter flat-6
Transmission: 6-speed manual
Mileage: 50,500 mi
Price: Reserve Auction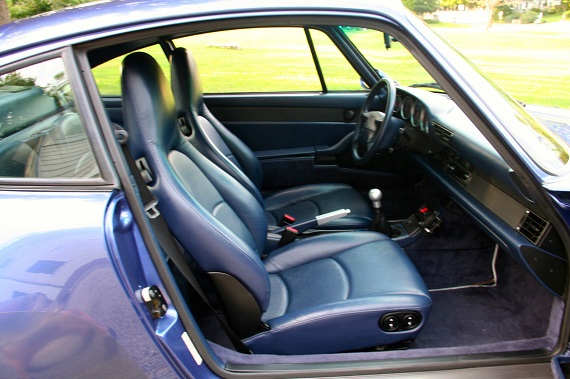 1997 Porsche 993 C2S
Zenith Blue with Blue Leather Interior
50500 miles
Porsche Certificate Of Authenticity
Porsche Club of America Member Summary

Summary
Anybody looking at buying an air cooled Porsche will be absolutely familiar with the resplendent purity of this, the last in a long line of great cars. The 993 represents the end of an era but of course the high point in the marques development. This particular one garners an awful lot of compliments on both its color, stance, and overall aesthetic. I don't think that there's a bad angle and have taken all photo's, not just the flattering ones. I've had a number of unsolicited offers to purchase this car and have resisted thus far. However I now have little choice as I need the funds for a real estate purchase. If you have serious interest please don't hesitate to contact me. Test drives and inspections are of course welcome.

I have owned this car since late 2012, so a little under 3 years. In that time, as noted below, I've carried out routine maintenance only, I've had no issues at all save for a broken window switch that was replaced and functions well. I've added approximately 6,000 miles in that time purely on the basis of driving pleasure, and I do mean pleasure, for no other purpose, this is a very much my second car, to be enjoyed occasionally at the weekend. It's always garaged and always under a high quality cover. I am more than happy to include the cover, if needed, to the successful buyer. I can assure you that had it not been for a house purchase I would not be selling this car. That said please make sensible offers, you know what a car like this is worth, I'm not open to desperation bids.

Interior
Outstanding condition blue leather throughout. Nicely complimented with aluminum accents (handbrake, gear knob, instrument surrounds) Pedals and foot rest are also OMP aluminum. Everything works as it should.

Exterior
Glorious zenith blue paint. Turbo tail. Wide body cars have a great look. The rear view is exceptional, a truly fantastic example of the 911 breed.

Notable Points
Yellow Turbo S look brake calipers.
All tools and books complete with the vehicle.

Recent Work Completed
At 50,500 miles
Wheels: rought back to new condition with full and professional refurbish. 4 wheel alignment completed.
Fluids: Changed, topped off as needed.
Spark Plugs: Replaced
Misc: Given complete once over, mechanically and cosmetically.
Detailing: Thorough detailing inside and out using clay block where required.

At 50,150 miles
Suspension: New rear Bilstein shocks
Tires: 4 new Sumitomo Tires

At 49,000 miles
Fluids: Oil change performed with all relevant filters changed.
Brakes: E Brake cleaned and routine maintenance performed.
Misc: Other small items attended to including replacement of passenger side window switch, bulb replacement etc.

At 44000 miles
Brakes: Pads and rotors replaced.

Service Records
All service records going back to 2000 will be supplied

Other Documents of Note
Porsche supplied Certificate of Authenticity is also part of the documentation.

Other Items Supplied
High quality blue car cover
Porsche trickle charger, used in winter to maintain battery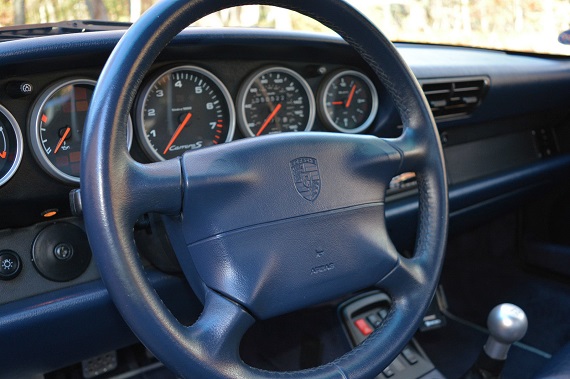 This owner has really gone for the full Turbo look on this Carrera S. Naturally it was built with the wider rear of the Turbo, but added to that has been the whale tail of the Turbo and the yellow brake calipers of the Turbo S. The discerning viewer will recognize what the car truly is, but for many it will look like another 993 Turbo. And man is it a good looking example. I've featured a Zenith Blue 993 previously (interesting enough that one was also a 993 Carrera S) and I'm very struck by the color in general. It doesn't have the pure eye-catching allure of some of Porsche's brighter blues, but I think for most owners that little bit of subtlety is exactly what they want from their 911 anyway. This one here looks in excellent shape overall and while a matching blue interior wouldn't have been my first choice it will probably add a dash of rarity to this already desirable machine. Bidding currently sits at $75K, which is not a bad price at all for a C2S these days with this mileage, and it looks like the reserve has been met. So barring some bid retractions we should get a sale here and someone should walk away with a really pretty 993.
-Rob